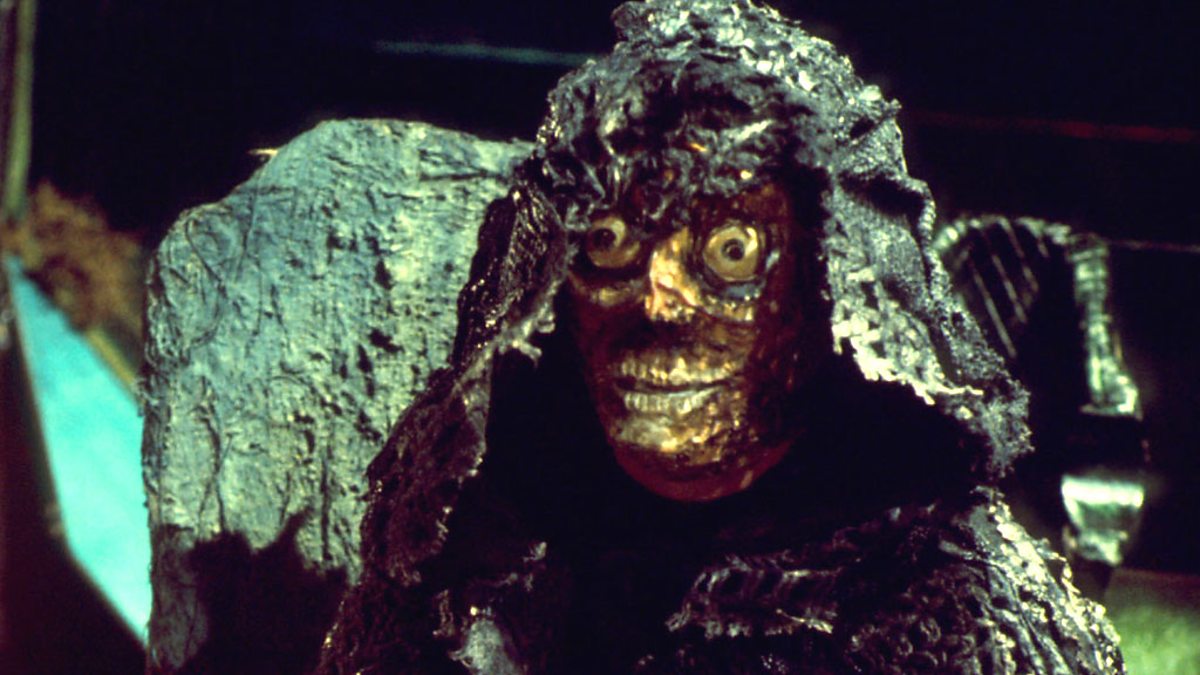 It is impossible to talk about The Deadly Assassin without getting into the weeds of Doctor Who continuity, a sentence that is arguably the most depressing thing yet written in this project. Phil Sandifer manages to belch forth nearly 13,000 words of typically fanciful speculation (although at least this time he manages to avoid anything quite so masturbatorily pat as "the Doctor is from the Land of Fiction," a critical conclusion so sickeningly self-congratulatory that it's no wonder its author has disappeared off the face of the Internet and indeed the planet), but he's hardly alone. Vast swaths of what Doctor Who gets up to when its worst instincts are indulged—waffle about the Eye of Harmony, Rassilon, Shabogans, and indeed Gallifreyan lore in general—all find their origin point here.
The degree to which this is a flimsy reed upon which to build a mythology is more than faintly staggering. It is not that, as (probably) Tat Wood suggests, this is a badly written mess. It's just that what it actually is isn't a self-conscious major epic that's trying to set a huge swath of lore down but a daft bit of satire of British politics and the Kennedy assassination. It's the sort of episode where Roger Murray-Leach designs some genuinely fantastic collars for the Time Lords that then get used for a ridiculous sight gag of a chalk outline of the President's body, collar and all. Structurally, this is bizarre and focused largely on serialization—the first two episodes are fairly coherent build, the third is an ostentatious and not entirely well thought out dream sequence, and the fourth is a slightly rushed conclusion. It is, all in all, a bizarre thing to hang a mythology on.
And yet there is a strange honesty to it. A consistent theme of these essays has been the reality that Doctor Who is about nothing save for the world in which it is made. Here Robert Holmes literalizes this by going to the heart of the show's mythology and then designing it as a mordant satire of the world. The Time Lords are a bunch of harumphing old men who complain that things change too fast nowadays and Presidents don't stick around more than a couple of centuries. They gossip and engage in preening over what "chapter" they're a member of and wear silly robes of different colors to show how important they think they are. They create inane schemes and conspiracies, and when a crisis comes along worry more about public perception than about actually managing it. They are, in other words, recognizably human, and more to the point recognizably made up of at least one vision of human flaws.
But it's also a very specific vision of human flaws. The Time Lords' taste for ceremony and pomp and the derision with which Cardinal Borusa treats Runcible is enough to imply a class system, but there's no real sense that poverty or deprivation exist. There's a fleeting mention of "Shabogan vandalism" that some writers have constructed an elaborate and fanciful mythology around in what are easily some of the most astonishingly confused attempts at Marxist revolution ever contrived, but the notion of exploitation is so far outside this story's vision as to seem entirely nonexistent.…