Viewing posts tagged communism
Posted by: Jack Graham 8 months ago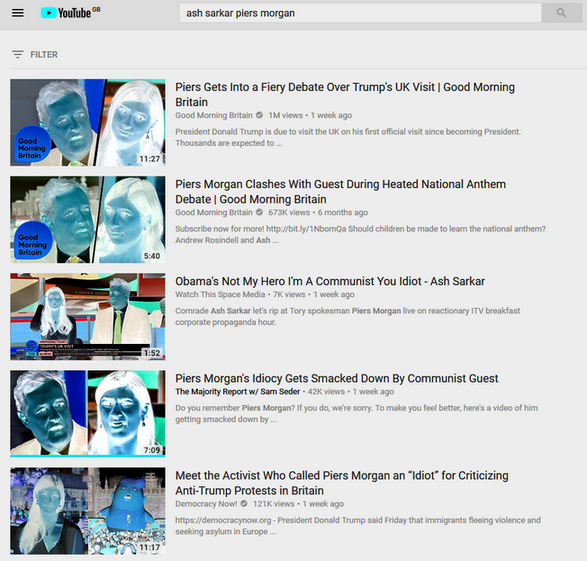 "I'm a communist you idiot!" declared Ash Sarkar on Good Morning Britain, in response to the heckling and strawmanning of Piers Morgan. (Video here.) She's subsequently been all over the media. Morgan has accidentally made this into her 'moment'. As she herself humourously overstates, he's even accidentally rehabilitated communism. Turns out, if it's communism or Piers Morgan, the British people seem more likely to give communism a try.
Sarkar, senior editor at Novara Media, was being interviewed as a representative of the anti-Trump protestors descending on London (despite Trump's well-advised absence from that city). As it happens, I suspect very few of the 100,000-250,000 who assembled were communists - despite the Daily Mail's characterisation of the protest as consisting of what they rather confusingly called a "rent-a-leftie mob".
(I'm wondering if there's any money in lefty-rental. Can I hire myself out? And who does the renting? George Soros? The Mail seems to imply it's Corbyn... but isn't he one himself? Shouldn't he be on the books rather than keeping them? Could I start my own franchise ...
Posted by: Jack Graham 5 years, 4 months ago
"I've known many times," says the Doctor, "some of them much more pleasant than others."
"Well, I quite like it here, I must say," interjects Jo to cover the awkward moment, "Everyone's been most kind."
The Controller (what a giveaway that title is) nods in appreciation of her remark.
The Doctor, however, is unimpressed. He swills more wine. He looks like an sozzled, opinionated guy at an unsuccessful party, spoiling for a fight.
"Well, I met some people today who were far from kind," he says. He spent the earlier part of the day taking a forced tour of the Controller's utopia, being subjected to the tender mercies of a surprisingly well-sketched terror state.
"That was a simple mistake, Doctor, I assure you," says the Controller, his voice as smooth and silvery as his strange, quasi-robotic face, "You must not jump to conclusions."
"Better than jumping from the crack of a whip from some security guard," snaps the Doctor, "Do you run all your factories like that, Controller?"
We have been granted an unusual thing earlier in this episode: a glimpse into the productive centres of a Dalek-ruled regime. It looked like a ...
Posted by: Jack Graham 5 years, 5 months ago
The literature of terror is born precisely out of the terror of a split society and out of the desire to heal it.
- Franco Moretti
People often compare the Borg, the cyborg gestalt from the
Star Trek
franchise, to
Doctor Who
's Cybermen. Both races were conceived as humanoids physically augmented with technology, hence a certain superficial visual resemblance, particularly between the Borg and the earliest Cybermen, from 1966's 'The Tenth Planet'... which has just been released on DVD, if you want some way for this post to be halfway relevant to anything.
Borg
Cyberman
But the Cybermen were written by various different writers, under different conditions, with different levels of interest and different levels of knowledge of past depictions, over the course of nearly five decades. The Borg, by contrast, were written by a small number of tightly associated people, under the aegis of a carefully controlled franchise, over the course of just under 15 years. The two 'races' differ markedly in the circumstances of their production and in cultural profile. As noted, the Borg's various appearances weren't separated by the same kinds of time-lags, and weren't a product of ...
Posted by: Jack Graham 5 years, 8 months ago
Something I wrote a while ago, somewhat rewritten. I'm re-posting it to mark the release of 'The Mind of Evil' on DVD. In brief, being in colour doesn't make it any better.
There is a very old idea about 'human nature', that we are born with certain social characteristics already implanted or programmed in our brains, usually inherited from our parents and ancestors. You will find this idea laced throughout the whole of modern Western culture. Ruffians and villains in Conan Doyle are often said to have "vile antecedents". Oliver Twist is incapable of being a pickpocket because, despite being raised in a pauper's orphanage, he is a middle class child displaced amongst the scum classes. Similarly (because J.K. Rowling is nothing if not studiedly unoriginal) Harry Potter is filled with love just like his late mum, despite being systematically emotionally and psychologically abused up to the age of 11. I could go on at great length.
This conception of human nature (please take the quote marks as read whenever I use that phrase) is directly and inextricably linked to class, and to questions of social role, crime, etc. It is still claimed ...
Posted by: Jack Graham 5 years, 9 months ago
From the January 2012 issue of Panic Moon. Slightly edited.
There's no ambiguity about the dinosaurs in

'Invasion of the Dinosaurs'

. They're rubbish. In other respects, however, this is a deeply ambiguous tale. The ambiguity allows the script to make some scathingly ironic political observations, but ultimately leads us to a very bleak and bitter place.

In
this story, contrasting with other scripts from the period, the eco-activists are the 'baddies'. It's like Malcolm Hulke, influenced by the decline of the radicalism of the 60s and early 70s, was reacting against the whole idea of changing the world. It's possible to read the people on the (space)ship of fools as a jaundiced parody of the left: a tiny, closed-off, self-appointed vanguard who plan to "guide" others while ruthlessly policing their own internal orthodoxy. But they're also like Daily Mail readers, with their "pure bread", their plaintive cries of "I sold my house!" and their TV room where they can go to tut at the modern world. The film in the Reminder Room blames protestors even as it shows them being truncheoned. Ruth seems more worried by ...
![endif]-->!--[if>
Posted by: Jack Graham 6 years, 2 months ago
Why do some monsters have names while others don't?
The best place to start may be with the Cybermen. After all, they went from having names to not having names. Moreover, they did it more or less within one particular story, 'The Moonbase' (if I remember rightly, they had names in the script but these were not mentioned on screen).
The first thing to mention is that this is the story in which they went from being threatening because they are emotionless and logical to being threatening because they're one of those "terrible things" bred in those "corners of the universe" that "we" have to fight, when they were no longer fighting to save their planet but to steal ours, when they lost their human hands, when they started (so early!) saying things like "Clever, clever, clever!", i.e. when they became overtly and deliberately
evil
. But there has to be more to it than that. After all, vampires keep their names. Loss of humanity and the acquisition of evil intent are not enough to strip them of their names.
Moreover, the Cybermen are not the only
Doctor Who
monsters to lose their ...
Posted by: Jack Graham 7 years, 1 month ago
You can rifle the Pertwee era for
tentacles
and find relatively few. They only crop up in stories in which
capital
looms
. They only fully-materialize as a major threat where capitalism is a
systemic
presence, threatening - even if only obliquely - to connect up various social and political nightmares.
That isn't to say that social and political nightmares are thin on the ground.
Far from it
. But it's only when those problems are connected to capital, commodification and trade as exploitative or destructive, that they sprout tentacles.
Evidence of Absence
The reason why 'Spearhead from Space' builds to an unexpectedly tentacular conclusion is because all sorts of things within it hint obliquely and elliptically at deep problems in the Britain of the late twentieth century, problems which seem to build towards a connection that must be occluded: namely the connection of all these problems at the economic base of society, the productive forces, the capitalist factory, the commodity form itself. 'Spearhead' is saturated in depictions of hierarchy, domination and class. The story hints - albeit very quietly - at imperialism, and at racial and gender hierarchies. The monsters are stalking emblems of alienation and commodity fetishism, manufactured things ...
Posted by: Jack Graham 8 years, 5 months ago
Perhaps the most interesting thing about 'Inferno' (interesting to me anyway) is the way that the fascist world of the Brigade Leader is distinguished by only a very few differences – mainly in terms of attitude and levels of state violence – from the 'democratic' capitalist world of the Brigadier and 70s Britain. There are more similarities than differences. There's very little to distinguish a state-funded project in a 'democratic' world and one in a fascist world; very little distance between the basic jobs of a Brigade Leader and a Brigadier. The people behave differently but the essential
structure
of society is the same, albeit with very different levels of official repression. This reflects – probably accidentally, if we're honest - the fact that fascism is not a fundamentally different form of economic system but a different way of running a capitalist state.
Actually, I've been calling them "fascists"… but the casual reference to the execution of the royal family, the fact that the Brigade Leader is a member of something called the "Republican Security Force" (the Nazis planned to reinstall Edward VIII as their puppet monarch when they took over Britain, not set up a 'republic'), the Orwellian poster and ...