Viewing posts tagged sherlock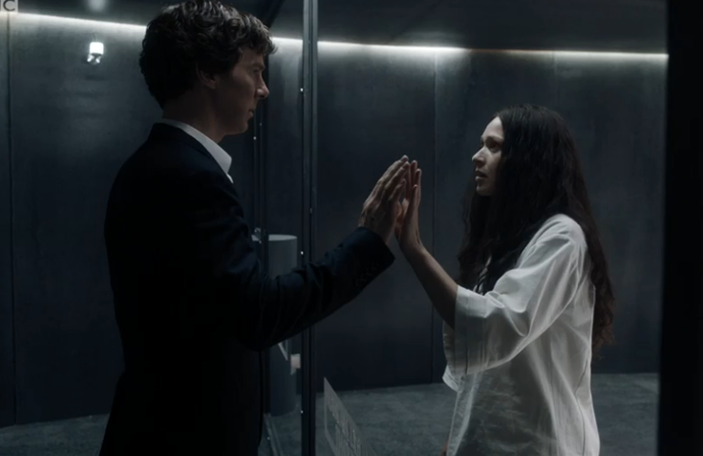 It's January 15th, 2017. Clean Bandit have been knocked off of number one by the dawn of the Sheeraning, as Ed Sheeran's "Shape of You" and "Castle on the Hill" debut at number one and two respectively, heralds of his forthcoming album that will, on its release in mid-March, lead to Sheeran occupying 14 of the top 15 slots in an absolutely unprecedented (and before the streaming era impossible ) turn of events. JP Cooper, Starley, and Jax Jones featuring Raye also chart.
In news, the Justice Department concludes its lengthy investigation of the Chicago Police Department and concludes that, yeah, they're really bad. Trump gives his first post-election press conference and mostly attacks the press. Much of the London Underground is shut down due to a strike. Martin McGuinness, the Deputy First Minister of Northern Ireland, resigns, sparking the collapse of the power-sharing government. And the Playboy Mansion goes up for sale.
On television, meanwhile, Sherlock reaches its presumptive end with The Final Problem. The central and defining mechanic of Sherlock is as it has always been: a sense of unrelenting, propulsive motion. It's just that with The Final Problem this motion is not aimed anywhere. The result is like ...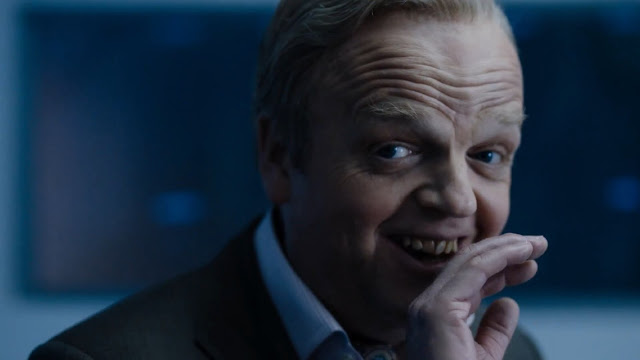 CW: Discussions of Jimmy Savile and sexual assault.
It's January 8th, 2017. Clean Bandit remain at number one, while Zara Larsson, Little Mix, Neiked, and Louis Tomlinson & Steve Aoki also chart. In news, the British Red Cross declares there to be a humanitarian crisis in England's NHS hospitals, and the US Intelligence Community releases the results of its investigation into Russian interference in the 2016 election. On television, meanwhile, Sherlock's fourth and potentially final season reaches its hump episode, which this time around is the one written by Steven Moffat.
Faced with an impossible task, Moffat took the obvious approach and failed. The Lying Detective does not fix the stumbling fourth season of Sherlock. Indeed, its efforts to do so are by and large its biggest problems, a point we will get to in good time. But I'm still coming off of two months of talking about why Class failed every week, and my next two posts are the finale and Broadchurch, so let's put off that perspective for as long as we can and see what else we can do here.
After all, this is the first time Moffat has opted to give himself the middle episode ...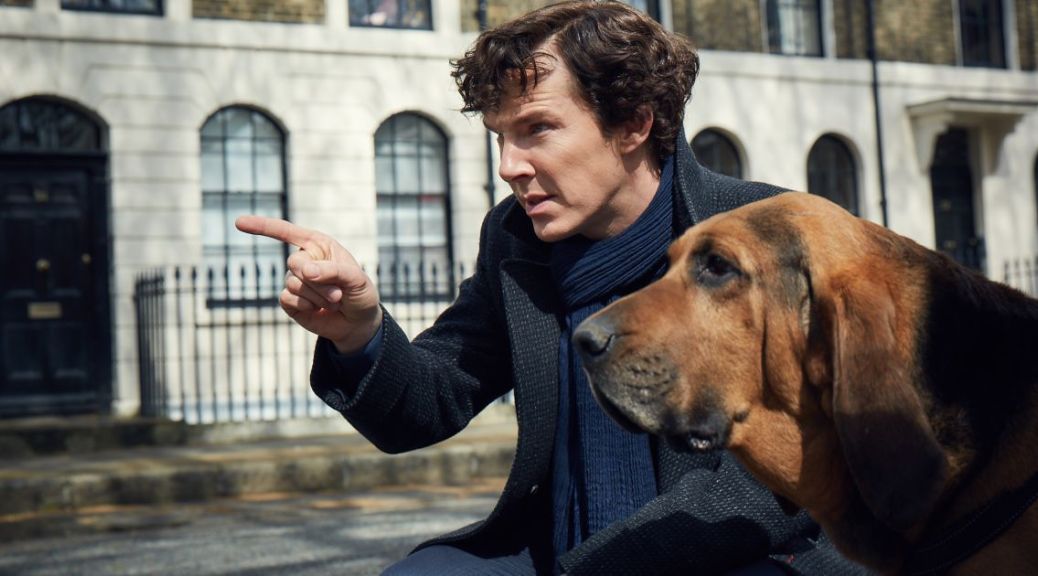 It's January 1st, 2017. Did you guess that Rockabye were at number one with "Clean Bandit"? If so, well done. Zara Larsson, Little Mix, Bruno Mars, and Wham also chart, the latter with a post-Christmas surge for "Last Christmas." In news, US troops withdraw from Afghanistan, Obama imposes sanctions against Russian intelligence agencies for interfering with the election, and Nevada's marijuana legalization goes into effect.
While on television, the puzzling failure of Sherlock Season Four begins with The Six Thatchers. Let's begin with the obvious, which is that the death of Mary is a terrible idea. There was a bit in comments a few weeks ago about fridging, including a discussion of the fridging of male characters. But it's worth de-genericiding the term a bit and remembering exactly what it is and why it's bad. Because fridging is not simply character death in the general case. It is not even character death as a means of motivating other characters, a category that can also include plot beats like the mentor figure dying so that the hero can step up. Fridging was a term created by then comics journalist and now comics superstar Gail Simone in 1999 to describe ...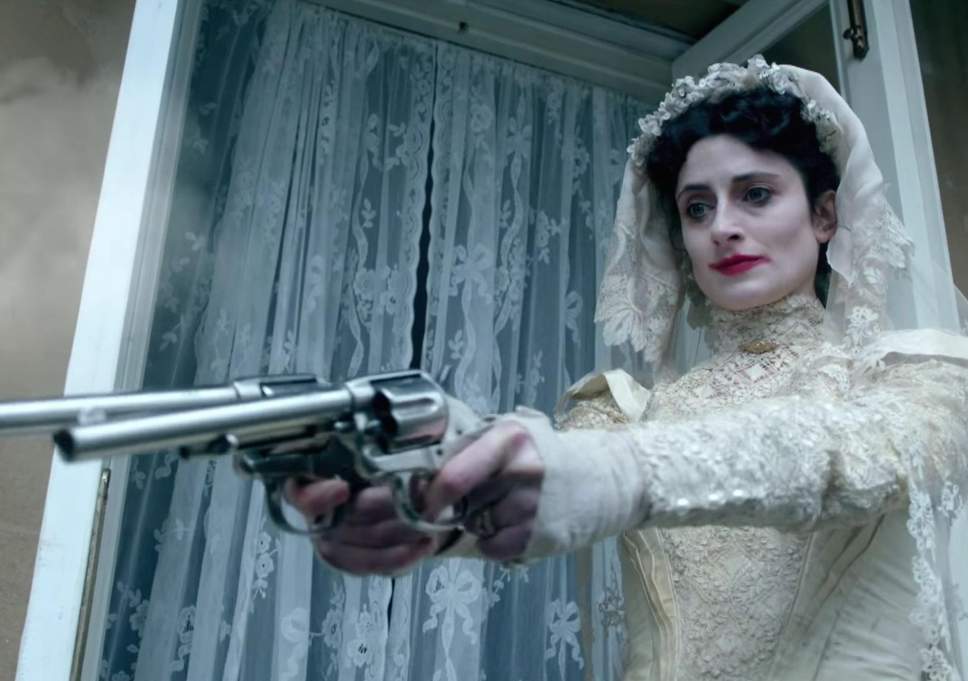 If you remained flummoxed/couldn't be bothered to look for it, Husbands of River Song is here.
It's January 1st, 2016. The Justin Bieber/Adele block are back to occupying the top four spots, with Fleur East, Coldplay, and Mnek & Zara Larsson also charting. In news, Bill Cosby is arrested on sexual assault charges, while a bevy of storms and flooding hits the UK.
While on television, The Abominable Bride. In some regards a Doctor Who blog is the worst context from which to look at this story, as it forces us to ask "was Under the Lake/Before the Flood worth this?" For a story that already suffers from taking the inflated expectations that Sherlock's ninety minute structure saddles individual episodes with and adding being a one-off special to it. Really, any terms that are rooted in setting expectations for the story to live up to are going to set it up to fail. This is a bit of fluff that elevates itself unexpectedly in its final act—a bit of goofy filler that turns out to have teeth.
In this regard, though unquestionably a minor work in the Moffat renaissance that runs from The ...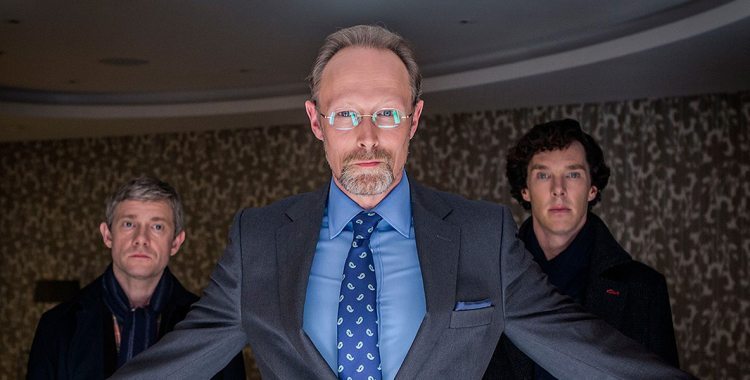 It's January 12th, 2014. Pharrell Williams is happily at number one, with Beyonce, Eminem, Ellie Goulding, and Pitbull also charting. In news, a cold snap in the US has all fifty states with at least somewhere below freezing, and a chemical leak in West Virginia leaves 300,000 without clean water. In the UK, the death of Mark Duggan, which kicked off riots in the summer of 2011, is ruled to have been lawful, while Keith Wallis pleads guilty for falsely claiming to have heard Andrew Mitchell call some police officers "plebs."
On television, meanwhile, the shooting star that is Sherlock Series Three finishes its arc across the firmament with the Moffat script. His Last Vow is an odd thing. There are days on which I think it might be Moffat's greatest ever script. But I mean "great" in its most complexly troubled sense. Moffat has been open about the fact that Series Seven of Doctor Who and The Day of the Doctor were miserable experiences. If the latter was him hauling himself back into fighting shape, then, this is the script with which he means to take back the mantle of being one of the most essential ...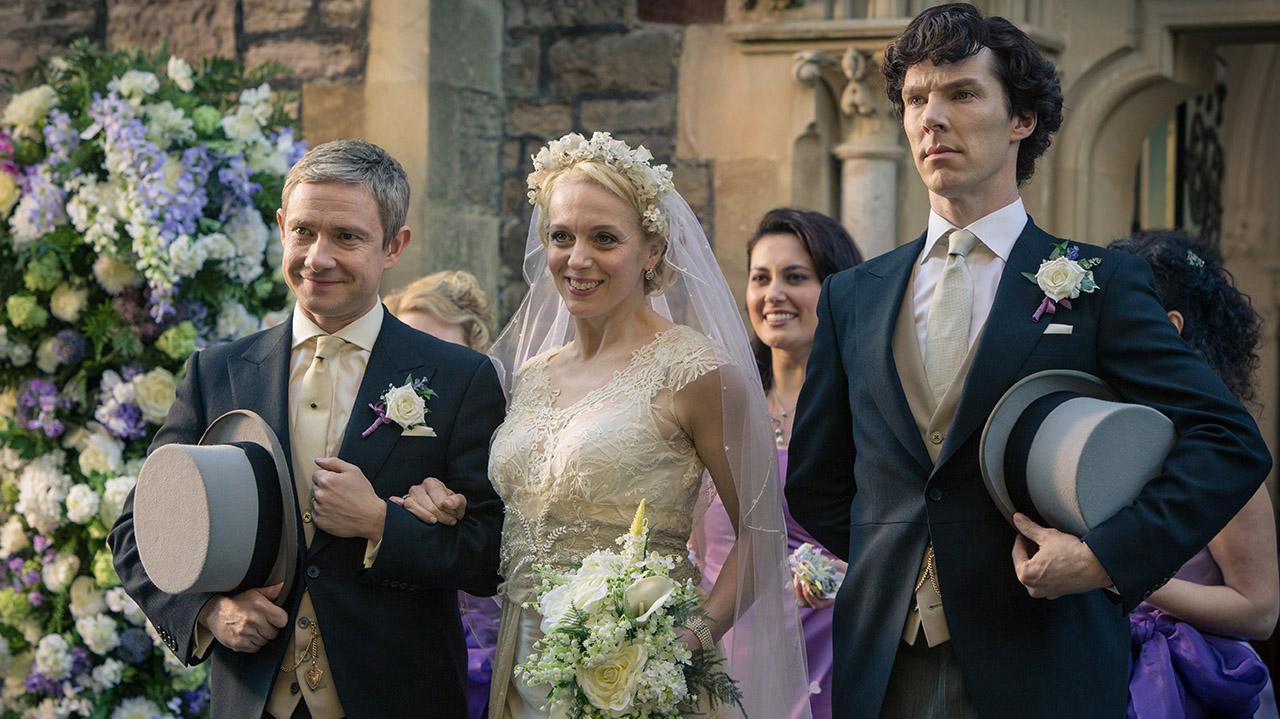 We continue to count down towards the TARDIS Eruditorum relaunch on March 19th with revised versions of some old blog posts on Sherlock. Proverbs of Hell will run its final two installments on Tuesday and Thursday this week.
It's January 5th, 2014. Pitbull and Kesha are at number one with "Timber," and while the rest of the charts are pretty similar to four days ago, we've got Avicii, Jason Derulo, Martin Garrix, and OneRepublic as artists we didn't actually mention last week. News is about as sleepy as you'd expect for four days at the beginning of the year, although there's some flooding in Wales, Scotland, and the west of England. On television, meanwhile, the third season of Sherlock continues its twelve day blitz with The Sign of Three.
Let's talk about what Sherlock is. Although its main character is a detective, it is not quite a detective show, in that the solving of mysteries is not its main narrative engine. One suspects that had it been comprised of six hourlong episodes a season it would have been, as it would have had several filler episodes each run that would have ended up being case of the ...
TARDIS Eruditorum will return on March 19th. But as a prelude, we're rerunning lightly edited versions of some old essays from the earliest days of the Patreon, now reskinned as the Outside the Government essays for Series 3 of Sherlock. I would also be remiss if I did not note that we are in the final 48 hours of the TARDIS Eruditorum Volume 7 Kickstarter, and it's a nailbiter whether we'll make all the stretch goals.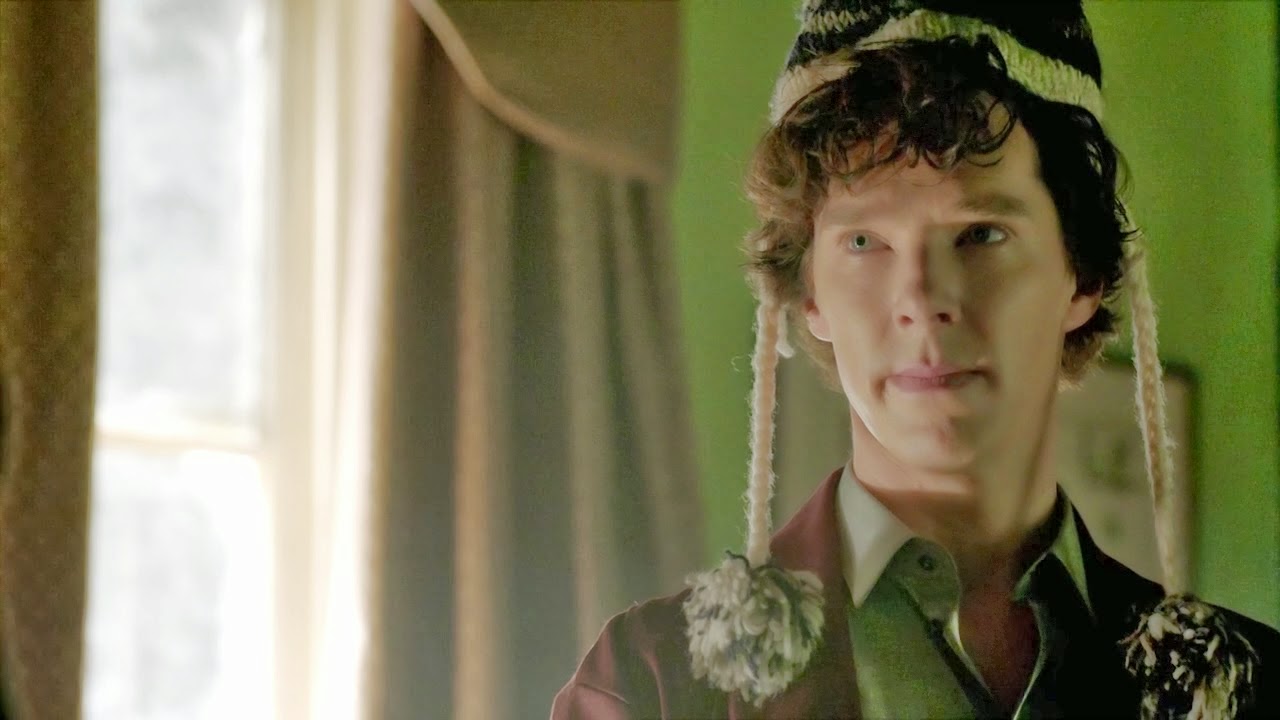 It's January 1st, 2014. Pharrell Williams's "Happy" has unseated Sam Bailey at number one, while Eminem and Rihanna, Lily Allen, Ellie Goulding, Katy Perry, and One Direction also chart. In the news, since Matt Smith got old and died it's been exceedingly quiet. Obama signed a budget deal, marijuana was legalized in Colorado, incandescent light bulbs became illegal to sell in the United States, and Latvia adopted the Euro. While on television,
Sherlock
informed the audience that it was going to lie to them, and then went on to do just that. It had, in the tradition of fair lies, given ample warning. "It's a trick. Just a magic trick." And so, of course, it was. Indeed ...
There is, I think, a real case to be made that this is Moffat's best-ever script, although to be fair there are ways in which it's difficult to tell. Certainly this is elevated tremendously by the work of everyone else involved. It is ridiculous to pretend that this episode can be praised without acknowledging the toweringly good work turned in by Nick Hurran, Benedict Cumberbatch, Martin Freeman, and Amanda Abbington, and really, stopping there does plenty of people discredit. All the same, the script is a work of stunning genius.
It seems impossible to begin anywhere other than the ending. As I have noted before, this is a script that blatantly advocates for the extra-judicial murder of Rupert Murdoch. Sure, yes, Magnussen is only a transparent metaphor for Murdoch and not Murdoch himself, but all the same, and especially given how willing Moffat has been in interviews to double down and say that he thinks killing Magnusson was the right thing to do, it's hard to overemphasize the moment, especially given the glorious bluntness with which Mary puts it: "People like Magnussen should be killed. That's why there are people like me."
And indeed, this quote ...