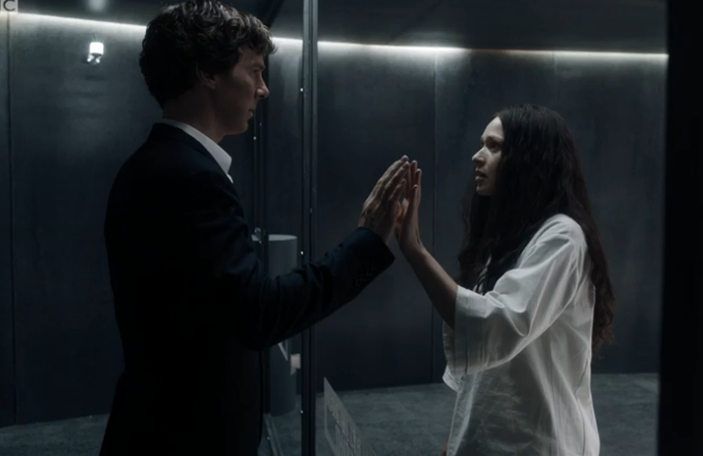 It's January 15th, 2017. Clean Bandit have been knocked off of number one by the dawn of the Sheeraning, as Ed Sheeran's "Shape of You" and "Castle on the Hill" debut at number one and two respectively, heralds of his forthcoming album that will, on its release in mid-March, lead to Sheeran occupying 14 of the top 15 slots in an absolutely unprecedented (and before the streaming era impossible ) turn of events. JP Cooper, Starley, and Jax Jones featuring Raye also chart.
In news, the Justice Department concludes its lengthy investigation of the Chicago Police Department and concludes that, yeah, they're really bad. Trump gives his first post-election press conference and mostly attacks the press. Much of the London Underground is shut down due to a strike. Martin McGuinness, the Deputy First Minister of Northern Ireland, resigns, sparking the collapse of the power-sharing government. And the Playboy Mansion goes up for sale.
On television, meanwhile, Sherlock reaches its presumptive end with The Final Problem. The central and defining mechanic of Sherlock is as it has always been: a sense of unrelenting, propulsive motion. It's just that with The Final Problem this motion is not aimed anywhere. The result is like a rocket pointed sideways—undoubtedly spectacular, but still just an exploded mess. Nothing follows from this. How could it? The manic enthusiasm and gusto with which The Final Problem runs in circles does not change the fact that it remains essentially stationary. The sheer quantity of nothing that happens here does not magically transmute into something.
And so one is left with little to do but that laziest of cheap thrills in criticism: the brutal inventory of faults and failures in a crappy piece of media. Call it a craven attempt to someday get Alexandra Ocasio-Cortez to call me while I'm playing video games, but The Final Problem is garbage and here's why.
The first and biggest problem, from which most though by no means all of the others extend, is Eurus. Or, rather, it's the degree to which all of the emotional weight that Eurus supposed to conjure is unearned, existing more as an assertion of importance than as anything substantive. Eurus is one of the most over the top premises the show has ever tried to sell—that Sherlock Holmes not only has a previously unmentioned sibling, but that he completely blocked her out of his memory. And yet the effort that's put into that sales job is frightfully minimal.
More to the point, however, the premise undermines what the story is trying to do. The script requires that the Sherlock/Eurus confrontations at the top of act two and the climax of act three carry emphatic emotional weight. But by loudly insisting on the total lack of existing emotional connection with Eurus that Sherlock can draw upon, Moffat and Gatiss keep her at arm's length, creating a sense of distance at the precise moment when the story needs intimacy. It's supposed to feel big and important, but the only thing the script can figure out to do to make it feel that way is to tell us how big and important it is.
Aggravating this is the degree to which Eurus is, let's be honest, not exactly a great character. she never really gets built with more motivation than a generically structured "she's crazy." There's a slight motif of her inability to correctly identify facial affect that can occasionally give usefully creepy results, such as the "apparently you were screaming" or, last episode, her "I think I'll put a hole in it" to Watson, but it's forced and overdone—a gimmick in place of actual characterization.
And then there's her mind control powers. Clearly these are designed to skirt a line, remaining carefully on the right side of the supernatural. In this, in fact, they resemble Hannibal Lecter, who is of course a general case inspiration for this story. But while it may just about stay on the right side of the supernatural, the idea that Eurus can talk to someone and turn them into her willing slave is considerably more fantastical than Sherlock is usually geared. Nor does it quite fit in with the larger Holmes gifts. Eurus can also do the deduction thing, as the mention of her predicting terrorist attacks by glancing at Twitter establishes, but the jump from that to "can figure out exactly what to say to break someone's will entirely" is big and not entirely clear. On top of this, it seems largely contradictory with her emotion-blind sociopathy. Put bluntly, if you can't easily tell the difference between screaming and laughing, the level of empathy needed for mind control is probably beyond you.
More to the point, however, it's a conceit that's utterly wasted. To make an obvious point, if you create a villain who can talk to someone and persuade them to do whatever she wants, and then you lock all of Sherlock, John, and Mycroft in a dungeon with her, then failing to have any of them enthralled and turned against the others is a missed opportunity. But this is just the most egregious failure of a more systemic one. The truly notable thing is that nothing is done with this conceit after it's filled its single role of providing a mechanism for Eurus to take over the whole prison. It's a gobsmacking conceit that's not used for anything.
This also gets at the extremely janky dramatic structure of the episode as a whole. In what is, optimistically, a conscious decision to mirror the structure of The Great Game, The Final Problem is an episodic plot in which Sherlock and company move rapidly across many small problems. This certainly adds to its sense of propulsive momentum, but it also means that the episode feels cut up and lacking in any real build. And while a few of the encounters are engaging, most aren't. The only straightforwardly strong one is Mycroft trying to manipulate Sherlock into shooting him instead of John. The Molly Hooper one is OK, but mostly feels like what it is: a forced effort to get her into the presumptive final episode. As for the rest, the less said the better. These are not surprising and compelling mysteries with enjoyable twists. They're just sort of… there.
Chief among them, of course, is the girl on the plane. Charitably, this does not make a goddamn bit of fucking sense. As a cold open, it depends on a Moriarty voiceover to shoehorn in the title drop. But given the eventual reveal that the little girl is Eurus, there's no reason why Moriarty should be there. More to the point, what the heck were all the phone calls with the girl? Was Eurus just putting on a funny voice as an intermission? Why? What was the intended content of that supposed to be? Because right now it's an unmotivated puzzle upon which the entire episode is supposed to hinge, and that's not great.
But the smaller mysteries are mostly pretty crap as well. Sherlock not seeing that there's not really glass in Eurus's cell is just sort of bewildering—a tremendous amount of presumptive effort for a ruse that shouldn't be nearly as hard to figure out as it is. The song riddle is a nonsensical nothing of a puzzle. And the less said about the three men hanging in front of the window mystery the better.
And then there's the final monologue, given to Mary because apparently we've decided we need to have her in all three episodes after all, it extols the virtues of John and Sherlock in grandiose terms that don't really fit Mary as a character, and that aren't really an extension of anything we've seen this week or, indeed, any other one. It's about as organic as "there are worlds out there where the sky's burning" and not even as good a speech.
And that, apparently, is Sherlock. I mean, maybe we'll have another one someday, but this is clearly intended to be the end if it has to be. When we were wrapping up Class we talked about how a bad ending taints what came before, and it's hard not to make the argument that something similar happens here. If this is what Sherlock has to say, one doesn't really grasp why we needed it in the first place. But in the case of Sherlock, there's still enough goodwill built over three previous seasons that were, if not consistently extraordinary, at least highly watchable with outbreaks of genius. All this amounts to is an unsatisfying conclusion to that—a show that went out with, if not quite a whimper, at least very much the wrong sort of bang. For a Doctor Who fan in January of 2017, this was worrisome, since he had another landing to try to pull off in not very long. With hindsight, it's just kind of boring.
Wait. shit. I just realized. I basically don't even play video games anymore. Oh well.