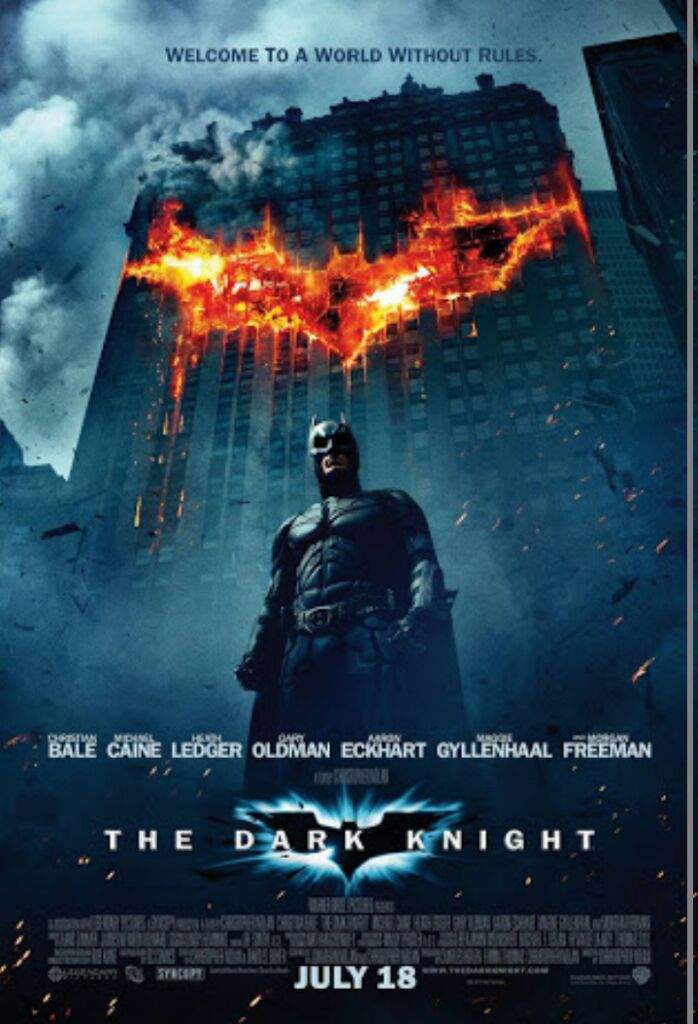 It seems silly to start anywhere besides the Joker. We'll set aside the cynical but not entirely unfounded question of whether the performance would be as celebrated as it is were it not for Heath Ledger's untimely death and the ghoulish speculation (since refuted) that the psychological intensity of the role was a cause. Sure, it's tough to imagine a Batman film winning an acting Oscar under less tragic circumstances, but that's in no way what's interesting here. What's interesting is that Ledger and Nolan took the most oversignified character in Batman mythos (and yes, of course I'm including the big rodent himself) and offered a game-changing take on him. The hunched, disheveled figure with a Glasgow smile is a new angle, skewing the Joker towards a materialism that is generally precisely what's discarded in other efforts to make him more grandiosely crazy. Ledger and Nolan offered a new way for the Joker to be.
By some margin the least interesting parts of this are the most often remarked upon. Yes, Ledger's schlubby maniac was an easier fit for a certain strain of geek masculinity than the more overtly queer portrayals that came before him. But frankly, anybody who needed reassurance that the Joker's makeup was "like warpaint" before they'd dress as him for Halloween needs to be fired into the sun. "Why so serious" is a great marketing line, but it's a trivial part of the character's personality – a line he uses in one of the mutually contradictory origin stories he gives – and reducing Ledger's take to his leering transgressiveness is how you get Jared Leto's performance in Suicide Squad.
To understand what's going on with Ledger's Joker, it's necessary to understand the basic oversignification of the character. For that, let's turn fleetingly to what is both the best comic story written about him and the low point of Alan Moore's career, Batman: The Killing Joke. (This being where Nolan's "multiple contradictory origins" idea originates.) For all that Moore crafts a typically symbolically rich take on the Joker, the big problem with the story, as Moore readily admits, is that he didn't define the Joker as anything other than Batman's archnemesis. He represents nothing save for a particular limit point for Batman – an irreducible reality of his mythos interesting for few reasons other than that homicidal clowns with good visual design are kinda cool.
This is not what the Joker in The Dark Knight is doing, although it's easy to miss that fact. The centrist liberalism that is the default setting of most popular culture means that we're most used to villains who are cuddly versions of fascism: Voldemort, the Empire, the Daleks, etc. It's easy to make too much of this – the defanged fascists of popular culture villainy are generally so cartoonishly that if they have any political effect, it's to blind us to fascists that don't literally call themselves Death Eaters, have the Imperial March as their theme song, or shriek "EXTERMINATE" a lot. But it means we're strangely unused to seeing a villain who's applying the same cartoonish excess to leftism. Which means, in practice, that it's easy to miss that the Joker is a leftist villain, with the same basic relationship to anarchism that Darth Vader has to fascism.
It's certainly not that the Joker is the only villain in pop culture who can be described as "anarchic." But it is by any measure a shorter list than the fascism analogues, and more to the point, few of them are quite so defined as to get an ostentatious villain monologue about the evils of "schemers" and "plans" that ends in a declaration that they're an agent of anarchy and chaos. Fewer still get to deliver the monologue opposite a semi-fascistic narrative of powerful rich men running elaborate surveillance operations.
One of my favorite things ever posted to my site is Jack's TARDIS Eruditorum guest post on Merlin. He sent it to me late on Christmas Eve so I ended up reading it on Christmas morning, happily ignoring a stack of presents in favor of his hymn to the glories of villains. His argument is that villains, as the force in a story that wants to change the status quo, are an occasion where "the radical howl be heard, even if in a distant and garbled form." But this garbling mostly comes from the routine use of the liberalism/fascism opposition. Because fascism is little more than the acceleration of liberalism's worst instincts, this opposition tends to collapse. To use one of Jack's examples, Voldemort may be marked as a fascist due to his zealotry over racial purism, but this ends up being a mask for the fact that Rowling's "good" wizard society is built on systemic racism of its own, including literal fucking slavery.
But the Joker sidesteps that aporia. He doesn't embody the same flaws as the heroes only in black. Rather, he offers an actual ideological difference. Batman endorses a world ruled by militarized power wedded to a mythic and incorruptible symbol. (And it's worth noting that Harvey Dent's "maverick tough on crime prosecutor" personality is very, very Bush era.) The Joker endorses burning that world down. Tellingly, the Joker doesn't get what the sort of standard villain moment that will be afforded to Bane whereby whatever political alternative he offers is revealed as disingenuous, typically because the villain is actually a genocidal maniac. The Joker is never presented as anything other than a force of violence attempting to dismantle Gotham's society. There's no reversal. He just wants to watch the world burn. This fact is presented to the audience as a self-evident horror, the possibility that anyone might nod with agreement not even entertained.
I don't want to go too far towards "the Joker was right" here, although I'll admit that's more because of the historic lameness of that argument than out of any particularly substantive objection. The reasons he's wrong mostly come down to the distortions necessary to transmute anarchism into straightforward villainy. He's a sadist who blows up civilians for no reason other than the fun of it. But what interests me is how terrible a job Nolan does selling the apparently straightforward case that he's wrong. His final comeuppance – the stunt with the two boats – may well be the single worst sequence Christopher Nolan has ever committed to film.
To recap, the Joker has taken two boats – one a prison transport ship, the other full of civilians – and put bombs on each one, with the detonators given to the people on the other boat. The point is, as he puts it, a "social experiment" to see who blows who up first. Its resolution is that neither boat blows up the other because, in one case, a bussinessman is unable to bring himself to do it while in the other what the script describes as a "huge, tattooed prisoner" (played, of course, by a suitably intimidating looking black actor) demands to be given the detonator so that he can make the hard decision, only to heroically chuck it out a window. It is gobsmackingly schmaltzy, and completely lacking in any conviction – a hopelessly contrived affirmation of the basic goodness of human nature that literally nothing else anywhere in Nolan's trilogy backs up. It's as though the film recognizes the suppressed possibility that the Joker might not be as self-evidently awful as it desperately wants him to be and goes to ostentatious lengths to deny a possibility that it can't even acknowledge in the first place.
And no wonder. In marked contrast to R'as al Ghul, whose sense of Gotham's decadence seemed utterly contradictory given his own methodology and whose solution was simply to eliminate the entire city, the Joker clearly wants the city to survive in what he views as a better form, and is thoroughly coherent in diagnosing its problems. Consider his monologue about how "nobody panics when things go according to plan, even if the plan is horrifying. If tomorrow I tell the press that like a gangbanger will get shot or a truckload of soldiers will be blown up, nobody panics. because it's all part of the plan," which is, notably, a more coherent response to R'as al Ghul's whole "we tried to destroy Gotham with economics" thing than literally anything Batman says over the entirety of Batman Begins.
Indeed, this is in some regards the crux of the problem (if one wants to call it a problem) with the Joker. Yes, he bypasses the tedious aporia created by the liberalism/fascism dualism of a lot of hero/villain pairings, but he does so in pursuit of a different sort of breakdown. The truth of the matter is that Gotham, as envisaged by Nolan, is a strong case for anarchism. When the world is systemically corrupt and the only apparent alternative is violent authoritarianism, burning it down is an entirely rational response. The sensible points of disagreement with the Joker are over tactics, not goals.
And so instead of toppling into the sterile incoherence of what is, if not a false opposition, at least a heavily overstated one, Nolan goes for the far more generative incoherence of incorporating an actually substantial opposition and then trying to render it unspeakable. The Joker, despite being a shockingly cogent character, is treated as unfathomable by essentially everyone else in the film. Even the canonical attempt to account for him – Alfred's "some men just want to watch the world burn" – runs aground on the suppressed reality that Alfred's time in Burma was almost certainly as a mercenary in the post-colonial civil war there, immediately adjacent to the heroin trade, and that resistance to the efforts of a bunch of mercs who, let's not forget, eventually literally did burn down an entire forest is not, in fact, "wanting to watch the world burn" just because you don't keep the corrupt profits. (If Tat Wood or Lawrence Miles ever move on to About Bat-Time, "What Was Alfred Doing in Burma" is an obvious essay. One suspects that Caine, at least, thought he was playing a World War II veteran – he's suggested a backstory for Alfred predicated on him serving in the SAS during "the war," which would make him being in Burma more sensible. Unfortunately, it would mean Alfred is around 85 years old in The Dark Knight, which would put him in his early 90s for The Dark Knight Rises, which is a stretch. But if we assume that Alfred is roughly the same age as Michael Caine, who was born in 1933, putting him in Burma prior to its independence in 1948 is difficult. Ultimately, description of how "my friends and I were working for the local government" makes me more inclined towards the interpretation that he was a mercenary working after independence.)
Where this becomes a problem is, broadly speaking, the end of the film. Not just in the already discussed pathetic resolution to the boats situation, but in the basic narrative structure whereby the Joker gives way to Two-Face as a villain, only for the film to discover that it's running out of time and doesn't have the space to make his gimmick anything other than a weird transformation with no clear motivation beyond "well they fridged Maggie Gyllenhaal, so I guess Harvey has to be a homicidal maniac now." And as his gimmick (and indeed look) is overtly silly in a way nothing else in the Nolan films is, the decision to literally leave the best villain in the series hanging to make the film about one that doesn't really work lets all the steam out of the film. The Joker represents an intensely generative aporia, but the film stubbornly fails to generate anything beyond a posthumous Oscar for Heath Ledger.
But making something of your best incoherence is almost inherently beyond the reach of a film. Aporia's value is not in its resolution. And anyway, The Dark Knight, which understands itself as a politely conservative film that defends the importance of mass surveillance when implemented by suitably benevolent overlords, was never going to pay off the possibilities of the Joker. Its failure is far more interesting than success could ever be.
Ranking
The Dark Knight

Batman Begins