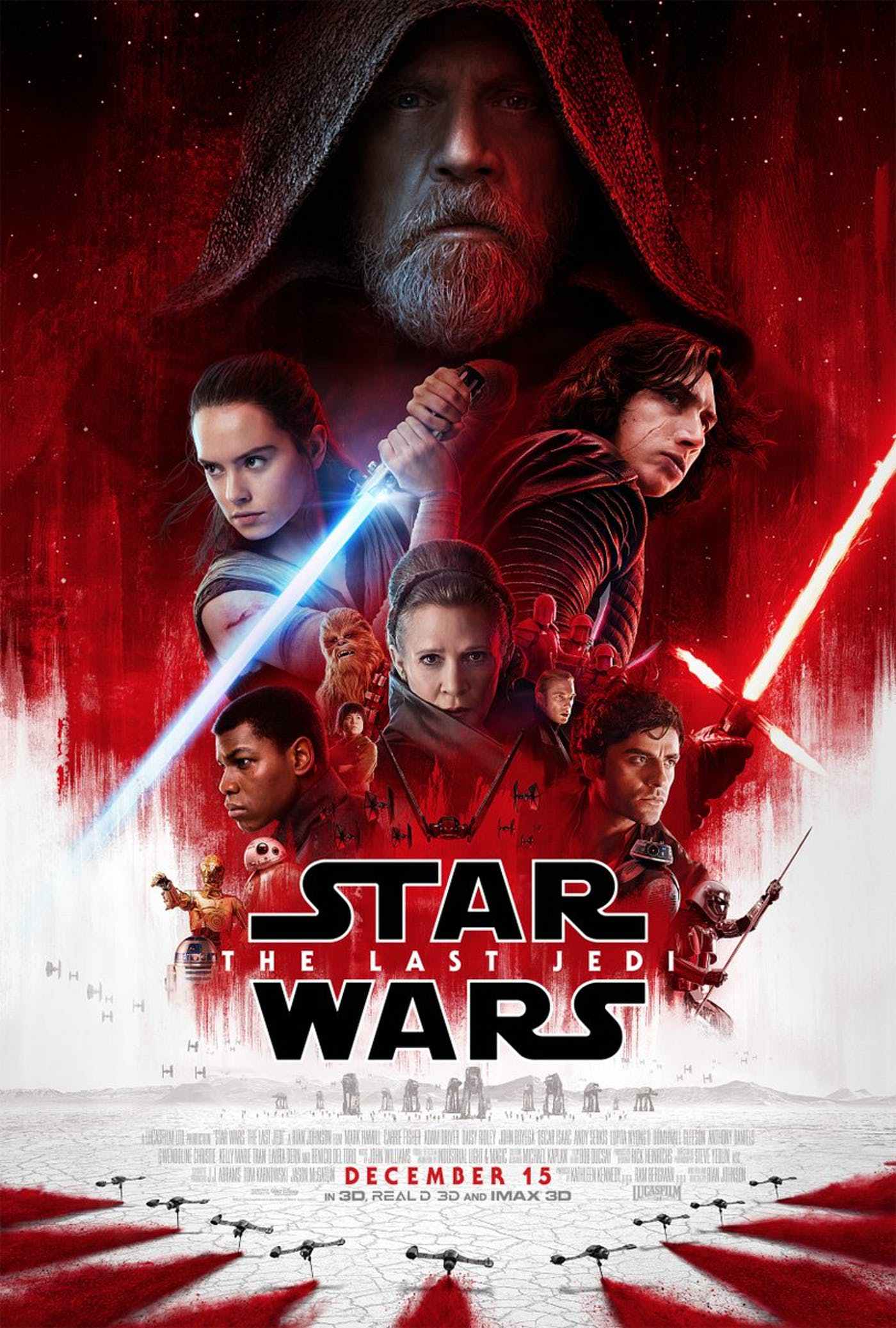 The obvious starting point is the dualism that creatively defines the sequel trilogy, with J.J. Abrams's faithful recitations of iconography on either end of Johnson's far weirder and more difficult approach to doing a Star Wars. Neither director needed to do Star Wars, but for very different reasons. Abrams had already defined himself as a classically minded reinventer of classic genre tropes, and the franchise was merely a bigger version of what he'd already done with Star Trek. Johnson, meanwhile, was a rising indie visionary with ideas of his own and while jumping over and doing a big genre film would no doubt open new options for his own work, he was doing perfectly fine.
There is virtually no way of describing the two where Johnson does not come across as the more interesting filmmaker. He is, frankly, a bizarre and unprecedentedly brave choice for the franchise—to put it with maximal uncharitableness, the first time a Star Wars film has ever been helmed by a real director. And it's no surprise that the result is fundamentally unlike other Star Wars movies. We might start with the end, noting that the final shot, in which Star Wars merchandise becomes the next Guy Fawkes mask in a scene with none of the main characters, utterly removed from the main action, is simply not something that any previous film would ever have considered. It's amazing, and we'll return to what it's doing, but the real jaw-dropping moment that requires us to stop and reevaluate the basic question of what a Star Wars movie is comes a few minutes earlier, in the fight between Luke and Kylo Ren. Ren directs the full force of the First Order's weapons against one man, standing out in the salt plain, hitting him with a bunch of AT-ATs. The attack stretches on preposterously long, an act of blatant, childish overkill. And then, as the smoke clears, an unharmed Luke walks out and moves his hand along his shoulder in an imitation of a Jay-Z's "Dirt Off Your Shoulder," a song from a distant galaxy in the far future.
Never mind that no previous Star Wars movie do this – had Johnson done it two-and-a-half hours earlier it would have come off as a complete misunderstanding of how to Star Wars. Doing stuff like this seems to be part of why Chris Miller and Phil Lord got themselves sacked from Solo. It's the most mind-wrenching and genuinely astonishing shot in all of Star Wars, simply because it passes off something that should be entirely outside the grammar without so much as a fuss. What on Earth had he been doing for two-and-a-half hours that made that work?
Inevitably, there's no one answer. Indeed, the crux of Johnson's approach is to repeatedly do small and unexpected things, none of which feel like ruptures of what Star Wars means, but all of which demonstrate a willingness to ask not only what Star Wars can do that's new, but to ask what it has thus far lacked. Setting aside the criticism of The Last Jedi that amounts to "I'm an alt-right shithead," this instinct is probably the root of a lot of the unease a minority of fans have had with the film, because it involves an interrogatory engagement with the franchise that previous installments simply haven't been interested in doing. This starts virtually from the beginning, with the giddily defiant piss-take of resolving The Force Awakens's cliffhanger by having Luke chuck his old lightsaber off a cliff and storm off to milk a space cow. But it includes a host of other things – the stark silence of the hyperspace ramming, for instance, or the cross-galaxy shot-reverse-shots of Rey and Kylo's Force conversations. There's an interest in making the audience go "huh, I didn't know we could do that" that simply hasn't been on display anywhere outside of, well, from the conceit of this series, The Phantom Menace, but really A New Hope.
In this regard it is helpful to ground the film in Rian Johnson's back catalogue. At first blush someone perusing his career for clues as to where he might go with Star Wars would gravitate towards Looper, his other action sci-fi film, but it turns out that the real precedent was his best film, The Brothers Bloom. This is not only apparent in their shared commitment to an irreverent comedy, but exists on a fairly substantial narrative level—Finn and Rose are basically in a heist plot, after all. The biggest giveaway, however, is once again the Luke/Kylo confrontation, which is a close cousin to Stephen's final con, complete with death scene once the lie has been successfully sold.
What this comparison illuminates is a second front of subversion in the film, effectively summarized in dialogue by Luke's "this is not going to go the way you think." Over and over again the film plays the trick of setting up situations that turn out not to be as they appear. The lion's share of commentary in this regard has gone to unpicking the Poe/Holdo dynamic, and fair enough. It's unquestionably one of the thematic hearts of the film, which is why its resolution gets the ultra-dramatic cut to silence. And as a type specimen it's suitably instructive. Its purpose is to subvert and interrogate sci-fi's longstanding cult of the hotshot pilot, and that in turn points to the film's intense suspicion of the heroic narrative in general.
In this regard, the biggest subversion, indeed the literal marquee twist, is Luke lapsing into the "failed exile Jedi" role of Yoda and Obi-Wan instead of being a straightforward ass-kicking hero. That this surprised as many people as it did—including, apparently, Mark Hamill—is mostly an artifact of the films' release order, which imbued Luke with a special "original hero" status that's clearly not part of the narrative's intent when viewed in episode order. There it's clear that every generation's heroes eventually fail. Luke doing so as well is not just a necessary step along the way of giving the series to Rey, Finn, and Poe, it's a part of the cycle—one that not only includes Yoda and Obi-Wan, but Qui-Gon and Dooku, who are presented as the failed heroes of a still earlier set of stories. Come Episodes X and XI it will be Rey and Finn's turn to prove inadequate because that's now very firmly how this story works.
Indeed, it's worth noting the degree to which ring theory is having a very good sequel trilogy, validated first by Abrams's somewhat slavish recitations of the past, and now by Johnson, who on the one hand faithfully mirrors the doubled plot of Empire Strikes Back—and by extension Attack of the Clones—but who also takes full advantage of the fact that the sequel trilogy can bend out of the ring in ways the two Lucas-overseen ones could not. (Indeed, this mirroring is in at least one occasion the source of a subversion, as Johnson slyly reverts Yoda to something much closer to his impish and comedic Empire Strikes Back portrayal.) And so The Last Jedi is about heroic failure in a way that previous films could not be. Yoda and Obi-Wan's failures came in films made decades before those about their successes, whereas Qui-Gon and Dooku never had films. Johnson is the first filmmaker to have actually been in a position to do a film about a hero's obsolescence that uses an established hero to do it, and he makes that the centerpiece of the film, using it as a foundation from which to ask larger questions about what heroism is if its legacy is always failure and being surpassed.
Several interesting questions branch off from this, but we may as well stick with the theme of subverted expectations and look at the dispatching of Snoke. This was not conscious audience trolling, in that the script for The Last Jedi predated fandom's (mis)identification of Snoke as a mystery to be solved, but there's still a conscious subversion in setting up Kylo Ren in the Darth Vader role of redeemable subordinate to a greater evil only to have him refuse redemption and seize the mantle of ultimate villain for himself. Equally interesting is the immediately adjacent jettisoning of the "Rey's parentage" mystery—a move that could in theory be undone by Abrams (the scene isn't quite definitive enough to be past retconning), but that it would be tragic if actually were. Not only does it fit well with the larger questioning of normative heroism, discarding the (ethically bankrupt) focus on genetic lineage implicit in all the "Star Wars is a family saga" rhetoric, like the early dispatching of Snoke it sets the sequel trilogy up to have to end in a markedly different place. Which, of course, it has to, at least if it's going to be a serious project – for all their parallelisms, after all, the first two trilogies end in diametrically opposed places. A third loop through the cycle has to repeat everything in order to change yet again.
In this regard it's worth finally turning our attention to the Canto Bight sequences. Unquestionably these are the film's problem spot – a generic "casino world" devoid of compelling design and the exact opposite of the film's drive towards subversion and unexpectedness. But it is also the plotline in which one of the three main characters has the closest thing to a clear-cut victory. Yes, Finn still fails spectacularly by wrongly trusting DJ, thus screwing Holdo's escape plan, but it's Finn and Rose's exploits on Canto Bight that set up the triumph of the final scene. More to the point, Canto Bight is used as the vehicle for the film's most explicit moral point, an attack on exploitation and war profiteering that, while certainly far from blistering and incisive political commentary, is still the most nuanced and intelligent attempt in eight films to actually make a point about fascism and oppression. And this theme is woven throughout, from the running not-joke of Rey constantly doing awful things to the natives to the Porgs attempting to convert Chewbacca to vegetarianism. Paired with the suspicion of heroism, this comes perilously close to just siding entirely with Luke and saying that this whole Jedi thing was just a bad idea.
What ultimately hedges against this are the notes the film opts to end on. For all that Luke is shown to fail, his death scene, with its visual callback to the twin suns of Tatooine, offers a moment of grace and reverence quite unlike what any other fallen hero has gotten in the saga. It's a nod to his "original hero" status, yes, but only at the point where he's removed from the narrative (or, more likely, reduced to an appearance or two as a force ghost in Episode IX)—an approach that allows the trilogy to have its cake and eat it too. But that means that it also functions as a path forward—a confirmation that heroism can exist, and that there is something for Rey to pursue.
The other note is the small core of remaining Resistance fighters escaping in the Millennium Falcon, described by Leia as everything that's needed to fight the First Order. Indeed, it's worth noting that Leia remains free of any failure narrative here. She remains a hero and the heart of the Resistance. The decision to leave her as the last surviving character of the original trilogy is well-justified, fascinating, and, of course, never going to get paid off. I maintain they should get Meryl Streep in to play her for Episode IX, but I honestly can't tell if I'm joking anymore. Certainly the loss of Fisher is a bigger hole than it seemed a year ago, and something that actively derails a large amount of what two movies have been building towards. (It seems near certain that she was intended to get Kylo's redemption scene. So one imagines that's good news for Reylo shippers at least?
But that's a problem for J.J. Abrams, and while it seems like one he's profoundly unlikely to rise to (the phrase "from J.J. Abrams and the writer of Batman vs. Superman" is positively chilling, and I quite liked Batman vs. Superman), it still has naught to do with The Last Jedi. This movie is a stunner—a transformation of what Star Wars is that is as brilliant as it was necessary. Even without the Porgs, this would be the greatest Star Wars film ever.
Ranking
The Last Jedi

Return of the Jedi

The Force Awakens

A New Hope

Attack of the Clones

The Empire Strikes Back

The Phantom Menace

Revenge of the Sith
Other Ranking
The Brothers Bloom

The Last Jedi

Brick

Looper