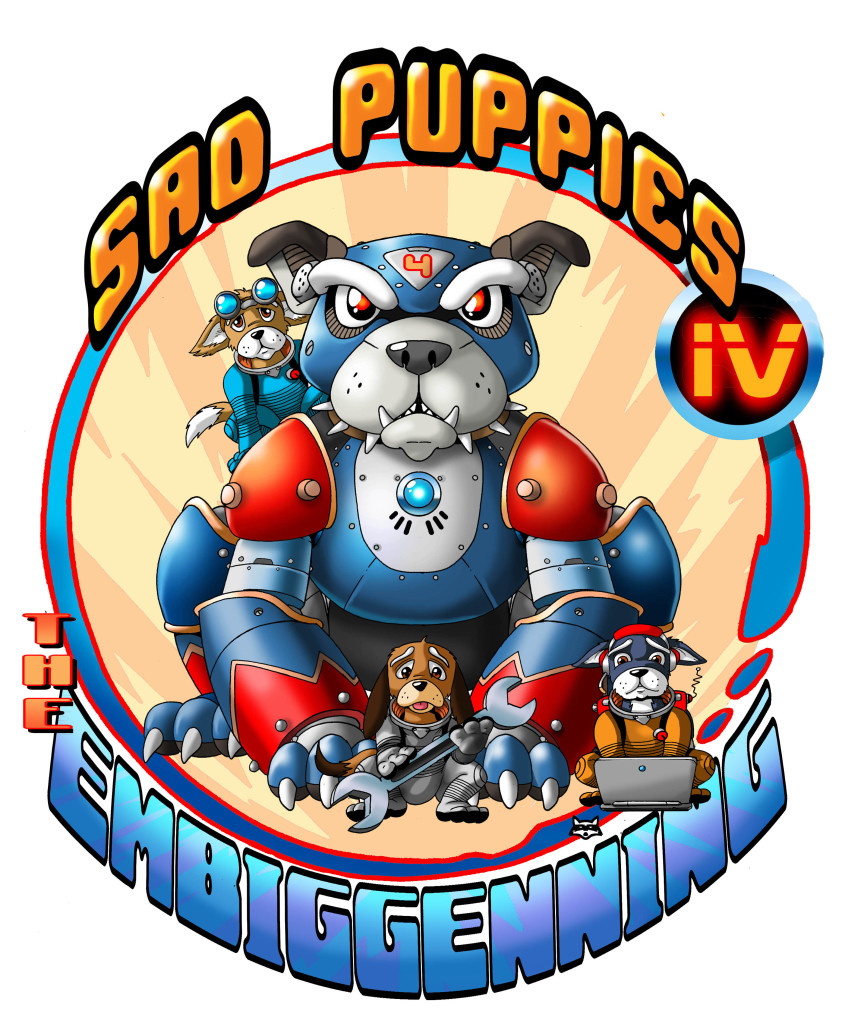 As the science fiction community mutters "I thought MidAmericon said nominations would open in early January" with baited breath, I note that certain fascist pricks have begun to ramp up their performative chortling. So I figured "why not write a mildly trolling open letter to someone else entirely?"
Ms. Paulk et al:
I note with some bemusement your efforts to reform the Sad Puppies movement from its oft-criticized 2015 form, stripping away its overtly conservative trappings, widening it to a ten-item recommendation list, et cetera. By and large, I have to admit, these seem like, if not strictly speaking good things, at least less bad things. So thank you for your efforts to be less odious than your predecessors. It's genuinely appreciated. That said, there's one rather large issue that you don't seem to have addressed, and that I'd like to raise.
Simply put, why are you doing this?
I mean, I see your nominal explanation on the site – to increase Hugo participation. And while I think your assessment of the field is rubbish (science fiction, at least as a literary genre, that being the primary focus of the Hugos, is in no way "a field loved by millions," and five thousand voters is absolutely massive given the current state of the publishing industry – and not just SF/F publishing), sure, I guess that's a reasonable motivation. What's rather less clear to me is why on Earth you're adopting a brand that's primarily known for its previous decision to actively ally with a fascist bully to do so.
Yes, I'm talking about Vox Day, who you so eloquently dismiss as "not our circus, not our monkey" and suggest that people "talk to him about whatever problem you have with him." But, well, I have talked to him about many of the problems I have with him, and anyway, my problem here isn't with him, it's with the Sad Puppies movement that you're actively positioning yourself as the direct successor to and that movement's past relationship with an abusive, bullying troll motivated primarily by his passionate vanity and even more passionate hatred for women, ethnic minorities, and LGBT people.
Because let's be very clear here: in both 2014 and 2015, your predecessors in running Sad Puppies made an active and conscious decision to ally with Vox Day. Indeed, that's pretty much what your movement is best known for at this point – getting spectacularly hijacked by him last year such that you didn't actually have a meaningful impact on the vote because his sidecar movement outperformed yours such that anyone who hadn't looked closely at the precise nature of the fan politics mistook your movement ofr his. That's your best-known accomplishment: allying with a sadistic troll who proved better at your own game than you were.
Now, of course, you're not wrong in your basic sense that the sadistic troll's moment has passed. Vox's main talent in life is that he can marshall around five hundred people. Of course, given that Vox is steeped in GamerGate tactics, this means five hundred accounts, not five hundred actual flesh and blood people who might plausibly show up at MidAmericon II and affect any business that actually takes place at the con. In other words, we all know that E Pluribus Hugo is going through the business meeting this August, and that this will mark the end of his domination of the Hugos, if it even lasts that long. So yeah, if you want to have any impact on the Hugos whatsoever come 2017 you need to change gears, and rebranding as a "recommendation list" to lobby for the literary mediocrities you so enjoy is a lot more sensible than continuing to hitch your wagon to Vox.
No, what i don't understand is why you're still using the name of a movement whose great contribution to science fiction fandom was turning the Hugo Awards over to his machinations for a minimum of two years. An accomplishment that the actual Hugo voting last year demonstrated has left you completely and utterly despised by the overwhelming majority of fandom. And this rather begs the question… why do you think this is going to be remotely effective in expanding the field? Why are you running your campaign to broaden the tent under a banner whose sole contribution and claim to fame is its staggering divisiveness?
On a similar note, I have to say, it doesn't really scream "we're entirely sincere about inclusion" when you say, on your own About page, that "SF is a big tent: we don't want to kick out anyone, even writers of bad message fiction that makes puppies sad." I mean, if you don't want to kick people out, you know, maybe don't follow that declaration by immediately identifying a population your group is literally named in opposition to, you know? It kind of suggests that maybe you do want to kick people out, but you don't want to be criticized for it, so you're just sort of mumbling platitudes without conviction while still flagrantly being the people who were stupid enough to ally with Vox Day.
Because at the end of the day, that's the real problem here. Everything you've done since launching last summer has looked like a staggeringly disingenuous attempt to distance yourself from your existing supporters without actually alienating any of them. You're making a grand show of saying  "no, we're not the people who recruited a lunatic who actively doxes anyone who gives him a bad review to help try to hijack a literary award" while trying to retain your existing support. I mean, you're not even trying to build bridges with the people who previously opposed you; you're just engaging in cheap theater to try to pretend that their objections aren't true anymore.
And sure, maybe the superficial objections aren't. You're not providing a slate, just a "list of recommendations." You're not explicitly allied with Vox Day, you're just still catering to the people he brought in. But these weren't the reasons people despised the Sad Puppies. They were just the most blatant pieces of evidence that the Sad Puppies were a bunch of jerks. And what you're blatantly and conspicuously failing to do is to actually give the slightest suggestion that A) you recognize that the Sad Puppies have in the past been a bunch of jerks and B) you're not anymore.
But this doesn't actually get to what seems to me the most fundamental puzzlement over why on Earth you're doing this, which is this: last year, you had no impact beyond being the launching pad for Vox's Rabid Puppies, who outnumbered you. As, of course, did the anti-Puppy voters. And your strategy this year seems set to avoid winning over members of either camp. So of three factions you're the smallest, and are wielding the shambling corpse of a toxic brand in an attempt to win over neither Vox's supporters nor your previous opponents.
So what, exactly, is the point of you?
Best,
Phil Sandifer
P.S.: You know the low participation in your recommendation threads makes them really vulnerable to entryist tactics, right?