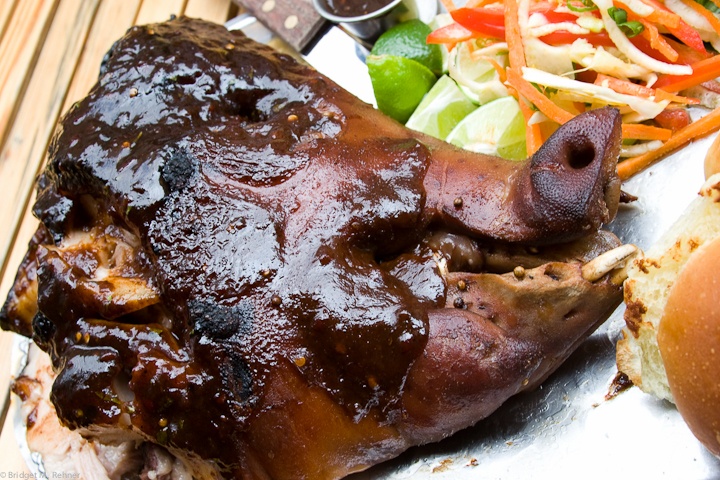 Roasted pig's head with barbeque sauce, raw vegetable salad, brioche bun, lime, and lettuce cup from the Greenhouse Tavern in Cleveland. ($52)
"All the pigs are all lined up. I give you all that you want. Take the skin and peel it back. Now doesn't that make you feel better?" -Nine Inch Nails, "March of the Pigs"
There is something more than faintly reasonable about the droves of Tories attempting to spin the news that David Cameron fucked a pig with variations of "well who hasn't?" After all, that's basically why the story was so viscerally enticing – the fact that nearly everybody's reaction to the news is complete credulity. Simply put, fucking a dead pig is the sort of thing you expect someone like David Cameron to do.
There are many reasons for this. Plenty of people have written intelligently about the psychological basis for initiation rituals among posh male societies and the way in which the resultant mutual possession of blackmail material ensures loyalty. More broadly, the idea that posh people are in reality depraved dunces is more or less a standard assumption of British comedy. "They all secretly fuck pigs" is perhaps not something that had been widely uttered before the Daily Mail started serializing Ashcroft's book, but the basic sentiment bordered on the universal.
Less discussed, however, is this: why a pig? Because the pig clearly matters. It would be an entirely different scandal – and one Cameron probably could not politically survive – if he'd fucked a dog or Boris Johnson. Even a sheep wouldn't quite work – sheepfucking is firmly a poor person's bestiality. No, it was clearly a pig or nothing.
It's not that pigs are specifically a rich man's animal. One can just as easily imagine a rural yokel fucking a pig as David Cameron; the only difference is that when a poor person fucks a pig it's because they want to, whereas the rich only fuck pigs when they have to. But the fact that pigs traverse the class divide is much, though not all, of why David Cameron had to fuck one.
If one were to take a position of culinary technological determinism, the pig would have an almost causal relationship with European rural poverty. It reproduces quickly and grows to slaughtering weight equally quickly, making them an economical choice of animal. Unlike the Near East, where urban pigs served essentially as a sewage system, thus marking them as fundamentally unclean (and an entirely different vulgar metaphor), European pigs, due to the comparative excess of water and forestation, were historically well-raised while still being fairly cheap animals to keep. The pig is also a historically flexible animal, hence the French saying that you can use every part of the animal but the oink. But more important is why the entire pig is usable: pork is perfect for salting and smoking, and thus lends itself to preservation techniques for the winter.
But it's here the class divide becomes important. Living high on the hog means more than just fucking one while coked up. It refers to the way in which the butcher's knife is literally the cleaver that creates the class divide, with tenderloin and rib chops for the old Etonians and hocks and shanks for the peasants. This is particularly important given the precise mechanics of David Cameron's pig fetish, which was apparently specifically the head of the beast. This almost stereotypical adornment for posh tables is a multi-layered symbol. On the one hand it is a sort of Hannibalistic memento mori; a way of making the carnality of meat visible and present. Its use to elevate dinner to feast echoes the Roman religious sacrifices of pigs. There is a libidinous paganism to it that's ripe for fucking, in other words – a sense of power that comes through even in the face of what was, in reality, probably just a fully clothed and coked out rich boy miming sex with the table setting at a party.
But on the other hand, it's just another way of burning a fifty quid note in front of a homeless person; that head was edible. Indeed, a pig's head, despite firmly being a peasant cut, is a thing of beauty when slow-roasted, it makes as fine pulled pork as it is possible to make. (The meat around the eye socket is particularly tender.) It's use as garnish is conspicuous consumption; the act of defiling it, ruining it even moreso.
But there's a larger symbol here; one gestured at in Laurie Penny's blunt suggestion that Cameron's version of lying back and thinking of England amounted to "Soon. Someday soon, I will do this to the whole bloody country." The pig is an intensely domesticated animal, and one with numerous human-like behaviors. They make excellent pets, and are intelligent creatures, especially if treated well. That they are treated as meat where dogs are not is simply down to their cheapness and quality. If you were to give up one commonly eaten meat for ethical reasons, pork would be the obvious candidate by a mile. This degree to which the pig serves as the closest mirror to humanity within the European culinary tradition is central to its carnality. It's the reason Charlie Brooker inadvertently predicted the future, for instance, and also why Hannibal's groups of kills are referred to as "sounders."
But if the pig is a mirror for humanity, it's the mirror image onto which we project our cruelest urges. And if they're the commonly eaten meat that raises the most ethical concerns, well, the pork industry is the most compelling evidence that most people don't give a shit about food ethics. As I said, they grow to slaughtering weight quickly. They can be fed just about anything. Why bother with piddling little details like ever letting them see sunlight or letting them move. Breeding sows are in effect tortured for their entire lives, a punishment inflicted upon creatures who are unambiguously capable of feeling emotional pain and suffering from depression. It's far worse than just being murdered and fucked by the future Prime Minister.
Moreover, it is an unsustainable and ecologically disastrous practice on the scale of fossil fuel production. The conditions in which conventionally raised pigs live are deeply inhospitable, and cause a range of health problems traditionally fended off via the preemptive administration of antibiotics. This in turn fosters drug-resistant bacteria, bringing with it the spectre of a superbug-driven species dieback.
Much like "fit to work" tests that literally kill disabled people, this would seem by any reasonable definition far worse than fucking a pig. But what's key isn't so much the degrees of awfulness as the fact that all of these things are awful in the same way. In every case, there is a conscious turn away from empathy; a decision to look at something and see only meat.
And this is, in a very real sense, what pigs are for. Their utility is to teach us indifference. And moreover, so that we may learn the art of not caring for the sake of what's easy. Even among those who cultivate a sense of empathy towards animals, the pig, for all its intelligence, is a tricky subject; it's an old truism, after all, that the thing vegetarians most often make exceptions for is bacon.
Hannibal, in its closing episodes, observed that extreme acts of cruelty require a high level of empathy; a claim that's undoubtedly true. But the world doesn't require extreme acts of cruelty: banal and impersonal cruelty is, as Robert Holmes oft observed, more than enough to maintain structures of power.
And so in that regard the sexless pantomime of pig fuckery is far more than just David Cameron's ante into the elitist game of mutual blackmailing. It's also a test of whether Cameron has the most fundamental skill required of our ruling elites: the ability to set aside all empathy and reason in favor of doing what you are told is required. And he passed with flying colors.