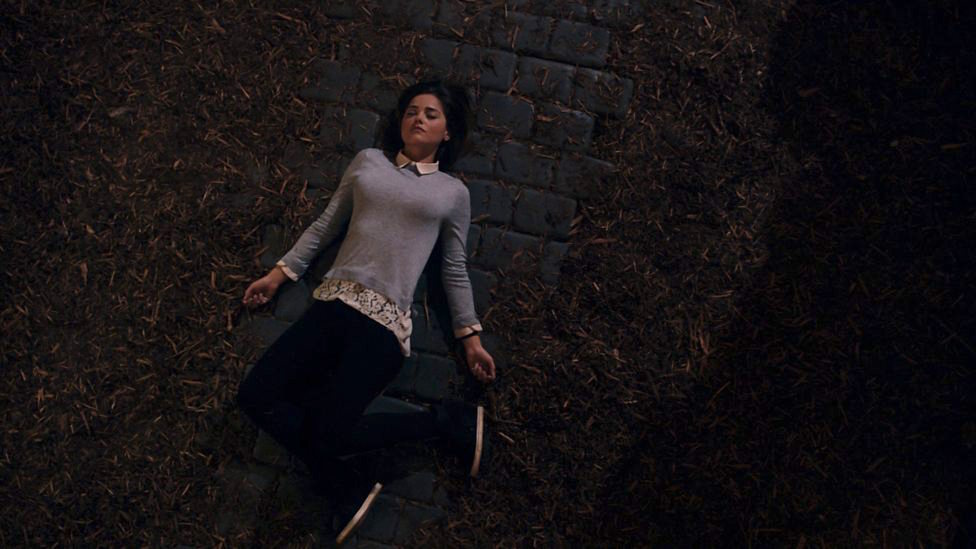 A guest post by Jill Buratto
I'm not quite sure what more needs said about this. The episode rather says it all. Maybe discussing the differences between the death of Donna and the death of Clara made sense after Face the Raven (when Phil first asked if I would write this) but, let's face it, Hell Bent was just such a lovely and succinct "fuck you Russell, that was fucked up" that I'm not sure there is much ground to cover. But this is a thing I am passionate about so forgive me a little redundancy. 
Because, ultimately, Hell Bent is an overt challenge to Journey's End and the horrific violation of consent contained. It explicitly nods to the Donna mind wipe incident and challenges the very premise of it. "Tomorrow is promised to no one, Doctor, but I insist upon my past." And, this time, the Doctor agrees, backs down, acknowledges that right. And in that nod to the Donna debacle, implicitly acknowledges the past mistake. 
And it's not just Journey's End. Davies doesn't have a great track record with agency at the end of stories in general. It's not just Donna, though the forced mind wipe is the most egregious example. Ignoring her informed consent and performing a procedure she flatly stated she did not want was nothing short of reprehensible and still makes my skin crawl. But it happens with Rose too. Both times really. In Doomsday, her decision to stand by the Doctor is first ignored by the Doctor himself, slipping the teleport medallion on her without her knowledge and sending her to the parallel universe. Once she finds her way back, her decision is once again undermined by her own father, pulling her with him through the closing Void. Both times, her choice was overridden by Those Who Know Better. And, to a lesser degree, this happens to her again in Journey's End. Having finally reconnected with the Doctor, all she wants to do is stay with him and, instead, she is given the consolation prize/baggage of a newly formed Donna/Doctor clone (a hybrid, you might say). Instead of continuing her adventures, she is saddled with a dark, angry and unpredictable new life and essentially told to figure it out because the Doctor says so. It happens to Jack the first time, when he is left alone on a decimated space station with the dust of corpses and a new immortal life to figure out without any guidance or explanation. Again, none of these moments are quite as stomach churning as watching Donna beg and plead to keep her memories to no avail but still contain remove any element of choice from the companions who are exiting.
And it has been said before, but the biggest problem with the scene is that you are supposed to empathize with the Doctor. He made a hard choice for someone he cared about, he is the hero and his actions are justified. His motives and actions are not questioned by the narrative, it was just the thing to do and we know he is tortured by this decision because he spends some time crying in the rain. So, obviously, he is forgiven and redeemed. In this way, the depiction of the mind controlling tendencies of his doppelgänger Kilgrave, from the Netflix series Jessica Jones, is decidedly better. Kilgrave is never the hero, you are never supposed to view him as the protagonist of the piece. At best, viewers are expected to understand how this very, very fucked up man formed but we are still meant to cheer when Jessica delivers the pitch perfect "smile" and snaps his neck. 
It is worth pointing out the mildly terrifying similarities between the Doctor and Kilgrave. Tennant himself seems to draw from the same well for both of these characters, playing them as classically handsome, charismatic and charming. Kilgrave easily be played at creepy and off-putting, it doesn't matter the actual impression he gives to people, he can implant a more positive one on a whim. There was no need to play him and personable and largely easy to talk to and yet he clearly is a charmer underneath it all. He understands how to manipulate people, which buttons to push, as does the Doctor. Consider the deft undoing of Harriet Jones with the little, vicious comment "doesn't she look tired?" But, despite this acute understanding of how to manipulate people, both Kilgrave and the Doctor lack insight and empathy with regards to others. Neither knows quite what it is like to be a human. Kilgrave points this out explicitly, explaining to Jessica that he never knows if people are doing what they want or what he told them to do. He has no idea what a normal, adult, human interaction is like. Neither does the Doctor really, as a Time Lord, his frame of reference is vastly different. While he is perhaps not as obvious with his discomfort in human interactions as Smith's Doctor (consider him flailing about Craig's apartment attempting to immerse himself in human life) and certainly not as obvious as Capaldi's Doctor who can't actually tell when people have changed their clothes, he is fundamentally an alien being. And, maybe, the explicit discomfort is preferable to the attempts to gloss over the differences and, in the process, manipulate those around them. 
Back to the subject at hand, interestingly, Davies' single best on screen death, the one that haunts me to this day, also creates a situation in which the character dying lacks any agency. The thing is, the man bludgeoning his would-be lover to death with a golf club in Cucumber is no one's protagonist, no one's hero. In a larger scale sense, Davies appears to want to investigate the ways in which we lack control over our own demise, which is a valid fear to explore. However, the clumsy use of the nominal hero of the piece to remove that control is a problem in a number of departures under his purview. What is most striking about Lance's death in Cucumber is the unexpected and unwarranted brutality of the scene from a nominally supporting character. The clear message is "you never know what is going to happen." You never know who you are going out to dinner with, who you meet on the bus or who you are interacting with at your job. Death is anywhere and it can be brutal and violent and senseless and that is the world we live in. It is striking and haunting and left me speechless. There is a reason we fear death and, in some cases, there is a reason we should fear death.
This is in stark contrast to the deaths (or ends in general) that we see from Davies in Doctor Who and this contrast is where my frustration arises. Violent deaths, deaths due to sudden accident or attack, are a different category entirely from those that allowpersonal agency to the end. In an accident or violent incident, there is no choice, the situation dictates the terms of the death. These are not the deaths we see in Doctor Who. Yes, it was a sudden incident that caused the Human/Time Lord Metacrisis but there was time to save the world, drop off all the companions and visit a parallel universe. Any point in this stretch, by the way, would have been a spectacular time to discuss the plan with her and maybe get some input. And even with this waiting, Donna maintained her ability to make decisions until the end. Instead of respecting her wish to die with her memories, to maintain the person she had become into death, the Doctor decided that this was not a situation he could live with and made a choice for her. This wasn't the circumstances removing choice from Donna, it was her friend and the hero. The narrative supports him in his decision and he is given the freedom to walk away believing he did the best by her. 
Compare this not only to Clara's death that but also Amy and Rory's and Danny's as well. Rory who died from one of these sudden, violent incidents and Amy who sacrificed her present life to the Weeping Angels so that she could be transported back to him and spend the rest of her life with her love. Her choice. Amy's choice. Danny gets the same respect, gets his redemptive moment as the guilty, reluctant soldier. His death is his own and, in his death, he is able to save another whose death haunts him. 
But Phil asked for this before Hell Bent aired and there is a reason for that. Because Face the Raven was such a deft, beautiful piece on death, loss and grief, entirely separate from the comparison to the rather dismal end of Donna's story. Even before Hell Bent, we had a story of a woman accepting the consequences of her actions, accepting her death and attempting to help counsel her friend through the trauma. Not only does she take agency over her death itself by refusing to let the Doctor attempt some ill-advised plan to correct the situation, she takes agency over the impact her death has. She acknowledges all of the feelings of hurt and guilt and rage that make the Doctor prone to mind-wiping people he cares about in order to "save" them and confronts all of them, tells him that her death ends with her, that revenge will not make this better for either of them and orders him to not insult everything she has been and asks him to be brave with her. It is beautiful and poignant and a conversation I have been present for in real life. It is the way deaths happen, a true and heartbreakingly accurate depiction of acute loss and overwhelming grief. 
And, honestly, so is everything in Heaven Sent and Hell Bent, every single action is done out of loss. The five stages of grief over four and a half billion years. Because, in the end, the Doctor is a Time Lord and, of course, it would take him so much longer to grieve. And he never quite makes it to acceptance. Death of those he loves is not something he accepts, River even goes so far as to warn Amy not to let him see her age, to hide the damage. His lifespan is nearly infinite, rather than see the deaths of those he loves, he would rather see them leave. Keep the memory of them as young and vibrant and vital, he simply cannot cope with the finality of death. 
We see this denial in the universe-be-damned destructive tendency of the Doctor when he loses someone. We see him make questionable decisions in order to save someone he cares deeply for but, this time, his actions are questioned, and loudly, by the woman he means to save. And, knowing that Clara will object, during the whole bloody episode he tries to downplay it, tries to not tell her exactly what this rescue mission means, what he went through and what he plans because he knows. He doesn't like endings and he knows she loves stories and she will fight for hers. Fight in a way that Donna and Rose never could. Fight in a way only a bossy control freak could manage. And that is what makes the mind wipe conversation such a punch the air moment. It explicitly calls back to Donna but, this time, he always intends to tell her. And there is no way to tell Clara this plan and not expect push back. There is no way she is going to accept this solution without question. Yes, she is the companion who actually will listen when she is told to stay put, but this is because when she decides to argue and fight back, even the Doctor is no match for Clara Oswald. 
In the end, I absolutely adored this sequence of episodes because a death like this, a death with dignity and agency and choice is exactly what Ashildr says; sad and beautiful. As someone steeped in it, who lives to care for those dying, more correct words cannot be spoken. Death, when done well, is beautiful and sad. When given the expansive reach of narrative and the nostalgic bent of Doctor Who, there is no reason death cannot be both these things. And to see a death like this, a death accompanied by deep grief and rage and loss but also one done with grace and dignity, in popular culture is all I could ask for. 
"She died for who she was and who she loved. She fell where she stood." That is the ultimate story of Clara: brave and bold and fighting for what she cares about. But it is also the ultimate story of the Doctor. Finally, at the end of Hell Bent we see him reach stage five of grieving. He accepts his errors, accepts the memory loss he had sentenced others to (which, for him, is just as final as death) and accepts the loss that he has fought tooth and nail for two and change episodes. He accepts that this story, one way or another, is over. And, just like the dying of the stars, just like the death of Clara, it is beautiful and sad.