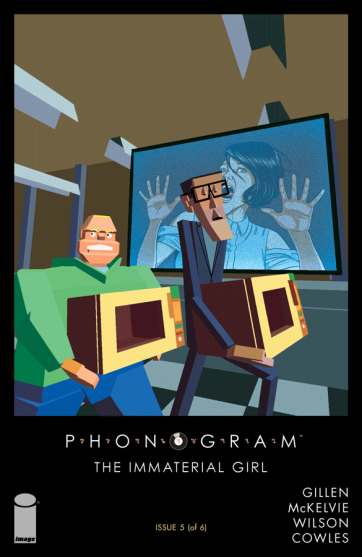 Ultimate End #5
Even had this come out alongside the rest of the series it would have been a flaccid non-ending to a non-story – the end of the Ultimate Universe that does not actually take place in the Ultimate Universe or quite actually involve the characters from it. Months late, it's yet another "oh yeah, that book" from Marvel to go with the general pissing away of any good will they've had in recent memory. A staggeringly inept comic – look at the complete randomness of Wolverine's entrance or the utterly arbitrary-seeming choice to have the final monologue co-narrated by two Spider-Mans and a 616 Iron Man. Basically shit, and everybody involved should feel actively bad that people spent $4.99 on it.
Batgirl #46
A somewhat untidy issue in which the whole is less than the sum of its parts – I enjoyed almost every scene of it, but was left with a distinctly unsatisfied feeling simply because there were too many plots and not enough connective tissue. Still, under the hood, a wonderful and fun book, but this was definitely an off month for it.
The Unbeatable Squirrel Girl #3
This dragged for me a bit; Nancy/Doctor Doom just didn't quite cohere as a comedy concept for me, although the "it's just cosplay" gag was fantastic, and the back half didn't pick up enough to make up the slack, resulting in a flaccid-seeming issue. Compelling cliffhanger, though, which is something, and as with Batgirl it seems important to stress that a middling issue of this is still fundamentally delightful. 
Darth Vader Annual #1
Lenil Yu turns out to be a strong artist for Vader, and Gillen writes a nice self-contained issue. I was wrong about the Star Wars Annual cliffhanger picking up here – apparently these both feed into post-Vader Down stories instead. But this is a good issue that actually feels like a done-in-one, tracing Vader and his droids on a mission to an entertainingly courtly society long on ballroom dances and royal succession. It's a good setting, and a solid single issue introduction to the sort of thing Gillen does with Vader. 
The Wicked & The Divine #17
A very odd end to an arc, though in some ways the only way it could have worked, as it had to exist in contrast with the first two arc-enders. Which is to say that this is decidedly not a mindblowing issue. The Sakhmet story is quiet, borderline plotless, and probably the most emphatically interstitial of the Commercial Suicide arc. The one-page McKelvie backup, on the other hand, is fascinating, was probably inevitable, and makes the wait til April before this starts up again look absolutely agonizing. 
Klaus #2
The snap and cleverness of the first issue is gone, and we're left with a book it's somewhat hard to see how gets to six issues if this is how it works. Still interesting and fun, and probably the best work Morrison has done in years, although I'm somewhat hard-pressed to imagine being passionate about the secret origin of Santa Claus come April, especially if this doesn't have more issues that bring a big stupid grin to my face like #1 did as opposed to "yep, same comic as last month." Morrison can't solely mine the giddy perversity of "sword and sorcery Santa" forever. I assume. 
Ms. Marvel #2 
Good twists and turns (quite liked the villain reveal), but the real highlights are the character beats, which include fantastic bits with both Bruno and Kamala's brother, whose name I'm blanking on and far too lazy to look up. Wilson's got two distinctly different thematic strands here, one about gentrification and the other about romance and jealousy. Both are fascinating, but what's really impressive is that despite not having an obvious reason they fit together, this feels like a beautifully deliberate and coherent story. Great stuff.
Phonogram: The Immaterial Girl #5
Holy shit, this was fucking incredible. With the back half of this series Gillen and McKelvie are casually shifting the basic nature of it, and that really becomes clear here, an issue that's about growing up. The sense of ending in Phonogram is at this point profound, with the comic very much going from "awwww, this is the last one" to "ooooh, they're really going for the landing." Just as #4 focused on some of the main characters of Singles Club, this is very much the callback to Rue Britania – a David Kohl-focused issue that emphasizes the ways in which they (along with Gillen and McKelvie) have moved on. Beautiful, beautiful stuff. (Also, a great gag in which Gillen goes "fuck it" about a song that wasn't actually out yet but that he wanted to use.)