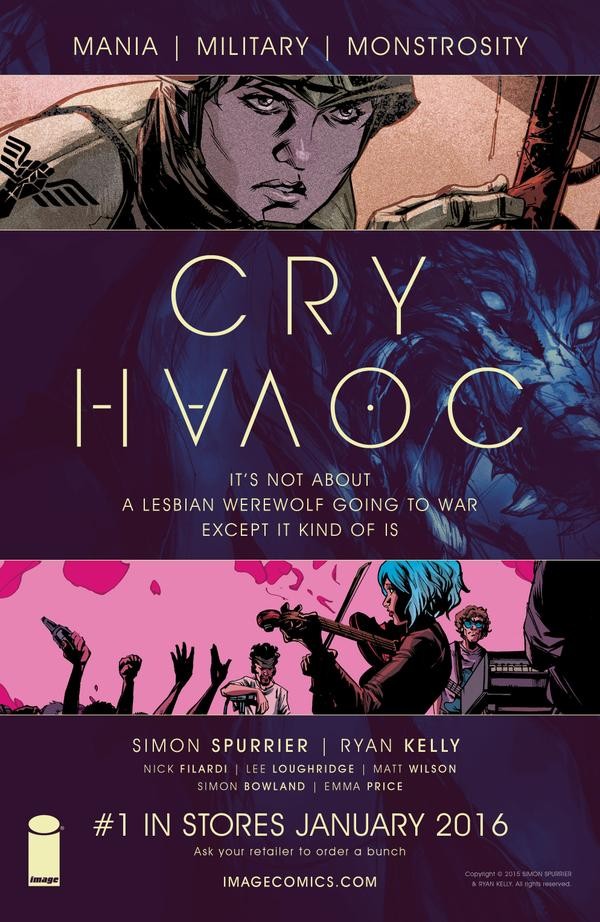 You know the drill, I'm sure. Digital codes redeemable at this url for the first person to try them.
Chew #54
A twenty-page fridging as this book continues its long march towards an ending that should have come at least fourteen issues ago.
Saga #33
Another "oh, right, those guys" issue for me, although it reintroduced its characters well enough to actually be followable, which is nice. I'm firmly out of love with this book, though, and honestly considering dropping it and waiting for it to all be over and go on some eventual big Comixology sale. It occurs to me that it's basically become A Song of Ice and Fire with all the attendant problems – too many characters who are spread out over too many settings, and switching among them in single point-of-view chapters that feel like they take too long. Ah well. Loved the "writer gets first byline" gag though.
All-New All-Different Avengers #4
There's a cute "political correctness" gag here, but for the most part the "all-different" part of this title is an increasingly bleak joke. This is ruthless traditionalism with a diverse cast. Fair enough, and probably something that should exist, but hard to get excited about. Al Ewing's been doing the same vibe with a much bolder and fresher tone for years now. I do like Thor's characterization, but ironically the final cliffhanger, in which Iron Man wonders if she's "really who she claims to be," is really one that only would have worked during the interminable "who is the new Thor" plot. Instead the answer to "why is she acting like she's not immortal" is straightforward, even if it's the first time she's actually seemed like an interesting character.
Digital code: THM8ZFRF8513
Black Magick #4
This picks up, with the cop book/occult thriller balance feeling well-struck. It still feels more style than substance, and I'm hoping things settle in the arc-ender (presumably before it takes a break so Nicola Scott can catch up, as she's not a monthly artist). On the whole this remains a bit of a disappointment to me – not least because I remember years ago when Rucka said he was waiting for Nicola Scott to be free to do another book of Queen and Country, so it's especially frustrating to see them not quite clicking into high gear on a great premise instead of that. But I'm holding out hope.
Moon Girl and Devil Dinosaur #3
This continues to fall slightly short of outright sparkling, and there's something a little depressing about seeing Ms. Marvel reverse engineered into a formula, even if it is well-executed. But this is probably the best issue yet, and it's starting to become clear how this is going to work as an ongoing book. The first half is a bit weak – the fight scene is muddy and hard to follow, depending on a "everyone's chasing the ball that gets tossed around" sequence in a space that isn't visually clear enough to support that. But the character stuff in the back half is top notch, and the set-up for next issue is fun as hell.
Digital code: THM3M6J31396 
The Unbeatable Squirrel Girl #4
A properly hilarious issue in full and classic Squirrel Girl fashion. Although I cannot find the Doombot grinding on a railing. I think he got cut off on the left side of the spread? Sloppy cropping, if so. Totally found Waldo, though. And like I said, great book. Much hilarity. At least three jokes I genuinely laughed out loud at, which is a heck of a good hit rate.
Digital code: THM7CDTY7D62
Cry Havoc #1
I've been looking to try a Simon Spurrier book where he's in his own element, having felt let down by the one or two licensed things of his I picked up givenhis reputation. Now I get it. This is brilliant, brilliant stuff. A three-time setting opening issue that manages to introduce its concepts and remain utterly clear. And its concepts are lesbians, werewolves, terrorism, and the war in Afghanistan. So, you know. A nice, easy thing to do in twenty-two pages. Really excited to see where this goes. Absolutely check this out.