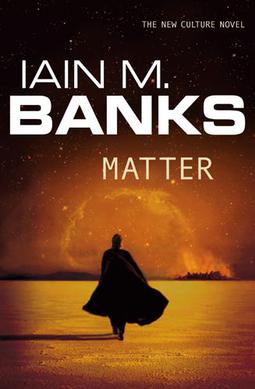 After an eight year furlough, Iain M. Banks returned to the Culture series in 2008 with Matter, the longest Culture novel to date. The problem is that it's not entirely clear why he did this. Matter, to put it bluntly, is a mess. Were it not for Consider Phlebas's intense lack of quite knowing what it wanted to do with this "Culture" idea, Matter would straightforwardly be the weakest novel in the series to date. The problem, from what I gather, is not that Banks has run out of ideas. I've not read Surface Detail or The Hydrogen Sonata yet, but they are apparently perfectly good books. It's just that Matter… isn't.
This is not a hugely controversial opinion about Matter. Most of the diagnoses center on the ending, which amounts to basically every major character in the book dying in rapid succession, starting when an ancient planet-killing machine wakes up with very little setup and eliminates the entirety of one of the three plot lines that had been occupying the book thus far, and culminating when everyone else dies stopping it. This has led to suggestions that Banks's heart simply wasn't in the book, or that he got bored writing it.
Color me dubious. The abrupt slaughter of the ending is too particular to be a mere product of laziness. Banks, who after all had a second career as a literary novelist, would surely have been aware of Fay Weldon's 1986 novel The Shrapnel Academy, which famously and cavalierly ends with a bomb going off in a country manor and killing all of the characters. In Weldon's case this is the cruel end to a blistering satire of class and militarism. Here it's more of an abrupt turn—the book becomes a very different thing with relatively little notice. But there's still a deliberate transgressiveness that suggests that Banks did not simply get tired of the book and write a two chapter equivalent of "rocks fall everyone dies."
Nor does it quite work to say that Banks's heart wasn't in the book. The book is too substantial for that. In publicity for the book, Banks excitedly talked about how "it's a real shelf-breaker" with four thousand words "of appendices and glossaries. It's so complicated that even in its complexity it's complex. I'm not sure the publishers will go for the appendices, but readers will need them. It's filled with neologisms and characters who disappear for 150 pages and come back." There are sizable enough chunks cut that he published one as a short story for a convention-exclusive book. None of this sounds half-hearted; it sounds like Banks tried to return to the Culture with an absolute barnstormer of a book.
And yet Matter is weak, and for reasons that go beyond its ending. It's just kind of a boring book. It follows three main viewpoint characters (albeit with lots of excursions to other perspectives), the surviving children of King Hausk, the monarch of a race called the Sarl that live on the eighth level of what's called a Shellworld—a planet comprised of nested levels. These are Ferbin, who witnesses his father's assassination in the first chapter and who should be heir to the throne, Oramen, who is in practice heir to the throne because Ferbin is believed dead and on the run, and Djan Seriy Anaplian, who was given to the Culture as a child and grown up to become a member of Special Circumstances. Of these, only Djan Seriy's plot reliably crackles. Ferbin is an annoying ponce of a son who is mostly frustrating in his lack of perspective, and Oramen is both passive and infuriatingly oblivious to everything going on around him. So there's not a lot of momentum on what looks like the plot, the political intrigue surrounding the assassination. That this plot then aggressively declines to resolve, with Oramen and the assassins all getting nuked to death when the planet-killing machine wakes up, makes the kind of sprawling directionless of it up to that point frustrating, to say the least.
To be clear, my objection is not to aggressively undercutting all of the reader's desires and expectations with a weirdly bleak and cynical ending. I like that. It's just that the reader's desires and expectations up to that point aren't really all that. Part of the problem, frankly, appears to be that Banks just plain isn't very good at writing fantasy. This is the second Culture novel to spend an extended amount of time with a vaguely medieval society (the Sarl are slightly more advanced than this but are decidedly pre-industrial), and it's also the second one to not really work. Banks just fails to thrive with this setting. He's on firm enough footing when he's explaining the intricate structure of the Shellworlds because Banks likes gigantic ideas science fiction. He's good with character bits because he always has been. And his prose reliably sparkles. But there's just a lack of substance when he tries to write political machinations in a quasi-medieval society; he tends to feel like he's shuffling around well-written stock tropes. The contrast between this and the giddy vividness of the Culture's "knife missiles" and ostentatious ship names (this one gives us Lightly Seared n the Reality Grill, Pure Big Mad Boat Man, and You Naughty Monsters) is stark.
Inversions is probably a useful touchstone here, then. I argued that the second phase of the Culture novels was generally focused on and around the question of how to break the format of the books, with Inversions experimenting in taking the Culture out of the books. Aylwin, in the comments on the Look to Windward post, made the extremely savvy suggestion that the third phase books that Matter inaugurates "are merely novels with the Culture in them (albeit in them a lot), rather than novels about the Culture" and that they are fundamentally driven by "non-Culture people pursuing aims unrelated to the Culture." I can't vouch for his conclusion about all three novels, having not yet read Surface Detail and The Hydrogen Sonata, but it certainly describes Matter accurately. And there's an obvious degree to which Inversions serves as the root for this approach. Matter certainly has considerably more Culture in it than Inversions, but it's still fundamentally a book about the Culture's intersections with something else.
But there are more differences here than just level of Culture involvement. Inversions is at its heart still in the tradition of the early Culture books that debate the ethics and shape of interventionism. But that's really not a debate that's actively playing out in Matter. Intervention isn't really under any debate here—it's just an accepted fact of how the Culture works. More to the point, the bulk of what the Culture is doing is not intervention-based—Djan Seriy never seriously considers actively interceding against her father's murderers. Her concerns are investigative, focused on understanding some Weird Shit going on in the galaxy.
This is interesting, politically, as Matter is the first Culture novel to come out after the Bush administration and the Iraq War. The same interview where Banks talks about it as a shelf-breaker, he talks about sending his ripped up passport to Tony Blair as a protest against the Iraq War. So to step back from the interventionism debate at a time when, politically, it seems more prescient than ever is interesting. But this is generally misleading. Matter accepts the Culture's meddling, but it accepts it with clear and often articulated constraints, with a universal ethos among the involved species within it that there need to be sharply defined limits on what interventions are taken.
So how does Matter stitch its concerns together? Why, after eight years in which Banks suggested he might well be done with the Culture did he come back to it to tell a cynical tragedy about feudal machinations? The clue is in the title, or perhaps more accurately in the title drop within the book, which comes when Ferbin gets in touch with Xide Hyrlis the Culture agent who had previously intervened among the Sarl (and who had been responsible for Djan Seriy's recruitment to the Culture) and unsuccessfully pleads for help. In the course of this encounter, Hyrlis monologues on simulationism, constructing a moral case against it rooted in the argument that "no credible fiction could convince us of, so only reality—produced, ultimately, by matter in the raw—can be so unthinkingly cruel. Nothing able to think, nothing able to comprehend culpability, justice or morality could encompass such purposefully invoked savagery without representing the absolute definition of evil." From this he notes that ""We are information, gentlemen; all living things are. However, we are lucky enough to be encoded in matter itself." And a few pages later Hyrlis has an exchange with Ferbin's servant, Chubris Holse, after Holse suggests simulating wars as a means of avoiding brutality. Hyrlis observes that ultimately battles and wars can hinge on astonishing trivialities such as equipment malfunctions or the actions of a single soldier, which are too idiosyncratic to be simulated. Holse "smiles sadly" and summarizes this thusly: "Matter."
This usefully clarifies the thinking behind the ending, and indeed the entire book's structure. Banks returned to the Culture to construct a sprawling epic that hinged on the small. The entire Shellworld structure speaks to this, with its literalization of nested levels of civilizations from the nearly Culture-tier Morthanveld all the way down to the Sarl. Unlike Inversions, which sought to see if you could tell a Culture story with the Culture taken out, this is an attempt to invert the telescope and tell a Culture story from the bottom up. The result is flawed, compromised, and unsatisfying; perhaps most frustratingly, it's self-refuting, in that the best bits are the ones that take place furthest away from the level of base matter, dealing with the rarified climes of the Culture. But Matter is not an endpoint but a beginning; Banks would pen two more Culture novels before his untimely death. Matter was not any sort of definitive statement, but a tentative first exploration of a new approach. And the gulf between its ambitions and its result just indicates that there was more to be tried.