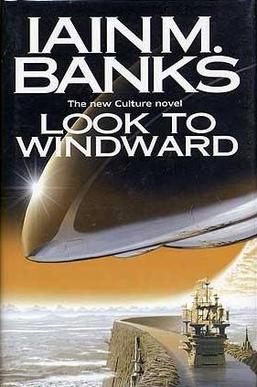 Banks published the Culture novels in essentially three chunks during which he'd write one every other year and between which he basically didn't touch the setting. The first, consisting of everything through Use of Weapons, is dominated by already drafted material that Banks wrote prior to The Wasp Factory, and consists of Banks establishing the Culture in all its glories and problems. The second, beginning with Excession, but aesthetically encompassing The State of the Art, sees him testing the limits of the concept, pushing it to various breaking points to expose new faces of the idea. And it reaches its conclusion with Look to Windward. Whereas Excession and Inversions tested the limits of the format with massive high concept ideas like "what if the Culture met a vastly technologically superior civilization" or "what if you took the Culture out of a Cuture novel," however, Look to Windward opts to break a far subtler rule: it's a sequel to a previous book.
The clue's in the title, which is a quote from T.S. Eliot's "The Wasteland"—"O you who turn the wheel and look to windward." The next line? "Consider Phlebas, who was once handsome and tall as you." But Look to Windward is not a sequel to Consider Phlebas in any straightforward sense whereby it shares characters or even particular incidents. It is not the story of Bora Horza Gobuchul's previously unknown child wrecking bloody revenge upon the Culture. It is not even another book set during the Idiran War. The War hangs over things, but only distantly: the novel is set in a period between the time the light of two supernovas becomes visible on a particular Culture orbital, the supernovas having been the result of the Idirans destroying two stars in the now eight hundred years past war. The Mind of the orbital is a veteran of the war, but this detail only becomes important (and indeed prominent) in the book's denouement.
The seeds of shutting the whole Culture apparatus down for another eight years, in other words, are clearly visible. This is a book that's straining against its own desire for straining, and it carries the sense of exhaustion you'd expect from that. And yet, ironically, this is also the reimagining of what a Culture novel can be that actually takes. From this point on, when Banks writes a Culture novel the act consists of simply writing a Culture novel as opposed to making some fundamental case for what it means to write a Culture novel.
In this regard, at least, it is fitting that the novel should serve as a sequel to the first Culture novel. Because make no mistake, it is a sequel to Consider Phlebas. The title doesn't lie, and the Idrian war is too central to the book to be ignored, even if it's too peripheral to call the focus. Like Consider Phlebas, Look to Windward is a book about war, a topic that, while certainly present in the other Culture books, is not generally their subject.
Though actually, its very presence is a bit odd. The Culture, after all, is an expressly utopian project. It's not a given that futuristic utopias are pacifist—Star Trek notably isn't—but there's a certain obvious gravity towards it. But Banks did not just reject this angle, he explicitly chose to introduce the Culture at war. More to the point, he depicts the Culture in a war of aggression—one they started. That they did so out of moral principle, because the Idrians were actually evil, is an interesting detail of this, but it remains the case that Banks made a very deliberate choice to ensure that serpent remained in his garden.
This is not, clearly, out of some sense of fondness for the endeavor. While Banks may think war is inevitable, and cannot be excised even from utopia, this is not because of the necessity of it. The overall point of Consider Phlebas is the ugly futility of all its brutality, with its best aspect being the epilogue where Banks contextualizes the book in the larger war, mainly by suggesting the utter irrelevance of its events to the larger picture (which is itself a minor if "singularly interesting" conflict). Banks may have accepted the moral logic of intervention that underpinned the Culture's decision to go to war, but war is treated more as an ugly consequence of that logic than as a valid alternate means of politics.
This is particularly visible in the war that Look to Windward focuses on, which is a civil war among another species, the Chelgrians, that kicked off because of a Culture intervention gone wrong. This is not because of a tangible mistake on the Culture's part or anything; they did their usual thing of providing covert backing to oppressed segments of the population in pursuing political reform, and it just went terribly wrong when the chosen figurehead proved an unstable brute. War, in other words, is not something the Culture pursues so much as a reluctantly accepted occasional consequence of their interventions. This doesn't entirely square away with previous books, where they definitely deliberately provoke wars, but it's still clearly the context here.
But the Chelgrian civil war has also already ended when the novel starts, with only its prologue actually set during the war. Indeed, another way to frame its sequel satus Consider Phlebas is about the stupid brutality of war, whereas Look to Windward is about its aftermath. Look to Windward is dedicated to the Gulf War veterans, a dedication that, in the context of the 2000 publication date, points to the emerging recognition of Gulf War syndrome. This is a book about the traumas of war—the way its damage is experienced not just in the immediate circumstances of its destructive folly but over the long run, in old wounds that do not heal.
The central figure in this is Major Quilan, a Chelgrian who lost his wife during the civil war and who is now afflicted with a suicidal despair, which his government seeks to channel into a suicide mission against the Culture whereby Quilan will murder a Culture orbital in retribution. The novel essentially alternates between chapters from Quilan's perspective as he gradually remembers the details of his mission (which have been temporarily erased from his mind in case the Culture scans it) and ones about life on the orbital, building to the moment Quilan's plot is to go off.
This means, in practice, that the novel is a lot of waiting for things to happen. There's not so much a plot as the gradual revelation of what Quilan's mission is and then, once that becomes clear, a tension over how it will play out. But it's not a procedural or a thriller—the alternating back and forth does not provide some cat and mouse game about the efforts to catch Quilan. It's just a waiting game as the moment of decision ticks closer. There are other plot threads—an extended one about a Chelgrian expat composer on the orbital who is debuting a new symphony the first performance of which is where Quilan's attack is set to happen—but it's not a plot that's long on events. It's a meandering novel—the most "literary" that Banks has penned with an M in his name. That's a desperately hollow aesthetic distinction, but it still stands in marked contrast to the (overly) frenetic pulp adventure of Consider Phlebas, and indeed even from the more ostentatiously stylish Use of Weapons.
What is the lasting damage of war, then? The obvious wrong answer is death. Death is what happens within war and its big tragedy, yes, but it's clearly not what's going on in the contemplative silence of Look to Windward. Nor is this some drab meditation on the cyclic nature of violence. Quilan's attack fails comprehensively. The cycle of violence isn't quite broken—Banks finds time for the Culture's brutal and deterring retaliation against the Chelgrians—but it's clearly not the point of the exercise. No, the word we're looking for is mourning. What permeates the stillness of Look to Windward is a sense of grief, and a sense of despair at the permanence of grief. Both Quilan and, it ultimately emerges, the Mind he's been sent to kill are haunted by what they lost during their respective wars and unable to move on from this.
And the novel ultimately rejects the possibility of moving on. That's what giving the Mind a similar sense of mourning serves to do—establish that eight hundred years and a vast level of cosmic awareness that borders on omniscience is insufficient to resolve grief and heal the wound. What ultimately stops Quilan's attack is a moment of empathy between him and the Mind in which they decide, mutually, to die themselves. The only hedge against this being an ending of outright bleak despair is the underlying sense of poetic beauty.
But what's interesting about it is the sort of death that's offered—one defined specifically in terms of oblivion and non-existence. Because that's pointedly not the only sort of death on offer. Considerable effort is spent establishing the Chelgrians' peculiar relationship with death, namely that they have an empirically verified afterlife by dint of having partially sublimed as a species. Quilan's wife was specifically denied this afterlife for handwaved sci-fi reasons, and Quilan actively wants to avoid it himself, desiring actual un-being.
But this detail is interesting not so much because it changes the moral point of the book (which is a delicate enough thing to defy encapsulation) as because of the ways in which it points forward. When Banks picked up the Culture again after an eight year gap, questions of the afterlife would continue to intrigue him, with two of the final three novels working with ideas along these lines. Much as The State of the Art prefigured the second phase of Culture books' approach, Look to Windward begins to show what the Culture will be like as Banks enters his de facto late style period.
In this regard, then, it's worth stressing that Look to Windward is good in ways that the series as a whole has not been since Use of Weapons. None of Banks's series-breaking ideas were entirely successful, though all had their charms. But Look to Windward is a deft and accomplished novel, its parts defly tallying to more than their sum without ever tipping into ostentation. There are odd details that jar—a subplot about an attempt to warn the Culture of the plot that never quite gets around to connecting to anything and resolves perfunctorily, and an epilogue that can fairly be called one clever twist too many—but even these seem proportionate to the whole, their frustrations no more than are appropriate for the book's themes. It feels like an author who's getting tired of his current approaches, but also of one who's successfully refining them.