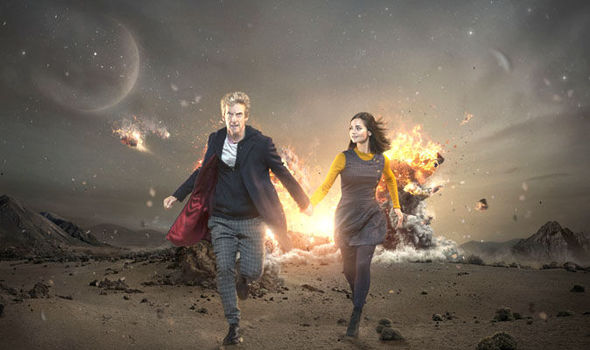 We'll start with the stories ranking, with letter grades assigned, and then finish with some general thoughts on the season.
Under the Lake/Before the Flood
There's really no way to avoid this being the stinker of the season. I'm not going to rehearse my basic criticism of Toby Whithouse's output from about 2012 on at great length, but man I hope he starts displaying any instinct towards varied character arcs soon, preferably by writing stories about things other than protagonists who are mildly uncomfortable with their own moral ambiguity. That said, watched in the context of the rest of the season it improves, and in ways that serve to highlight the overall structure of the season.
To take a page from Jane's usual collection of interpretive tricks, this is a season built around mirroring, both in its structure of two-part episodes with paralleled titles and in the sense that in various ways each story rehearses the events of Hell Bent. And this story is a part of that, and a significant inversion in that it's the one iteration in which it's the Doctor who seemingly dies instead of Clara. Most notably, Clara's furious refusal of the Doctor's death and her insistance on not being abandoned puts the lie to her eventual claim that she never asked the Doctor for a duty of care (though not nearly as much as his entirely sensible point that you shouldn't have to ask in Face the Raven).
But it's a clumsy and half-conceived of version of what the season is doing – one that becomes clear when rewatched in the context of the larger whole, but still only as something that doesn't really take the place because the story is inexplicably of the belief that "ghosts on an underwater base" is a premise with inherent weight and doesn't seem to grasp that i you're going to do an extended procedural stretch of Doctor Who you need to actually have the key steps of the procedure make sense and be set up. Some of this is explained by the fact that this was made while Moffat was busy doing Sherlock and before the rest of the season actually existed. Other bits are explained by the failings of Toby Whithouse. None of that removes the basic fact that this sucked.
D
Sleep No More/Face the Raven
My decision to make this a two-parter on my initial ratings list was mostly a joke – a stubborn insistence on the "season of two-parters" tag in the face of its obvious counterexample. But I decided to watch them back-to-back for my rewatch as well, and was bemused to see that they actually work thematically, if not on any plot grounds, both in how they quietly break the two-parter structure in a way that's important for the finale (I'm much more inclined to argue that Heaven Sent and Hell Bent are separate stories than that they form a three-parter with Face the Raven) and in that they are both stories in which the Doctor loses.
And more than that, I think the "all two-parters" structure hangs over this. Yes, these are clearly two one-parters (I really think the "three part finale" case is slightly less sane than calling Mawdryn Undead, Terminus, and Enlightenment a twelve-parter), but in a season of reflections the broken mirror doesn't exactly sit outside the pattern. The structure tacitly asks us to look at these together.
All of which said, my initial enthusiasm about Sleep No More drained somewhat harshly in the face of a third viewing. It wasn't even that I disliked it – if anything I appreciated the subtleties more, including the amount of thought that went into its direction. It's just that it's slow. Its forty-five minutes feel longer than Hell Bent's hour. I spent most of the runtime shocked at how early in the episode we still were.
Face the Raven is still brilliant, mind you.
B (a straight average of the two parts)
The Husbands of River Song
Obviously I've not really re-evaluated this from my review on Friday, but here's where it falls on the overall stories ranking.
B
The Magician's Apprentice/The Witch's Familiar
This improved for me considerably on a rewatch, with much of its improvement coming from being contextualized by Heaven Sent/Hell Bent. (Most notably, in the opening to The Witch's Familiar, which I remarked upon in my Face the Raven and Heaven Sent reviews, but which really is appallingly clever.) I stand by my criticism of The Witch's Familiar as a thing waited a week for, but it's the more interesting episode by a mile between the fantastic resolution and the incredible Doctor/Davros conversation.
Indeed, the real thrill of this is that it is the most like watching a classic series DVD that the new series has ever really felt. This delights in its vintage, retro aesthetic, thrilling in the Terry Nation bits in a way nothing has dared to since, well, Resurrection of the Daleks I suppose but this actually goes well. Incredibly interesting theming going on with it, in the idea of a dangerous and ill-advised friendship and the introduction of the Hybrid. That's quite smart. And the Doctor/Davros conversation really is brilliant, as is "your sewers are revolting."
One really wonders, frankly, why they marketed it the way they did, with trailers that literally said "same as usual" instead of just screaming "Missy, the Daleks, and motherfucking Davros, September 19th on BBC One." That is perhaps the strangest thing about this season; the relative lack of fanfare. It's not making any critic's best-of lists even though it's at a relative high point in quality. It's like the Sylvester McCoy era in its "weird hidden gem of popular culture" aesthetic, only without the cancellation-level ratings.
B+
The Girl Who Died/The Woman Who Lived
The failings of The Woman Who Lived really vanished when watched back to back, in much the same way that I suspect nobody notices how shit Pyramids of Mars 4 is when they just watch the DVD in one shot. With this story's one major weakness thus obscured it's left to largely shine. Hindsight also does it favors – having seen Williams play Ashildir/Me at many ages, watching her cheekily unreconstructed Arya impersonation and her adolescent quasi-villain is really impressive.
The Girl Who Died is genuinely fantastic – an efficient and giddy thrill that feels like all the best bits of the Graham Williams era. It's also one of the episodes that benefits most from hindsight as you notice that its structure, with Clara basically standing on the sideline of the story and only really giving motivational speeches to the Doctor on occasion, prefigures Heaven Sent. That this is the fifth best episode of the season speaks volumes about how good the season is.
Meanwhile, The Woman Who Lived remains an excellent character piece whose plot is basically incidental. Rupert Hound is still insufferable, but on the whole these feel like perfect demonstrations of what Doctor Who is supposed to be for.
A-
Heaven Sent/Hell Bent
These were exciting. They still are; the buzz from them hanging around. They had their imperfections, but man, my overwhelming memory of the two weeks after Face the Raven is just unabashed enthusiasm about Doctor Who.
Heaven Sent, in particular, is something of a "neat trick" sort of episode. It feels its length, which isn't necessarily a bad thing but necessarily isn't a good one. In particular, the plot does not reward close inspection; knowing that this is the Time Lord's interrogation scheme makes several aspects rather impenetrable. I'm actually not troubled by the "what's the order of events with the confession dial" issue, mind you; I think there are clearly two confession dials, and I doubt the Doctor talks about the Hybrid on the one from The Magician's Apprentice at all. No, what troubles me is why the Time Lords gave him the "punch through the wall" option instead of just going "right we've captured you now tell us or die."
But for all of it, it's still just a thrill to watch. The technical aspects shine with rewatching – the Expressionist shadows and Capaldi's breathtakingly meticulous performance. Murray Gold is doing his best work in ages. And Hell Bent is simply delightful through and through, its preposterous oversignification only becoming richer on subsequent viewings. The best season finale since The Pandorica Opens/The Big Bang.
A
The Zygon Invasion/The Zygon Inversion
It literally doesn't have a bad scene. It's overflowing with ideas, both dramatic and political. Capaldi and Coleman both get some of the best scenes they'll have in their careers. It's an absolutely superlative piece of Doctor Who. As good as the show has ever been.
But more than that, it was shockingly, rawly 2015. Not just in the obvious parallelisms of terrorism, although the start of its TARDIS Eruditorum writes itself, but in the way that the big speech at the end feels like what you wish someone had managed to say during the debate over bombing Syria. Jack's critique of its liberalism is the smartest thing anyone's written about Doctor Who this year, but it remains impossible to watch the scene and not wish that there were words that could actually accomplish that. And it's hard to remember the last time that Doctor Who felt that rawly and perfectly on the pulse of the world.
But more than that, it's just what I want out of Doctor Who right now. More than any other story this year, this is the one that felt like it approached its premise with the constant question "what does this let us do," and sought out the odd things that only Doctor Who could ever do, and that only work because of this week's premise. I adored the space left for characters, and the fact that bizarre moments like the soldiers lured to their deaths by their families in The Zygon Invasion or the tragic body horror in The Zygon Inversion made it into the episode. There was lots of good Doctor Who this year. But this is the one that feels like a viable model for the future.
A+
Which brings us to concluding thoughts.
I ended last year thrilled that we were getting another season of Doctor Who in basically the same mould. And I suppose that's the place to start, because it fits oddly with my usual stated desire from Doctor Who, namely something I haven't seen before. Because the last thing I wanted was just Series 8 done again with less originality.
No, what I wanted was something more akin to the difficult second album – something that followed in the same vein as Series 8, but that refined it and pushed it to points that were a bit riskier and more at the edges of what the approach can do. And by and large, that's what Series 9 did.
Much of this, I think, was the two-part structure, which is obviously a one-off experiment that can't and shouldn't be carried forward (although I suspect two-parters, in the general case, are back). But this season it gave stories a certain degree of weight. I compared The Magician's Apprentice/The Witch's Familiar to a classic series DVD, but that's actually pretty apropos for the whole season. At least four stories – and indeed a total of nine episodes – feel like thing that I'll genuinely enjoy going back and looking at in ten or twenty years. I can't wait to give them Eruditorum essays.
There are quibbles, of course, and not just in the Whithouse two-parter and the noble failure that is Sleep No More. But there always are. On the whole, though, this felt, more than anything, like Season Thirteen to me; a run of stories almost all of which stand up to multiple rewatches. Like Season Thirteen, it lacks the sort of wild and effervescent energy of the season before it. But it's also considerably less uneven, and its high points are genuinely higher. And one suspects the analogy will hold to Series Ten/Season Fourteen, both with needed change that refreshes things and with, by the end, a sense that it's time for even bigger change. (Though hopefully it'll avoid the grotesque racism.)
All told, a second year in a row to be stunningly good. I know the Capaldi era isn't resonating with critics or mass audiences quite like the Smith or Tennant eras did. But this is a creative high point on par with the Hinchcliffe and McCoy eras – something that's going to be a joy to look back on and experience again for years to come.
In short, wow.