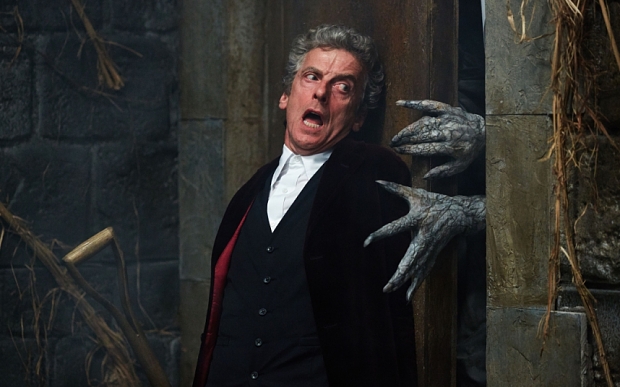 As I've said many a time, what I want out of Doctor Who is something I've never seen before. And so I'm not going to argue with anybody who puts this among their masterpieces. If you want to claim it as the equal of Listen or Blink then be my guest. For me, it's a solid 9/10, and won't be ahead of The Zygon Inversion in my rankings, so the result is that we're going to start defensive and then move to the positive.
I suspect the crux of my disagreement with those who will put it higher is simply how much one values the basic idea of the "experimental" in Doctor Who. Which in some ways brings us back to Sleep No More, and in others back to In the Forest of the Night, two episodes that were distinctly experimental and also distinctly flawed. In both cases I value them considerably more than the consensus, and specifically for the odd things they did. And moreover, yes, obviously anyone who's read any of my work on Doctor Who recognizes that I love its weird tradition, which has always been a huge part of the show, from The Edge of Destruction on. I'm definitely in the general camp of fandom that thinks The Mind Robber, The Deadly Assassin, Warrior's Gate, and Vengeance on Varos are all cool just for being what they are.
But equally, the "experimental" field is crowded these days. At even the stingiest definition you've got to tag Listen, Last Christmas, Sleep No More, and Heaven Sent as experimental episodes in the last two years, and I'd be inclined to widen the net, and count bits of relatively non-experimental episodes like the Beethoven's Fifth bits of Before the Flood and the two-hander first half of The Woman Who Lived, as well as much of In the Forest of the Night and the direct to camera bits of Kill the Moon. By and large this is why I'm loving the show so much right now. But it causes a small but distinct problem for something like Heaven Sent, which is that the fundamental limitations of how experimental Doctor Who can be really become visible when they're run up against as often as they are these days. Doctor Who can do brilliantly experimental takes on all sorts of genres: western, Vikings, Restoration comedy, political thriller. But it can't do an experimental take on experimentalism. That's just not what it's for.
This isn't helped by the fact that the fundamental limitations of how experimental Moffat can be have long since become visible, and for the admirable reason that he keeps punching away at them with glorious stubbornness. This is, somewhat flagrantly, the basic concept of Time of the Doctor done as the show-off sequence in the middle of His Last Vow, with a middle finger emphatically raised at the entire "Moffat fetishizes the Doctor and this is a problem" crowd.
All of which is a very long way of saying that, slightly depressingly, this manages to be a hugely experimental one-hander that doesn't actually do anything new aside from be a hugely experimental one-hander. And that is in some real senses less interesting to me, the sort of person for whom a rotating puzzle castle is a cliche, especially compared to the novelty of a political thriller about Zygon ISIS resolved as a monologue about war as a game show or robot Vikings defeated by eels set to Yakkety Sax. I know my experimental theater, room escapes, and teleporter philosophy discussions well enough to see all of the strings here. The resulting effect is like seeing your twentieth Dave McKean comic book cover or hearing your tenth FKA Twigs song: this is cool just like all the others.
So it's not exactly surprising to hear that Moffat wrote the Christmas special, two scripts after this, not knowing if it was his last ever Doctor Who script. This feels like someone who's realizing that they know all their own obsessions. Indeed, you can frankly read it as a metaphor for Moffat writing the same script over and over again. But all of that also means that it feels like someone who is well aware that they're at a creative peak, and are determined to use it.
The highest compliment to pay to it is, ironically, the one that's why we just did the six hundred words of hesitation, which is that Moffat makes it look easy. The real gems of this are in the first half, where everybody is figuring out how to make it work. Once the Doctor has his skull everything actually is easy, and going to go fine. The "and the shepherd's boy said" montage is by no means idiot proof, but Talalay and Gold were always going to nail it, and it's obviously where Moffat started from, so once he gets there you can all but hear the sigh of relief.
But those first few scenes are astonishing. Everything from the credits to the first TARDIS scene is spine-chilling, less because of the details of what's happening (although what works for It Follows unsurprisingly works for Doctor Who) than because you can tell that Talalay, Moffat, and Capaldi are all scared shitless. Capaldi, in particular, has never seemed so method.
But also phenomenal, and to my mind much easier to miss, is the digging scene, where Moffat uses a change in who the Doctor is talking to as a character beat, switching from Clara to his unseen captors as he loses focus and gets angry. That's the point to really take a step back and appreciate how effective a method everyone has built for storytelling, because it's something that happens entirely instinctively, not as an obvious solution to "and now what do we do."
So yes, obviously I loved this. The ultimate regeneration story, with the Twelfth Doctor not quite regenerating into himself, over and over again, dying billions of times in an aeons-long escape from one dinky little miniature prison in the gap between Clara dying and a Time Lord Western. The sheer weirdness of seeing just one iteration of the Doctor's folly at first, so that it just looks like the Doctor trying to break his hand, with all the kind of broad comedy excess that implies. The accordion version of the Twelfth Doctor theme when the door opens onto the solid wall. It's all great stuff. But I think I'm more interested in the moments when Doctor Who is less ostentatious right now and more mixing weirdness in with other things.
For all that my taste has swung more towards stories whose experimentalism is part of a larger tapestry of inspirations, and for all that it's probably going to be a cliche of reviews of this episode, both positive and negative, kudos to everyone for trying it. Some day

Doctor Who

will be a show you can't imagine being brave enough to chance something with this much potential to fail horribly, as it has been at many times in its past, and it's going to be tragic.

Other phenomenal moments of Capaldi include his calm and taunting tone of his third confession and the bewildered surprise on his face when the wall actually breaks.

I note one prominent blog that proclaimed that this episode is "a true work of art, fitting for any visual arts museum anywhere." For god's sake, fandom, get some fucking perspective.

I really hope this follows the opener and

Face the Raven

in having its script uploaded to the BBC Writer's Room section, for the simple reason that I suspect that, more than any other episode this season, it's one that watching alongside the script would be profoundly revealing and educational. (I similarly hope that Moffat will, after two seasons of not doing so, make a return to the DVD commentaries here, because seriously.)

There's something slightly perverse about the fact that they can show the Doctor's smoldering, burnt, and dying body but not him bloodying his hand punching a wall.

I admit to being somewhat puzzled by the "the castle was the confession dial" revelation. Had the Doctor not actually made his confession yet? Is this a different dial than the one he handed Ashildir? Are confession dials usually made through strange existential tortures? How exactly did the teleport aspect of it work? I fully expect absolutely none of these questions to be answered next week.

I like what looks for all the world to be a Time Lord Western, though. With Jenna Coleman as a waitress. I'm certainly fascinated.

That said, we don't really believe the Doctor's the hybrid, right? Or maybe he's only the hybrid when he's wearing the sonic sunglasses. That would make aesthetic sense at least.

So what's the over/under on Jenna Coleman playing Clara in the finale, as opposed to playing an echo? Personally, I kind of like the idea of Coleman leaving as she arrived, playing a role other than Clara. Although I certainly wouldn't be unduly floored by Clara's death not sticking, and I can imagine numerous scenarios in which that could work well, I kind of hope she's just dead.
Episode Ranking
The Zygon Inversion

Face the Raven

The Zygon Invasion

The Girl Who Died

Heaven Sent

The Magician's Apprentice

Sleep No More

The Woman Who Lived

The Witch's Familiar

Under the Lake

Before the Flood