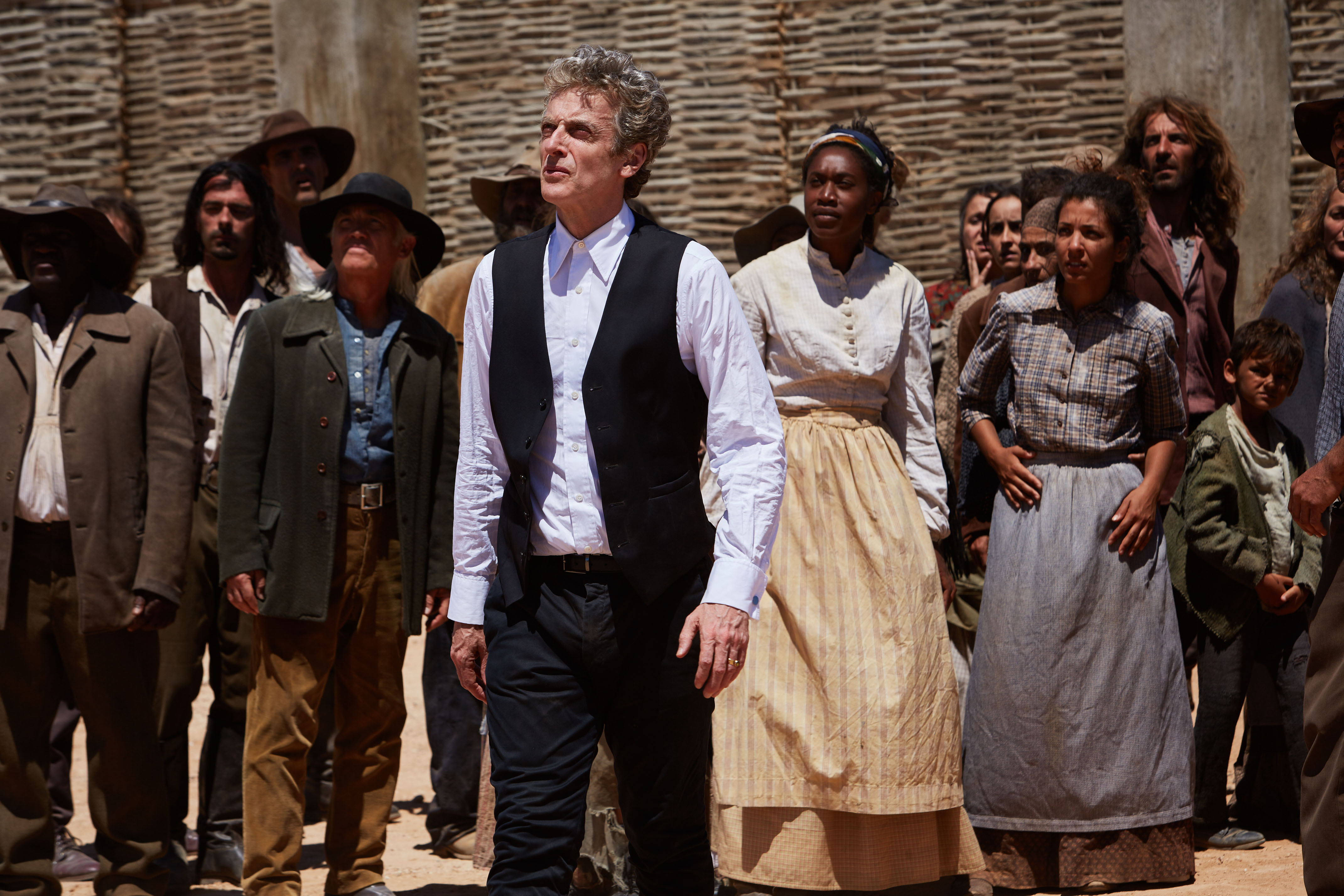 Moffat must go.
It is stunningly reckless in its oversignification. Nearly every element of the plot is another thing along the lines of the Zygons in

The Day of the Doctor

– an unresolved question mark that could be expanded on at vast length. Similarly, nearly every element turns on parallelism with other pieces of the mythology.

The most interesting of these is of course the Me/Missy parallel, emphasized both by the ostentatious emphasis on Me knocking four times and on the tripled repetition of "Missy" from Clara to the Doctor to Me in such a way as to stress that "Me" would be a perfectly plausible alias for her.

And don't give me that "how would you make that work with the continuity" bullshit. The answer is obvious: Clara eventually seeks out Faction Paradox to help her with the whole "has no pulse" problem, and in the course of that adventure Me is flung into the Looms. Duh.

What an absolutely perfect ending for Clara, though. Not a Time Lord. (Probably) not immortal. Entirely on her own terms, as what she is. But stealing a TARDIS and running away to see all of time and space. With Maisie Williams. Given that the character's departure is in part defined by the fact that she's had a half-dozen of them already, three of them fatal, the question of how she'd leave for the final time was vexed. And the episode leaned into that, most obviously with the massively emphasized pan away from the "things that need to be said" conversation. Within that problem, the answer "Clara founds her own discrete and feminine iteration of the basic narrative of

Doctor Who

and escapes from the narrative into it" is absolutely brilliant.

More brilliant, though, is the way in which

Hell Bent

uses its oversignification to create an "it's all true" approach to its underlying questions of mythology. Numerous things almost happen, or are gestured at through parallels but not through exposition, such that any fan theory is no more than two lines of technobabble away from confirmation. And particularly the role that women have within this – note the way that the episode is haunted by several of them, including some who are actually in it.

Actually, just to take a quick detour into a bit of canon the episode is mostly content to let slide, isn't it fascinating that the Sisterhood of Karn is off at the end of the universe with the Time Lords? There's no evidence they have time travel themselves (and indeed it would fuck with their basic concept pretty hard if they did), so presumably they're sort of tagging along with Gallifrey. Which is fine – I have no problem expanding the "what gets time bubbled" from "Gallifrey" to "the entire constellation of Kasterborous." But this makes the question of "where is Gallifrey" somewhat odd for the Doctor, given that he clearly knows how to stop off to visit Ohilia in

The Magician's Apprentice

, which should give him a pretty good clue where Gallifrey is if they're linked like that. The alternative answer is that Ohilia is 4.5 billion years+ by the time of this story, but that rather cuts against the deliberate decision not to make her Ohica. Anyway, Karn: it's interesting.

And yet for all that the feminine is presented as a challenge to

Doctor Who

within this episode, there's also an emphatic reminder that gender is a permeable category within it, most obviously in the regeneration of Ken Bones into T'nia Miller, a glorious "fuck you, no, here is a race and genderbent regeneration that happens on fucking camera right in front of you it is canon now so shut up you racist and sexist assholes."

It's particularly worth contrasting that moment with, basically, any other alteration/addition to canon and continuity that Moffat makes here or elsewhere. One of the most common bad objections to Moffat's work is the suggestion that he egotistically insists on rewriting every bit of

Doctor Who

's history to be about his ideas. But this misses a key part of the game he plays, which is to make everything he does ostentatiously faithful to what comes before. (Note that the Hybrid can just as easily be the Hand of Omega or, for that matter, Susan. Although she's presumably the President's daughter…) Which is to say that Moffat is, with almost everything he does, inviting future writers to do to his ideas exactly what he's done to Holmes's and Dicks's and Whitaker's and Jacobs's here, which is to scrawl all over them. And that's really evident here, where Moffat begins openly scrawling over his own past mythology for the show by suggesting the diner scenes in

The Impossible Astronaut/Day of the Moon

were actually set in Clara's TARDIS.

If

Heaven Sent

felt like Moffat writing about the experience of writing the same thing over and over again,

Hell Bent

feels like him consciously reflecting on the question of whether it's time to leave the program. He has, of course, also said that he wrote

The Husbands of River Song

thinking it might be his last script for the series, and given several "yes I am leaving soon" comments in interviews. Certainly this story can only be described as groundwork for his departure; a rehearsal for "the last Moffat story" in the same way that

Kill the Moon

,

Death in Heaven

,

Face the Raven

, and

Last Christmas

were rehearsals for Clara's departure.

Another (and more substantive) engagement with other eras is the direct invocation of Donna's exit and the explicit moral contrast involved in the Doctor's response to Clara's autonomy. Jill has a guest post forthcoming.

Speaking of things that post on Mondays, I adore that Maisie Williams's entire four-episode appearance is, in reality, a massive shaggy dog plotline leading up to her delivering a line that is almost but not quite "winter is coming."

Also that she has a random chessboard. Presumably she's Fenric too.

The game of "OK where is Me in this scene" for the big final TARDIS scene between the Doctor and Clara is even more fun than the corresponding game in

Face the Raven

, where at least they avoided the wide shots that would have required her presence. I'm not entirely sure why Moffat had her enter the TARDIS, actually.

Though this is no harder to explain than why she's Missy. Obviously she snuck off and hid with the intention of running away, at which point she met the Boatswain from

The Curse of the Black Spot

and also Rupert Pink (who's obviously somewhere in the whole "end of the universe" sequence, what with it deliberately paralleling

Listen

and all; this is what I mean by the number of possibilities that are one line of dialogue away from happening), and they had adventures during the white-out after the Doctor passes out.

I don't think the Doctor forgot Clara. Note his look of shock when she asks him to tell her about Clara in the cold open, and also the look he gives right before he says "I suppose we just wait a minute," which is clearly Capaldi's "hm, that's interesting, I'm going to have to do a thing" face. Also, note that Coleman inserts an "I, uh," before she asserts that she fiddled with the neuroblock, and that we never actually see her do it.

The transformation of Clara's theme into something diegetic during the cold open is also wonderful, incidentally. As is the Western showdown revamp of Flavia's Song.

Oh, yeah, the Time Lords. If nothing else, this is the first Gallifrey story to legitimately work since

The Deadly Assassin

. I assume Jack will have complicated feelings about the return of the Shabogans. Though the Doctor's failure to just overthrow the Time Lords is, to say the least, increasingly troubling. I quite like the hubristic downfall of Rassilon Reborn, including his claim to be that and the way it's tacitly confirmed and expanded on in the Doctor's scene with Ohilia in the Cloisters. But good lord, what is the Doctor doing letting these, as Clara rightly puts it, monsters control all this astonishing technology when there are all those lovely soup-making Shabogans out in the wastelands? This is astonishingly fucked up.

The Cloisters are an amazing concept; the best attempt at conceptualizing Time Lord technology to date as something that is literally built on and around the gothically repressed. These genuinely feel like the same Time Lords who fought the Great Vampires once, while also feeling like the dithering prats of

The Arc of Infinity

. That's a hell of a feat.

And, of course, they further the numerous echoings of River Song across this story. River who is plausibly the Hybrid, trapped in a database just like the haunted nightmare of the Cloisters, who Clara namechecks inside a familiar diner. And for that matter, foreshadowings of River Song, as we've got one more of these to do in a few weeks.

"Season finale" is a really weird concept twenty days before Christmas, by the way.
Episode Ranking
Hell Bent

The Zygon Inversion

Face the Raven

The Zygon Invasion

The Girl Who Died

Heaven Sent

The Magician's Apprentice

Sleep No More

The Woman Who Lived

The Witch's Familiar

Under the Lake

Before the Flood
Story Ranking
Heaven Sent/Hell Bent

The Zygon Invasion/The Zygon Inversion

The Girl Who Died/The Woman Who Lived

The Magician's Apprentice/The Witch's Familiar

Sleep No More/Face the Raven

Under the Lake/Before the Flood