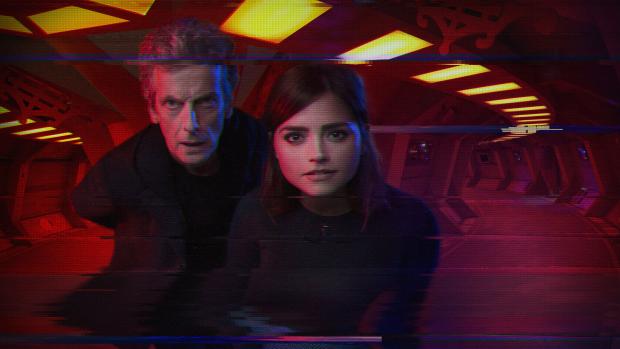 This is solidly Gatiss's best-ever Doctor Who story. It is in several regards outright brilliant, in a giddy and brave way that makes a perfect little quiet breath of an episode in the tradition of Love and Monsters or Blink, which it most obviously resembles. I've not, obviously, run the timing of it, but it certainly feels like a Doctor-lite episode, sharing their structural trick of treating a Doctor Who story as a defined thing happening inside another story. But where those stories put the Doctor into a very different sort of story, here he's put into a found footage horror film. The result, very cleverly, is a story that gradually unravels into two separate stories, with the Doctor falling out of the narrative instead of slowly overtaking it.
This unraveling is by some margin the highlight of the episode, and is done with deft panache. Information is conveyed through the subtle shifts of the narrative rules, so that the found footage approach moves gradually and cleverly from being a gimmick to being the entire point of the episode. This is handled smartly on multiple levels, including Gatiss's script, Justin Molotnikov's direction, and Reece Shearsmith's performance, which is a beautifully clever blend of familiar forms of Doctor Who acting that shifts cleverly with each twist. The final scene is particularly beautiful, with just the right amount of ecstatic thrill in his evil plan and clear relish in his transformation into dust. What a finish.
On top of that, many of the ideas here are genuinely great. I imagine Jack and Jane will both be over the moon with aspects of this. The leisure time destroyed by unchecked capitalist growth rises up and consumes us, our dreams taking revenge on us for our failure to attend to them. The dust is watching us, and the story it tells about us will kill us. I mean, these are just the sorts of sentences you live to write as an anarcho-Marxist occultist television critic, you know?
There are, however, two significant weaknesses. The first is, simply put, the irreducible flaws of Gatiss. Even when he, as he does here, has genuinely brilliant ideas, he's rarely inclined to push them particularly far. Given a concept with all the metaphorical heft and conceptual possibility of sleep monsters, we really should have something more interesting than the smashy brutes that are the Sandmen. He doesn't even go as far as indulging in the obvious grossness of literal snot monsters with people getting transformed into Sandmen and crumbling to dusty snot as they die or anything. Just smashing, and a bunch of kills in the form of "oh no one got in the room with you and we cut to black."
Beyond that, he remains infuriatingly rubbish at giving his characters interesting arcs or things to do. The supporting cast makes that of Under the Lake/Before the Flood look like Osgood or Ashildir; they're banal cannon fodder for corridor runs. Clara gets to trip and fall into a box. The Doctor urgently explains the plot, only direct to camera. The clever ideas remain the only drama on offer, and one is never meant to do more than appreciate that they exist. And this is depressingly typical of him. Tndeed, it's the "in a nutshell" problem with literally every single one of his scripts for both Doctor Who and Sherlock: interesting things happen, but not to people.
But the other real problem, oddly enough, is Peter Capaldi. Every actor to have played the Doctor eventually hits the episode where they go on complete autopilot. Capaldi deftly avoided it in Under the Lake/Before the Flood, where it would have been easy, but here, forced to do the same sort of filler dialogue only with the added constraint of having to stare down a camera lens for most of it he finally finds himself defeated by a script. He's completely out to sea here, and by the time he has to wistfully quote Macbeth and then deliver an urgent moral lecture on the importance of sleep has visibly just given up caring about anything but what's for lunch. It's clear that he's capable of doing interesting things with the shooting style, as with moments when he looks at an unexpected camera (most obviously the peering at Clara after she's become a POV character and the look to "CCTV" camera immediately after the scene where he points out that there aren't any). But there aren't enough of them to keep him interested, and instead he just sleepwalks through an episode that, to be fair, asked for no more than that.
Despite this, it works and works well, simply because the ideas are good enough and there's been enough work put into the structure to keep it going. (A similar case can be made for The Crimson Horror, Gatiss's previous finest, and another structurally Doctor-lite story.) Like The Woman Who Lived, it's genuinely nice to see Doctor Who willing to be a bit strange, even if there are some rough spots as a result. As an end-of-season palate cleanser, it's very good, and certainly much more solid than In the Forest of the Night was. But all the same, "this is the sort of thing Gatiss is best at" is faint praise, even if it's not quite clear what's being damned with it.
I assume Jack will particularly enjoy the similarities between this and China Mieville's

"The Dusty Hat,"

which

he reviewed for the tentatively defunct Weird Kitties project

.

I'm not criticizing the failure to do anything with Clara's Morpheus infection here on the assumption that it's going to come up at some point in the next three episodes, but if that doesn't pan out then it's a massive oversight.

The supporting cast may be drably written, but Bethany Black is clearly having an absolute blast as 474, and is just throwing everything she's got into doing interesting things with the performance. The chat with her in this week's

Doctor Who Magazine

is an absolute hoot, incidentally; worth the cover price for it alone. Highlights include her geeking out about Malcolm Hulke.

I am, incidentally, happy to accept the production team-imposed canon that 474 is cisgender. There doesn't seem to be much on-screen evidence for it, mind you, but I suppose there's some, in that one does not imagine that a genetically identical and programmed clone line is likely to be given much leeway to explore their gender identity in the course of their presumably brief lives.That said, I'm going to have to insist that Nagata, Chopra, Deep-Ando, and Rassmussen are all trans, especially since there's literally no evidence whatsoever that they're cis.

I'm not quite sure about the "Japan and India have fused" concept, or the weird "may the gods look favorably upon you" catchphrase (which is just way too phonetically close to "may the odds be ever in your favor" to work). It always feels slightly strange to me when

Doctor Who

does this sort of very superficial play with other cultures, and mashing up two very different Asian cultures indiscriminately and in low lighting feels like one of the most extraordinarily superficial moves it's made.

I really enjoy the sheer sadism to parents involved in an episode of

Doctor Who

that ends at 9pm and suggests to children that they may get turned into monsters in their sleep. It's shamelessly irresponsible in that way that

Doctor Who

is at its best.

On a slightly broader note, amidst the rumors and predictable outrage about the probability (given

Sherlock

's existence) of a few months than longer delay between Seasons Nine and Ten, it's worth noting that the past three actors to play the Doctor acquired injuries requiring surgery during their time in the part (Tennant back, Smith and Capaldi knee). Never mind "why don't we get a full season every year," why aren't we making fewer episodes per year so that we don't fucking kill the actors? The forced enthusiasm of

Doctor Who Extra

has never seemed so grim.

Quite excited for next week, as Dollard is the one writer this season that's basically new to me. She worked on

The Game

, and was involved in what were probably its two best episodes, but I have no real impressions of her style. Debut writers have generally been among the highlights of the Moffat era, and so I'm excited for another.
Episode Ranking
The Zygon Inversion

The Zygon Invasion

The Girl Who Died

The Magician's Apprentice

Sleep No More

The Woman Who Lived

The Witch's Familiar

Under the Lake

Before the Flood