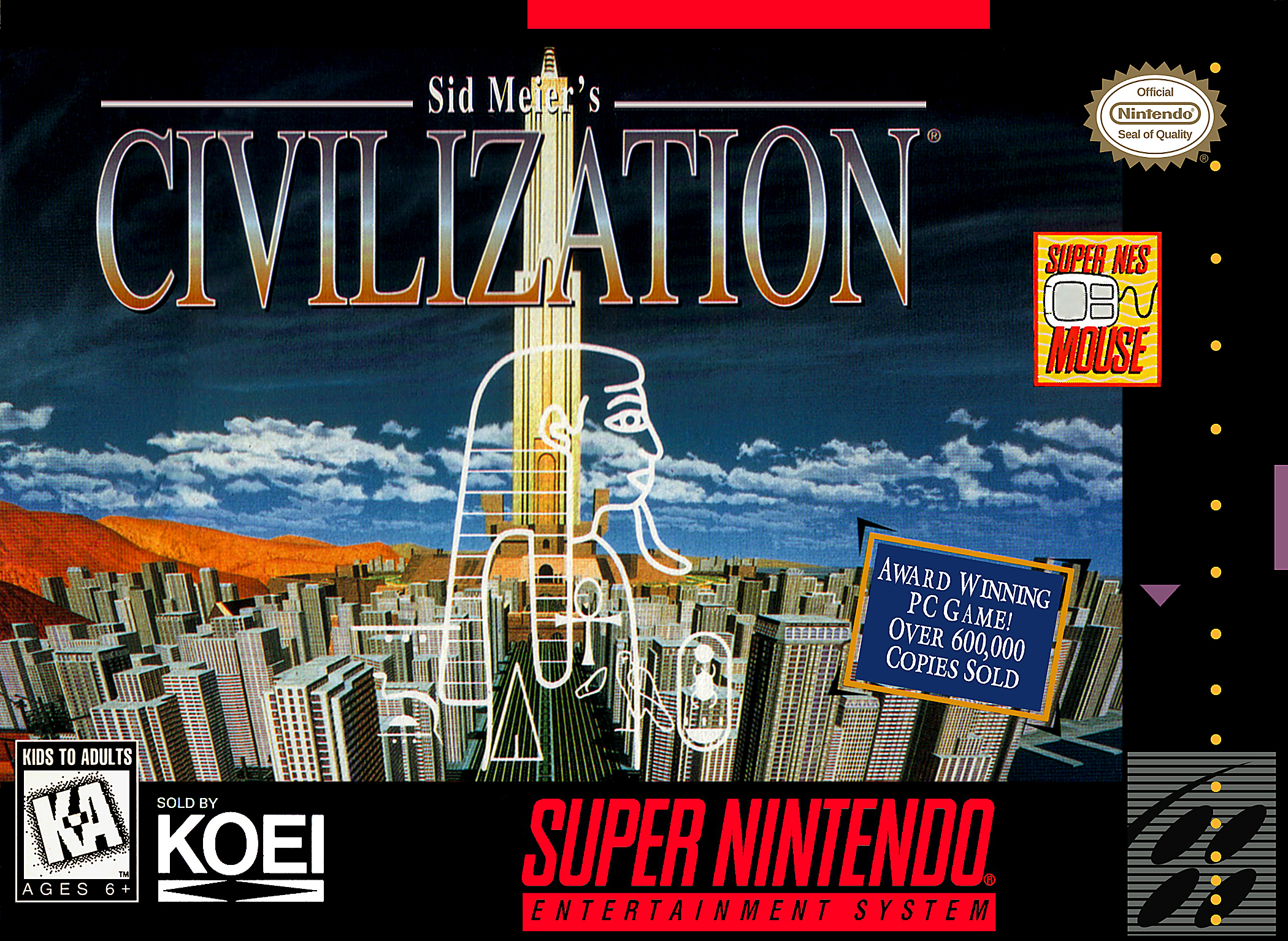 In case you missed it, "The Blind All-Seeing Eye of Gamergate," a longform piece on topics closely related to The Super Nintendo Project, went up on Saturday.
At last, the false dichotomy between playing video games and saving western civilization stands revealed. But when we choose to do both at the same time, what exactly is the civilization that we are saving, and how might that shape our understanding of certain larger conceptual wars?
In bluntly materialist terms, which are after all the best way to approach civilization, it is another instance of a PC game getting a fundamentally middling SNES port, in the same vein as Populous and SimCity. There are no doubt those for whom this is "their" Civilization – the version of a monumental piece of video game history. This is the game that inspired Iain Banks to the phrase "outside context problem," for fuck's sake. Or, at least, it's the crummy console version of the predecessor to that game. Certainly that's where my history here intersects – somewhere past 1996 with a lot of Civ2, in a phase of video gaming otherwise defined by Diablo and Quake. High school, notably, where the Super Nintendo was late elementary school/early middle school.
The games are largely similar – Civilization II refines the original, as opposed to reworking it from the ground up. It's more balanced and more elegant. This is doubly so when compared to the SNES port – the gap from this to 1996 is in many regards far more shocking than the gap from Donkey Kong Country 2 to Super Mario 64. But the basic thrill of the mechanism and its dizzying central metaphor persists. I compared it to Populous and SimCity earlier, and it really does manage to be a fusion of the two, combining the granular deep systems of SimCity with the cosmological scale of Populous to great effect. You may have had godlike powers in SimCity, but the scale of it was always small – one's cities fundamentally never felt vast. Civilization feels vast easily, especially in the early stages of the game, which is as it should be. The effect of your initial tiny and contextless patch of land on which you build your capital slowly opening outwards until you encounter the Other, then borders, and finally a coherent world is genuinely effective, making the scope of what you can do feel real and substantive.
But we must be careful here. This sense of progressively illuminating an exterior world is certainly the form of western civilization as depicted here, but it is not the content. We've identified the story Civilization likes to tell, but not how it tells it. The answer to that question is inherited from the Avalon Hill board game Civilization is unofficially based upon: a tech tree. This is perhaps Civilization's most significant not-quite innovation – a sublimely smooth implementation of an interlocking ladder of game upgrades that also serves to create a technologically deterministic narrative of human history from road-building to space colonies.
It is accurate, though not particularly interesting, to note that this is in practice an anglocentric view of history. The Wonders list gives it away: the Great Wall is the sole non-western representative. You can play as the Zulu, the Chinese, or the Aztec, but to do so is to rewrite their history into strictly western terms. Other coded assumptions abound: the Chinese and Russians are led by Mao Tse Tung and Josef Stalin, respectively, whereas the Germans get Frederick the Great and the Japanese Tokugawa. Fine. This is not unimportant, but it is not particularly revealing.
More interesting is the inherent teleology: Alpha Centauri or world conquest. Either consolidate the revealed world under a singularity or defy its boundaries. This is a very specific view of what history does – a narrative with discernible values that knows what it thinks of the world, with one outcome clearly designated as the better one, but both treated as essentially acceptable. This still only reveals ideology at its most default setting, but it is at least more tangibly pathological than mere overt and systemic bias.
What is perhaps most interesting is its tacit acceptance that the liberal international consensus cannot possibly hold without the surpassing of the planetary border. There's a striking pessimism to this, especially for 1991, when Civilization properly debuted, in the optimistic gap in which it became fairly evident that we were not going to all be dying in a nuclear war any time soon. By 1995 an eschatological mood was setting back in, but it was an ambient and unfocused eschatology – a fear of the timer running out, as opposed to of what will actually happen when it does. This vision of the future, in which "international cooperation" is fundamentally rejected as a long-term proposition, doesn't really fit with it. If anything it feels more in touch with the present moment than its own.
This is further emphasized by the intro movie, which runs a lengthy film-style set of credits over slowly crescendoing intro music that hits an ominous, almost Metroid-esque tone as a spiraling purple nebula slowly pans into view. The result is to keep the focus decidedly away from the planet, giving it instead a sort of coldly cosmic. The intro when you start a new game is similarly austere, starting with the cosmological "In the beginning the Earth was without form and void" over an image of the same nebula," with "and void" given its own screen to further hammer home the speculative realism of it all. The intro continues in a similar vein – its depiction of the Earth's creation is long on cataclysm – a "swirling maelstrom" within which life "clings to tiny sheltered habitats." Life is described as fundamentally expansionist, with mankind a final teleology of evolution, with intelligence in turn the teleology of mankind. Finally the player is informed that after intelligence has given rise to "fire, tools, and weapons, the hunt, farming, and the sharing of food, the family, the village and the tribe" there is only one final component: "a great Leader" who will "build a legacy that would stand the test of time: a CIVILIZATION!" The fascist undertones of this are downright flagrant – if you wanted to be cynically ruthless you could fairly argue that Nick Land has made a career of rewriting the intro to Civilization into gothically overripe reactionary horror-philosophy over the past few years. It's distinctly chilling.
Of course, it's also largely not an issue here, since the SNES version has a completely different intro – a pan down through a starfield to the Earth. The PC version's new game text gets repurposed as an attract mode, but if you actually start a new game you get an all-new intro in which a beautiful Goddess (always white and blonde; it's also worth noting that if you pick the English as your civilization your intro text gets phrases like "Britain was one of those tribes," whereas playing the Aztecs gets you such awkwardness as "the young leader of Aztec") gifts you with knowledge of irrigation, roads, and mining (along with a bit of explanation of game mechanics) in the name of giving you a "great mission" to "build great cities and cause civilization to flourish throughout the Earth" so that "the people will leave richer lives and #nation will rule the world."
It's certainly not the case that this removes the unsettling fascism from the game's framing, but there's a distinctly different edge to it, not least because of the unexpected addition of a goddess on a starry night, an image that's decidedly off-brand for Civilization's clean technological determinism. (Notably, the series took until 2005 to deal with religion at all.) But there's obvious precedent elsewhere on the SNES – it's a dead ringer for the sort of spirituality evinced by games like E.V.O. or SoulBlazer. This is on the face of it satisfying – a case of the odd transitional cultural moment the Super Nintendo represents getting to leave its mark on this unsettling invader from the future.
Does this matter in any particular sense? No. Not even a little bit. The fact that the SNES port of Civilization muddies the quasi-fascist ideology of the game with a bit of (also problematic) goddess imagery has, in all likelihood, had literally zero effect on the overall arc of history. As turning points go, it makes a butterfly flapping its wings look like the assassination of Archduke Ferdinand. And why would we want it to matter in that sense? To do so is to treat the world as something very much like a tech tree. But more to the point, not mattering to history – not being a part of it, even – is precisely what's interesting about Civilization's goddess: she doesn't fit with history, even as she undeniably exists within it.
And suddenly it becomes illuminated, this beach beneath the conceptual paving stones. If western civilization is one side of an opposition, what is the other? There has only ever been one possible answer to this question, so obvious we've had to keep from asking it thus far: secret histories. Accept this monstrous thing for what it is – an immensely compelling game whose rules reveal an ideology of techno-fascism. To play against that game, then, is to embrace what is excluded from those rules. All the stories that do not fit. The forgotten other histories that stand un-revealed in the face of the inevitable progression from Alphabet to Ethics in Video Game Journalism. Western civilization or what? Literally everything else. "Or."
But while liberating, this is ultimately a possibility with too many options and not enough precision. We are, in practice, approaching the ending. And so we must focus our search on the binary offered by the game, and what lies outside it. On the one hand, violent conquest. On the other, what was by the early 90s an already discredited image of colonial expansion projected onto the infinite cosmos. We know what is implicit in this choice. What is erased, though? What option is the choice leading us away from? What is the secret history of its "or"?
That's our ending. Eight more posts.