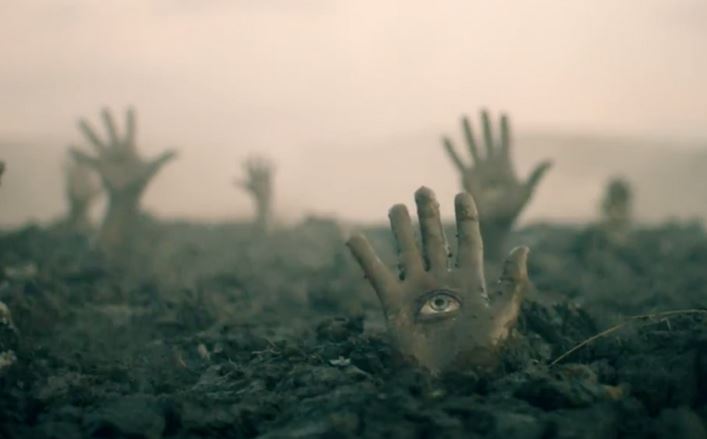 The hand mines were understandably agrieved that nobody had ever asked if they wanted chairs.
It's September 19th, 2015. Justin Bieber is at number one with "What Do You Mean," while Sigala, the Weeknd, Ellie Goulding, Calvin Harris and Disciples, and Rachel Platten also chart. In news since the whole Dream Crab infestation got cleared up, gunmen killed twelve in the Paris offices of Charlie Hebdo, a Saudi Arabia-led coalition intervened in the civil war in Yemen, FIFA was rocked by a corruption scandal when US officials arrested a host of officials leading to the farcical scene of Sepp Blatter handily winning reelection as FIFA President and then stepping down a week later, the newly elected leftist government of Greece held a referendum on whether to defy the European Union on debt repayment and then immediately ignored the result. In the week before the story aired Malcolm Turnbull replaced Tony Abbott as leader of the Liberal Party and Prime Minister in Australia, Jeremy Corbyn was elected leader of the Labour Party, and it emerged that Volkswagen had been cheating on emissions tests, while over the week it aired John Boehner announced his resignation as Speaker of the House.
On television, Doctor Who is back. Last time we spoke about an actual episode, we noted that there would inevitably be some sort of price paid for the show's arrogance, and particularly the decision to avoid changing things up at the end of Series Eight. Here, off the bat, we see it: 1.1 million viewers shed from Death in Heaven to The Magician's Apprentice, and another .8 million for The Witch's Familiar. This is the first time in the new series that a season premiere hasn't broken the top ten, and the first time since The Eleventh Hour that a season premiere failed to top the previous season's finale, and that was following the rather special case of Journey's End. The previous nadirs of the new series ratings were, numerically, The Satan Pit with 6.0 million and Silence in the Library in 27th. Series 9 would see those records broken twice apiece, with The Witch's Familiar and Under the Lake both notching record low numbers (5.7 and 5.6) while Sleep No More and Face the Raven came in at 28th and 30th place respectively, resulting in the first-ever season with no top ten episodes whatsoever. And the damage would continue into Series 10, which bottomed out with The Eaters of Light pulling just 4.7m viewers. (Which is actually the fewest viewers to tune into a Rona Munro episode ever, episode two of Survival having managed 4.8.)
It is easy to overstate how big of a problem this is, and numerous threads on GallifreyBase devoted to exactly that. A show that's never dropped out of the top 30 and continues to produce massive international sales and significant merchandising is in no meaningful danger of cancellation. Doctor Who is simply too important to the modern BBC's finances to be cancelled without some genuine efforts at improving it. (Consider their willingness to continue trying to make Top Gear work.) And it's easy to unreasonably lay the blame on matters of quality. There's reasonable evidence that the public didn't take to Capaldi to quite the extent they'd taken to Tennant or Smith, but there's no comparison to be had to, say, the Man in the Awful Coat. In the end, Moffat's hypothesis that maybe having an unusually sparsely aired season trailer that climaxed with the declaration that the season was "same old, same old" was not the wisest promotional move ever is likely correct. And more broadly, the resurrection of John Nathan-Turner's Earthshock logic whereby the return of Davros was kept a secret so that it became impossible to actually describe the premise of the opening two-parter beyond "it's got Missy and the Daleks in it" was probably a bad call. (Ben Cook is left to spend three and a half pages of Doctor Who Magazine confirming that the Daleks are neat.)
But while the ratings drop is by no means a crisis, it does mark a clear transition to a new cultural role for Doctor Who. From the start it's clear that Series Nine is geared towards core fans in a way no series has been before. The preponderance of two-parters alone makes it clear that this is a season catering to dedicated viewers who tune in every week or binge watch. And the opening of The Magician's Apprentice is similarly uncompromising, starting with a Genesis of the Daleks homage that's going to be genuinely incomprehensible to anyone who can't identify the name "Davros" off the top of their heads, then jumping into a rapid fire series of callbacks to The Pandorica Opens, The Stolen Earth, and, perhaps most audaciously, an unaired web special. This isn't "too much," and complaints that it's incomprehensible are going a bit far—Colony Sarff clearly explains who Davros is, for instance, and it's as much explanation as he got in The Stolen Earth. But it's wildly more than the series has done before, and certainly more than it's done in a season premiere.
If this were simply a turn towards Saward-era fanwank with Moffat serving as his own Ian Levine this would be one thing. But leaning hard on series mythology isn't inherently bad any more than it's inherently good. When Missy talks about her friendship with the Doctor as something "older than your civilisation, and infinitely more complex," she's only slightly exaggerating the nature of a friendship that's been portrayed in five different decades with eight different actors on each side. There's an immediate density and richness that can be accessed with nothing more than a backward glance, and there are things you can only do when you have that sort of foundation to work from.
In many ways, The Magician's Apprentice/The Witch's Familiar is about this on multiple levels. The story is essentially about the Doctor's relationship with three characters, all of whom had already been substantially developed prior to this episode. This story simply wouldn't be possible if you had to build the relationships up from scratch instead of jumping in with them already formed. We talked about this a little already with Clara, who ends up having barely any scenes with the Doctor this story (indeed, a persistent oddness of the season is that Clara and the Doctor are somewhat aggressively kept apart), but whose scenes with him are predicated on how richly worked their relationship already is. Her brief scolding of him in the jail cell, with its pivot to "now you have to come back" is delightful and only works because she's already established as a character who's capable of so decisively playing a social situation, to the point where the tension when she's squaring off with Missy earlier in the episode isn't over whether she's capable of single-handedly facing the threat but on what Missy actually wants, such that Clara's "make me believe" turning of the scene plays as the anticipated delivery of a hero moment as opposed to the resolution of tension.
The fact that Clara and Missy are so well-developed is also where the story earns its basic structural trick of pairing them off so that the Doctor can sit in a basement with Davros for most of the story. It's not even their existing antipathy over Danny, a point that's basically squared away in two lines; it's the basic dynamic of two forces of nature sharing screen time and pulling in vaguely similar directions. In this regard, the fact that Clara is more or less a peril monkey in the second episode is a bit of a letdown, giving Missy all the actual autonomy in the story while Clara gets tied up, shoved down a hole, handcuffed, and stuffed into a Dalek. But the conceit turns out to not actually need to resolve in order to be satisfying; pointing a camera at Jenna Coleman and Michelle Gomez works on a basic level that doesn't really bother with things like "meaning."
That end of the story is left to be held up by the Doctor and Davros, who do it with aplomb. Moffat has said that his basic concept for The Witch's Familiar was that the Doctor and Davros were always satisfying when just talking to one another, so he figured he'd build an episode around them doing just that. And while that setup results in expected levels of showboaty Moffating ("the only other chair on Skaro" is endearingly sublime) the basic substance of the exchange is electrifying. Moffat engages in his usual metatextual whirlwind, explicitly acknowledging the basic sterility of the "was I right to create the Daleks"/"would I be right to destroy them" debate and doing the Killing Joke Batman and Davros share a laugh set piece, but when it comes time to settle accounts he pays up with aplomb, dropping "a man should have a race, a people, an allegiance" at exact right moment so that the Doctor and Davros's moment of empathy happens coherently on Davros's terms, in a rhetoric of pure, unbridled fascism. It does exactly what so many "the hero and the villain are mirror images of one another" stories don't and actually bother to draw a line and say "here is the actual moment of reflection." Indeed, it's the one time the whole "Gallifrey is rescued but lost" plot actually justifies itself, turning the Doctor's triumph in Day of the Doctor into horror by finding entirely reasonable grounds on which to say "which is exactly what Davros did."
This sets up two things. The first is the absolute delight of the Daleks' defeat in this one, literally drowning in their own shit because their sewers are revolting. This is a key moment of balance that makes the earlier tearing down of the Doctor work. It's worth comparing to The Stolen Earth/Journey's End, a story Moffat essentially spends all of Series Nine lovingly picking at. When we covered that story we noted the fundamentally unsatisfying way in which Davros's furious attempts to equate himself with the Doctor worked only because the Doctor did not deliver the obvious retort "fuck off you genocidal tosser." Here Moffat deftly fixes the problem from both directions, giving Davros a killer line that actually cuts while still being unequivocal about the fact that the Daleks are full of shit.
Another way of putting this is that Moffat presents the Doctor and Davros not as mirror images but as a cracked mirror—a reflection that highlights differences. This is, of course, the key to the whole episode and indeed season; the reason Peter Capaldi is going to be exploring the full range of ways to deliver the line "like a hybrid" this year. It's a downright fractal structure in the season, with its array of two-parters and nearly two-parters, but nowhere is the scale more dizzying than in Moffat's scripts. Here the Doctor and Davros, the Doctor and Missy, Davros and Missy, Missy and Clara, and Clara and the Doctor all work together to form a cavernous hall of cracked mirrors in which every new concept can ricochet, finding an infinitude of new forms and resonances.
From this labyrinth, one key thing emerges: Capaldi's Doctor. After a season in which he was largely buried under the particular expectations of casting an already well-known actor in the part, Capaldi and Moffat have gone back to the drawing board on him. Moffat talked in interviews about Capaldi reaching the point where he's no longer "the Twelfth Doctor" but simply "the Doctor," and in practice this means a substantially loosening up his performance. The costume is the most obvious part of this—the t-shirt and hoodie ensemble is scruffy and low-key in a way that veers suddenly from Pertwee to Eccleston. But that look in turn wouldn't have worked with any of Capaldi's Series Eight performances, and he accordingly modulates away from austere crankiness and towards something a bit more "goofy space dad." Moffat and Capaldi sell the change in a single stroke with the guitar-on-a-tank entrance, but the deftness of the maneuver belies the scale of the transition. It's absolutely essential, though, not just because it finally gives Capaldi room to breathe, but because large swaths of the story, particularly anything in the basement with Davros, simply wouldn't work without this new slouching, meandering Doctor who can lurk mercurially around the edges of the room in a way that never lets us forget the inherent danger of the setup.
And so we're off again, with the clearest vision of what Doctor Who is and what it's for since Moffat's first season. It's a more insular vision, yes—this is Doctor Who for Doctor Who fans. But eight seasons of work have gone into ensuring that there are enough of those to make something catering exclusively to them still be a modest, respectable hit. It's nowhere near the biggest thing on television and it's not trying to be. What it's trying and, this week at least, succeeding at, though, is being brilliant, weird, unlike anything else, and something only Doctor Who could be. That's always been the point of the exercise, and the world would be a far poorer place if it hadn't tried being this for a year.