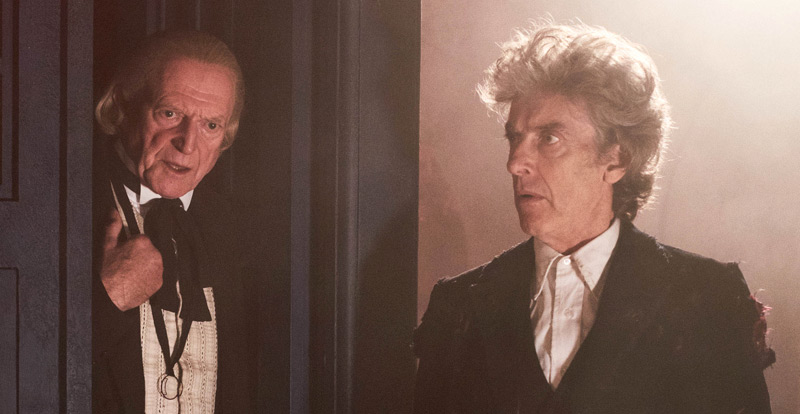 In 2063 they should do a special in which they cast different actors as William Hartnell, Richard Hurndall, and David Bradley, then have them all appear together in an adventure called The Three First Doctors.
It's December 25th, 2017. Ed Sheeran is at number one with "Perfect." The Pogues, Mariah Carey, Wham, and Eminem also chart, one of them with Ed Sheeran appearing on the track. We'll call this an exercise for the reader. In news since Series Ten wrapped up, neo-Nazis held a rally in Charlottesville, Virginia that resulted in the death of a counterprotester, Heather Heyer, when a Nazi deliberately drove his car into a crowd. Following the rally, President Trump praised the "very fine people" on both sides of the "are black people human" issue. There's a lot of other Trump bullshit, but honestly summarizing six months of it in a paragraph is a challenge, so let's just leave that at "also more fascism" and call it a day. Martin Shkreli is found guilty of a variety of crimes including disrespecting the Wu-Tang Clan. Vince Cable becomes leader of the Liberal Democrats. Theresa May's government promises that Parliament will get a vote on any Brexit deal. Fifty-eight people are killed at a concert in Las Vegas when a gunman opens fire from an overlooking hotel window. Disney announces its impending acquisition of 21st Century Fox, delighting Marvel fans who don't give a shit about growing corporate control of the media landscape, which is to say Marvel fans. Also, I start transitioning, which isn't exactly news, but given the autobiographical strand of this project seems worth mentioning.
On television, meanwhile, the Moffat era ends how a lot of people would expect: an undisciplined and messy story long on misplaced confidence and casual sexism. That the people who expected this were mostly wrong about the entire rest of the era is ironic, but does not change the underlying matter here. It's not that Twice Upon a Time is bad; merely that it isn't great. It's not a triumphant final statement of any of the eras that it closes, instead coming off as sort of line one of those decent but clearly extraneous bonus tracks that get put at the end of album rereleases and end up vaguely diminishing the album's close. It would have been a better ending for the Capaldi era had it closed with a slightly longer World Enough and Time/The Doctor Falls that found time for a regeneration speech. Not, again, because this is a bad story, but simply because that was an emphatic statement and this is a pleasant mess.
This is not a surprising, given that it's the second extension of the Moffat/Capaldi era that we've had. After being persuaded to stay one more season after his "could be my last" Husbands of River Song, Moffat discovered that Chibnall did not wish to kick off his tenure with a Christmas episode, and so agreed to figure out his third way of departing the series in two years. It's not exactly surprising that this effort is, comparatively, a bit muddled. This is a desperately inessential piece of Doctor Who. Moffat doesn't quite go on autopilot, simply because he's got too much of a sense of occasion to do that on his and Capaldi's last story, but he leans hard on established tricks: causality jokes, a quick jaunt to visit Rusty, more Lethbridge-Stewarts, villains that aren't, mythologizing the Doctor, and more.
Perhaps the biggest sign of exhausted desperation here, however, is David Bradley's presence as the First Doctor, or something thereabouts. Bradley is making even less of an effort than Richard Hurndall did to get Hartnell's mannerisms down, and Moffat is making even less of one to write him accurately. What we get is a sort of metonym for the basic idea of "the original Doctor" in a narrative sense that's essentially untethered to the historical television show. Being done by a tired Moffat, it's unsurprising that this involves a lot of humor along the lines of "the First Doctor as embarrassingly sexist uncle," although there's something to respect in the cheek of having his most egregious line be a quote from The Dalek Invasion of Earth. But dramatically speaking, it's not quite clear what he's doing here in the first place. There's parallelism in them both refusing to regenerate, but his refusal is an anachronistic kludge with no real setup in the Hartnell or Capaldi eras, and he doesn't actually play any role in Capaldi's decision to regenerate after all, which makes his overall existence in this story feel like a vaguely superfluous gimmick.
This is not a larger existential problem for the Moffat era any more than Series Ten at large is. Indeed, it's in one sense a more honest ending, in that Moffat didn't leave at the height of his powers but rather just past the peak, in the early but manageable stages of terminal decline. Ultimately, Twice Upon a Time has a negligible effect on the aesthetic quality of the Moffat era. And yet it's hard to pretend that endings don't matter. It's not as simple as saying that endings define everything that came before, but they carry disproportionate weight. And so we have to take seriously what Moffat chooses as his final statement, not because it selects the correct path among the many ambivalences and redemptive readings we've charted so far but because it at leas tells us a lot about what he thought he was doing all this time.
Is it out of line to point out, then, that Capaldi's final speech is easily one of the worst things that Steven Moffat has ever written? It's tempting to leave aside the gobsmacking twaddle that is "only children can truly hear your name," a claim that finally discovers the point at which I get annoyed at the show sliding into fantasy logic by having the Doctor just actually become a fucking faerie, except that this doesn't even capture the full absurdity of it because A) River Song is not a goddamn child and B) this is not actually sensible piece of advice to give your successor as it is not so much a moral position about how the Doctor should be as a piece of plot trivia, essentially akin to gasping out "Daleks run on static electricity" before expiring, except that might have been a better line.
But while we obviously did not in fact leave that aside, it's not even the worst part of the speech. That would be the speech's basic moral position, or rather, utter lack of one. Making Terrence Dicks's famous "never cruel or cowardly" edict explicit text in The Day of the Doctor was a neat trick, especially as it bothers to keep the rather more important "he never gives in and he never gives up" bit from after it. Echoing it in Listen and Hell Bent was fine, since it was exactly that: an echo. Turning it into the whole of the Doctor's ethos alongside such vapidities as "hate is always foolish and love is always wise" and the twice repeated "be kind," on the other hand, starts to feel like an active attempt to remove any actual affirmative commitment on the part of the Doctor. Conspicuously absent are things like "stand up to bullies" or "overthrow tyrants" or "try not to shill for Space Amazon," some of which, it turns out, are rather important.
In raising this objection I'm trying hard not to fall into the stereotype of my work in which I insist on every Doctor Who story flattering my politics at all times, because that's not actually my point. My point is not that I want Peter Capaldi to recite the entire Communist Manifesto before exploding into glowing light and becoming a woman. OK, actually, that's a lie and I 100% do want that, but I'm not upset that I didn't get it. But I think there should be something—some sort of moral value somewhere that isn't just "be kind," a bromide that sounds depressingly like the oft-expressed viewpoint that the problem with Trump isn't that he's a recklessly corrupt would-be dictator running concentration camps but that he needs to be more civil.
And that's really where things break down. It's always been a problem with Moffat. His fondness for the reveal that the monster isn't really one isn't a problem in and of itself; it's a good twist that speaks to the value of empathy and the fact that things are often more complex than they might first appear. And I generally take a dim view of those who criticize it on the grounds that they miss good old fashioned nasty monsters. But the aversion to villainy belongs to a politically utopian moment that, by 2017, had not so much passed as been aggressively murdered by literal fucking fascists. It turns out there actually are corners of the universe that have bred the most terrible things, and they must in fact be fought.
And that was never Moffat's bag. He could be stirred to occasional righteous fury, but the truth is that His Last Vow is an aberration. Most of the time, even when he's being thorny and difficult, he's not actually being thorny or difficult at anything. That doesn't diminish Dark Water/Death in Heaven or Hell Bent (although it might diminish The Beast Below a smidge), but it's nevertheless a clear limitation on them—one of the ways in which Moffat says "this far, but no further." And it shows up as well in the episode's frankly bewildering assertion that the only reason that good prevails in the universe is that the Doctor has single-handedly fixed it all. It's a horrifying mixture of Moffat's tendency to over-mythologize the Doctor, great man theory, and the underlying vapidity of asserting that evil is rationally superior to good, or for that matter that good intrinsically prevails in the universe. It's a vision of the Doctor that Boris Johnson could plausibly say that he sees himself in and when you do that you've definitely fucked up.
These tendencies weren't always a problem. Or at least, they weren't always a dealbreaker. Or hell, maybe that's too generous; Jack certainly would say it was. But in 2017, they lead to a program that's simply not fit for purpose. Twice Upon a Time does not provide a vision of Doctor Who that is worth continuing. Instead it reaches a dead end and then has the good grace to expire.
Where do we go from here? Well, there's several answers to that. In one sense, we go away; I'm done writing TARDIS Eruditorum for at least another year, and that's only if Chibnall and Whittaker both go at the end of Series 12. Which is another answer to where we go—an era that fails to address any of the problems I'm pointing out here anyway, and that therefore makes it difficult to come to any sort of clear conclusion about them. We could talk about what following the Moffat era should have looked like instead, but we've already answered that pretty well: something a little more materially engaged, more focused on big ideas, and with someone other than a middle-aged white guy writing it.
So instead let's end with the obvious and traditional approach: the farewell to a major creative figure. After all, as we've noted before, Moffat has written more cumulative minutes of Doctor Who than literally anyone else. More than just that, he's the writer who inspired this whole project. I started it back in 2011 off of the buzz and excitement that Series Five had left me with. And he's brilliant at it. He's written multiple contenders for greatest-ever Doctor Who story. More than that, he's written stories that are contenders to multiple sects of fandom. The traditionalist Doctor Who Magazine crowd can and does go wild for The Empty Child/The Doctor Dances, Blink, and The Day of the Doctor, which are already three very different stories. Another type of fan adores the joyous frockery of The Pandorica Opens/The Big Bang or The Eleventh Hour, and no doubt found plenty of other stuff to love in the Smith era. And then there's the stranger chunk of fandom that adores Hell Bent or Dark Water/Death in Heaven. It's an impressive resume, and much more varied than you might expect from someone with such an instantly recognizable and definable style.
And yet after all of this, it's strangely difficult to send him off with unalloyed valediction. Is it simply the defensiveness with which we've so often had to treat Moffat coming home to roost? It remains true that his handling of gender is something that it's very difficult to begrudge someone disliking, even if many of the critiques of it are poorly articulated. Certainly it's enough of a thing that, for all that I love and will defend it, I note as an asterisk before recommending the era to anyone. But we've litigated that issue extensively, and I'm certainly not going to back down on it at the last moment. There are solid feminist and, for that matter, trans readings of the Moffat era, and these readings meant the world to me.
But that's the thing. They meant. Their moment passed. When all is said and done, perhaps the most extraordinary thing about Moffat's time on Doctor Who is that he was able to give his vision a full airing. He reached the end of what there was to say about Doctor Who in the manner he was capable of saying it. This isn't unprecedented; Barry Letts and Terrance Dicks did the same. So, in all likelihood, did Philip Hinchcliffe and Robert Holmes. And Russell T Davies, for that matter. But nobody's approach feels quite as thoroughly exhausted as Moffat's. It didn't overstay its welcome, but more clearly than any other era that managed that, it came to the exact and precise edge of that. We have all the Moffat-style Doctor Who that we need. History is a part of that, but it's not all of it. We also just actually and legitimately reached the end of the train of thought.
If influence and the passage of time work the way they're supposed to, which is no safe bet in the dying days of the 2010s, Moffat's style will be revisited, just as every other important style of Doctor Who has been. Some of these revisitations will be overly slavish recreations, and I suspect that this will go worse for Moffat traditionalists than it has for the fans of many eras simply because so much of his era works because of his precise talents and his capacity for pulling things off that weren't necessarily good ideas and probably shouldn't actually have worked. Others will go in new directions, finding room to build on these ideas that simply aren't obvious yet. But the way that the Moffat era should be responded to is the way that any greatest of all time should be: by trying to surpass it. The only way that Moffat's legacy could truly fail is if it is a high water mark: if nobody looks at this with the hungry itch to do it better. But if they do—if what the Moffat era brings is a generation of fans who take to creative labor high on possibilities and with the giddy, arrogant joy of coming at the king—then in spite of everything, and in the face of all the cavernous horrors the 21st century is contriving to bring, there might just yet be hope.
That's a wrap once again for TARDIS Eruditorum. Please check back on Monday for the start of my next project, Boys in Their Dresses: A Psychodiscography of Tori Amos.