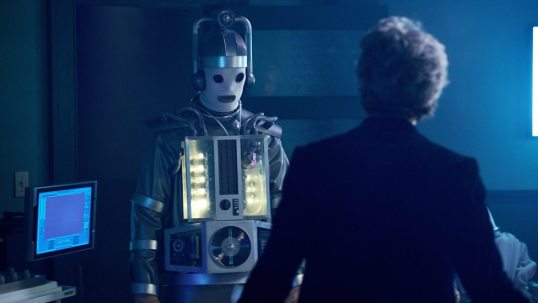 Moffat sent Capaldi off with an acting challenge to rival Heaven Sent, namely selling the line "A Mondasian Cyberman!"
It's June 24th, 2017. Artists for Grenfell, a charity supergroup including Stormzy, Robbie Williams, Brian May, and Pete Townshend, are at number one with "Bridge Over Troubled Water," which lasts for a week before "Despacito" makes its inevitable return. Little Mix, Rita Ora, and DJ Khaled also chart. In news, a terrorist attack occurs in Finsbury Park as a man drives a van into a crowd near a mosque while shouting "Kill all Muslims," while ISIL destroys the Great Mosque of Al-Nuri in Mosul. And Theresa May finally reaches an agreement with the DUP to support her government for the low, low price of one billion pounds.
While on television, the end, or at least, the beginning of it, as Moffat ultimately found himself persuaded to do one more Christmas special, as Chibnall wasn't going to be ready for one yet. Indeed, this final duology serves to interestingly highlight the nature of a regeneration story by taking the two crucial elements of one and splitting them into different stories. Twice Upon a Timegets the marquee moment in which Peter Capaldi is bathed in glowing light and becomes Jodie Whittaker, which is indeed a crucial scene. But World Enough and Time/The Doctor Falls is the one that gets the larger structural substance: an adventure that gets out of hand in which the Doctor wins at a terrible price.
It is this part, I would suggest, that is the more important half of the experience. Colin Baker, Sylvester McCoy, and John Hurt all had regeneration scenes, but they lacked stories of their phyrric victories leading up to those scenes, either going down for minimal reason at the start of their successor's debut or departing in a scene tacked onto the end of their only story in order to avoid loose ends. And in each case there is something missing—far more of a something than the vaguely cut off and incomplete resolution of The War Games.
No, there's something crucial to the story of a Doctor's fall—something ultimately far more important than getting a monologue about when the Doctor was him or a swirling montage of past companions. The story in which the Doctor loses allows an era to make at least some comment on its vision's limitations. The fact that the Doctor doesn't simply always triumph makes the extra-diegetic concerns of actor replacement into diegetic ones, giving each era the opportunity to tell a story that is in part about the need to change and move on. Done correctly, as with The War Games or The Caves of Androzani, the regeneration story becomes a piercing study of an era's shortcomings. Done wrong, as with Planet of the Spiders or The Time of the Doctor, it's still an utterly fascinating exercise in drawing a line under what has come before. (That's not me knocking The Time of the Doctor in general, to be clear, nor even me knocking Planet of the Spiders; they're just not coherent responses to their eras in the way that The War Games or The Caves of Androzani are.)
So what are we to make of World Enough and Time/The Doctor Falls? What does it tell us about the limits of the Capaldi era? To some extent, the answer is made explicit in the text. The Doctor delivers a monologue about why he's going to die fighting Cybermen. It's even a pretty good monologue—frankly a better version of the "be kind" sentiment than the one he delivers in Twice Upon a Time. But this reconceptualizes Capaldi's regeneration as something decidedly other than a defeat, and certainly removes all critique from the occasion. This isn't quite unsatisfying, but there's at least some reason to seek an alternate explanation.
The obvious place to look is the outset of World Enough and Time, in which the Doctor, over Bill's protests, decides to give Missy a chance to run an adventure and, almost as soon as everybody steps out of the TARDIS doors, Bill has been gravely wounded. Then, because he dithers about explaining black hole physics to the audience, years pass for Bill and there's time to convert her into a Cyberman. Had these things not happened, the entire adventure would presumably have gone very differently. And yet upon inspection none of these quite parse as errors. It's not the presence of Missy that makes Jorj shoot Bill, and the Doctor describes his method of picking the colony ship as a standard thing he does, so in all likelihood he'd have ended up there anyway. And Harold appears to time Bill's cyber-conversion for the Doctor's arrival; had the Doctor moved faster, he'd simply have had Bill converted after five years instead of ten. There's no error that causes the Doctor's regeneration; it's just that the creation of the Mondasian Cybermen in a colony ship trapped near a black hole where Harold is lying in wait to spring a trap on him is a pretty bad situation to end up in.
And yet for all that the details fail to support a critique of the Doctor, something about the story still seems to demand reading in that direction. This is permeated with a sense of limits being reached. Part of this is carefully displaced onto Missy, who is given a final story that overtly highlights the contrast between her and Harold that both explicitly demonstrates the ways in which she is a form of progress and reaches a point from which she cannot progress without simply stopping to be the same character as Emile et al. This cheats rampantly, as Harold is in practice being run as a completely different character from the one John Simm played in the Davies era, with all of the overtly queer camp mania stripped away and the character instead turned into a sort of gestalt average of the classic series versions, with traits such as a propensity for ridiculous disguises that never really applied to the modern vresion of the character randomly grafted on. While Harold did admittedly spend a while being the Prime Minister of the United Kingdom, there's a vast gulf between a power grab designed to engineer a trap for the Doctor and actually putting on a bunch of prosthetics for several years and speaking in a goofy eastern European accent. Harold here is just a placeholder for the fact that the character used to be ontologically eeeeeeeeeevil and might thus object to Missy's attempts at redemption.
None of this migrates over to the Doctor per se—indeed in one of the episode's bleaker notes, Capaldi's Doctor dies without ever knowing that at the end Missy tried to return to him. But between that and the death of Bill, there's a strong sense of unraveling here—a sense of an era coming to an end simply by eliminating all of its material components. In the end, there doesn't need to be a substantive critique of the character when you've systematically obliterated the entire context in which he existed.
And it is in this context that we can best turn to the other ending that World Enough and Time/The Doctor Falls represents, namely that of the Moffat era. Moffat's previous, aborted farewell was pointedly designed not to feel like the end of an era; save for the departure of Clara, the tone was focused on moving forwards, and any incoming showrunner would have taken over with Capaldi and, presumably, Gomez still squarely in place. Even here, where his departure is visibly the end of an era, Moffat was adamant about not wanting this to be about him. And while he can to some extent control that for the casual viewer (although plenty of the press coverage talked about the impending arrival of Chibnall and the idea that casual viewers are unaware of showrunners in the auteur-driven peak TV era is increasingly strained), for anyone who's invested enough in the show to use the phrase "Moffat era" in the first place there's no way for these episods not to read as about his own work and the transition of creative vision that is merely implicit in an actor change.
One way that this could go is something like Planet of the Spiders—an awkward if charming bonfire of the era's tropes and obsessions. Moffat, however, opts for something more like The Talons of Weng-Chiang, not in the sense of being an appallingly racist story whose defenders need to fucking stop talking, but rather in the sense of doing a story that does all the things people love out of an era in a loud and decisive way. Moffat goes through many of his standards—games with time, ostentatious and premise-altering reveals, loads of creepiness, and does a stomping rendition of each.
There's a thin line between the two approaches —indeed, World Enough and Time spends a fair amount of its time getting away with it and hoping you don't notice just how much of a remake of Dark Water it is. And, for that matter, The Doctor Falls would really rather you not notice the fact that Moffat has opted to write out two companions in a row with "she dies and comes back as a space lesbian," although to be fair it's not a problem if you do notice that it's pretty OK because space lesbians are fucking wonderful. But instead Moffat makes it to the right side of classic, turning in a finale that at the time felt like it had made the difference between a season along the lines of Season Seven that was long on merits but short on classics and one that belonged in the company of the other Capaldi seasons, and now with some hindsight feels like one of the many emphatic triumphs arranged across his eight year tenure.
The result is an episode that shows what the era does well while also drawing it to a clear ending. The note ended on is essentially one of reiteration: "here is what the Moffat era did." But there's a funereal aspect to it—a clear sense of the past tense. The implicit message is "so now go do something else." Unlike, say, The War Games there is not really a clear sense what that something else should be. But then again, the Letts era, for all that it was in practice cast down to Earth, did not really take up the challenge laid down for it. Instead what we have is something much more akin to The End of Time and, indeed, Planet of the Spiders. But those works were full of preening self-indulgence—overt celebrations of the eras they ended. Had the Moffat era ended with Hell Bent and The Husbands of River Song we would have found ourselves saying much the same thing. But this time, stretched out over an extra year he didn't really want, he feels exhausted instead of triumphant.
This is fitting, in a sense of fitting with the long term history of the series. There is a long and glorious tradition of a frustrated and tired Doctor Who, whether it be the melancholic tones of things like The Seeds of Death or the entirety of Season Eighteen or the irritated and cynical "oh fuck this" tendencies of Robert Holmes. Doctor Who cannot possibly spend all of its time in this exhausted and worn down space, but it's a register the series excels in. Here, it avoids the worst possible outcome for Moffat—a finale that basks in its own cleverness along the lines of The Final Problem. Instead we get somthing that acknowledges the necessity of the ending—a story that says, essentially, "this was marvelous, but it's reached its limit." Which it was, and it had.
It's especially apt that Moffat, in a parting gift to Capaldi, opted to undertake what had long been viewed as one of the single daftest tasks in Doctor Who, attempting to make the Mondasian Cybermen work. These qlippothic horrors, who had previously rotted the Hartnell era out from under itself, devouring it in a haze of nightmare and bad acid. They do not serve the same role here (and it's telling that when it comes time for Moffat to have an actual massive Cybermen assault he returns to the Death in Heaven design), but Moffat leans hard into the strange and uncanny horror of their inhuman speech and medicalized body horror. The sequence in which Bill discovers that the nurse's response to the recently converted Cyberman chanting "pain, pain, pain" over and over again was simply to turn off the volume on its speaker is one of the most jaw-droppingly upsetting things in the history of the series, a moment that doesn't have to be as crass as calling out the literally murderous callousness of Tory austerity by name in order to go for its jugular. But even without leaning into the qlippothic horror and instead repeating the Dark Watertrick of using the Cybermen as window dressing while you set up a bigger reveal with Missy, their presence still tacitly invokes that sense of decay—the fact that things become monstrous if allowed to spool out towards ultimate conclusions. And with that comes the mad and brilliant out that Doctor Who always gave itself: simply become something else.
But what? The answer is not present here, as we already said. This is a story about reaching the limits of your vision; you can't exactly follow that with a suggestion on where to go next. Indeed, this actual story ends by flirting with narrative collapse as the Doctor, exhausted in his own right, declines to regenerate. But that's a topic for a few weeks from now, and is obviously a feint. Change is coming; the future really is all girl. What ideas, then, could follow from this?
The branding of the Chibnall era, with its overt focus on diversity and social consciousness, is certainly an angle and a promising one, although we've seen its pitfalls in Oxygen. Still, we've also seen its potential in Thin Ice, and the idea could work if actually coupled with something than another middle-aged white guy who had opinions about Pip and Jane Baker as showrunner. Diversity works. And we've already staked out an idea rooted in refocusing on ideas and concepts. A related idea is simply to go small, an idea that could mean "more characters like Bill," but could also simply mean a move away from the mythos-heavy grandeur of a Cybermen origin story featuring two versions of Missy and a regeneration. And sure, that's a season finale and they get some leeway, but if you want to play that card we can just as easily point to bringing back the First Doctor. Or a Curse of Peladon prequel. Or even, just to make it clear that this isn't a criticism of the epic register, the entirety of Clara Oswald.
Some of these, of course, happen, which mostly shows that execution matters as much as concept. But it's also notable that many of the show's most brilliant conceits have come when it goes in a direction that is in no way implied by what went before. Glam rock military soap opera. Gothic horror as imagined by Robert Holmes. Kitchen sink realism with Daleks. Or, for that matter, ostentatiously clever musings on healthy masculinity as time travel farce. The future is at its best when it isn't simply the implied consequence and inevitable endpoint of the present That is, after all, how you get Cybermen.
But in any case, this is where the line ends. All the glories and triumphs of the Moffat era, genuine and emphatic as they were, at last run out and wind down. Anything could follow from this. Something actually does. All of that, however, is another story. This ones over, or near enough.