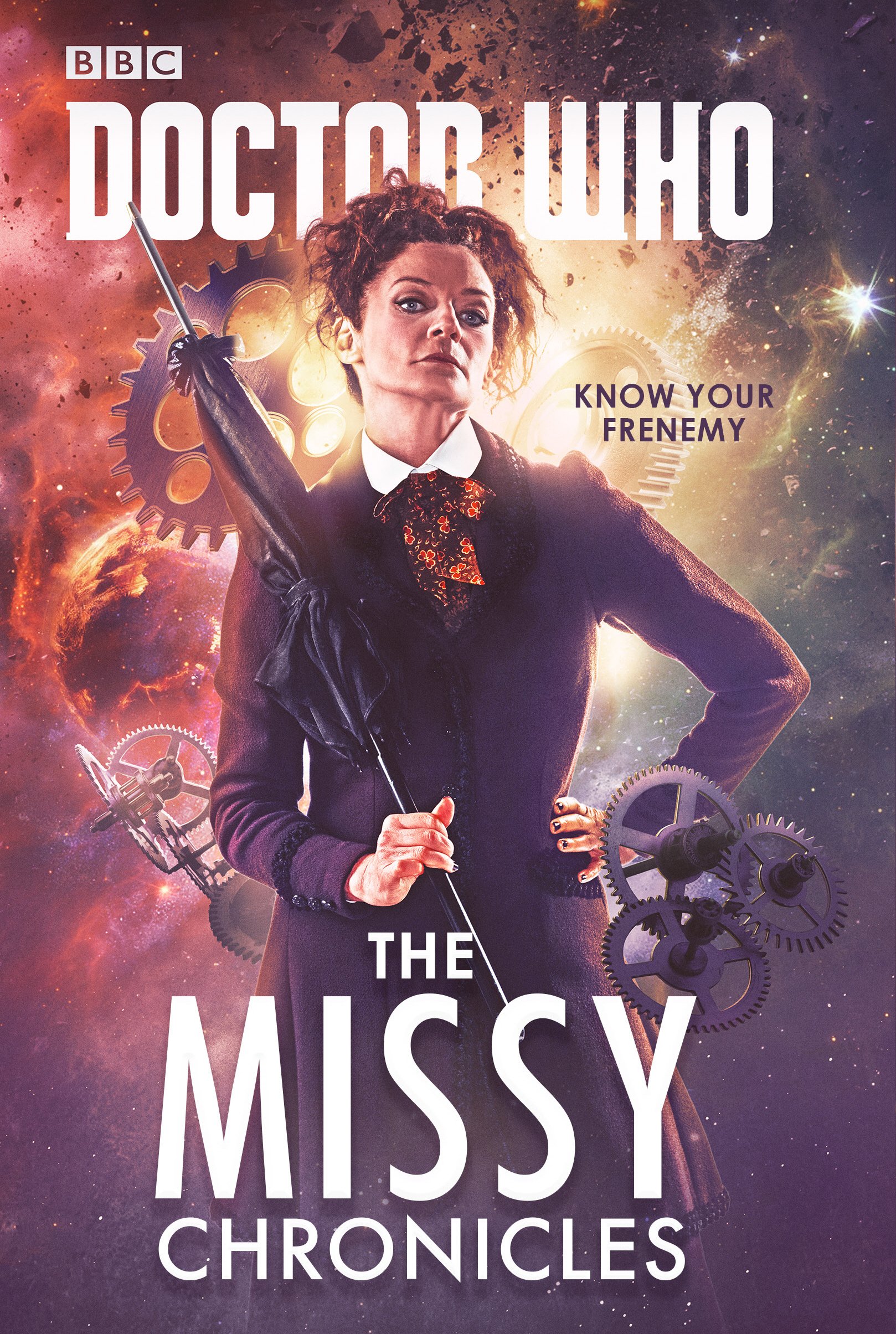 And so begins the endgame of an era, in which I traditionally wander around a bit and look at other things before actually resolving the era. We've two more Capaldi-era stories and five entries to cover them with. And today we dip into the BBC Books line for the fourth time this era because I want to talk a little more about Missy, and the alternative is Big Finish's box set and, well, we don't do that anymore. So instead we get BBC Books' anthology of Missy-centric short stories.
Like most BBC Books products, it suffers from the obvious problem of dead weight writers. I'm sure Peter Anghelides is a lovely person (although really you'd think I'd have been burned enough times by the BBC-sanctioned pro-fan class to just stop with that assumption), but there's simply no reason why one of the writers of The Ancestor Cell should be writing new release Doctor Who material in 2018 except for the fact that they haven't actually changed editors since the book after that. And yes, there's also an inevitable firmly adequate story by James Goss and an effort by Cavan Scott that includes metaphors like "a look that would wither Krynoids" and "I'll gut you like a gumblejack if you use that tone again," both of which are, charitably, about as well crafted as a Bandrill ambassador.
But sometimes Richards' EDA-era rolodex makes good, and this time it offers the delightful double dose of Paul Magrs and Jacqueline Rayner. Magrs is in particular a self-evidently brilliant choice for this—his brand of campy and postmodernist wackiness is an utterly delicious fit for Missy. His story features Missy as a 1920s governess with a bafflingly elaborate plan involving a sentient wish-granting teddy bear named Teddy Sparkles. It's insane and at one point features a failed attempt to alter timelines that results in 1925 London being attacked by dinosaur skeletons. ("I've done it all wrong! I've mixed up plain reality with awful whimsy… and now there's chaos everywhere!," Teddy says, in the greatest Second Doctor line ever written for another character.)
Rayner's inclusion, meanwhile, both avoids the deeply embarrassing goof Big Finish managed of having no female writers on Missy (although in this instance the TV series is just as bad—if we continue the assumption that the last scene of Eaters of Light was Moffat, Rayner is presently the only woman to have written Missy) and results in one of the most hilarious and delightful stories in the anthology. It's an epistolary story taking the form of messages between the Doctor and Nardole coordinating Missy's shopping lists while she's in the vault, some automated e-mails from an Amazon-equivalent, a couple of news articles from the St. Luke's Gazette about a robotic chicken attack, and a series of messages sent by Missy through the two-way space-time telegraph with time-scoop facility she builds with a helmic regulator, azimuth sprockets, sulphuric acid, mercury, and some sugar in which she attempts to incite various historical women into mass androcide. (Highlights include an advice column about annoying things men say and appropriate responses such as "IDIOTIC MAN SAYS: 'You must be a witch.' RESPONSE: Summon a demonic entity. While he's distracted by the demonic entity, burn him at the stake. Don't forget the marshmallows" and her suggestion to Florence Nightingale that the Lady with the Anti-Tank Missile sounds so much more interesting than Lady with the Lamp.)
But let's not focus too much on the qualities of individual stories. Let's instead focus on the general notion of a Missy story, especially since The Lie of the Land makes it explicit that she has Doctor-equivalent adventures in her own right. Obviously, however, there are going to be differences between her stories and the Doctor's. How, then, are these differences handled in practice? Well, several approaches exist, and indeed the book is broadly organized according to them. (It's set up chronologically from an adventure explicitly set shortly after her regeneration to one set on Floor 507 of the Mondasian colony ship in World Enough and Time/The Doctor Falls.) The first, appearing in Goss and Scott's stories, is simply to lean into the sociopathic sadism and engage in a sort of lurid "look at all the funny awful things she does" spectacle. It's telling that both of these were firmly among the unsatisfying stories, and the result feels like a camper cousin to the most immature excesses of the 90s "mature readers" boom.
The second approach, used by Anhelides and Magrs, is what we might call the split decision approach. In it, Missy has some flavor of evil scheme, but to at least some extent it fails to pan out, and Missy ends the story frustrated. This at least has the advantage of not committing the story to "isn't sociopathy fun," but ultimately exacerbates the problem that has plagued all previous versions of Missy's character, which is that they do not so much seem like a terrifying counterpart to the Doctor but like ridiculous schlubs who can't win. It's one thing if the Doctor always defeats them; it's another if they don't even need the Doctor to lose.
The final approach, meanwhile, is the one that explains why The Missy Chronicles is an interesting idea in a way in which The Tales of Harold Saxon or Gordon Tipple Gone Wild is not: hinge the resolution of the story on the possibility of Missy's redemption. Rayner does this by having Missy's scheme fall apart in the face of the Doctor's intervention while also suggesting that her basic interest in getting women to rise up is not, as the Doctor assumes, a baroque attempt at changing history to alter her imprisonment but just that she's read the history of Earth and is pissed off at all the damn sexism. The final story, meanwhile, by Richard Dinnick, exists largely to highlight the character differences between Missy and Harold. (This seems like a good time to enshrine the official new way of distinguishing between incarnations when one is not simply going by actor: Missy, Harold, Emile, Giles, Bruce, and Pizza-Face.)
It is this approach that most gets to the heart of why Missy is a uniquely interesting take on the character. (Well, one of two hearts, the other being "she's a girl.") Moffat hasn't just settled on a sublime bit of casting, he's also broken the basic concept of the character open and given it an inspired reengineering. His basic observation—that the Doctor and Missy are friends—has been hinted at and even made semi-explicit by Davies, albeit in the sense of them having fallen out. But Moffat is correct to notice that Harold is really unique among the character's incarnations in not being easily read as the Doctor's friend. Though clearly not the textual intent, both Emile and Giles can easily be read this way, in a way that simply isn't true of "constantly hears drumming in their head" or "wants to be a woman." And so it manages the rare feat of both fitting previous data and putting the character on a distinctly new footing.
Moffat's further explanation that their friendship is one "between a hunter and a vegetarian" perhaps fails to give either group quite enough credit (or perhaps gives each a bit too much), but it's insightful as to the dynamic. It's not simply that this is a dysfunctional friendship—indeed this is probably the key way in which it differs from its explicit mirror of the Doctor and Clara. What goes wrong between the Doctor and Missy is that they are doomed to disappoint each other. (Indeed, it works to read the anguished venom of the Doctor's "you let me down" to Clara in Dark Water as a line primarily informed by his relationship with Missy, just as "do you think I care for you so little that betraying me would make any difference" is implicitly also an explanation for the Doctor's eternal forebearance of any sort of vengeance on her.) But it also sets up a viable counterweight—an underlying reality that the two have a basis for friendship.
Indeed possibly the most interesting thing that Moffat ever did with Missy was simply to stop making her an antagonist. Only in Dark Water/Death in Heaven is she straightforwardly a villain, and even there one of the big twists is that she's not actually trying to take over the world, she's just giving the Doctor a really fucked up birthday present. In any sane world, this should be a far more controversial change to the character than her gender. I mean, sure John Nathan-Turner gave them about 140 times as many words as Jo Grant in The Companions, and for that matter had them vaguely on the Doctor's side in both The Five Doctors and Trial of a Time Lord, but moving them out of the villain list and turning them into, as the cover of The Missy Chronicles puts it, a frenemy is still a massive shift in what the character is.
And yet it works, and indeed works better than making them a straightforward villain. Even the weakest of the stories here is a better use of the character than The King's Demons (which Rayner rather delightfully has the Doctor bring up as one of her more puzzling schemes) or, for that matter, The End of Time. And more to the point, the inadequacies here feel like ones that are easily fixed. Rayner unsurprisingly comes closest to showing the way by having Missy pursue the entirely sympathetic cause of gender equality through slightly over-murderous ways. And this, in short, is clearly the most promising option—one that functions by, essentially, actually making her work as a cracked mirror of the Doctor as opposed to a banal obverse. Having her function as the Doctor only wrong gives her the ability to tell new kinds of stories that neither leave her as an impotent figure that doesn't even need the Doctor to be defeated nor turns her stories into juvenile edgelording.
And this, as much as gender switching the character or the sublime casting of Michelle Gomez, is the real triumph of Moffat's redesign of her: the arc away from using her as a straightforward villain and towards something altogether more ambiguous and full of potential. It remains to be seen what the long term potential of this idea is, and indeed whether future showrunners pick up on it or regress the character back towards their roots. But for all its evident flaws, The Missy Chronicles decisively shows that the move has legs beyond the immediate benefits of Moffat's writing and Gomez's performance, firmly cementing the fact that Missy is a triumph of conception as well as execution.