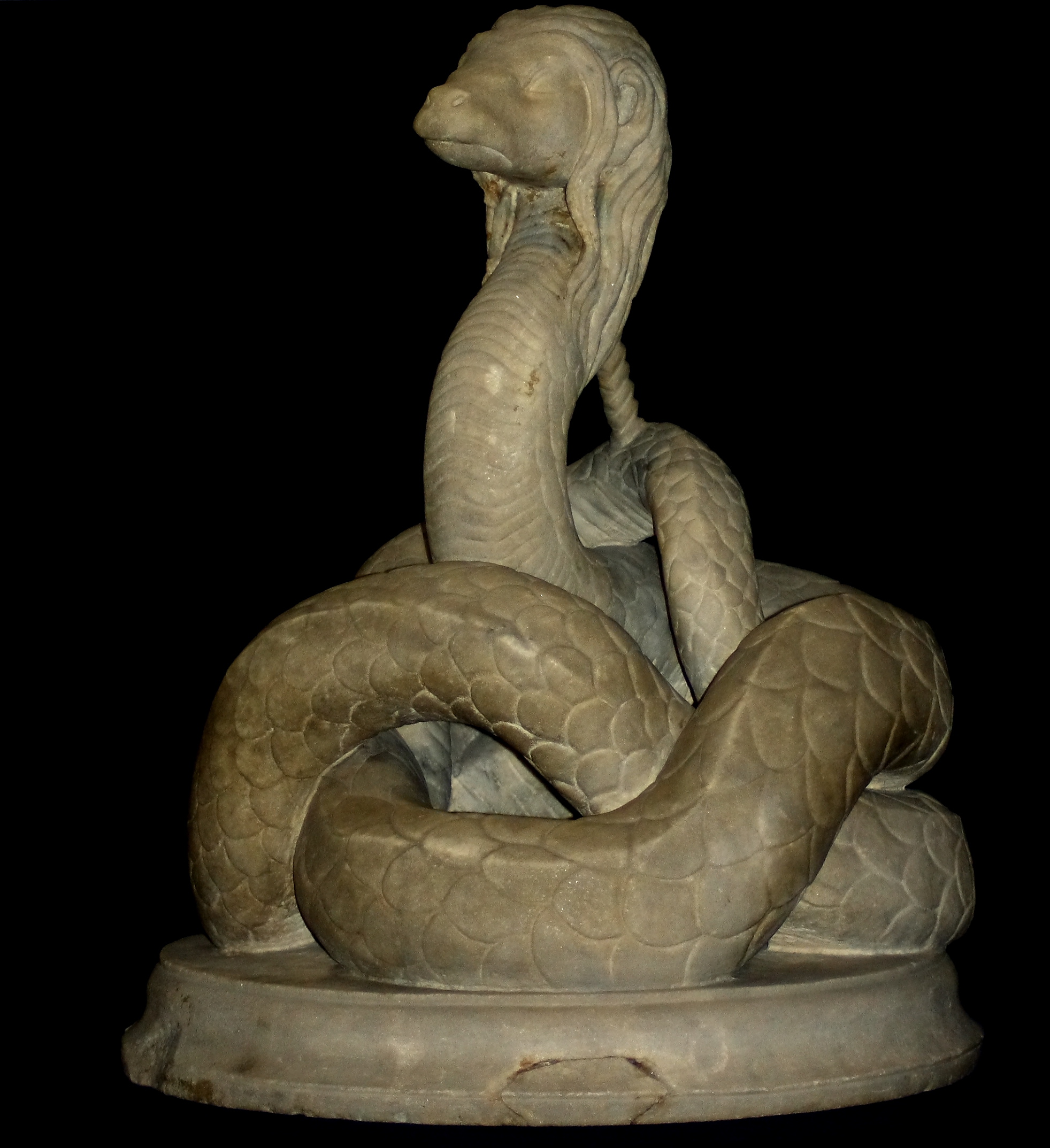 This will be the last excerpt I post here, unsurprisingly from fairly late in the book. The epigraph early on marks the closest thing the book has to chapter breaks. (So this is the end of the fifth and start of the sixth of seven quasi-chapters.) This may be my favorite excerpt, just by dint of how much it highlight's the book's ability to move among and synthesize a wide variety of topics. Anyway, Neoreaction a Basilisk is available on Kickstarter, and I've linked a PDF of it in a backers-only update, so if you want to read it, you can do so right now.
And this is, in a nutshell, what's scary about white nationalists – a fear eloquently articulated by Land's heroic racist John Derbyshire, whom he quotes in the epigraph to Part 4a, the start of his "multi-part sub-digression into racial terror" as saying, "my own sense of the thing is that underneath the happy talk, underneath the dogged adherence to failed ideas and dead theories, underneath the shrieking and anathematizing at people like me, there is a deep and cold despair. In our innermost hearts, we don't believe racial harmony can be attained." And it's true – the possibility that racism is an intractable and permanent problem is a scary one that has to be considered regardless of one's certainty that there is no moral or rational basis for discrimination based on race. It's just that the reason racism might be insoluble is less, as Derbyshire suggests, a fundamental "trend to separation" and more that there are still white people like John Derbyshire who are inclined to wax poetic about the precise reasons they hate black people, and that they exist in dangerously high numbers. This is not to deny the existence of racism even on the progressive left, nor to say that progressive racism is not just as much of a long-term danger. Rather, it's to point out the practical scariness of white nationalists: their presence ensures that an intelligent or productive discussion of race is always going to be poisoned by a bunch of dipshits chiming in to rant about human biodiversity.
Underpinning all of this is the fact that the white nationalist horror is a mythology. This is what underlies the "Zimmerman is white in every way that matters" issue that underpinned the Trayvon Martin shooting – that his whiteness is almost wholly negative, coming from the ability to avoid being viewed as black or Hispanic or anything else. But there's an inherent paranoia at the heart of this: the white nationalist monster, historically significant as it is and will be, has a glaring weak point in the form of its own monstrous terror of being invaded or violated. And moreover, that monster carries a power of its own, and one that is based in the same mythology as white nationalism.
Because, of course, the other way to describe whiteness instead of being not-seen-as-nonwhite is simply as being seen as "normal." And the idea that appearing at first glance like someone who probably has European ancestry is "normal" is a concept that emerges out of historical systems of power that emerged from Europe – systems of power, notably, that include both Moldbug's beloved monarchy and hated dissenters. Simply put, it was Europe that finished the task of mapping the world. European culture became the first global and near-universally known culture; it was the first memetic global pandemic.
In practical terms, of course, this pandemic was accomplished at weapon-point, a fact encompassed neatly in the factoid that there are exactly twenty-two countries in the world that have never been invaded by the British. One rather strongly suspects, though I've not done the research, that you can knock those last twenty-two out with at most three other white-dominated countries. And this is where the right to be invaded draws its almost primal power from: the one thing European culture is unique in never having experienced is being taken over by another culture.
"Out from the kitchen to the bedroom to the hallway, your friend apologizes; he could see it my way. He let the contents of the bottle do the thinking. Can't shake the devil's hand and say you're only kidding. This is where the party ends." – They Might Be Giants, "Your Racist Friend"
It would probably help to have some idea of non-white culture, then. But Trayvon Martin was the first person of color to come up in the book, and he's not really a philosopher. There are, of course, any number of thinkers on the subject of race and identity worth introducing. The point of this exercise is not to come up with some universal theory of non-whiteness. Rather it is to come up with any theory of non-whiteness whatsoever – a vague starting point from which to start imagining our new post-invasion identities. For arcane reasons related mainly to my endgame (yes, I have one), I propose Frantz Fanon.
Fanon was born on Martinique, a French colony, to a middle-class family, but the defining incident in his life came in 1940 after France fell to Germany, resulting in the French troops on Martinique, who were blockaded, simply taking over the island and creating a collaborationist regime. Fanon fled the island three years later, fighting in the Free French army until the liberation of France, at which point he and other non-white soldiers were quietly dropped from the army due to the presence of photojournalists. But he returned to France after finishing school in Martinique, studying medicine, psychiatry, literature, and philosophy before writing his first book, Black Skin, White Masks.
The central idea of this book is as he puts it, that "the black man has two dimensions," one defined internally, within the black community, and the other defined by the white community, and specifically by the way in which he must "act white" for their sake. In many ways this idea is an adaptation of W.E.B. DuBois's "double consciousness" (Fanon prefers "dual consciousness"), which he describes as a "sense of always looking at one's self through the eyes of others, of measuring one's soul by the tape of a world that looks on in amused contempt and pity." But where DuBois frames it in terms of being looked at by the white world, Fanon frames it in terms of the performance put on – the second role and identity that is put on. But the end result is similar – as DuBois describes it, "one ever feels his twoness, — an American, a Negro; two souls, two thoughts, two unreconciled strivings; two warring ideals in one dark body, whose dogged strength alone keeps it from being torn asunder."
It is of course difficult to adapt an idea like this straightforwardly. So much of it is built out of the real and lived experience of DuBois and Fanon – in the real phenomenon of anger and pain that eventually found its expression in these ideas. But this is not a new problem – we did not, after all, let ourselves get unduly bothered about how Land's breakdown or Ligotti's illnesses rendered their work singular. The suffering that underpins these ideas is part of their power, but it is not the whole of it. Dual consciousness, within Fanon, is in no way a pleasurable situation. Rather it's a constant oppression – a gravity weighing on every moment of black life. But its misery is by and large a product of the historical circumstances in which this dual consciousness arose – the genuinely awful reality of life in Martinique. Might better circumstances produce a better dual consciousness?
To some extent, no. The underlying problem with dual consciousness – that its subject will want to reconcile the two in a way that is ultimately impossible – is intractable. It's also nothing we haven't already seen in Milton or Ligotti, though. And while we might not be able to engineer a dual consciousness free of existential angst, it certainly seems possible to create one without brutal structures of colonial oppression and the attendant sense of humiliation and degradation. But that still doesn't quite answer the real question underlying this, which is whether it's possible to produce a dual consciousness that is in some sense desirable.
The answer is yes, obviously, or we wouldn't be doing this. But more surprising is that the best example of it that we've seen so far is Eliezer Yudkowsky. Dual consciousness is exactly what Yudkowsky creates in coming up with ways to talk to the future AI-god that will make him immortal. Let's look at how the whole "acausal trade" thing actually gets established. Yudkowsky created it to solve something called Newcomb's Problem, which is a thought experiment where a being that can perfectly predict a human's actions presents them with two boxes, one transparent and the other opaque. Inside the transparent box is $1000. Inside the other one, however, is either $1,000,000 or nothing. The subject is allowed to take just the opaque box or both boxes. However the being has chosen whether the opaque box is empty or not based on their prediction of what the human will do – if it predicts they will take both boxes it is empty, but if it predicts they will just take the opaque one it has $1,000,000 in it. What should the subject do?
The reason this is tricky is that the subject's choice is not actually affecting the contents of the boxes, and so taking both boxes is necessarily going to have either the same payout as taking one or a larger payout. And yet the predictions are defined as effectively perfect – to take two boxes is to guarantee that the second box is empty. The obvious solution is to declare that magical beings that can perfectly predict human behavior are inherently silly ideas, but since Yudkowksy wants to be reincarnated as a perfect simulation by a futuristic artificial intelligence he doesn't think that. Instead he sees Newcomb's Problem as a very important issue and creates an entire new model for decision theory whose only real virtue compared to any other is that it only has one correct answer to Newcomb's Problem.
The result of this is Timeless Decision Theory, which suggests that the prediction and the problem of picking a box are actually just two iterations of the same problem – an abstract computation roughly of the form "is this person going to pick one box or two." Accordingly, instead of thinking about one's actions in terms of "what am I going to do" one should think about it in terms of "what is the output of the abstract computation of what I'm going to do going to be."
But what's key about it is that it involves turning free will into a sort of self-prediction. To engage in Timeless Decision Theory is to create a dual consciousness, simultaneously looking at one's self as the person making a decision and as a person who evaluates your decision-making process externally. Indeed, to truly embrace Timeless Decision Theory as a form of rationality – a way to interact with the world – is to live in a self-imposed panopticon, making every decision as though one is deciding the predictions of an imaginary being that can perfectly predict you. One can imagine the dual consciousness that weighs on a Timeless Decision Theorist, wondering what their Predictor thinks of every little decision they make; their shoes, their job, their sexual tastes.
But crucially, that's the point. That's why this leads to Roko's Basilisk. The whole reason Yudkowsky is doing this is so that he can be in constant communion with the AI-god he aspires to live forever as a process running on. And indeed, given that, the usual relationship between someone and a Miltonian God looks a lot like dual consciousness as well. And the underlying implication – that religion creates dual consciousness – makes a certain intuitive sense, in that religion, like race, is based on metaphysics and mythology.
None of this is news to Nick Land, whose horror fiction is largely about invasion and contact with the outside. His most recent, Chasm, even has as an ostentatious Lovecraft-style racist savage muttering cryptically about dark things and at a key moment unexpectedly speaking perfect English to boot. But that's not surprising; Land's always had a clear regard for Yudkowsky, even if only to the extent of wanting to tease him about Roko's Basilisk. And we should expect to see an almost fractal quality to the concept when we get this close to the heart of it.
Anyway, there's a larger implication in Yudkowsky's line of thought. The central perversity of Timeless Decision Theory is that it replaces the illusion of free will with the illusion of the Predictor's constant companionship. But the way that Yudkowsky can make this surprise conflation of individual consciousness and the alien brain parasite that will be riding within it for all time is through the idea of predicting someone else's actions. Indeed, the act of prediction would seem to be central to the whole idea of dual consciousness. To be dually conscious is to endlessly predict the response of an outside observer and moderate one's own actions to influence them. These are also the tools the AI uses to make Yudkowsky an immortal simulation, and for that matter the tools it uses to get out of the box.
But all of this goes back to Alan Turing, whose near universally misunderstood paper "Computing Machinery and Intelligence" sets out this idea. Under the standard interpretation, this is the paper in which he invents what is generally called the Turing Test, a proposed standard for determining whether a machine can think based on whether it can fool a human into thinking they're carrying on a typed conversation with a person instead of a machine. This, however, is a complete misreading of Turing's paper, albeit one that's easy to make because the paper, being written in 1950, is almost as completely disconnected from any notion of contemporary AI research as Eliezer Yudkowsky and spends most of its length pondering questions like "but what about ESP?"