The BBC's Moscow Correspondent, Steve Rosenberg, recently tweeted this: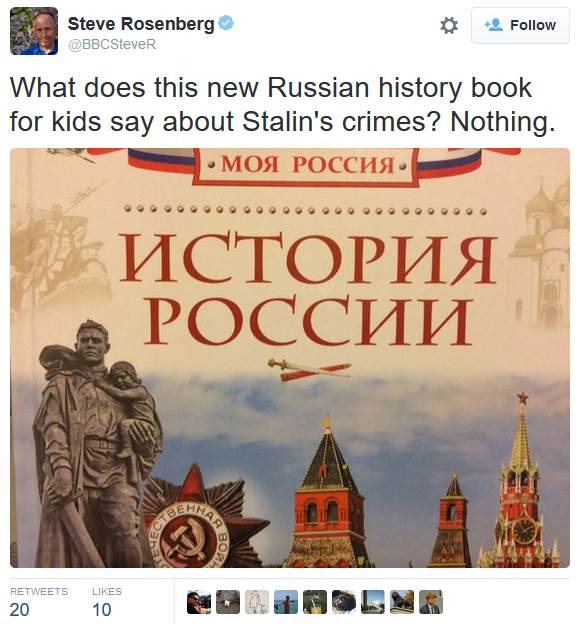 Now, despite the air of handbag-clutching sanctimony, I agree with the implied criticism here.  If true, it's wicked that Russian kids are having their history censored.  However, the other implication – that 'we' would never censor history for 'our' kids – is trickier to agree with.  Media Lens promptly responded to Rosenberg with: "Try reading a British or US kids' history book on the Vietnam war (for example)". 
I myself, monomaniac that I am, was instantly reminded of 'Victory of the Daleks', in which Winston Churchill is presented to the kiddies as the Doctor's bezzie mate; a naughty, fallible, but essentially heroic fighter against evil.  Nothing in that episode about, say, the Bengal famine, or the Black and Tans in Ireland, or the conspiracy to unseat Mossadegh, or the pointless firebombing of Dresden.  Sticking with Russia, Churchill was the leading British politician behind Allied 'intervention' (i.e. aiding the counter-revolutionary Whites) against the Bolsheviks in the Russian Civil War… a war that (arguably) indirectly helped bring Stalin to power.  You might well argue that there is no place for such things in an episode of Doctor Who.  You could be right.  But don't then tell me that there is a place for presenting someone like Winston Churchill, sans context, as a jolly and fiercely moral pal.
Of course hierarchical societies, which depend upon ideology to manufacture public acceptance or quietitude, are going to lie to their people, and they're going to start early.  What's interesting here is not the obvious fact that Russian kids' history books and British kids' TV shows are going to mislead them about the histories of their domestic ruling classes.  What's interesting is the way the educated, orthodox, democratic, freedom-loving mind can notice – and be outraged by – this obfuscation when practiced by Russia, while completely failing to notice it when it is practiced by the BBC. 
You have to wonder how automatic it is, versus how deliberate. 
In Nineteen-Eighty-Four, Orwell has Party members practicing this very double standard openly and proudly, using it as a badge of honour.  It can be viewed as such because 'we' are good by definition, so any contortion of truth or good sense which benefits 'our' side is also good by definition.  Like many psychological habits, there's no clear cause and effect, but rather a rabbit hole made of mutually-reflecting mirrors.  And I don't think we need go to Oceania to see it.
The orthodox view of Nineteen Eighty-Four is that it's a satire of Russian totalitarianism… and yet Orwell sets it in Britain (as was).  He's also having a go at British Communists who willingly and happily parroted the nonsense dictated to them from Moscow.  But familiarity with his wider corpus shows us that Orwell was quite aware of the same technique in the capitalist media.  The Ministry of Truth is at least partly drawn from his experiences within the BBC.
It would be unthinkable to do a Doctor Who story featuring Stalin without portraying him as evil.  They put Hitler in and, to the extent that he appeared at all, it was taken for granted that he was despicable (rightly so… which I shouldn't have to say but experience teaches me I do).  They even felt obliged to put in a degree (insufficient, in my view) of queasiness about Nixon.  But Churchill, 'our' guy, is whiter than white.  Anything else would be 'inappropriate', 'political', evidence of an 'agenda'.  Which is fair enough.  It would be.  When I trash Churchill, of course I have an 'agenda'.  What bugs me is the idea – actually, it's so tacit and assumed that it doesn't even qualify as being an idea as such – that presenting Churchill in purely positive terms is apolitical! 
Telling Russian kids about Russian history without mentioning that the country was once run by probably the biggest mass murderer in history is certainly evidence of an agenda.  We just have to grapple with the fact that it probably seemed like neutrality to whoever wrote and published the book.  (Not that all Russians think that way.)
As Orwell says in 'Notes on Nationalism' (recently cited by Gary Younge):
The nationalist not only does not disapprove of atrocities committed by his own side, but he has a remarkable capacity for not even hearing about them…. Whether such deeds were reprehensible, or even whether they happened, was always decided according to political predilection.
This is especially urgent at the moment, when the mainstream conversation seems to be taking it for granted that Russian bombing of Syria is bad and harmful and cynical by definition (and I'm against it, for the record) but British bombing of Syria is, at least arguably, a sad necessity to people of conscience.  Our beloved Prime Minister, the Pigfucker General himself, seems to believe (based on his public statements) that Russian bombing of Syria will produce more terrorism whereas British bombing of Syria will somehow not.  As I recently joked on twitter, this must be because British bombs are made of British values and therefore blast democracy into people when they explode.
It seems a shame that the BBC can unambiguously declare that certain ideas are not suitable for children but also entertain the notion that certain bombs are.