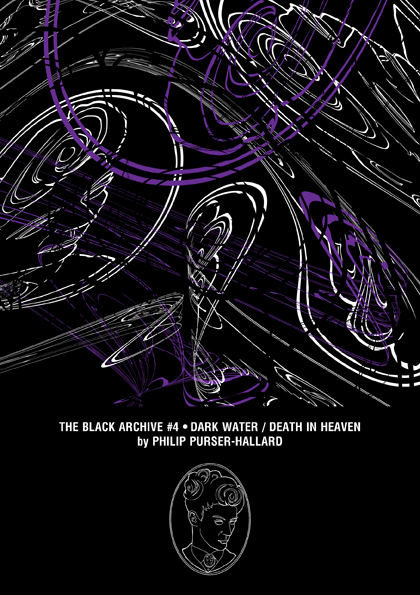 It's a small club, and more than anything it's nice to see a quality new contribution. I'm not going to say that the world is lacking in studies of Doctor Who because it's manifestly not, but the aca-fandom corner of things is, as fields go, not one where it's hard to keep track of the major players. So welcome to Philip Purser-Hallard, editor of and contributor to The Black Archives, Obverse Press's new line of short book treatises on individual Doctor Who stories. They launched just last month with four books, on Rose, The Massacre, The Ambassadors of Death, and Dark Water/Death in Heaven, the latter of these by Purser-Hallard himself, and the one Obverse Books sent me a review copy of. (They've got four more planned over the rest of 2016, including Andrew Hickey's take on The Mind Robber and Lance Parkin's on The Pirate Planet, incidentally; it's a hell of an exciting line.)
Let me start by saying this is a brilliant idea; a perfectly considered level of granular focus that has loads of room to find new things to say about tired old stories without sacrificing readability or approachability. The obvious analogue is the 33 ⅓ series of short books on music albums, which provide similarly appealing balances of depth, breadth, and the potential for idiosyncrasy. These are the right books at the right time, and it's genuinely a thrill to have them join the conversation.
That said, as a fellow traveler in the aca-fandom waters who has also written a book for the 33 ⅓ series, there's not really a way for me to approach a book like this without immediately jumping to either ridiculous talking shop about critical approaches or early efforts to contextualize it in the larger discourse of Doctor Who criticism. I mean, this is the sort of book where my reactions include things like "oh, hey, he quoted Anna's piece on Missy and trans issues." ("Was it a good quote? Do I sound like an idiot?" Anna asked when I told her. She does not, unsurprisingly, though Purser-Hallard doesn't buy her claim that the Master was dysphoric, historically. "Lol, I don't either," notes Anna. It also cites Jack for the claim that Revelation of the Daleks has vaguely implied necrophilia, incidentally.) Neither of which is the natural fit for a book series that's aiming at a general enough audience that it starts with an overview of the episode that includes transmission dates and a fairly detailed plot synopsis. And while I could try to turn all those instincts off and just enthusiastically review it as the interesting and compelling guide that it is, well, what's the point in that? Especially when Purser-Hallard argues, quite brilliantly, in the book's epilogue that "one day everything in this book will be wrong (if indeed it isn't now, which is certainly a possibility). And that is the magic of Doctor Who."
So let me instead pay Purser-Hallard's Dark Water/Death in Heaven a much higher compliment than a mere "hey, this is worthwhile, check it out" and say that when the time comes to write the Capaldi stretch of TARDIS Eruditorum, I cannot imagine discussing this story without using it the way I used About Time so often in the classic series, which is to say pushing back against and expanding upon its conclusions. And then trust that you'll recognize the subsequent discussions of why as an emphatically good review.
In particular, I stress this because what is to me the book's biggest methodological weakness also gives rise to what is, for my money, its biggest insight. This is Purser-Hallard's decision to limit its discussion of history and influence almost entirely to past episodes of Doctor Who. (And I should stress, this is a decision Purser-Hallard made for this volume, not editorial policy for the Black Archives line.) For most of the book this is an amusing perversity; a discussion of the implications of Missy's gender that has several paragraphs on Eldrad while restricting its list of "literary SF whose scenarios involve mutable sex and gender" to a dashed off list in a footnote consisting of The Left Hand of Darkness, Triton, and Player of Games. This works in part, of course, because Purser-Hallard understands the game he's playing there. The section is clearly written by someone who has not only read all three books but a wealth of other and far more experimental works about gender, including plenty that aren't science fiction at all, and who is setting all of that knowledge aside to talk about The Hand of Fear. But equally, it feels like an almost deliberately incomplete discussion; obviously I've got some personal investment given who he chooses to cite, but the bits where Purser-Hallard talks about trans reactions to the episode feel vastly sharper and more insightful than the meandering through Doctor Who history, to the point where the latter becomes harder to justify.
Where the approach is more interesting is in its discussion of cyberpunk, which is most certainly a topic Purser-Hallard knows a lot about, and which he still introduces largely in Doctor Who terms with a brief historical jaunt over to Neuromancer. This ends up being a mixed blessing. On the one hand, it's entirely appropriate; as Purser-Hallard ultimately concludes, Dark Water/Death in Heaven is not especially cyberpunk in its approach, and a far stronger case can be made for The Long Game being cyberpunk. (I'd say an even better one for Gridlock, which he also notes as cyberpunk-inspired.) It's a point where an excessive dive into the influences would end up being a needless wind-up. And it's an ultimately valuable point about Moffat's work – for all its complexity, it's also relatively low on influences. (Indeed, The Time Traveller's Wife seems at times to be the only science fiction book in recent memory that he's read.) This is both a challenge to the would-be Moffat critic and, in some real ways, a flaw in Moffat's work, and perhaps part of why it is so enlivened on the occasions he lets his spikier and more pessimistic instincts roam free. And Purser-Hallard brings it to the fore better, I think, than anyone else has.
Indeed, Purser-Hallard is generally strong in his accounts of Moffat's style, ribbing him a bit about some of his more recurrent tics and giving him an appropriate smidgen of stick over his gender essentialism (he makes an elegant distinction between sexism and misogyny here), but writing with clear appreciation of his work, and with strong insights such as his case that Moffat, contrary to many views, is a far less cynical writer than Davies. There are occasional stumbles – in particular, he's oddly off-base with his account of Clara, making a completely unjustifiable claim that her control freak tendencies had been poorly set up prior to Dark Water/Death in Heaven – but it's a strong case that deserves to be taken seriously.
Still, it's hard not to wish Purser-Hallard had found a slightly broader vantage point to take on the story. If the book has one major flaw, it's that the whole is somewhat less than the sum of its parts. Its six main chapters are, in effect, discrete essays on aspects of Dark Water/Death in Heaven, never quite managing to cohere to a singular perspective. The book's afterword, in which Purser-Hallard muses on the superficiality of the oft-observed similarities between Moffat's story and his own City of the Saved, only increases the sense of this as a near-miss.
But as I said, that's the real thrill of the volume, and of the series. Were this the definitive take on Dark Water/Death in Heaven it would be a drab affair. No, this is something far more fun: the thing the rest of us have to unseat now. I can't wait to have a go.