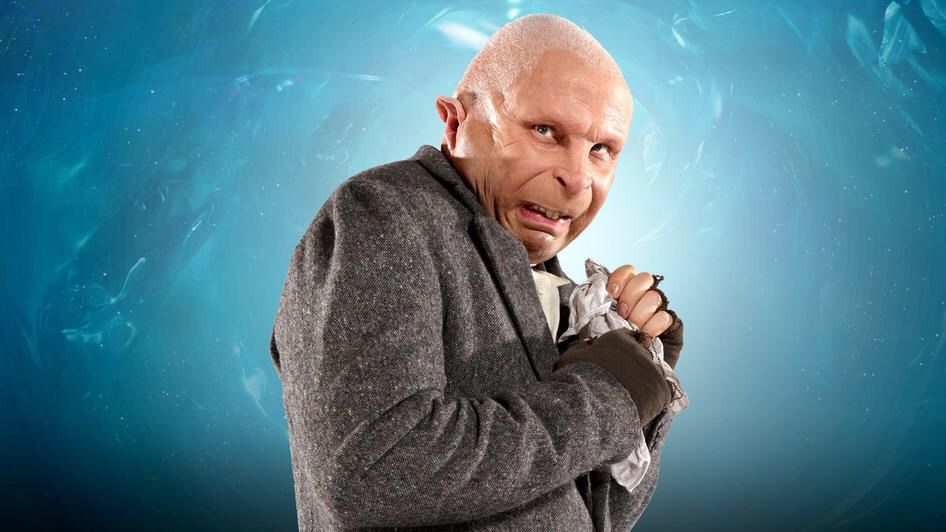 Following Jack's exploration of the Tivolians yesterday I came upon Daniel Harper of the Oi! Spaceman podcast's take on some of the same issues. Daniel graciously agreed to let us repost it as a guest post, and it's my pleasure to bring it to you.
Wednesday I posted the Oi! Spaceman podcast episode dealing with our reaction to Under the Lake/Before the Flood, which was a fascinating recording for us because it really was a case of finding some of the meaning of the story as we discussed it. It might make for a slightly disorganized listen, but it was enlightening for myself and I think for my wife and co-host.
The primary way my own views on the story evolved was in the discussion of Prentiss, the Tivolian undertaker, a member of a race of happy slaves imagined as a mincing sexual submissive. I originally took the portrayal at face value, primarily there to provide exposition and provide some levity (ha ha look at the ridiculousness of masochism!), but Shana correctly pointed out that putting this character within the context of a story in which magic runes implant subconscious commands that influence the way you behave changes the meaning a bit. To wit: the Tivolian desire to be dominated, whether cultural or genetic, parallels the subconscious mind control of the technology of the Fisher King, which is after all just a way of subverting the individual's will to inbuilt memetic propogation. This parallel makes the text much richer than it would be otherwise, and I'll definitely be considering it in some future venue, whether on the podcast, the blog, or elsewhere.
And then of course Jack Graham had to post a wonderful piece on the way that the Tivolians as happy slaves reflect larger social consciousness about oppressed populations in fiction and in life, and I knew I had to continue the conversation. I'm really trying to not let this blog just become a "what Jack said," but seriously, go read what Jack said.
What I want to do here is to take a look at how kink and other alternative lifestyle communities handle the questions of dominance and submission, and then ask what that understanding implies for the wider world of heirarchy, on both an individual and social level, all through the lens of a minor species in Doctor Who. And I haven't even had my coffee yet. We'll see how this goes.
Healthy Kink
Without getting into the details of either my personal life or the myriad ways that people agree to do naughty things with one another, it should be patently obvious to anyone reading this far that none of it happens without everyone agreeing that they want to do it; all parties must consent to whatever activity is taking place before any fun times can happen. Since there are so many people who like to do things and have things done to them, and the preferences and attitudes about those things vary so widely, pretty much whenever two or more people want to engage in anything a long, sober, and mutually respectful conversation has to take place, with any hidden assumptions laid bare and clear rules about how to further communicate personal needs during and after the encounter.…