The final group of toys in Playmates' Star Trek: The Next Generation line (that is, before all of their Star Trek toys were consolidated under one homogeneous brand label) have something of an unusual release history. The third wave released in three parts over the course of 1994, surrounding the premier of the movie Star Trek Generations, with a fourth dropping in the summer of 1995. I love how, as far as Playmates was concerned, Star Trek: The Next Generation fully remained an extent, relevant and marketable brand for at least a full year after the TV series itself went off the air. Even though the show was over, Star Trek: The Next Generation remained very much a present cultural phenomenon for some years after the fact, a theme I'll be returning to in the remaining chapters of this volume. It almost kind of makes you wish the show itself had been around to bear witness to that, but that's beside the point tonight. Tonight, it's all about the toys.
And what toys they were! Playmates had already endeared itself to me as the makers of probably the greatest plastic effigies of anything ever, and these waves contained a number of my absolute favourite figures in the whole line. I am combining both of them into one essay, however, because a couple of these batches, particularly the 1995 one, didn't quite have the same volume of releases as past years and I've already covered a great many of them in previous posts in this series. There was just no way I wasn't going to talk about Tasha Yar, Ro Laren and Duty Uniform Deanna Troi and Beverly Crusher in the bridge crew essay, just to name a few notable examples. There were still a lot of new figures, of course, but the first set of releases from these waves continued the pattern from wave 2 by giving us a lot of variants: Aside from Duty Uniform Deanna, we got Commander Riker as a "Malcorian" (from "First Contact"), Geordi as a "Tarchannen III Alien" (from "Identity Crisis"), Worf in a "Starfleet Rescue Outfit" (from "Birthright, Part II) and two figures based on "Unification": Captain Picard and Commander Data as Romulans.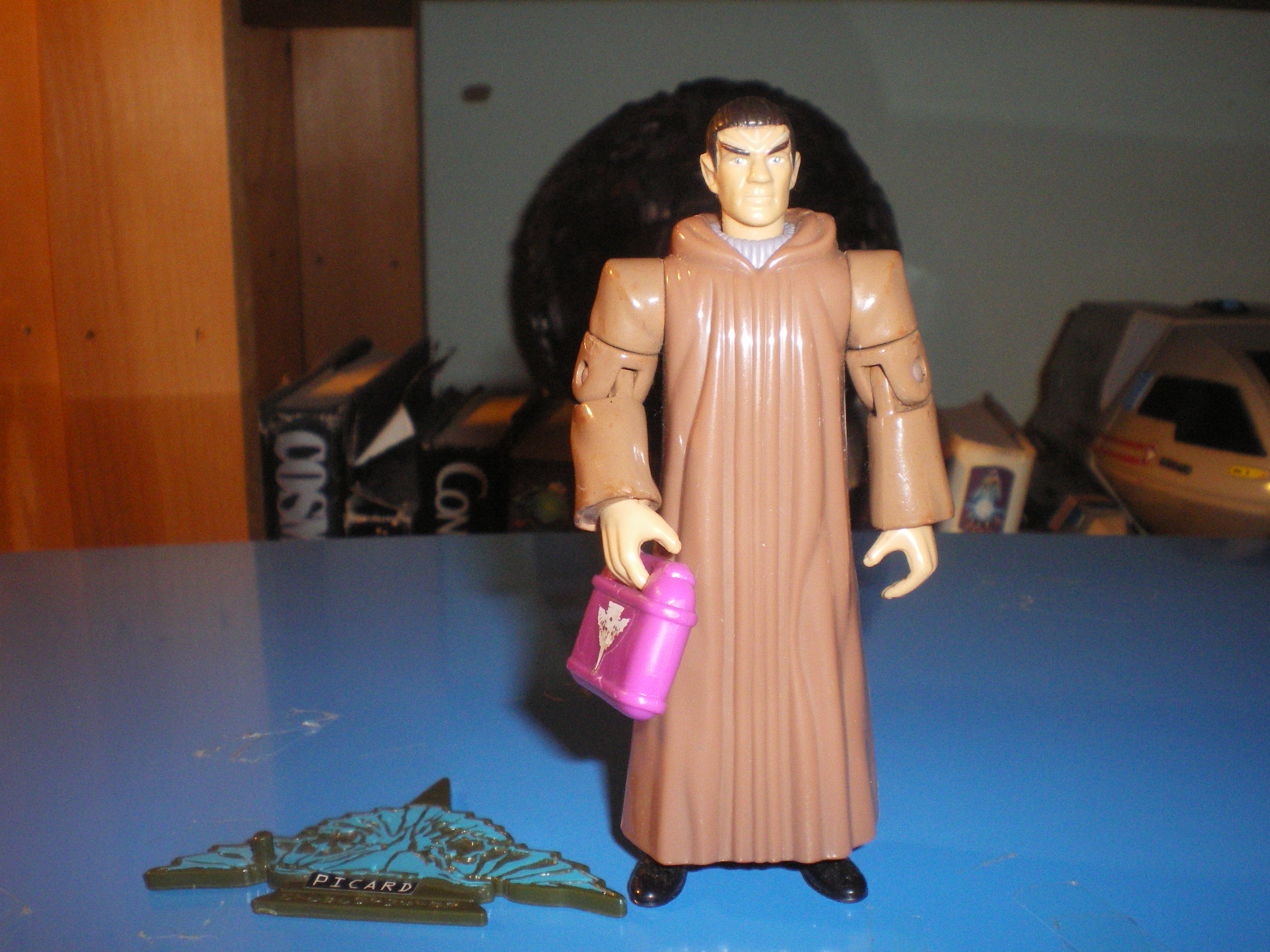 I didn't have any of those figures except Captain Picard, and let me tell you, boy is he ever a boring toy. Although the likeness is absolutely spot-on, you'd expect that from Playmates by now and he has a whopping five points of articulation: Two shoulder joints, two swivel arms and a neck joint. He's so boring they had to include the "Romulan Disguise Kit" as an "accessory" which, upon careful inspection, seems to mean not just his clothes and facelift, but a generic Starfleet bag with a Romulan insignia on it. Romulan!Picard also suffers the same fate as Guinan and Doctor Crusher (and another figure in this line) by being plagued by the curse of the long jackets: His Romulan hoodie or whatever is a solid chunk of hard moulded plastic, which means any action in the torso or legs area is out of the question.
…