We also got some new action figures to go along with our new models, all based on stories from the second season. This wave is a healthy mix of variants and new figures (and, like TNG, once again spread out across 1994 and 1995), and really, just about more than anything else from this period, tantalizingly points at how interconnected the worlds of Star Trek: The Next Generation and Star Trek: Deep Space Nine really did seemed poised to be at one time. First up, let's talk about the predictable variants: There's "Emissary" Jadzia Dax and Doctor Bashir, that is, them in the TNG-style two-piece suits with the polygon design instead of the DS9-style black jumpsuit and open collar shirt. I talked about Dax the first time I did Playmates DS9 because she's one of my favourite toys in the whole line, expertly re-using the already excellent Duty Uniform Deanna Troi body sculpt. I don't have Bashir though, because his Wave 1 figure was already pretty good and he feels more superfluous to me. There's also Q in the DS9 jumpsuit, from "Q-Less". But really, when it comes to Qs, my advice is still to stick with the TNG Wave 3 judge's robes one.
Q is your biggest hint as to the defining feature of this wave: In a word, Crossover. In fact, almost the entire 1994 Star Trek: Deep Space Nine wave was actually made up of Star Trek: The Next Generation characters-The only actual DS9 figures in this first batch are "Emissary" Dax and Bashir. To complete your "Q-Less" set that you apparently have for some inexplicable reason there's Vash, who, interestingly enough, gets her one and only Playmates effigy on this side of the wormhole. There's also, somewhat astoundingly, yet another Lieutenant Thomas Riker! And this is 1994, so well before he made his non-TNG reappearance, so it makes precisely zero sense for him to be here. He is straightforwardly the laziest and most indefensible variant in the Playmates line so far, being a literally just a DS9 Wave 1 Miles O'Brien with a TNG Wave 1 Will Riker head, creating a kitbash the likes of which will never and can never be explained.
I mean come on. No one, but no one rolls up the sleeves of their uniform except Miles O'Brien. That is an iconic distinguishing physical tic of the chief's. Without even getting into questions about why the hell Thomas Riker is on Deep Space 9, that body simply should never have been re-used.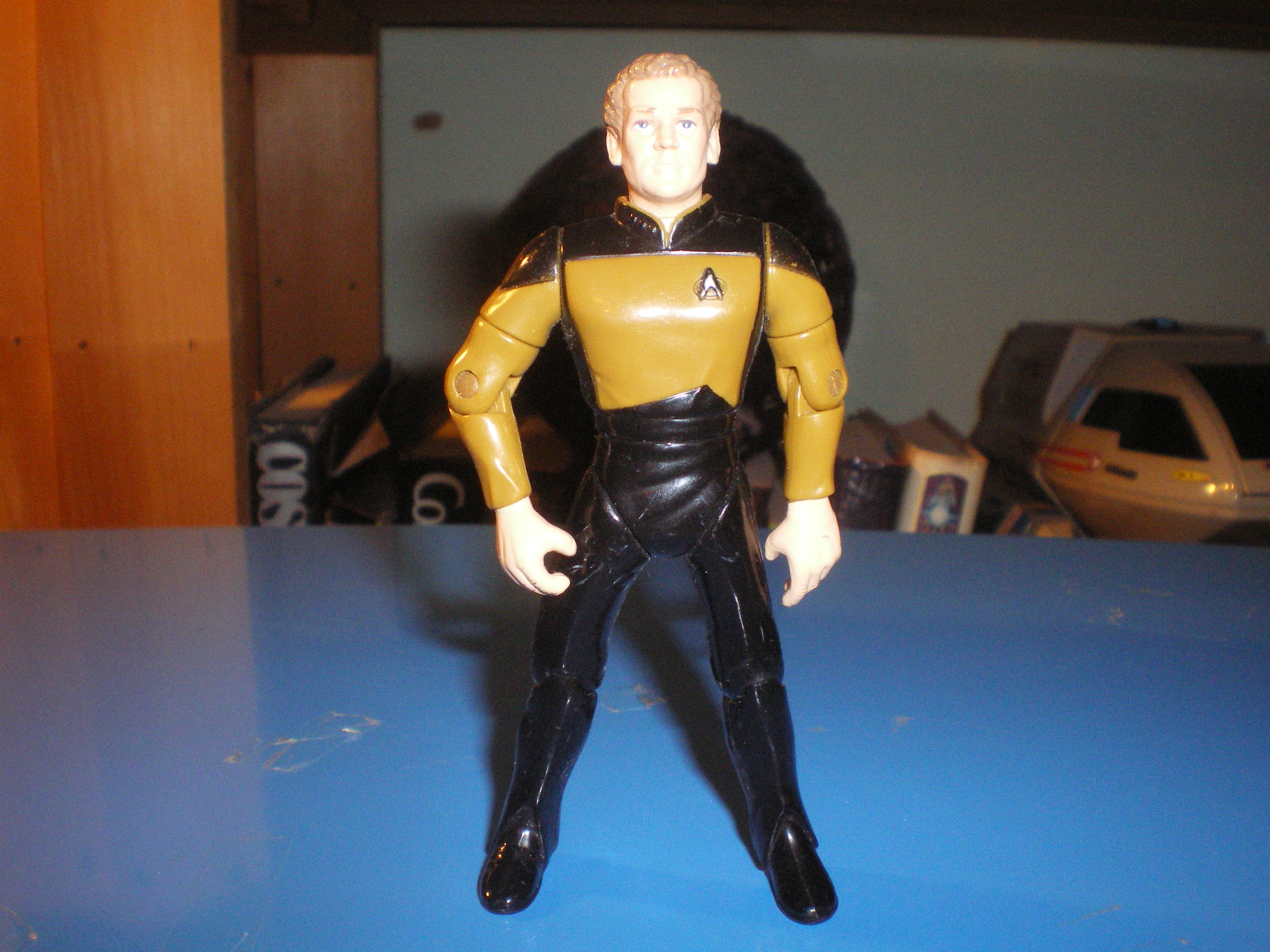 Thankfully, the remainder of this first batch is considerably more interesting. Miles O'Brien gets a lot of love (his body being repurposed for a nonsensical Thomas Riker notwithstanding): Next year he'll be outfitted with his dress uniform, but in 1994 he gets an absolutely vital variant: "Chief Miles O'Brien in Starfleet Duty Uniform". That's right, this is Transporter Chief Miles O'Brien. Miles O'Brien from Star Trek: The Next Generation. As one of the very first characters to be introduced in the modern age of Star Trek, it's wonderful to have a representation of Miles from this stage of his career.
…