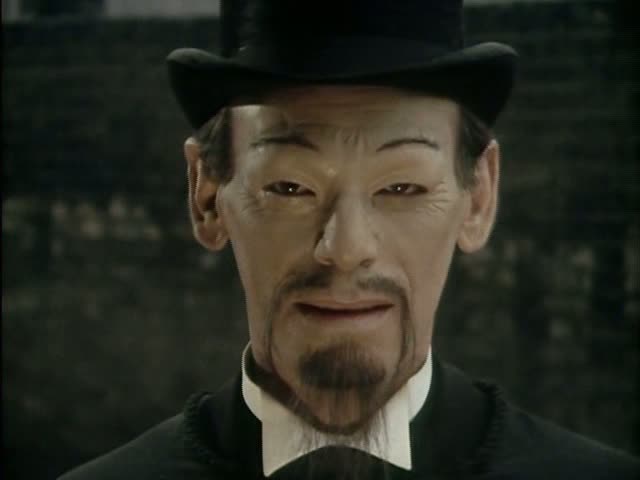 Thanks to the various people who looked over this and made suggestions, especially Holly. The mistakes are, of course, mine alone.
This post was originally going to have the alternative title 'Why I'm No Longer Talking to Doctor Who Fans About Race' but Andrew Rilstone got there before me, damn his eyes. Seriously, go read Andrew's post because it's excellent. Amongst other things, he looks directly at the arguments put forward in Marcus Hearn's Doctor Who Magazine editorial. Which is, of course, what started this.
*
We live in a strange world. I'm being told, on the one hand, that Jeremy Corbyn, the most consistently and committedly anti-racist MP in the Commons, is an antisemite, and, on the other, that 'Talons of Weng-Chiang', a story in which a Fu Manchu style villain – played by a white actor in rubber 'yellowface' – abducts white women with the help of a Tong of "opium sodden" Chinese cultists working out of Limehouse, isn't racist. You just know, don't you, that some professional Doctor Who hacks are convinced that Corbyn, if elected, would institute Britain's very own reenactment of the Final Solution, but will also quibble with you over whether or not Julius Silverstein, the rich, greedy, grasping, paranoid collector in 'The Web of Fear' is problematic or not.
Gee, it's almost like there is something profoundly, foundationally wrong with our discourse on the subject of race and racism. The problems in Doctor Who fandom are a tiny – if microcosmic – part of this wider problem. But Doctor Who fandom is one of the places I come from. And they picked on my friend. So here we are.

I won't say much about the specifics of the kerfuffle which led me to write this. Apart from anything else, it's just another irruption of the same running argument that Doctor Who fans have been having about 'Talons of Weng-Chiang' for quite some time. El and I, both veterans of Gallifrey Base, were together involved in at least one previous such irruption a few years ago, during which some forum posters – and I shit you not – actually stated that they felt John Bennett's make-up was realistic. As I noted at the time, being bothered by the rat but not by the yellowface is one thing, but
it's yet another quantum leap to the point where you find the rat unconvincing but not the yellowface. And you're prepared to say so in public. This reveals a shameless thoughtlessness, a terrifying absence of self-examination, an arrogance born of privilege. And it also seems to reveal a willingness not simply to be unconcerned by the monstering of a whole race of people, not simply to delude yourself that its not happening in the text (because you've never bothered to avail yourself of the myriad opportunities now freely available to anyone with internet access to educate yourself about how representations of people work in the texts you consume) but to actually think that the representations (of, say, Chinese people as expressionless, rubberfaced bogeymen) are accurate and true to life.
…