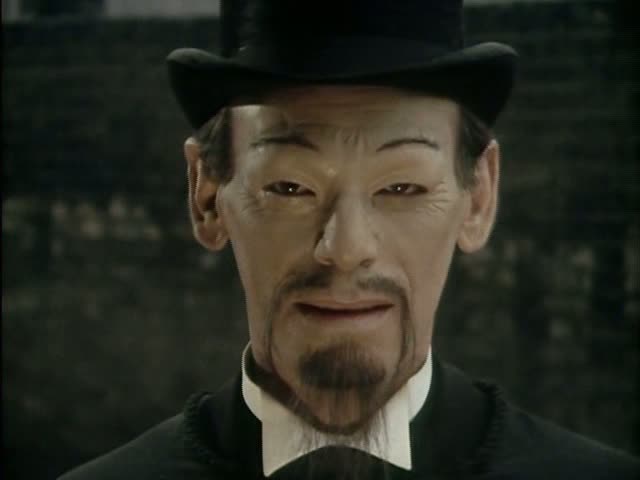 Thanks to the various people who looked over this and made suggestions, especially Holly. The mistakes are, of course, mine alone.
This post was originally going to have the alternative title 'Why I'm No Longer Talking to Doctor Who Fans About Race' but Andrew Rilstone got there before me, damn his eyes. Seriously, go read Andrew's post because it's excellent. Amongst other things, he looks directly at the arguments put forward in Marcus Hearn's Doctor Who Magazine editorial. Which is, of course, what started this.
*
We live in a strange world. I'm being told, on the one hand, that Jeremy Corbyn, the most consistently and committedly anti-racist MP in the Commons, is an antisemite, and, on the other, that 'Talons of Weng-Chiang', a story in which a Fu Manchu style villain – played by a white actor in rubber 'yellowface' – abducts white women with the help of a Tong of "opium sodden" Chinese cultists working out of Limehouse, isn't racist. You just know, don't you, that some professional Doctor Who hacks are convinced that Corbyn, if elected, would institute Britain's very own reenactment of the Final Solution, but will also quibble with you over whether or not Julius Silverstein, the rich, greedy, grasping, paranoid collector in 'The Web of Fear' is problematic or not.
Gee, it's almost like there is something profoundly, foundationally wrong with our discourse on the subject of race and racism. The problems in Doctor Who fandom are a tiny – if microcosmic – part of this wider problem. But Doctor Who fandom is one of the places I come from. And they picked on my friend. So here we are.

I won't say much about the specifics of the kerfuffle which led me to write this. Apart from anything else, it's just another irruption of the same running argument that Doctor Who fans have been having about 'Talons of Weng-Chiang' for quite some time. El and I, both veterans of Gallifrey Base, were together involved in at least one previous such irruption a few years ago, during which some forum posters – and I shit you not – actually stated that they felt John Bennett's make-up was realistic. As I noted at the time, being bothered by the rat but not by the yellowface is one thing, but
it's yet another quantum leap to the point where you find the rat unconvincing but not the yellowface. And you're prepared to say so in public. This reveals a shameless thoughtlessness, a terrifying absence of self-examination, an arrogance born of privilege. And it also seems to reveal a willingness not simply to be unconcerned by the monstering of a whole race of people, not simply to delude yourself that its not happening in the text (because you've never bothered to avail yourself of the myriad opportunities now freely available to anyone with internet access to educate yourself about how representations of people work in the texts you consume) but to actually think that the representations (of, say, Chinese people as expressionless, rubberfaced bogeymen) are accurate and true to life. I know that isn't literally what is being said – and the people I'm talking about would doubtless clutch their handbags in offended and petulant injustice (they notice and care about injustice when they think they're the victims of it, natch) at what I'm implying about them. But it is what their attitude amounts to: that they care more about the travestying of a rat than the travestying of human beings of a different ethnic background.
(Pardon me self-quoting; I'm lazy.)
The longstanding indulgence of 'Talons' is part of what fostered the atmosphere which made it possible for people at Gallifrey Base to say, unselfconsciously, that they wouldn't be able to relate to the character of the Doctor anymore if he were played by Patterson Joseph. Their comfort with the sentiment, and with their right to voice it in public without being called out, was never challenged. That same comfort was not a side-issue. It was the issue. Because it was the comfort which convinced those people that they were not 'being racist' and that therefore was no problem. They said as much. Because, in these discussions, people often assume, and say (albeit in coded form), that their comfort or discomfort is the issue. It's no coincidence that a lot of those rejecting the idea of a black Doctor did so in terms of their own discomfort with the idea. The entire recent exchange around DWM has been about the issue of comfort.
But some things ought to make us uncomfortable. 'Talons', for instance. Because it's racist. Of course it is. It's incredibly racist. Obviously. Kate Orman does a superb job of picking through the story in this essay, which she kindly allowed Eruditorum Press to republish last week. Read it, if you haven't already. It's thorough, calm, judicious, and non-simplistic… but doesn't compromise where compromise would be inappropriate.
(I may look at 'Talons' myself in future posts, because while 'it's racist' is undeniably true, and the most important issue right now, this doesn't imply that the issue isn't complex.)
I should probably clarify, just in case: I'm not saying is that we should ban anything, or posthumously anathematise anyone, or stigmatise anyone just for liking anything. I don't say anybody should feel guilty because of pleasure. These are paranoid strawmen. (Anyone who wants a nuanced discussion – from a left perspective – of the cul-de-sac politics of guilt attached to 'problematic' art should listen to this talk by China Miéville.) Go and enjoy 'Talons', by all means. Doing so doesn't have to entail being a bad person. But this blade is double edged. You don't have to be a bad person to like it, and liking it doesn't have to make you behave badly. At the very least, bear in mind that, if you go to bat for 'Talons' in a way that places it above actual people, you have some rethinking to do.

And if you're so totally untroubled by 'Talons' that you can enjoy it without a qualm, and vociferously defend it… well, at the very least you don't care much about racism. Which is pretty racist. In fact, people not caring or thinking or understanding much about racism, even as it stares them in the face, is mostly what racism is made of on a day to day level. Just not noticing when the law, or the police, or the TV, treats entire groups differently.

Racism isn't an evil bogey that emanates just from villains. Because of the historical origins of capitalist society in imperialism, colonialism, slavery, and genocide; and because racial hierarchies are still essential to capitalism; racism is a living social system that permeates our lives in Western culture. It works and continues precisely because it is – to one extent or another – normal, accepted, invisible. And so we are all part of it, to one degree or another. And that's the key: the degree is something you can address. Or, of course, you have the option to just not think about it.

About the specific little spat that just happened recently… well, I'm sure I'll surprise none of you (definitely not those of you who follow me on Twitter) if I say that I stand with El. I echo her comments about the editorial in Doctor Who Magazine, about its irresponsibility and unfairness to the other people in the magazine it preempts and talks over. I also, predictably but necessarily, condemn the way El was subsequently treated on Twitter.
I'm sure I sound a bit over dramatic, but there is no excuse for using a platform, even a modest one, to do anything to publicly draw a target on a trans person's back, especially not when you're doing it because that trans person drew attention to an injustice, even a comparatively minor one. Whatever the intentions of the person who drew the target – and, as it happens, intentions are only one part of a complex issue, and good or neutral ones are not an excuse – the result was that El was subjected to harassment. More so than usual, I mean. For saying something. We all know, or should do, what trans people have to put up with. And a person's desire to enjoy an old TV show utterly untroubled is not more important than either the politics of racism, especially not in our current global political predicament, or a trans woman's right to not get death threats. Disagreeing about whether a person ought to be fired, or whether it is permissible to say that a person ought to be fired, is no excuse either.
By the way… if you want me to specific about where I stand on that one, okay, fine: what El actually said was "People should be fucking sacked for it". That isn't a demand or even a suggestion. It's clearly angry rhetoric. Its import – and don't I find it ironic that, now of all times, I need to parse the obvious meaning of a rhetorical statement for people determined to miss the point – is that, in a more just world, a world that took these vital issues more seriously than fan comfort or brand integrity, shit like this would not be so easily tolerated. We would have higher standards when it comes to what people say and do on charged issues that can materially hurt others. El's statement doesn't even mention anyone by name. It expresses justifiable exasperation at irresponsible behaviour in a public platform by people who are paid to exercise a certain degree of stewardship, speak to fans young and old, etc. Moreover, it is manifestly not a tweet demanding that people with the power to sack a specific person should do so. It was a public statement, aimed at a social media team. And it was not an attack by a powerful person upon a less powerful one.
I don't have anything against Marcus Hearn personally. As I recall I've only ever interacted with him once, years ago, very briefly, and amiably. I've read and enjoyed stuff he wrote. And he's half Chinese, so obviously he has a perspective I don't have. But I think there is something very ill-judged about that editorial, representing as it does, in a perfect little package, the synergy of fan complacency, tone-deafness, and corporate line-toeing. Do I think he should be sacked? No. But only because, sadly, the editorial reveals that he's good at his actual job (comforting fans; helping the BBC build, preserve, and sell Doctor Who's corporate brand), rather than bad at the job I wish he had.
The editorial makes familiar arguments that are, I'm afraid, for the most part easily dismissed. The main one can be boiled down to: 'Talons' is "of its time". Well, that's just a different form of what E. P. Thompson called "the condescension of posterity". It relies upon the idea that the people of the past were a lot of primitive numpties, lacking our advanced perspective. That's unwarrantedly smug, given that we currently have a crypto-fascist running America, and open fascism on the rise across the Western world.
The most famous defence of ancient world slavery is found in Aristotle's Politics. The interesting thing is that this is how we know that, even then, there were people who knew slavery was wrong: Aristotle felt the need to defend it. This example isn't directly relevant since ancient world slavery, unlike modern slavery, was not justified racially, at least not in ways that correspond to modern ideas of race. But we know there were people who opposed modern slavery too. As Michael Parenti put it, there are always people who oppose slavery: they're called slaves. To excuse slavery, or the defence of slavery, as "of its time" – and people do – inherently erases the slaves from the "time" being discussed. In that way, "of its time" is a continuation of the logic that fitted the shackles.
Poor old 'Talons' isn't as egregious a crime as slavery, to be sure. (Though it certainly stems from egregious crimes, which we'll look at another time.) But you get the point. With regards 'Talons', the "of its time" defence forgets that lots of things were happening in 1977, not limited to the stuff going on in the hegemonically white and middle class (and male) creative personnel of the BBC. Lots of people in 1977 knew racism was wrong, not least people who suffered from it. Fuck, I believe that the people behind this particular story 'knew' racism was wrong! They just didn't recognise what they were doing as racism, or didn't care. And whatever that is, it's not absolution. Not knowing something isn't a defence when it's something you could and should know. And the people who made 'Talons' could've, and should've, known. Because, as I say, there was a world outside their office. Lots of people were fighting racism, speaking out about it, challenging attitudes, analysing media, exposing how mass culture was soaked in racism, and how it constantly helped reproduce a racially unjust society by regurgitating and normalising racist assumptions. People were, in fact, doing all this long before 1977. When 'Tomb of the Cybermen' was made, Martin Luther King was still alive, and Malcolm X had been dead less than two years. And they were only the most visible figureheads of the ongoing civil rights movement. I'm not saying Holmes et al should be eternally damned for not doing better, for not being as radical as they could've been. But the "of its time" defence doesn't actually defend them against that demand, because nobody is actually making it. 'Of its time' isn't a plea for proportionate discussion. It's a plea for disproportionate discussion, with the deck stacked in favour of the privileged. It's a plea for an exception to be made; for the conversation to end so we can get back to normal… with no awareness that normal isn't always great for everyone. It's not a plea for nuanced thinking; it's a plea for no thinking, for an end to the thinking. It is, in short, special pleading.

I've just been reading Paul Foot's book about Enoch Powell. In 1969, the cynical attempts by a relatively small group of Tory MPs including Powell (though only when he thought it would benefit him) to use racist rhetoric and anti-immigrant scare stories to whip up public panic was frowned upon by almost all national newspapers, and most establishment politicians both left and right! I'm not saying everything was hunkydory in '69. Far from it. But the point is that when we talk about the difference between Then and Now, we're not talking about a steady progression from ignorance to enlightenment, with the people of the past inherently likely to be behind us. In some ways we've gone backwards. It took decades of effort from certain people to make querulous whining about immigration into a near-universal common sense in our public discourse. There were plenty of people – even mainstream-right Tory MPs! – who looked askance at attempts to control immigration, or to talk about its supposed worrying effects, or the 'legitimate concerns' of the 'white working class', etc etc etc, roundabout the same time 'Tomb' was made. Transport even a mainstream white person from the late 60s and show him today's world, and he'd be at least as likely to be horrified by Farage as by multiculturalism.
And none of this is to even start talking about the people on the global stage who were already fighting to destroy racism before the twentieth century even began, the radicals who brought the mainstream to the point where it (once) looked askance at people like Powell and Farage. Toussaint L'ouverture, John Brown, Harriet Tubman, Frederick Douglass, Sojourner Truth… and the millions of nameless people who fought in the movements those people headed. Y'know, the sorts of historical figures who will never get a celebrity historical. (Yes, I know MLK is in the forthcoming series. That'll be… interesting.) If 'Talons' – or anything else for that matter – is 'of its time', then that isn't an alibi. Rather, it is a guilty verdict. Because it's true. Of course it is 'of its time'. How could it not be? And that just means that it represents the worst side of its time, the retrograde side, the wrong side. The 'it's a product of its time' argument is not an excuse for the product but an indictment of the time. Or at least of the people here representing that time. It shows that in 1977 (or whenever), long after the struggle against racism had begun, long after there were already martyrs to it, society still bred and normalised and accepted that kind of racist prejudice or thoughtlessness.

And that distinction is no alibi either. The argument from lack of intention is just another way of excusing the privileged. Maybe it's true. But so what? How does it excuse anyone to say that they were only being racist because they didn't realise the racist things they were saying and doing were racist? This very obliviousness, this lack of concern, this free pass to do whatever you want without having to consider it, without having to worry about consequences, is itself an artefact of white privilege, and therefore of systemic racism. It's a vacuous tautology masquerading as an explanation. It begs the question. Because racism isn't just a matter of malicious and conscious intent. It is also a matter of privilege, the enjoyment of privilege, untroubled, precisely because you – the racially privileged – don't have to be troubled. There's no consequences for you if you're not troubled, if you don't think about it, if you don't walk on eggshells (the way so many claim to have to do, even as they gallumph around like exceptionally careless elephants). It's a bit like, for instance, being a cis person thoughtlessly painting a target on a trans woman on Twitter, and bringing harassment down on her. Not because you meant to, not because you're consciously a raging transphobe, but because you just didn't think about it, because you don't have to think about it, because there's no consequence to you if you don't. Because, while you might not personally hate, you reside in the privileged section of a hierarchical system of discrimination which is animated by hate.
Some things require that they be thought about. I'd say that, if you're the editor of a relatively large-circulation magazine about one of the most popular and culturally hegemonic media franchises in the world, and a group of people who work for you have reacted to a long-controversial story with judicious but real questions about its racism, then… well, if you're going to comment on this, especially if you're going to mount a defence of some kind, you should make sure you approach the task with some idea of how representation works in texts. I don't see much evidence of any such concern in the editorial. I just see subjective defensiveness. There's a place for that, sure. But it ain't in an editorial at the front of the issue.
Your reactions to a text are subjective (though they will be shaped by your socialisation, your material history, the ideology that surrounds you, etc). But the thing is: textual criticism is not subjective, not once it goes beyond expressing preferences. When you go beyond that and venture into trying to 'read' a text critically, i.e. understanding the cultural meaning which it most clearly expresses or which mostly pertinently attaches to it, then you have ventured outside the purely subjective. The truth is that, whatever Dead Poet's Society and the philistine sentimentalist vagaries it expresses have taught us, it is not illegitimate to bring rationality and method to art, its creation or consumption. When you approach anything critically, you familiarize yourself, even if only cursorily, with the technical literature around it. And there is an extensive technical literature around reading texts. People have been investigating how best to do this, and developing theories and approaches to the task, for literally millenia. As I say, they were certainly doing it by 1977.
This is, of course, not to say that you can't have, or shouldn't express, opinions about any text, if you don't happen to have a Media Studies or English Literature degree. I don't require that people should have degrees in politics before they vote. I, as you might have noticed, express political opinions all the time, and I do not have a degree in Political Science. But I would not attempt, and have not attempted, to talk politics without taking some time to familiarize myself with the issues at stake, any more than I would attempt to fix my lawn mower without at least watching a few pertinent YouTube videos. (There are YouTube videos about textual criticism as it happens, and some of them are even good.) In short: do at least a little research if you're going to attempt anything consequential, and especially if you're going to attempt anything potentially even a little bit dangerous. You don't need to do research in order to feel, to react… or to express those feelings or reactions. But if you're going to make statements, it is incumbent upon you to ascertain whether your feelings and reactions are helpful, if they are constructive, or if they are potentially otherwise. Before you proclaim, you should make sure that there isn't something that you don't, but should, know.
Aside from its unprofessionalism, the problem with that editorial, and the viewpoint it encapsulates, isn't that it defends 'Talons' as watchable, or that it defends the people who still watch it and enjoy it, but rather that it dismisses the issue of the story's racism on poor arguments. (El actually pointed out some of them on Twitter, not that it did any good.) The permissibility of watching and enjoying it is not in question. The political and moral significance of watching it without understanding it, because to do so spoils your enjoyment, is what's at stake. Not just in the sense that you shouldn't choose to not understand something because you don't like the understanding, but also in the sense that the whole idea of spoiled enjoyment as a reaction is fucked up.
At one and the same time, a sane response to stuff like this is both less and more than just spoiled enjoyment. On the one hand, it is not necessary to find yourself incapable of enjoying something because it is racist. This is not a moralistic issue of policing response. You don't have to have your enjoyment spoiled in order to not be a monster. On the other hand, the idea of your reaction to the racism in 'Talons' stopping at spoiled enjoyment is rather worrying. I'm not saying a viewing of 'Talons' should make any decent person vomit in disgust, or immediately dedicate their lives to anti-racist activism. I am saying that the questions raised in your mind by it ought to be more than "Hmm, this makes me vaguely uncomfortable. I don't like being vaguely uncomfortable. I must find a way to make this feeling go away."
I'm not saying any of this is ultimately very important by itself. But big important things are made of lots of little individually unimportant ones. It's called society. It's called history. History, contrary to what Doctor Who so often tells us, isn't about historical celebrities tripping through landscapes of hackneyed signifiers, encountering the backward fools that we modern people are so much better than, and the occasional exceptional person, whom we know to be advanced because they think the way we like to think we do. No, history is made of struggle over power. Struggle that soaks every aspect of life. Struggle fought in a billion tiny battlefields every day, by ordinary people. And the only way it gets better is when people say "fuck this" to unjust power relations, the systematised insults they use to stay in place, and the people who defend or excuse them.
*
Next Time: Why it's unfair to pick on 'Talons' because all Doctor Who is racist!
*
If you liked this, consider giving me money – here.