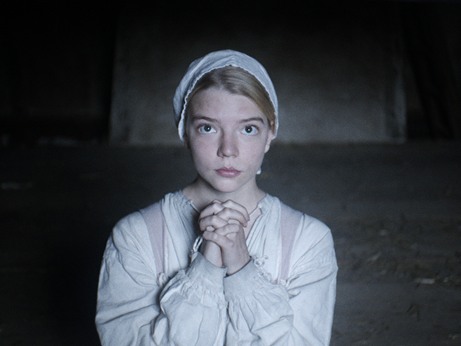 This post is based on a true story.
(SPOILERS for various films)
The Conjuring movies are about good and bad women. In the first movie the central antagonist is the spirit of a dead witch who killed her own baby and then herself, and whose spirit subsequently possesses every women who movies into her house, or onto her former grounds, and makes them kill their own children. The ultimate evil then, for a woman, is to pervert the virtue of motherhood. In the story, a mother of five daughters finds herself in the home of this dead witch, gradually possessed by her. Her ultimate salvation, the thing that enables her to defeat the witch who is possessing her and trying to make her kill her daughters, is a memory of a perfect family day at the beach. Yes, that's right – in the end, all it takes is for Elaine Warren (psychic investigator) to touch the woman's head and enjoin her to remember family values. Ed Warren's attempt at an exorcism fails, but Elaine is able to connect with the possessed woman directly, via their mutual motherhood. This connection allows the possessed woman to defeat the evil infanticidal witch using just the strong loving strength of her strong maternal love. Elaine is, needless to say, a near-perfect mother herself, and when the witch ghost tries to attack her, it does so by threatening her own daughter. It threatens the daughter using (or possibly in alliance with) Annabelle the evil porcelain doll – an emblem of childhood in that it is both a toy and a figure of a girl.
In the second Conjuring movie (just out), Ed and Elaine are called in to evaluate the case of a young girl who is supposedly being possessed by the spirit of an old man who once lived in her home, and who died there. One of the best moments in the movie is when Ed visibly stops himself from vocally disapproving of the fact that the girl's mother is a single parent. It turns out that the entire business is a kind of trap set for Ed by a demon called Valak, which manifests as an evil-looking nun (for some theological reason that totally makes sense).
The self-conscious positioning of both these movies in the setting of what we call 'The '70s' exacerbates the implications here, especially in the first film, because this was the era when the huge social effects (including panic) of women venturing out of the home, taking advantage of greater freedoms, were felt to the point of moral panic. The late 60s and early 70s were the heyday of second-wave feminism.
In both films, the supernatural evil manifests in, is personified by, and is channelled by, females. This is far from new. That the films clearly stake out an intended position of support and admiration for female strength doesn't change much. The witch in the first Conjuring movie (called Bathsheba when she lived, thus named after one of those women in the Bible who causes men to do bad things by being too sexy) is said to be related to people from Salem, thus implying that there were actual witches in Salem, rather than just, y'know, people the patriarchs of Salem feared and resented, like women with unconventional sex lives, money, age and wisdom, or brown skin. …