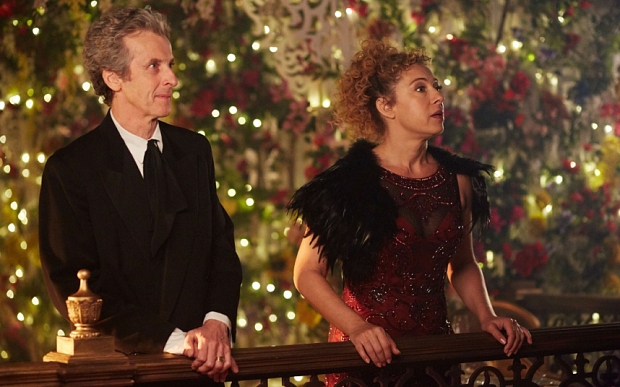 An effective holiday farce that serves as a fitting end to the story of River Song. It's not much more than that, but it makes no claim to be, and you can hardly fault a Christmas special for its froth. So, all told, good episode.
What really jumps out, though, is an idle comment Moffat made about writing it with the knowledge that it could be his last Doctor Who. He walked it back in a later interview, saying that he thinks that every Christmas, but it's hard not to notice the lack of any forward-looking elements in the last few stories. This is the first time in ages a season has ended with essentially no lingering plot threads. Clara is sorted and departed, Gallifrey is found, the Hybrid is presumably dealt with. And with The Husbands of River Song we get a story that seeks active closure on River's story, in a way not even Name of the Doctor did. It's not that there's no possibility of further stories, although at this point they'd have to take place post-Silence in the Library. And we still don't actually know the circumstances under which the Doctor could tell River his name. But we've seen them live happily ever after, an explicit accepting of endings.
Obviously the reality is that Moffat's not going. And I'm certainly not unhappy about that, although I wouldn't have been unhappy had he gone either (unlike last year). But there's a mindfulness to the possibility of this being an ending – a clear sense that Moffat made sure he'd be happy with this as an ending, as opposed to just knowing it theoretically might be.
So unsurprisingly, if he's going to maybe go out on Christmas, Moffat does farce. Which is his most elemental state as a writer. His puzzle boxes and mysteries have always, in key ways, been farces with the jokes taken out, or, as in Let's Kill Hitler, with the jokes left in. And he's very good at it – probably the single greatest practitioner of it over the last quarter-century of television. All of this is on ready display here, with a wealth of well-executed comedic set pieces about River not realizing who the Doctor is. The "bigger on the inside" sequence is probably the funniest single one, although I think my favorite bit of farce is the "oshit the worship the guy who's head we have in a bag" moment.
But the result is an episode that's a bit lopsided; much as I loved that bit, almost everything after they land on the spaceship left me impatient for River to figure it out already. It wasn't quite to the point of being bored – that's more a Sleep No More or Before the Flood sort of problem – but it was definitely more than the Doctor and River doing a "she doesn't know who he is" farce while being chased by a generic robot can strictly speaking sustain.
And then of course there's the end, which is wonderful and perfect. The detail that gets me, unsurprisingly, is the Doctor consciously hoosing to finally take her to the singing towers. It's a very Twelfth Doctor thing to do, but also something that feels like it comes out of the season we've just watched, which otherwise isn't really something that happens here. And on the other hand, I quite like the idea that the Doctor will have, at a minimum, spent twenty-four years living with River on Darillium when next we see him.
What holds it together, though, is that Capaldi and Kingston are just good together. Capaldi has not been entirely well-served by the efforts to give him outright comedy episodes thus far (which is different from saying he's not been well-served by the comedy bits), but this works for him. The trick, I think, is that it's really played as an episode of River Song, with Alex Kingston serving as the main hero (which is nice, as despite that always having been the premise of River she's never actually gotten to do it) and Capaldi misbehaving in the margins. It's reliably funny and charming, and its quality is a lot of why the episode gets away with overstretching its plot so much.
But by and large, a simple little story that exists as the dessert course after the epic crescendo of Series 9, and a good way to end it that could have worked to end much more. Roll on Sherlock.
We will be doing the whole review/podcast thing for

The Abominable Bride

, incidentally, so the party's not quite over yet. (Though I'll probably be quite late in the day with that.)

The secret TARDIS liquor cabinet, in addition to being really funny, suggests River adventures during the Eleven/Clara era. Which you always kind of figured, but makes the fact that Clara never met her a bit weirder.

This feels like it plays up the amorality of River more than some episodes, less with her plan to kill Hydroflax than with her disregard for where the diamond ends up and her evident chumminess with genocidal rich people. The fact that River is less straightforwardly a "good guy" than the Doctor has always been part of the character, but it seems much more central here.

The reference to "First Night/Last Night" is an interesting moment of a DVD minisode getting directly mentioned. Nominally they, like Big Finish and the EDAs, should be verboten due to an obscure rule forbidding the BBC from requiring anyone to buy merchandise to understand an episode. So this is sort of a modern day equivalent of when a Dalek cheekily shows up anyway in one of the New Adventures.

I obviously quite like that the Doctor blows up the evil robot with the madness that is capitalism. Also the refusal to bow.

How many drafts do you think the phrase "subterranean wind effect" survived through before finally getting cut from the singing towers bit?

For all that the big farce aspects of it made it a more sensible tonal match for Christmas than, say,

The End of Time Part One

or

Time of the Doctor

, this may be the most half-assed shoehorning of Christmas into the Christmas special to date. I think the best part is the "our next reservation is on Christmas" line. Actually, I have questions about Christmas on Darillium in general.

Nardole is very possibly the most unfortunate character to appear in

Doctor Who

in recent memory. Seriously, has anyone had quite so wretched a time of it as him? Even Ursula has a bit of a sex life at the end of

Love and Monsters

.

A short review, I know, but I am literally writing it on Christmas, and it's very much an "as advertised" episode.

I'll also be back Monday with the "Doctor Who in 2015" wrap-up.

Incidentally, a Happy Christmas to all of you at home!
Episode Ranking
The Zygon Inversion

Hell Bent

Face the Raven

The Zygon Invasion

The Girl Who Died

Heaven Sent

The Husbands of River Song

The Witch's Familiar

The Magician's Apprentice

The Woman Who Lived

Sleep No More

Under the Lake

Before the Flood
Story Ranking