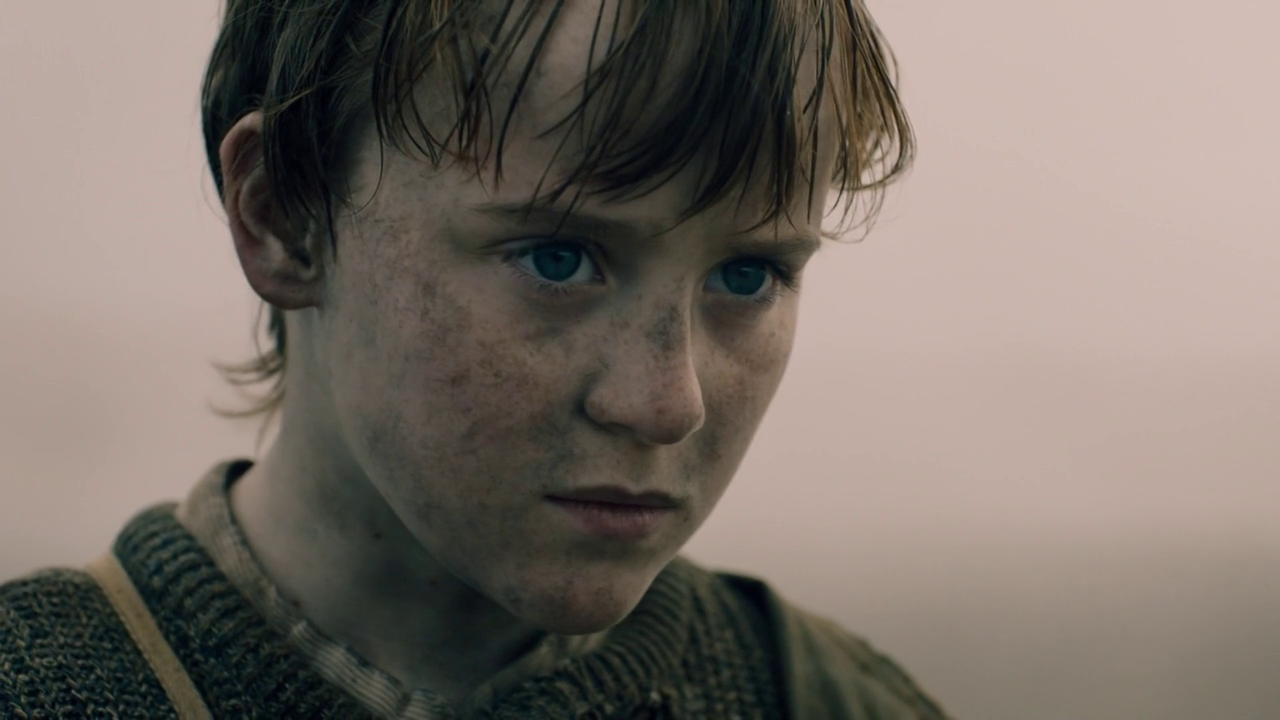 Phil here atop Jack's post to announce the release of the first episode of our brand new Eruditorum Press Doctor Who Series 9 Podcast. Basically, each week I'm sitting down with someone on the Eruditorum Press team or with a cool guest and talking about the latest episode of Doctor Who. And to start, well, who else would it be but Jack? (I mean, you've only had three hours of us talking so far this week. Clearly you need another two. Just be glad I'm holding the Vengeance on Varos commentary back for a week or two.)
Jack also ended up marathoning the bulk of Series 8 in preparation for the podcast, so we open by making him play the "rank the episodes" game and getting his views on Capaldi's first season, then talk about the new episode. 
Meanwhile, Jack also has a blogpost on some of his thoughts, which runs below the line. 
—-
1. I'm So Damn Reasonable, it's Untrue
I'll be honest: there's a big part of me that resents Steven Moffat when he rummages around in the history of Doctor Who and changes stuff, or adds stuff. It seems to be something he likes doing. In his worst and most excessive moments, he seems determined to overwrite his own ideas and personality on top of every last bit of the classic series, a bit like the Cat from Red Dwarf wandering around any new environment spraying his scent everywhere out of an aerosol and declaring "That's mine… this is mine…" I particularly dislike it when he insists upon intruding upon aspects of the backstory of the classic series which were always left unspoken, mysterious, unknown.
Now, there are several things to be said about this.
Firstly, he's the guy currently in charge. He's the head writer and showrunner. It's his job and his prerogative to do this.
Secondly, the fact that it bothers me is evidence of the itching presence of the fan reptile brain in me, sending me error messages about things that aren't really worthwhile concerns. It's not as if the very fact of going back to add or change stuff has any real effect (at least not in itself) on whether what I'm watching constitutes good drama. Nor does it have any inherent effect upon the politics of the show, its representations or ideology, or any of that other more interesting stuff that I like to think and write and talk about.
Thirdly, Doctor Who writers have always done this. Somebody decided to overwrite the Time Lords upon the blank space that had once been the Doctor's origins. The Time Lords having been established, somebody decided to reformat them so that they became corrupt, senile old dodderers rather than godlike trans-temporal moral judges. And so on.
Finally, it's really quite unreasonable of me to object, since I'd probably do the same thing given the chance.
Look, when the kid at the start of 'The Magician's Apprentice' turned out to be Davros, it annoyed me. I thought to myself "Oh, he's going to go in and muck around with Davros' backstory. Tsch! Typical".
Now, there's potentially a legitimate reason to be annoyed about this, I think. I suspect it is probably going to turn out to be, yet again, an example of the modern show turning away from the political to the personal. Yes, I know they're not really all that separate; I'm making a distinction in order to illustrate the difference between a focus upon depoliticised characterisation on the one hand, and a focus upon political themes on the other. I'm not saying that there's no potential interest in investigating Davros' family life, interpersonal relationships, neuroses, etc. I think that, for all its problems, this is done quite interestingly in Lance Parkin's Big Finish audio 'Davros'… though Big Finish rather ruins this by going on at greater length than is warranted in their subsequent patchy miniseries I, Davros. Steven Moffat has a tendency to strip away political context and theme, to mothball satire or polemic or whathaveyou, to focus instead upon stuff I find comparatively uninteresting, like the relationship issues of the protagonists. Dating disasters, embarrassing moments, people getting neurotic about being lied to, etc. Frankly, I couldn't give a shit. Seriously, that sort of stuff is not what Doctor Who is for. It's a waste of Doctor Who's capabilities. You can do that stuff in other shows, and people do, at great length. They don't need to clog up Doctor Who with it. Doctor Who can and should be up to other stuff, frying bigger fish. Once again, I'm not saying that I don't like characterisation or characters with interiority, I just think it needs to be de-emphasized and not allowed to crowd out more interesting things.
But the above is an old gripe of mine; a case I've made many times elsewhere. I'm quite prepared to acknowledge that it comes down to taste; that it is subjective… though obviously (like everyone) I'm pretty sure my subjective taste is objectively better.
Back to the specific issue of 'The Magician's Apprentice', there's also something unreasonable about my annoyance to do with the young Davros who turns up. Unreasonable and even hypocritical. Because, truth be told, I have my own quite elaborate ideas about who Davros is, where he comes from, what he thinks and feels, what his early life was like, and how he got to where we meet him in 'Genesis of the Daleks'. (I may write about this elsewhere.)  So yeah, when it looks like Steven Moffat is going to write the young Davros, to fill in the blanks, to plug the gaps, to give us the backstory… it looks to me like he's about to take over a space that was once free; enclose common land, so to speak. He's going to the shadows and filling them with light, and not only that… he's filling this newly spotlit corner with his own decor. He's remaking Davros in his own image. He's taking my Davros away from me.  Boo hoo.
But, of course, it's hypocritical of me to complain because, as much as I might pay lip-service to the idea that areas of mystery and blankness should be left mysterious and blank, I myself would be sorely tempted to fill them up if, by some bizarre series of events, I were made Doctor Who's head writer and showrunner tomorrow. Steven Moffat is, essentially, not doing anything I wouldn't probably do. And I suspect he's doing it for reasons similar to my own. He's a fan too, after all. He has that itchy fan reptile brain thing, like me. And he has his own neuroses, as do we all, that get serviced by the same empathic relation to cherished texts which motivates me, and probably you.
And again, as noted, Doctor Who is built on this kind of thing. It's a palimpsest. All expansions of a pre-existing corpus or canon does this. How can you write a new story featuring Davros, or the Doctor, or whoever, without doing just this filling-in and rewriting to some degree?  To consider a text or corpus or canon worth revisiting is inherently to consider it worth expanding and changing. The very desire to fill which is kindled by the empty spaces is part of why we want to revisit. And thus the dissatisfaction of seeing the spaces filled in ways which contradict our own imagination is implied by the very act of seeing the spaces in the first place!
This is all the more true of texts in capitalist society which are privately owned and controlled, enclosed, run by people whose job it is to wield that kind of authority over them.
2. Ends, Means, and Killing Kids
This story looks set to be yet another renegotiation of a moral issue which appears to obsess Moffat. He kept bringing it back again and again throughout Series 8. It's the morality-of-war theme. The soldiers and killing theme. The 'do you become as bad as the monsters by fighting them?' theme.  The 'can you build moral ends on ugly means?' theme. This is a moral issue which obsesses, and has always obsessed, liberals. Understandable, since liberalism is built upon the idea that Western civilisation is tremendously good news despite being built upon capitalism, imperialism and colonialism… i.e. systems of exploitation, aggression, slavery and genocide.
As I will probably explain at length in other posts, these questions about the morality of war strike me as fundamentally uninteresting, since they are basically pretty easy to solve. I hate to sound simplistic, or perhaps like a ruthless ideological zealot, but it really does matter
a) why you do something, and
c) the context in which you did it.
I mean, Davros asks the Doctor to say that "Compassion is wrong" because the Doctor let him live and thus allowed evil to thrive.  This is such a feeble challenge, it's almost pitiful.  Never mind the evident internal contradiction, where Davros takes his own evil as part of the Doctor's hypocrisy.  It's a childish instance of generalizing from the specific.  Sometimes compassion has negative consequences, or can be abused by evil people, ergo all compassion is wrong everywhere under all circumstances.  Ridiculous, and an utterly shambolic strawman upon which to built an antagonism, still less a moral interrogation of a character.  Like the Beast in 'The Satan Pit', Davros fails because he should have better arguments.  In the end, they both – along with a lot of these types of villains – fall down because they were set up to do so.  Missy – like Davros, brilliantly played but disappointingly written – brings up the complicity argument (the he-who-fights-monsters-becomes-a-monster) argument again in the Series 8 finale, leading the Doctor to look suitably stricken, whereas really all he needed to do was say "I sometimes have to do terrible things because I get backed into a corner by people like you who kick off the battles and do – or try to do – worse things… and this makes me as bad as you?  Grow up, and check out 'false equivalence' in Basic Ethical Philosophy, page 1," and the flimsy bubble is punctured.  (To be fair, a lot of writers are guilty of failing to have the Doctor say this.)  Meanwhile, we're supposed to think something edgy is being done to the character of the Doctor.  Like, last season Moffat relentlessly thrashed the dead horse of this complicity argument in almost every episode… and not only does this result in villains who fail to offer any genuine challenge, it also excuses genuinely shitty stuff the Doctor  did out of sight round the back and out of the spotlight of the faux-edginess.
But we'll leave that for now. It's not like it's really all that complex an issue, despite the amount of screen time devoted to it which nevertheless fails to arrive at any clarity.
In 'Magician's Apprentice', Moffat is couching the question in a different, and somewhat loaded, form. He's taking his cues directly from the classic series story that contains the source code for this new episode. He's arrived at his central thematic preoccupation by doing that thing I was talking about above: going back into the classic series and rearranging its guts. He's directly picking up those two strands of wire that Tom Baker agonised over (we even see that clip), in that scene which itself reiterates the Grand Inquisitor chapter from Brothers Karamazov. Can you build a just world on the sacrifice of a child? (Justice from sacrifice is, of course, a very loaded question for Christian civilisation.)  Of course, when reiterated by 'Genesis of the Daleks', the question is being asked post-Hitler. The child that the fourth Doctor hypothetically talks about killing is clearly meant to be Hitler. And this in a story with a Hitlerian villain. And now, in 'The Magician's Apprentice', Moffat has gone back to Davros as a child. He has literally put the Doctor into the hypothetical situation he posited back in 'Genesis of the Daleks'.
The Doctor at the end of 'Magician's Apprentice' seems to have made the same decision he made in 'Genesis' and 'Resurrection of the Daleks'… but which, in both cases, circumstances rather conveniently conspired to prevent him from putting into effect. He's decided to take Sarah Jane's advice and fucking do it, to kill 'em.
I suspect there will be some sleight-of-hand which, classic series-style, either prevents him from actually shooting little Davros, or makes it unnecessary. The hypothetical obviation of the grandfather paradox, made narrative. It'll be interesting to see how Moffat wriggles the Doctor out of this one. Because the same conservative impulse which is baked into historicals (you can't change history) is also baked into the SF bits of Doctor Who's mythos which are so integral that they can't be removed (i.e. Daleks).
Of course, like all time travel ethical quandries, it's basically uninteresting because it's basically meaningless. Because time travel isn't real, can't be real, and never will be real. So in what way do ethical dilemmas based on time travel have any actual content? They're ethical dilemmas set in a universe that works fundamentally differently to ours. I can't get angsty about that, to be honest. It's like one of those hypotheticals that Sam Harris put into The End of Faith. Okay Sam, if we took the plots of 24 as things that could happen in the real world, sure we might be able to morally justify torture. Fine.
Besides, if you're the Doctor, and you can go back to visit young Hitler/Davros, you have options besides just blowing the little fucker/s away. You can remove them to another planet or epoch in your TARDIS and make them safe, the way you singularly failed to even consider in the case of Margaret Slitheen. Or you can influence them, the way you took it upon yourself to influence Kazran in 'A Christmas Carol'. Moffat has actually done stuff like that in the past – most notably with his decision to find another way for the Doctor to resolve the Time War besides genocide – so maybe he'll do the decent thing in the next episode, side-step the increasingly tired moral dilemma, and get on with finding the Doctor something more interesting to do. If it were up to me, the episode would proceed directly into polemical/political/satirical/dystopian mode, examining Kaled society, and the way little Davros is shaped by it… but I'm sure Moffat will have other fish to fry than that. And now I come think of it, wouldn't that irritate me? (See above.)
3. Black Kaleds
Oh dear. Apparently some people at Gallifrey Base have been objecting to 'Magician's Apprentice' showing us KOC (Kaleds of Colour).
Look, I get it. At least, I see the outlines of a valid objection. Kaled society is supposed to be racist, totalitarian, fascist. They're basically Nazis. And there weren't many black Nazis. Kind-of a contradiction in terms. The Kaleds should all be white because the Nazis were, etc.
But no. No no.
a) The Kaleds in 'Genesis of the Daleks' weren't all white because the show was deliberately making some kind of aesthetic point about the pale-skinned nature of Nazism. They were all white because everybody on TV back then was fucking white.
b) The Kaleds are aliens. They're not from our planet, let alone our society, or our culture. Yes they are a representation of aspects of European culture and history in metaphorical form… but still, they're not literally meant to be us. The concept of biological race, as applied to humans, is unreal. Racism is real, race isn't. Race is a social construct. It is literally socially constructed. It can assimilate human ethnic variations into its cultural logic, but that's part of the process of social construction. This is a historically contingent process. It's a product of modernity, relatively recent. It's a product of imperialism, most particularly slavery. There is no reason to think an alien culture, with an entirely different history full of different contingencies, would develop race or racism at all. If they did, there's no reason to assume that their concept of race would be based on skin colour, as is ours.
c) For fucks' sake… why do you care? I mean, if that's what bothers you, you need to seriously re-examine your priorities, and probably your attitudes too. There is simply no theory under which the continuity or canon of a TV sci-fi show trumps real-world representation of people of colour, or real-world opportunities for black actors. Get a fucking grip.
4. Gotta Hand it To You…
…I loved the handmines.
I love that they are a pun several times over; verbal, visual, conceptual. They are surely born of the fact that 'landmine' sounds like 'handmine'. They develop something from 'Genesis of the Daleks' (the mine fields) while transfiguring it from the brutally 'realist' to the surreal. They crash Terry Gilliam's Monty Python animations…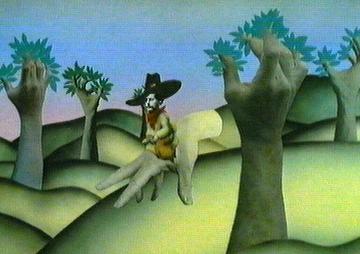 …into Pan's Labyrinth…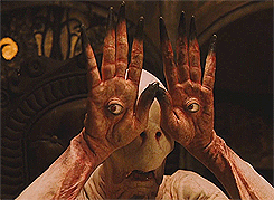 …via the gothic image of the zombie hand erupting out of the grave. They suggest the battlefield as mass grave. They also suggest the cyclopic Dalek mutants, or Dalek-casing eyestalks. It's like the Daleks are growing in nascent form out of the ground of Skaro, a new crop irrigated and fertilised by blood.
They are one of the greatest images in Doctor Who. Whoever came up with them gets full marks. If it was you, Steven… you knocked that one out of the park.