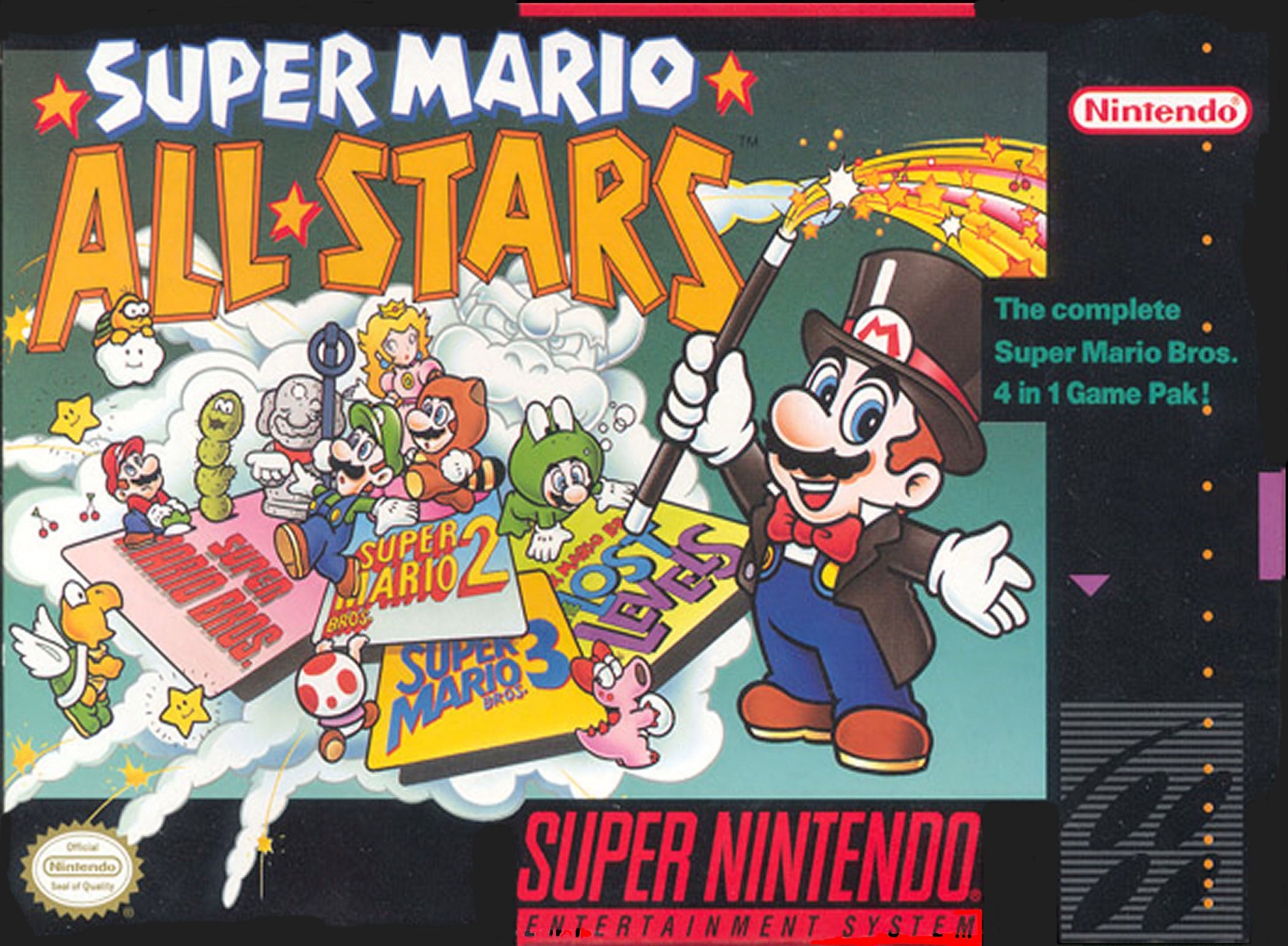 Our past, reflected back, is a strange sight, especially the first time we glimpse it. Nostalgia made its Nintendo debut in 1990 with Mega Man 3, a point I have discussed elsewhere. But the first time Nintendo itself embraced it came in 1993, when they released Super Mario All-Stars, a compilation of the three NES Super Mario Bros. games alongside, depending on your country, either Super Mario USA or Super Mario Bros.: The Lost Levels, all given a 16-bit graphics remaster.
This seems positively ordinary these days, when HD remixes, mobile rereleases, and emulator-based compilations of classic games are everywhere. Indeed, in the age of Super Mario Maker this feels in some ways like the most pointless thing imaginable. But in 1993 it was genuinely unusual in the console market, and this game has to be read and understood in that context. Perhaps more importantly, it needs to be understood in the context of the very upgrade cycle nostalgia cuts against, not least because their relationship is oppositional, not antagonistic. (That's the trouble with Nemeses.)
Put another way, a large part of why Super Mario All-Stars exists is simply that the NES was finally giving up the ghost in 1993. When this dropped at the start of August there was essentially only a year to run in terms of NES games (the only exception being Wario's Woods, which ambled out four months later), and only twenty-eight more releases for the system total; the SNES had more than that before Christmas. And Super Mario All-Stars has to be read as an attempt to manage that transition, symbolically marking the end of the old system. Part of this, in turn, is motivated simply by the fact that the Mario games were perennial sellers that Nintendo knew full well they could continue profiting off of after their system went the way of all things.
But more fascinating than the reasons for its existence is the object itself. It is, in hindsight, a strangely kitsch object. The redone graphics are distinctly lovely, but are somehow less satisfying than the original games in all three cases. The vagaries of personal history require that there be someone, somewhere for whom these are the true versions of the games, crackling with the crazed and giddy thrill of childhood discovery and totemic power, but no matter the degree of their ardor, even they recognize the perversity of this belief.
Playing them, there is something ineffably unsatisfying. The controls feel looser and sloppier somehow. It is possibly, even probably an illusion. And yet the feeling is inevitable somehow. The curated, museum-like approach of the games put them at a strange remove, so every death, even if it is entirely our own fault, feels as though the game has let us down.
Or perhaps like we have let it down, and grown too sophisticated for its pleasures. This is especially visible when playing Super Mario Bros. It's obviously not that the game, legitimately one of the great all-time classics of the medium, has aged poorly. Rather, it is that it had aged poorly in 1993. Even with its graphical updates – perhaps because of them – its technological limitations are visible. The fact that you cannot pick up Koopa shells or, most tellingly, scroll backwards reveals the game's simplicity. We might rehearse the old 1-1, 1-2, 4-1, 4-2, 8-1, 8-2, 8-3, 8-4 path to victory once, but there simply cannot be a lot of people who have played World 7-3 in the Super Mario All-Stars version, whereas for all the difficulty involved there must have literally been millions who did on the original.
But the later two games are not much less vertigo-inducing. All of them have a tangible simplicity compared to, say, Super Mario World – a game they cannot meaningfully avoid comparison with. Even Super Mario Bros. 3, a game whose levels are in some regards more fractally complex in their secrets than those of its successor, does not feel as though it has the depth of the newer game, simply by virtue of its largely unreplayable levels that, like the omnidirectional scrolling in Super Mario Bros, discourage nuanced exploration of the landscape.
And so the past remains at a strange remove. We observe it, forced to acknowledge that they do things differently there. We find ourselves in a dance between symbol and memory, grasping at shadows, knowing that somehow we came out of this, but that it is not us and never can be.
I never wrote about these games for the Nintendo Project. I never will. But in a real sense they belong there, to that project's quietly mournful sense that there is some secret to be unearthed in the past that will save the world. They belong in eight bits, as well-known sprites and sound cues, a set of symbols that cut down to muscle memory. The hope they represent is as pristine as their mechanics.
They don't belong to 1993, a year I spent the bulk of at the age of ten, wrapping up fifth grade. It is not that this was a pessimistic or depressive period of my life. Indeed, ten was on the whole one of my idyllic years, the balance of forces in my life largely positive. I was by this point splitting my attention between the consoles, located in my basement playroom, and my PC, a 486 upon which I could while away the hours on Prodigy, mucking about with the Hitchhiker's Guide to the Galaxy and Star Trek roleplay boards, and later the Marvel Comics ones. And, of course, I was into Doctor Who by now. It was at once a happy year and one crucial to the formation of what passes for my identity.
It would be a lie to say that the presence of these reconfigured NES classics changed that for me. Indeed, the attention split between consoles and PC was more accurately something of a transition from one to the other. There are no more games that we're going to talk about that I outright owned during the SNES era, though there are still plenty that I played, this included. And reading the year in light of it is, as with much of this landscape in hindsight, an unsettling and slightly sinister experience; an opportunity to reflect on just how much of childhood is spent creating a bland acquiescence to death and the passage of all things into history. The upgrade cycle and the way our own origin stories recede into a hazy and unknowable past become grim markers, themselves an origin story for some later, fallen world.
In all of this, however, there is a curious hope: The Lost Levels. The game's basic existence was a known trivia fact to Nintendo devotees – a Japanese Super Mario Bros. 2 that went unreleased in the US because it was, bluntly, too hard for Americans, resulting instead in an unrelated game, Doki Doki Panic, being reskinned into a Mario game. But its name is by and large apt – it was a lost part of history, known to have existed but inaccessible. Always already absent, its graphical restructuring loses nothing; indeed, it is in some ways more honest simply by dint of admitting that it is a reconstruction.
But more important is simply how it works. The claim that it was too hard was, by and large, true. The Lost Levels are an extended exercise in sheer platforming brutality. They were indeed a poor fit for American audiences, and one suspects for any other. Or, at least, they were until Super Mario All-Stars, where they were wedded to a battery backed save system that, crucially, kicked in at every single level. This changes a lot; in the original game, continues were world-based, requiring, for instance, that everything from 5-1 to 5-4 be completed on a single set of lives. (A system employed for the saves in the All-Stars version of Super Mario Bros.) But here, if you beat 5-1, your save point becomes 5-2; the only context in which a game over matters is that you lose the mid-level checkpoint.
The result is visibly a precursor to games like Super Meat Boy that pair ridiculous difficulty with near-zero death penalties. And like Super Meat Boy, this becomes an opportunity to meditate closely on game mechanics. The Lost Levels derive much of their difficulty from inventive and subversive cruelties; things that simply don't work as expected, an approach perhaps best embodied by the existence of backwards warp zones – that is, secret areas which, upon reaching it, offer to take you back several levels (although there's a suicide pit available as well). It's a moment of raw and flatly unbridled sadism, and undeniably a wretched choice in the context of the original game. But it's also a moment of genuine surprise; "oh, it hadn't occurred to me that you could do that." As are the Bloopers that appear on above-ground levels, presenting a sudden and often fatal paradigm shift.
The result is that, playing The Lost Levels and carefully refining your movements until you can get through a given level is a process of thinking about the rules of the world as objects. One does not merely contemplate how to function within the rules, but rather what the rules are and what their implications are. We are forced to engage with the game as a system; as a design in which we function.
It is not as though The Lost Levels are the first thing to confront us with this. To some extent it's an element of every video game, after all, and one that is going to become idiosyncratically prominent; just as there's got to be someone who prefers the All-Stars version of Super Mario Bros. 3 or who has played World 7-3, there are people for whom any given game was an opportunity to contemplate the notion of systems and control. But The Lost Levels still stands out, both because the way its perverse difficulty highlights the system and, crucially, because of its relationship to nostalgia. The graphical updates that put the entirety of Super Mario All-Stars at a remove reinforce the sense of looking at The Lost Levels instead of fully locking one's self into the muscle memory of it. The sense of alienation and remove here becomes an asset.
If there is some escape from the bleak reality that is closing in upon the era, it is this. The capacity to understand a system, and, more than that, to see its limits and gaps. The capacity to move from submitting to its rules to dancing within them, reveling in their giddy margins and limit cases. The idea, in short, that we might play.