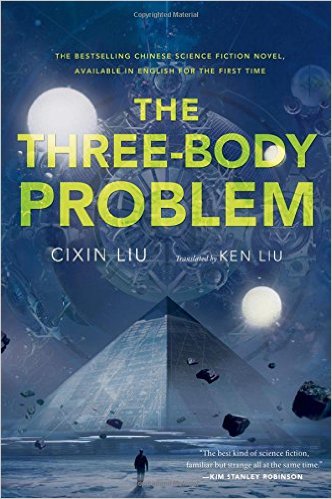 From my forthcoming colleciton Guided by the Beauty of Their Weapons: Notes on Science Fiction and Culture in the Year of Angry Dogs, available for preorder at Amazon and Amazon UK.
One of the most complex events surrounding the Hugos, at least in terms of untangling its meaning and significance, was the victory of Cixin Liu's The Three-Body Problem, the first part of a trilogy, in the marquee category of Best Novel. On the night it looked like a triumph – a book that had originally been kept off the ballot by the Puppies that only got on when Marko Kloos withdrew himself in protest at the tactics that had gotten him on, and was the first time Best Novel had been won by a work not originally published in English, which was another welcome note of diversity in a night that needed them.
Beyond that, it was a genuinely good sci-fi book. This is in some ways distinct from calling it a genuinely good book; there's definitely a bit of "grading on the curve" involved here whereby one excuses the fact that one of the two protagonists is woefully underdeveloped and seems to exist mostly to slowly work out one of the big sci-fi concepts (the eponymous Three-Body Problem) at the pace Liu wants that revelation to unfold and then to have a specific technical skill (and one entirely unrelated to the Three-Body Problem itself) needed in the climax. But it's long on interesting ideas and does some fun stuff moving between two time periods, and the point of the Hugo Awards is in part to reward compelling sci-fi content over other literary merits.
And it's worth stressing that the diversity aspect of it is a real one. The Three-Body Problem is the most successful work of science fiction in China in living memory. This matters, as does translating it into English where it can reach a smaller audience. It is of course absurd to saddle one book with the task of representing Chinese science fiction as a whole, and the topic is far enough from my areas of expertise that it's not going to be the focus of this discussion, simply put, it's extremely valuable just to get a window, however small, into this perspective. There's nothing particularly strange or exotic about the book as such; there's much more that's familiar to a science fiction reader than not. But equally, it's clearly a new perspective on a wealth of familiar tropes.
It wasn't until people ran the numbers on the Hugo data the morning after that an unpleasant reality emerged, however: the margin of victory between The Three-Body Problem and the second-place novel, Katherine Addison's The Goblin Emperor, was smaller than the number of voters who had voted in accordance with Vox Day's recommendations, which included putting The Three-Body Problem in first place, ahead of any of his actual nominees. In other words, Vox Day could fairly be argued as being responsible for the victory.
This, of course, does not invalidate the victory. Cixin Liu is not a fascist nutbag, and The Three-Body Problem is an intelligent and compelling novel. And while the Rabid Puppies may have, in the end, been responsible for putting the book over the line, the book got plenty of non-canine support. All the same, it would be naive to say that it doesn't matter. Vox Day didn't make his recommendations at random, and his reasons for liking the book are real and a part of its victory just as much as the many reasons that people who are not objectively evil jerks had for voting for it.
Moreover, his reasons aren't hard to surmise. The most obvious and superficial reason is that Liu's novel opens during the Cultural Revolution, and offers a relatively unflinching portrayal of the sheer brutality and degradation involved. The appeal of this to someone like Vox Day is esoteric, and based mainly on the belief that there are people stupid enough to think that every form of socialism and Marxism is interchangeable with Maoism and will thus inevitably share all of its flaws. This is largely uninteresting, although it's worth noting that the character in The Three-Body Problem who most substantively opposes the Cultural Revolution ends up being responsible for an alien invasion that threatens to wipe out humanity, so it's certainly possible to overstate the critique in the first place.
This, however, reveals a second and more troubling aspect of The Three-Body Problem, which is its treatment of aliens. As Liu himself puts it in a postscript for the American edition of the novel, "I've always felt that extraterrestrial intelligence will be the greatest source of uncertainty for humanity's future," and moreover that "we should be ever vigilant, and be ready to attribute the worst of intentions to any Others that might exist in space." This is, to say the least, an overtly xenophobic line to take, and it's not hard to see why it would appeal to Vox Day.
But we need to be a little careful here. For one thing, Liu makes this claim about extraterrestrial aliens as an explicit distinction from human difference, saying "let's turn the kindness we show toward the stars to members of the human race on Earth and build up the trust and understanding between the different peoples and civilizations that make up humanity." He is, in other words, expressly avoiding the common science fiction trope of using space aliens as a metaphor for various forms of human difference such as race and nationality, and thus firmly shutting down the political readings of The Three-Body Problem that would be most immediately appealing to Vox Day.
It's also worth noting that this issue exists at a complex intersection between the metaphoric purposes of science fiction and the act of extrapolating from legitimate science. Liu's book is very much in a hard science fiction tradition, and indeed the second volume of the trilogy, The Dark Forest, postulates a general theory of why intelligent civilizations will necessarily try to destroy each other as soon as they learn of each other's existence based on plausible if not certain principles (the dodgiest being "civilization continually grows and expands"). These are reasonable philosophical explorations about hypothetical scenarios, and interesting hooks for stories to boot. Their problems come only from the long tradition within science fiction of using extraterrestrial life as a metaphor for human difference. (And it's worth noting that the danger of extraterrestrial intelligence is framed primarily as a critique of a particular utopian vision based on the idea that human civilization is incapable of fixing its ecological problems and requires outside intervention. If one wanted to read this as a metaphor for the relationship between human societies, the main takeaway from this would seem to be a critique of the idea that colonialism is actually helpful to anyone.)
But more to the point, the overall trilogy is not quite as doctrinal as Liu's afterword would suggest, although this is difficult to fully evaluate with only two of the three books out yet in English translation. The Dark Forest concludes with two characters, a human and an alien, discussing the possibility that the human value of love (which the aliens share the capacity for, but have apparently suppressed "because it was not conducive to the civilization's overall survival") will allow for a resolution to the problem of civilizations destroying each other on first encounter. How this plays out will, of course, largely depend on Death's End, which isn't out until 2016, but the end of The Dark Forest pretty clearly points towards the xenophobic implications getting massively undermined.
Admittedly, The Dark Forest didn't come out in English until after Hugo voting had closed, and on the basis of The Three-Body Problem alone the xenophobic reading ends up looking much stronger. (And it's perhaps worth noting at this point that The Dark Forest is in pretty much every regard a stronger book than The Three-Body Problem: it's much more focused, better-characterized, and has an altogether more interesting premise. Little to no grading on the curve is required to proclaim it to be great.) Nevertheless, it's worth noting that Vox Day was in the end completely wrong about the book if he thought it in any way endorsed or was close to his politics.
But there is, in all of this, a final issue to unpack in his endorsement of The Three-Body Problem, which is the implicit racial politics of the choice. One of the most common ways in which Vox Day tediously nitpicks his critics is by objecting to being characterized as a white supremacist. For the most part, this objection is utterly insignificant: he believes that white people are superior almost all other races, and that white Christian culture is the best culture on Earth. But it is, in point of fact, technically true. In practice, Vox Day believes that east Asians are even better than white people.
This is actually a common belief among modern-day proponents of scientific racism, and is just as much a ludicrous and racist stereotype as the idea that black people are less intelligent. It's the same set of stereotypes that proclaims that Asian people are all good at math, and from which the "Tiger Mom" image originates, and while it's nominally a "positive" stereotype, it is in the end still a destructive and limiting one.
But there's a larger cultural aspect to this fetishization of Asian people – one that harkens back to the 1980s tendency to treat Japan as an unstoppable economic juggernaut, a cliche based in a large part on the idea that Japanese culture, with its supposed focus on honor and discipline, was inherently more efficient and productive. These days the same sentiment is routinely directed towards China, which has become the existential economic threat du jour in American politics. In both cases the underlying point is the same, and involves treating Asian cultures as weirdly austere and almost inhuman societies. And, unsurprisingly given the way this fetishization values conformity and respect for authority, it's a fetishization that's stronger on the political right.
It's also, however, is something that Liu's books cut sharply against, most obviously in their eventual positioning of love as the force that can solve the problem of inevitable interstellar war. And indeed, in this regard one is put in mind of Vox Day's largely ridiculous distinction between "Pink SF" and "Blue SF," where the latter is proper male-driven adventure fiction whereas the former "is about feelings rather than ideas or action." Because with the turn towards love as the solution to a set of hard SF tropes seems like as effective and thorough deconstruction of the entire ridiculous divide, making the obvious but necessary point that empathy is not even remotely opposed to values like science or rationalism.
So to recap, Vox Day used his four-hundred and some-odd lackeys to give the Best Novel prize to a book that ultimately rejects his racist ideology and undermines his entire view about how science fiction works.
Whoops.