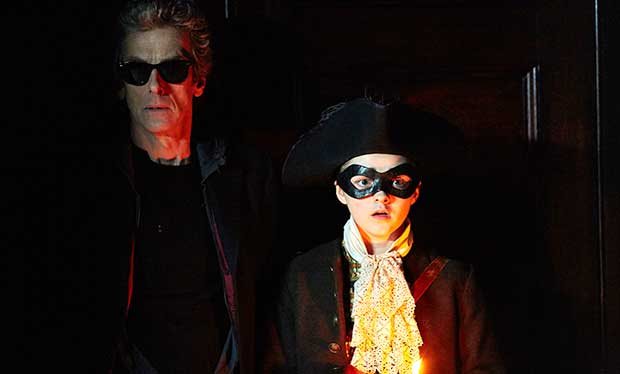 There's an odd tone to this, which is mostly good, although there's a big exception. Perhaps the most striking thing is that the first half is essentially a two-hander; an extended character study in Me. This is an interesting exercise, especially coming off The Girl Who Died, and it's by some margin the most successful the "all two-parters" experiment has been. Between the fact that she's a Big Guest Actor and the fact that we just spent an episode being introduced to her character, Maisie Williams conspicuously does not need an introduction, and so the story sets about giving her one.
As expected, Catherine Tregenna is well-suited to this. And it's remarkably tricky ground, especially given the decision to make Me an unsettling and borderline-villainous character, which immediately brings in a lot of mirroring, an approach that can crash into dull cliche with ease. Tregenna is good at this, deftly balancing the big tell-don't-show lines with slightly surprising and unexpected perspectives throughout. "I stopped caring because everyone died" is obvious. "I left it there to remind me not to have any more children" is staggering. "They value life because it's fleeting" is yawn-worthy if sweet. The act of caring as "falling off the wagon" is deliciously unnerving. She's done this sort of thing before, and hat-tips Captain Jack in the script, but the experience in finding new takes on "person out of time" she brings to the job pays off mightily.
But a lot of credit also has to go to Maisie Williams. The Ashildir/Me role is not one that a lot of people could do, requiring as it does the ability to convincingly play a child and then convincingly play a centuries-old immortal who is actually the same person as that child. The list of people who can do that – and it is of course a matter of age and skill both – is very short. Maisie Williams is on it. It's as simple as that. Whereas The Girl Who Died involved playing off of her role as Arya repeatedly, here her role is almost always to be alien and disturbing, and she relishes in it.
In short, Tregenna's a great choice to write a story about a different sort of immortal, and Maisie William's a great choice to play one. The result is that this story has a pretty foolproof basic engine. Basically put, you're not going to go wrong with Catherine Tregenna writing forty-five of Maisie Williams as an immortal, and you don't. And given that, it's tough to call the fact that Doctor Who ends up being a guest in its own programme a problem. (And it's manifestly Doctor Who, not the Doctor, who's a guest here.) Indeed, it's a refreshing variation, which is doubly welcome in a season that deliberately has fewer moments of completely reinventing the tone of the show than some.
What is a problem is that you can tell that Catherine Tregenna's previous disinterest in writing Doctor Who was, in fact, a genuine sentiment. The actual business of being a Doctor Who story is not so much poorly done as sketchily done, with plot beats that frequently feel as if they're being served up with a "will this do" attitude. The weird decision to include a full face shot of Leandro prior to his big smash down the door as the devil itself moment is sloppy in the way of dropping a character in The Curse of the Black Spot, which is never a good feeling. The Sam Swift bits are practically unwatchable. I don't mind dick jokes in my Doctor Who, but for fuck's sake, can we at least have funny ones?
What this means in practical terms is that after a tremendously compelling and strange first half we get a positively slapdash back half. It's not that Doctor Who stories where the plot isn't the main focus can't work; indeed, in a real sense that describes last week. But here things come in the wrong order, with the good bits so front-loaded that once the plot shows up it's little more than an irritation to get rid of. And the result is not entirely satisfying. Me's redemption is almost completely unearned, so much so that Maisie Williams visibly can't find her way into the scene and is reduced to seeing if she can shout loud enough to be emotionally convincing. The tightrope of her selective ethics is similarly unsatisfying, mainly because what it ultimately converges on – killing Sam Swift and then changing her mind – is tough to invest in, not least because what we ultimately get for the heel turn, the death of Sam Swift, is hard to get that upset over as a viewer.
It's tempting to snark here about how "best of the Torchwood writers" was always damning with faint praise, and it's true that Torchwood often had a similar tendency to feel like much ado about nothing, but that's unfair. Even in the back half, the bits that don't have much to do with the plot are great. Capaldi's "I saved your life, I didn't know your heart would rot" line is magnificently delivered, if a bit overwritten, and I've already praised the "falling off the wagon" bit. And the last scene between Capaldi and Williams is genuinely great. And this is clearly the point of the episode and where the attention is supposed to go. It's just that the fire-breathing lion alien and the annoying highwayman are genuinely distracting.
So what we have is a sort of reverse curate's egg – an apple with a bad spot that's easy enough to cut off and enjoy the rest. Sure, we might be a bit glum we didn't get a whole apple, but what remains is genuinely delicious.
The reference to

The Visitation

is entertaining, given that the stories share a similar flaw, namely that the only substantive character other than the Doctor, the villain, and the companions is an unfunny highwayman.

One thing I didn't get into, but liked a lot, was that the episode ends on the decision that saving Ashildr was the right thing to do – that she was a tidal wave worth unleashing, to use the parlance of the two episodes. As someone who is emphatically opposed to the suggestion that changing history is morally wrong (as opposed to impossible or so dangerous and unpredictable as to be useless), I really enjoyed the decision over these two episodes to emphatically endorse a position along the lines of "tidal waves as a category are morally neutral, and require individual judgment." The brave and compelling revision of the Davies-era fixed points/not one line doctrine that started with Kill the Moon continues, and I couldn't be happier about it.

Well, I say "the episode ends on," but the episode actually ends on a Clara scene. Clara's absence is certainly going to make podcasting with Caitlin interesting, but the story wouldn't really have worked with her, and perhaps moreover, so much of the story is about her – it's an exercise in commenting on the Doctor/Clara relationship by showing a contrast with it. More on the podcast, no doubt.

There's obviously a measure of cultural signifier in Sam Swift being played by Rufus Hound, who is apparently a significant celebrity guest star in his own right. This is not an aspect of British culture I'm immediately familiar with – is "tedious and unfunny" Hound's shtick in general, or is this out of keeping with him?

Much as I found the ending unsatisfying, I kind of enjoyed the sheer arbitrariness with which Leandro is dispatched.

Since we're now at the halfway mark, it seems prudent to try to make a direct comparison to Series 8, not least because I politely disagree with the general consensus that Series 9 isn't as good. I'm pretty willing to stipulate that

Deep Breath

and

Listen

average out to about the same quality as

The Magician's Apprentice/The Witch's Familiar

, and that

Under the Lake/Before the Flood

are no worse than

Into the Dalek

and

Time Heist

in terms of their tedium. Which means comparing

Robot of Sherwood

and

The Caretaker

to

The Girl Who Died/The Woman Who Lived

, a comparison where I'm inclined to say Series 9 actually comes out ahead. The disingenuous part here is that Series 8's strength disproportionately came in the back half, so being as good as Series 8's front half is idiosyncratic praise.

Speaking of the back half, episode seven's written by Peter Harness again, and I can't wait for next week. I never thought I'd say that about a UNIT story.

Oh, and I redid the episode ranking from scratch this week instead of using the previous ranking, because I discovered that the space between Under the Lake and The Magician's Apprentice is impossible for me to slot anything into.
Funny Quote From Someone Posting in the #moffat hate Tag on Tumblr
Let's just go with the post titled "HOW ARE YOU ABLE TO TALK LIKE A MAN IF YOU ARE A GIRL???!!!"
Episode Ranking
The Girl Who Died

The Magician's Apprentice

The Woman Who Lived

The Witch's Familiar

Under the Lake

Before the Flood
Story Ranking
The Girl Who Died/The Woman Who Lived

The Magician's Apprentice/The Witch's Familiar

Under the Lake/Before the Flood