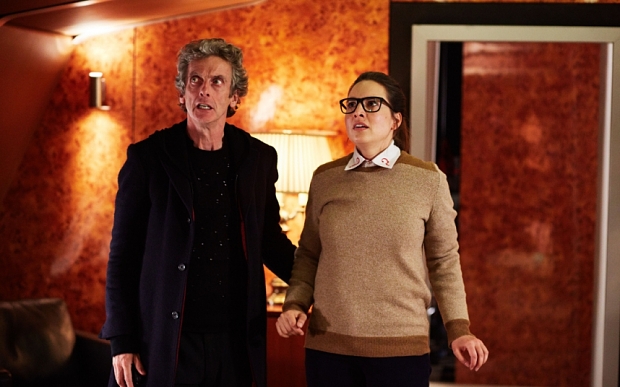 It is, in many ways, the most Part One of the two-parters we've had so far. Which is as it should be. I mean, it comes right out, first thing, and proclaims "we're doing Zygon ISIS." Pretty much right there, you've justified your second part. This isn't some premise that requires a stealthy inversion at the halfway mark to work over ninety minutes. This is just an incredibly meaty, dense concept that it would be a travesty to even attempt in forty-five. Which makes it a beast to review, of course, but oh well.
Let's stipulate up front, then, that much like Under the Lake/Before the Flood, a lot could go wrong in the second half. Clara – the actual one – is going to need something significant to do next week to avoid this contributing to a frustrating pattern of sidelining her this season. There's an "immigration requires assimilation" subtext that, without some actively managed balance, could turn genuinely ugly, although there's self-evidently no chance of this story going UKIP or anything, having already skewered them. And The Zygon Inversion could just suck. I'm pretty confident it won't go wrong, though. Part of that is that I just have a lot of faith in an episode with the writing credit "by Peter Harness and Steven Moffat," but much more of it is just that this is simply a very, very good episode of Doctor Who, and requires none of the "OK let's be willfully sympathetic about what could easily just be abject sloppiness" that Under the Lake did.
From the start, there's a deft balancing act going on between the two 1970s that Terror of the Zygons represented. On the one hand is the UNIT era that it ended, with all its political thrillers and sense of implied scale. On the other is the Hinchcliffe era it was a part of, with all its buried gothic horrors. The opening scene, as Osgood runs from a raging battle sold convincingly through a shaky camera and sound design into the police station is emblematic. The first part is neo-"Action by HAVOC." The second is intimate dread. And the episode keeps toggling between those two approaches. On the one hand, the population of London is being sucked into the ground through its elevators. On the other, drone strikes in Generistan.
But this balance is all the more compelling when it's tied unapologetically to the headlines in a way the series hasn't really done since Davies left. When I say "Zygon ISIS," I am not reading into the story to any meaningful extent. The radicalized Zygons are, first of all, actually described with the word "radicalized." They send video messages of their hostages, whom they sometimes execute on camera. They have a sigil consciously designed to mirror the ISIS flag. This episode is not fucking around. Similarly, as a metaphor about immigration and assimilation, it's as subtle as a brick, and gloriously so, both in the "they'll think you're trying to pinch their benefits," a very particularly sort of classic Doctor Who line that just doesn't show up much in the new series ("The rest were all foreigners." "Well of course not, I've travelled."), and in the New Mexico sequences.
Which makes the places where the episode flickers into the domestic, intimate sphere all the more affecting. This isn't just a Doctor Who story with a tri-continental scale; it's one that uses the full range that scale opens for it. The obvious scene to talk about, and holy shit let's talk about it, is the one on the church steps. Some day, episodes of Doctor Who are going to stop starting so late that the end credits are post-watershed. This will in many regards be a good thing for the show; certainly it will help arrest the slide in viewers that comes from it getting used as fresh meat for the Saturday night autumnal firing line, thrown up against The X-Factor and the Rugby World Cup with minimal promotion. It is, as many critics have noted, more than a little perverse to have Doctor Who on too late for kids, even if a Sunday morning iPlayer Doctor Who is just about equivalent to a Saturday evening one on a school week.
But one of the real tragedies of that inevitable readjustment is going to be the end of this uncompromising perversity that leads us to things like the comedy Maisie Williams immortality recap montage suddenly swerving into dead babies or the spectacle of a soldier being begged by what is obviously an alien wearing his mother's skin not to shoot her, and told that she loves him and forgives him. Murray Gold gets in on the sheer grotesqueness by turning the soundtrack into part of the Zygons' weaponry, a mawkishly mournful tune that drenches the scene in awful, chilling bathos. Meanwhile, Peter Capaldi stands in the background displaying the full dramatic range of his eyebrows. It's breathtakingly dark, and in a strange and furious way that only Doctor Who could or would do.  
Actually, Capaldi's handling of the military bits is genuinely fascinating. Harness doesn't bother with the usual hand-wringing scenes; when the Doctor objects it is practical. The closest he comes to a moral objection is "that's where they're holding my friend." He does not argue with Rebecca Front's character as she gives her orders, only augmenting them with his own purposes. He goes in, a man comfortable with this kind of situation but wary of it, conscious at every second that he is in a fundamentally different story than the one everyone around him thinks they're in. It's electrifying in its subtleties; in what's chosen for saying and not saying.
Meanwhile in New Mexico we bounce the plot casually off of its X-Files duplicate, and get another flamboyantly bizarre moment in the angry, spat out, furiously hateful Trump-voter description of those foreigners who just came out of nowhere with no jobs and acting all funny where the foreigners are the British and also reptiles. And in the UK Jenna Coleman finally gets to play "evil," and takes to it with delightful relish. The speed at which this twist plays out, completely changing the circumstances of the plot in a way that was on the one hand inevitable (of course the Zygons have to be within UNIT) and on the other genuinely surprising, is an impressive trick, and the cliffhanger is a good thrill, even if the lack of visible impact kind of makes the resolution seem obvious.
All in all, superb. Roll on next week.
"Titillate the fronds." And with that, Harness takes the all-time prize for dirtiest line in Doctor Who from Moffat's "well, a wife." (Note: I am getting corrections on Twitter that the line is in fact "titivate the fronds." I don't care. I like my reality better.)
I really like the complete lack of fucks devoted to the discussion of how the Zygons have apparently built a vast global network of tunnels under the Earth with nobody noticing. Particularly that the script's attitude to this jaw-dropper is to just play it cool. "Look, if the moon can be an egg…"
Correspondingly, I like the amount of time that was put into actually imagining Zygon culture. The kidnapped and executed Zygon High Command, the focus on a generational difference within the Zygons… all of this really serves to make it feel like a political crisis and not an invasion, title aside. (And I like the right the Zygons demand – the right to not have to hide. Excellent choice.)
Fascinated by some of the implications and resonances of Osgood's dual-species identity, and especially by her insistence that she rejects the premise of the "human or Zygon" question. Also love the fact that the script then has her openly declare that we're changing the rules for Zygons now.
Also good – the active focus on the fact that Zygons have names, from the one baffled by the question even being asked because it is literally just a giant reptile bent on conquering the world to Bonnie. (They named a Zygon after Bonnie Langford. I love it.)
I note that ISIS took credit for bringing down a Russian plane this morning. I can't wait to see what sorts of incredibly stupid things people manage to say about the cliffhanger based on this.
Sad to see the cool middle-aged black science lady at UNIT get turned into an electric haystack. Or, perhaps more accurately, I'm glad to see them cast a middle-aged black woman as the recurring UNIT character who evil!Clara kills, but really wish there were still a middle-aged black woman with a recurring part on Doctor Who.
Speaking of the electric haystacks, another lovely bit of gruesomeness. A way to casually get away with massive piles of dead bodies in Doctor Who, they're the exact right mix of silly and grim.
The #moffat hate tag appears dead silent on Tumblr tonight, but there was a poster on GallifreyBase who complained that the episode was too "gynocentric," so they'll have to suffice for that particular form of amusement.
Belatedly Added Funny Quote From the #Moffat Hate Tag on Tumblr
"This episode is just a big metaphor for Islamophobia – and it's saying that the Islamophobes are correct. And that was on purpose."
Episode Ranking
The Zygon Invasion
The Girl Who Died
The Magician's Apprentice
The Woman Who Lived
The Witch's Familiar
Under the Lake
Before the Flood