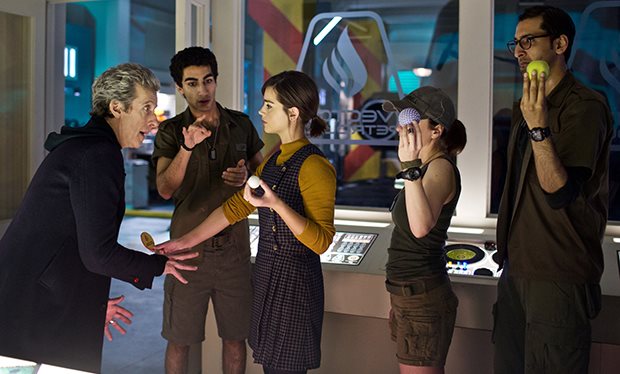 It's tempting to call it ruthlessly traditional Doctor Who. I don't think it is, mind you, but it's certainly tempting to call it that. What it definitely is, however, is oddly procedural Doctor Who. There's very little time spent on theme-building; even the big Doctor/Clara scene that the episode contrives to have them nip back to the TARDIS for is more just a character piece than something that feels like a heavily built thematic piece. And there's not a heck of a lot of time spent building characters – the base crew are pretty underdeveloped compared to, say, Last Christmas, The Rebel Flesh, or The Impossible Planet, to the point where the Doctor rallying them to stay and explore the church feels slightly unearned as a scene. There's not even a ton of plot. I mean, lots of things happen, but it's no The Magician's Apprentice or Dark Water, nor even The Rebel Flesh. Actually, one really has to rack one's brain to think of the last time a whole episode was used to set up a premise this straightforward. The Sontaran Stratagem?
No, even that has more moving parts than this, an episode that is more interested in lengthy scenes in which characters watch grainy green-tinged footage on a computer monitor or an extended corridor relay race than in what we normally describe as "doing anything" in television. I don't think I've ever wondered so much what the Tumblr gifset crowd is going to make of an episode.
The real answer to the question, then, is probably… ooh, Curse of Fenric 1? (Survival has a pretty complex premise.) Or hell, the last actual proper base under siege, Warriors of the Deep 1? Certainly you have to look to the classic series to find anything as willing to spend quite this long on people fiddling with machines on a BBC soundstage. It's just not something Doctor Who does much, as television. For the most part this has generally struck me as a good thing, although there's certainly a brand of traditionalism that would say otherwise.
And yet there's no obvious reference point for this in the classic series. It doesn't feel like a McCoy story or a Davison story. It's tempting to call anything that's a base under siege a Troughton story, but no, this isn't how one of those works or feels either. Indeed, its basic formula is unmistakably a new series standard – the action-heavy setup to a premise-changing cliffhanger.
The result makes a credible claim to being Whithouse's best work in years, and I think actually shows a really interesting perspective on the series. Recall that Whithouse, when he debuted on the series nearly a decade ago, noted that he'd not been a classic series fan. Indeed, and this is a fact that I don't think has been remarked upon much, he was the first new series writer for whom their episode was the first Doctor Who they'd ever done; the literal first of the new school. And so this feels, rather fascinatingly, like a classic series homage written by someone for whom the classic series is a slightly alien thing; like Doctor Who being written as a second language. Certainly it's unlike anything Whithouse has done before, wholly lacking in the post-Moorean white male heroes angstily being confronted by the fact that the villains are their mirror images that are his usual default mode. It's tempting to say "hey, it's the writer of No Angels again," although I don't think it's passed the Bechdel test yet, and also this isn't a sex comedy. (I suspect one of these things will change next week.)
Whithouse's alien perspective on the classic series is balanced interestingly by Capaldi, who seems to genuinely enjoy these long stretches of standard issue material to enliven. I suggested this was a very procedural episode, and it's tempting to compare it to those American shows that take a medium-name film actor and put them through twenty-two formulaic baddie-of-the-week stories; The Blacklist for instance. Like Spader in that, Capaldi is taking obvious pleasure in finding new ways to do straightforward things. What struck me in particular, watching him is that, very much unlike Smith and Tennant, he doesn't have a default timing and rhythm for his exposition sequences, which is what's usually the thing that most makes an actor feel like they're on autopilot. And a lot of credit for that goes to Coleman, who's underserved for the second episode running here, but whose depth of understanding with Capaldi is such that everything feels tremendously confident.
A whole lot is going to depend on the second episode, at least in terms of how this story evaluates. But as an hour of television, this is my favorite of the season so far. It felt much longer than it was, but not in a way that ever felt boring; it was just that none of the plot beats felt like we were getting closer to the cliffhanger right up until the cliffhanger suddenly started to intrude when the base flooded. Notably, after two deaths to get things started the cast proves remarkably resilient, and so there's not the growing body count to provide any sort of internal clock for the episode; an unusual feature for a base under siege. The decision to keep the tone on "mystery to solve" instead of "growing crisis" is a novel one.
All in all, then, for a story that at its outset proclaims its intention to be standard-issue Doctor Who it finds a surprisingly large number of new ways to do things. It remains the case that the seven episodes most likely to end up at the top of my season ranking are still ahead, but I found myself delighted at the wealth of little surprises here.
Speaking of new ways to do things, all of the applause for the decision to include a disabled character, doubly so for making her the base commander for most of the episode. And played by, looking at it, a deaf actress, so triply awesome.

Less awesome: killing the black guy first. Come on, guys. A commitment to diversity means not just putting effort into casting, but keeping an active eye out for unfortunate tropes.

The Doctor's claim that nobody was surprised to hear what the ghosts were saying is strangely undermined by the fact that the Doctor is visibly surprised to hear what the ghosts are saying. Also puzzling – why nobody just set the base into day mode permanently. And, in a somewhat more macro view, why ghosts are particularly surprising after the Nethersphere, doubly so because the Nethersphere gets namechecked. Meanwhile, in the "not puzzling but awkward" department, the hologram technology should probably have had some sort of appearance prior to its usage to resolve the chase scene.

Mind you, I was delighted to see the old school

completely senseless

use of constellations for interstellar navigation. Beaming directions into space based on Orion's Sword, an arrangement of three stars that is linear only from Earth's perspective is and which therefore cannot possibly also be an arrow pointing at Earth is, of course, scientifically absurd in ways that the moon being an egg can only dream of. Double points for getting the fact that one of the stars is a nebula right despite this.

But all of this gets to a curious point about this episode, which is that for all its procedural elements it doesn't actually cohere as the investigation of a mystery. I'm not of the school of thought that calls this a problem, although my usual go-to explanation for why a thing that defies conventional logic this much works, "the plot beats are all in the right places," doesn't really apply to something this shapeless. Instead the defense is something along the lines of "this isn't a story about a science fiction mystery, it's a story about watching Peter Capaldi investigate a thing in a very stripped down structure and setting."

Which means that we do have to give some real credit to Daniel O'Hara, whose direction is studiously unflashy in a way that suits this story. There's no visual trickery or ostentatious editing – just a clear and straightforward showcase for the actors, which is exactly what this episode needs.

The cards were a bit of a damp squib of a joke. I've already seen some decent readings of them on Tumblr in terms of Clara's character and what it means that she's so half-assing it, and that's a very sly redemptive reading, but it really feels more like the writers are half-assing it there.

So the Doctor's in the capsule in suspended animation, which is sufficient to "power" the ghost, right?

Also, fun fact, with this episode the Moffat era draws level with the Davies era in episode count;

Before the Flood

will be the sixty-first episode of the Moffat era, and the point where there's more of it than the Davies era. Still a good few years before he passes Nathan-Turner, although he'll pass Letts (counting a twenty-five minute episode as a half episode in new series terms) later this season to pull into second place in the all-time rankings.
Funny Quote From Someone Posting in the #moffat hate Tag on Tumblr
"42 done wrong"
Ranking
Under the Lake

The Magician's Apprentice

The Witch's Familiar