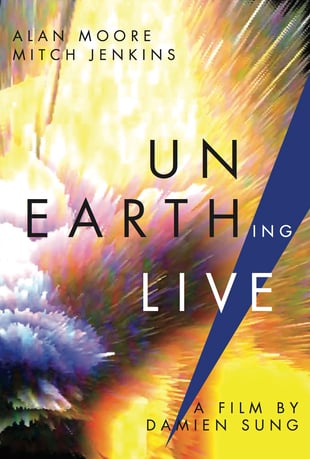 Well, I've just had one of the most magical experiences of my life.
Some context – a film version of Alan Moore's Unearthing is dropping later this morning. I was given a screener copy, and just finished watching it. It is absolutely amazing. If you have never experienced Unearthing, it is unquestionably the version to go for. If you have experienced it before, it offers a substantial upgrade to all previous versions and is very probably worth revisiting; certainly I found it a tremendously rewarding experience.
There are ways in which yours will not match mine. It will not, for instance, include you belatedly realizing that you got the idea of printing an edition of your book published on old-fashioned printer paper from the transcript included with the old box set of Unearthing as an audio performance. Nor the sequence where you are floored by a snake-based description of philosophical horror that repeatedly echoes and parallels your book's major points, a beautiful and welcome reminder that your great work can probably be encapsulated in a clod of dirt in a Northampton back garden. Still, it won't be hard to see how the work could affect someone like that. It's that good, and that visibly powerful a piece of magic. Of course it's going to resonate weirdly with the world. That's the point.
Unearthing is the story of Steve Moore, as told by Alan Moore. A prehumous eulogy, in many ways deliberately, Moore relates the strange life of his best friend, who was born in the house on Shooter's Hill in London where he died, who taught the greatest English-language writer ever to work primarily in the medium of comics how to write a script, whose own career spanned decades, its fingerprints all over the history of British comics, who was beyond that a noted I Ching scholar, and who conducted a lengthy sexual affair with the moon goddess Selene.
Moore does not bury the lead, although he does build to it. Still, Unearthing is about this last bit. And the other bits, and many besides, but mostly the last bit. It is handled with a deft literary irony – a claim vouched for entirely by the author, who is ostentatiously present, a hypnotic baritone and looming beard that repeatedly appears on screen while the tale's subject appears only in flickered inserts, played by an actor. An author who announces his entrance to the narrative with relish and fanfare, positioning himself as arbiter of the great "is Steve Moore mad or is this really magic" debate to an audience who knows full well that there is only one possible answer that he would ever give. It's a delightfully, deliberately ludicrous claim – a man who worships a glove puppet promising us all that his best friend's girlfriend is a Greek goddess and blue.
You'll believe every word.
Much of this is because the narrator's appearances, though dramatic and coming at highly charged moments of the tale, are nevertheless cameos. For most of the piece, Moore stands at polite distance, affecting to tell his friend's story as he would want it told. The organization, perhaps, and choices of details the sort of insight only an exterior perspective can bring, but the facts and framing always with the utmost sympathy for the subject. The details are rich, the paragraphs pregnant with directions and angles, both in content and meter. A sample:
Busted, Bookends is shut down, 1973. He's writing comics to pay off five grand in business debts, but it's a largely loveless chore these days, the glitter long since rubbed from all the stern-eyed starmen, alter-ego icons for more optimistic times. Horror and weirdness, that's his tipple now. Bob Rickard's launched Fortean Times, a small-print black-and-white blast of excluded news, damned data, and Hunt Emerson cartoons from the polymath clutter of his Birmingham bedroom, its shoebox morgue files full of thunderstones and Owlmen, Morgawr, simulacra, Indrid Cold. Our man elects to pitch in with a study of the mystery beasts at large on Shooter's Hill, black panthers, black dogs, Black Shuck, sighted mostly in proximity to the location's many water features, streams and mineral springs and the forgotten Ket or Quaggy rivers. He's attempting to relate all this to Taoist principles, the dark and watery Yin, the broken line, while almost unintentionally he begins to map the hill's imaginary contours and astral topographies for the first time, as if he's only just this moment realized where he is.
Actually, let's drink it in – the eighty word opening with between five and seven uses of alliteration, depending on what one wants to do with the triple-vowel chain of "alter-ego icons" and the delayed "black-and-white blast," yes, but also the way he fires off the stuttering chain of "blacks" before he changes into the longer, meandering phrases of the paragraph's end, the shift in turn reflecting the move from the pinched and harried exterior world and Steve Moore's vast and moon-drenched interiority. It's all like that – knife-sharpened prose from a master craftsman.
But the appeal isn't just the text. It's Moore's performance. This is not an aspect of Moore's toolkit that is widely appreciated. He is amiable and charming in interviews, always fun to listen to, yes. But he is also an astonishing performer. His voice is rich and sonorous, and he's unsurprisingly confident in the rhythms of his language, willing to luxuriate in it, to pause and relax into the ambient music playing behind him for a moment so that the snaking turns of his sentences can be felt. He slips easily from conversational candor to divine thunder as the tale requires, bellowing forth as reality splinters before you and the fangs of the numinous sink in, then smiling wryly when he describes an endearing foible of south-London working class existence. This sort of spoken word performance is not something he's done a lot of times, and most of them are deeply obscure. It's a thing to behold.
Enriching it are the visuals, stitched together from a live performance and some specially shot material, then lovingly cut up, distorted, spliced with new footage and Mitch Jenkins's fantastic photographs, further overlaid with text and symbol, and generally Burroughsed. A segment where a passage of text containing the phrase "Tom Baker's Doctor Who" flickered periodically onto the screen stood out with particularly eerie aptness, but the capacity for haunting is everywhere.
And it's self-evidently a massive influence, as I said. It is psychochronography at its rawest, the psychogeographic technique applied to Shooter's Hill, understood as the landscape upon which Steve Moore happened, a literal geography of ideaspace. If you accused the prose style of Last War in Albion of being a mediocre pastiche of Unearthing you wouldn't be wrong as such. And perhaps more to the point, it was this and Moore's other spoken word performances that I was listening to obsessively while I wrote the best bits of The Nintendo Project and designed TARDIS Eruditorum. When I literally coined the term "psychochronography" to describe my style.
So yeah. I can't fucking recommend this enough. It's one of my favorite things in the world, in a haunting and kick-ass new form that just whacked me upside the head in exactly the way that a magic spell is supposed to. So clear some time, sit down, and let one of the great wizards of the age cast one on you.
If you like strange and haunted stories about snakes, you may enjoy Neoreaction a Basilisk, currently on Kickstarter.