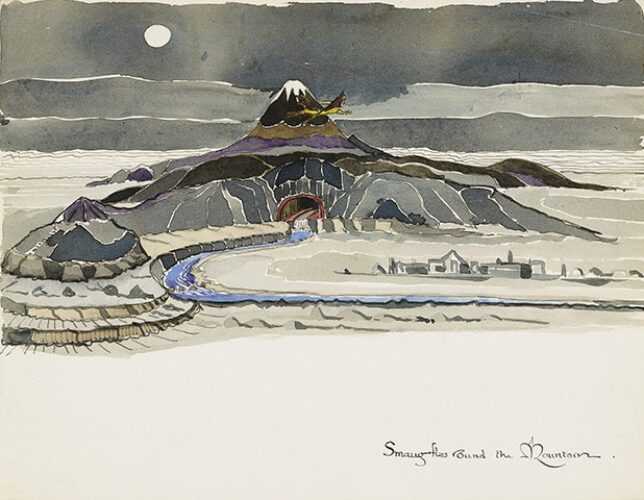 Names: Erebor (Sindarin: "ereb": lonely, isolated, "-or": rise, mount), glossed as "the Lonely Mountain"
Description: A solitary mountain in northern Wilderland. Karen Wynn Fonstad estimates Erebor's summit as 3500 ft (1066.8 m.) while at its broadest spurs its furthest reaches are about 9 mi. apart (approx. 14 km). The Lonely Mountain has six spurs, between the southern and southeastern of which originates the River Running, which flows through Dale, a city of Men. Home to the Longbeard Dwarves' Kingdom under the Mountain, Erebor encompasses formidable mines, cellars, and throne rooms.
In T.A. 1999, Thráin I, a dwarf refugee from Khazad-dûm, arrives at Erebor and establishes the Kingdom under the Mountain. Dwarves begin mining Erebor, and collect gems and gold, including the Arkenstone (the Heart of the Mountain). The Kingdom under the Mountain prospers King Thrór, as the dwarves of Erebor arm the Iron Hill Dwarves and Wilderland's Men against Easterlings.
In 2770, the dragon Smaug sacks Erebor, killing and dispersing the dwarves. He occupies the Mountain until 2941, when Erebor's exiled king Thorin Oakenshield arrives at the Mountain with a small party. In retaliation, Smaug destroys Lake-town, a local settlement of Men, where Bard the bowman kills him. In the wake of Smaug's demise, the Maia Sauron sends orc forces to conquer Erebor. The dwarves and their Iron Hills cousins fight in the Battle of the Five Armies. They triumph, though Oakenshield is killed. His successor as King is his cousin Dáin II Ironfoot.
In 3019's Battle of Dale, Easterlings besiege Erebor and kill Dáin. They retreat when Barad-dûr falls. Thorin III Stonehelm is crowned King under the Mountain, and establishes a relationship with Gondor's King Aragorn II Elessar, after which Erebor comes under Gondor's protection.
Location in Peter Jackson's films: Wanaka, Otago, South Island.
"I see the mountain/That is all I see."

Carter, "The Mountain."
This adventure began on a mountain. Now it arrives at another one, also solitary, hospitable yet apocalyptic when it chooses to be. The Lonely Mountain changes hands and talons many times, and yet its six spurs, summit, and cavernous interiors belong to no person. The Kingdom under the Mountain is not the Lonely Mountain itself; it's an occupying force that the Mountain permits to dwell in its guts. Smaug scorches the earth around Erebor, the Lonely Mountain, strengthening its mighty power over Wilderland. Guy Debord says that psychogeography is "the study of the precise laws and specific effects of the geographic environment, whether consciously organized or not, on the emotions and behaviors of individuals" ("Introduction to a Critique of Urban Geography"). Some of Tolkien's most memorable characters are seismically changed and affected by Erebor. The shaking of windows or rattling of walls has little sway on the Mountain's power; people may only submit to it.
Erebor is one of the most haunting places in Tolkien's mythology and a corridor to many of its crucial themes. It's an anti-realist landmark; Tolkien's geography has little quarter for geologic reality, a recurring aspect of his mythology that Alex Acks has analyzed in depth.…