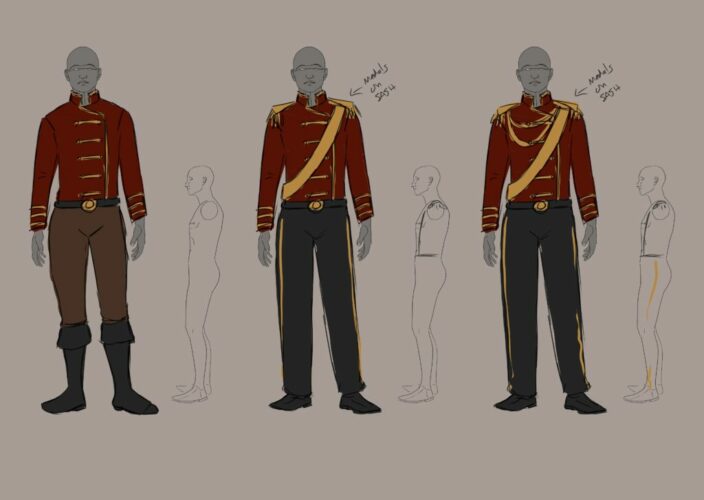 THE PANCAKES OF WRATH ARE WISER THAN THE WAFFLES OF ERUDITION.
What I've Been Up To
I finished up the script for Britain a Prophecy #7, at least to the point where I need to hand it off to Bob for edits. Past that it's been a research week—I've been working through Storm Constantine's first Wraeththu book for a piece that'll probably be out to Patrons early next week, and doing some other reading for LWIA v4. I've also been listening to a lot of Nine Inch Nails, which is once again Lexi's malign influence, and am musing on serializing a Halo by Halo review series through these newsletter posts. 
Penn's been doing character designs for Britain a Prophecy #5, which continues apace. Here, let's give a preview of the uniforms for the fae army. 
We also got a new scene out for $10 Patrons, and a new behind the scenes post out for all patrons. 
Also, I just sold my first piece of fiction writing. No details I can share yet, but if you asked me "El, what would be your absolute top choice of ways to break into professional fiction writing" I'd be hard pressed to come up with a better one than this. I can't wait for this one to come out. 
Some Movie Reviews
Man, it'd be *great* if I could post these here, but I actually gate my media reviews to my $2+ Patrons so you'll have to go there to find my reviews of Cruising and Manhattan Baby.
Some Tumblr Asks
These I don't gate! My asks remain open, and so, for what it's worth, do Penn's. 
Favourite Kibble track? (Alex's goofy project)
"What Time Is It?"
How long do you think it will take for you to reach the present day in Last War in Albion? Another ten years? More?
There are way too many variables to even begin trying to predict that. What I'll say is that it's a project I generally enjoy working on, and that I regret leaving it fallow as long as I did, even as I recognize those years were not actually ones I was in a place to devote it attention. But also, it's a lot of work, and there's other stuff I want to do too, and, like, if I sell a novel or get an ongoing comic series that work is going to come out of LWIA time. So I can't promise full time work on it for the next year/five years/ten years. Hell, I don't like to promise full time work on it for the next month, because, as January showed, sometimes it turns out I really need to write 8000 words about 90s singer songwriters.
But I like Last War in Albion and I want to do right by the project. So I'll do the best I can, but wouldn't want to estimate any sort of timeframe beyond "well, hopefully before I'm dead."
How much of Britain a Prophecy do you plan in advance vs write as you go along ?…