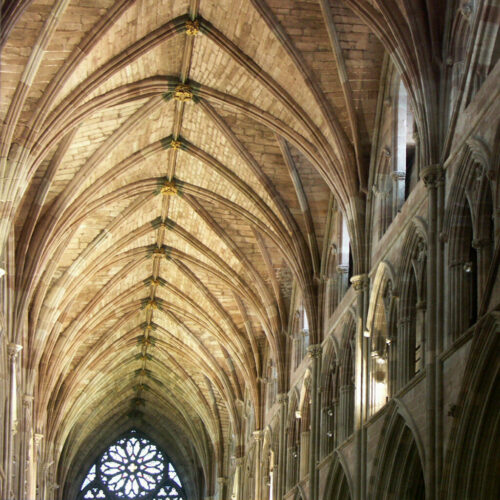 CW: Sexually explicit imagery
Previously in The Last War in Albion: Grant Morrison's script for Arkham Asylum focused on the geometric image of the vesica piscis.
I find myself grasping for my roots, awkwardly. And I wonder what my grandparents would think of me, were they to meet me today. Ask their shades about me and I imagine they would pull ghost photographs from their wallets and handbags, show you a solemn child with huge hazel eyes. -Neil Gaiman, Mr. Punch
Euclid's Elements begins with one, using it to construct an equilateral triangle. Indeed, one can use it to construct a myriad of basic shapes—the square, pentagon, and hexagon can also be constructed from it. 
Within the Pythagorean religion the number one, represented by the circle and called the monad, was considered sacred and holy. The vesica piscis thus represented the dyad, combining as it did two circles. The generative properties outlined by Euclid, then, become the product of copulation, a meaning further emphasized by the visual similarities between the vesica piscis and the vagina. This mystical association, obvious as it was, served as a largely cross-cultural bit of sacred geometry.
Separately, however, the vesica piscis became a Christian symbol. By extending the lines on one apex one gets a distinctly fish shape, which meshes with a wealth of Biblical imagery. More mystically, various numerological associations between the proportions of the vesica piscis and the Bible are attested, if dubiously. The shape is also closely related to the ogive, which is essentially a vesica piscis with flattened sides, and which serves as the geometric underpinning of the gothic archway. 
For their part, Morrison ties the symbol to the larger body of symbolism in Arkham Asylum, using the fish symbol to relate it to the Moon Tarot card according to Hermetic lore while also drawing a Christ-Osiris link (familiar in Crowley) to bring up descent to the underworld imagery. Indeed, there's an entire line of fish symbolism in Arkham Asylum. Clown fish make regular appearances, gesturing both to the Joker and to a theme of sexual ambiguity that got downplayed when Warner Bros. corporate refused to allow the comic to depict the Joker dressed as Madonna on the grounds that it might lead people to assume that Jack Nicholson was a cross-dresser, a fairly astonishing case of reaching the right decision for the stupidest reasons possible. (Morrison later rued that "in the end it was Heath Ledger who immortalized the tranny Joker in 2008's The Dark Knight, vindicating my foresight.") And at another point they have Amadeus Arkham reflect on the French term for the victim of an April Fool's prank, poisson d'Avril, while also connecting the vesica piscis to holography and the theories of David Bohm. 
The bulk of the discussion of the vesica piscis in Morrison' script comes around a sequence roughly halfway through the book where Batman, shaken by flashbacks to his parents' murder, snaps himself out of it by pushing a shard of broken mirror into his hand.…