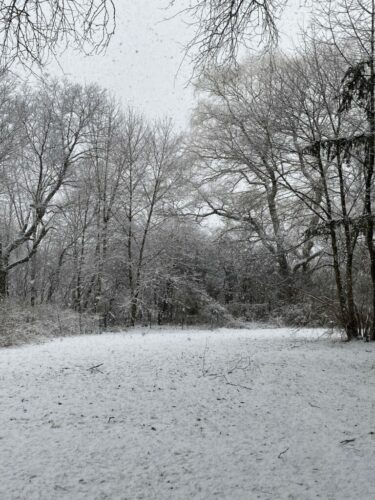 The featured image for this post is the weather outside my office window yesterday afternoon as I got ready to queue this up, and is as good a statement of mood as any.
What I'm Up To
Well I suppose the biggest headline is the first new TARDIS Eruditorum in… months? Almost a year? Not even sure, but my coverage of Juno Dawson's The Good Doctor is up on my Patreon. Things are quieter on the Britain a Prophecy Patreon, but we've got a scene out with Nechama for coloring, which means we should have some writer/artists notes soon, and there's only two scenes left on issue 5. That Patreon has gotten a little lower than I'd like, so there may be some sort of fancy sale coming in soon where we offer catch-ups on our physical editions or a copy of our re-covered and reprinted #1 to all Patrons who have backed before issue 5 is done or something. We'll see! Whatever it is, if you back now we'll be sure you get it. I'll probably get a LWIA out this weekend, and then it's Brooklyn again. (So we'll see if there's one of these next week.)
If You Post Vacation Photos I Will Let Myself Shrink to Zero Points In A Typographical Hunger Strike
Do we need to get you some help, Centyjust? Like, your pathological aversion to vacation photos and repeated threats of self harm are actually slightly unsettling, and I genuinely worry for you.
No, No, I'm Fine, I'm Just Being Melodramatic and Should Probably Go Listen to Some Nice Angry and Depressive Music To Better Regulate My Own Emotions
Well, good news on that front.
Halo 2: Pretty Hate Machine.
Listening to it, especially if you put it right next to Ministry or Skinny Puppy, the thing that stands out most clearly is that Trent Reznor has obscenely good pop instincts, taking what those bands are doing and making it slap in an immediately catchy way. We can talk about the lead single next time, and "Something I Can Never Have"'s swirling maelstrom of despair is one of those "everyone already knows how good this is" songs, but damn if "Kinda I Want To," "Terrible Lie," and "Sanctified" don't all slap. And "That's What I Get" at least deserves credit for the most impressively bad lyrics of Reznor's career. Notably better than I remember it being. 7/9 Inches
Tumblr Asks
As always, my asks remain open and I'm pretty reliable about answering them. (I think I've got one sitting that I need to go back to.)
What's the best NiN version of I'm Afraid of Americans?
You really can't beat the classic V1 Mix.
Do you think it was a good or a bad thing that the Post-2005 Who showrunners haven't hired any classic-era writers? I know RTD only wanted Robert Holmes from that group (impossible for obvious reasons), and there are some out there who bemoan that Terrence Dicks never got the chance to write another episode before his death.
…