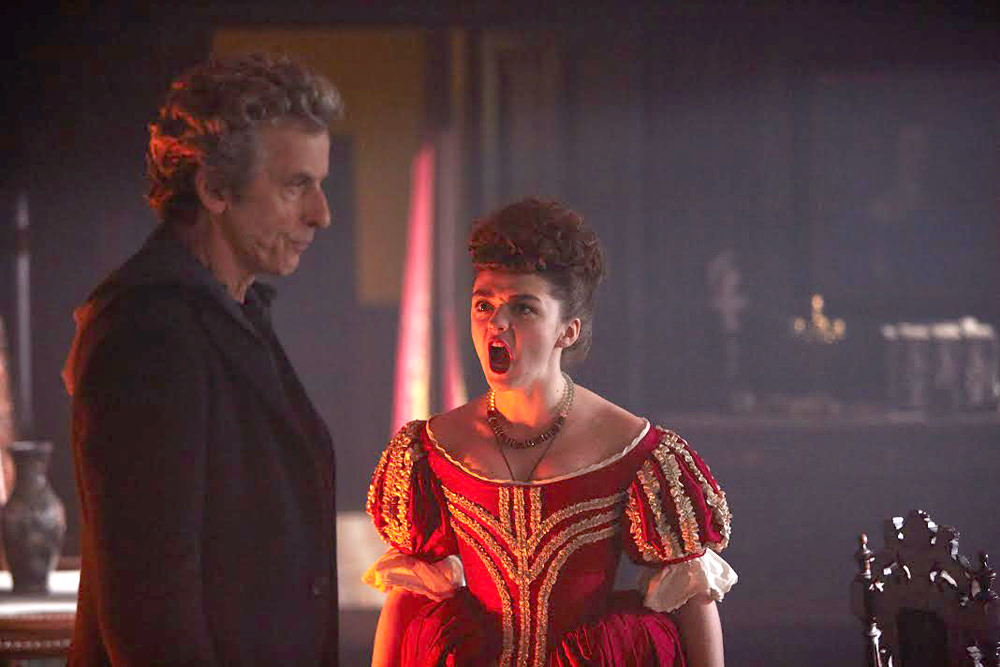 Me takes poorly to the Doctor's "Varys is a mermaid" theory.
It's October 24th, 2015. KDA with Tinie Tempah and Katy B are at number one with "Turn the Music Louder (Rumble)." One Direction and Sleepy Tom & Diplo enter the top ten, while Bieber, The Weeknd, Drake, and Ellie Goulding are still around. In news, Hurricane Patricia, the most intense tropical storm ever to hit the western hemisphere and the second most intense ever, strikes Mexico and deals nearly half a billion dollars in damage. The Tories change rules to weaken the power of Scottish MPs by ruling that laws affecting only England must have a majority vote of English MPs. Hillary Clinton spends eight hours testifying in front of the Benghazi Committee, while Lincoln Chafee and Jim Webb both drop out of the race for the Democratic nomination.
On television, meanwhile, the two-part structure of the season begins to break down with an episode by a completely different writer than its nominal part one. Let's set aside my decision to cover them separately, which is really a decision about how many words I think I can spend on them and not about them per se. The consensus appears to be to treat these as separate stories—Doctor Who Magazine offered them separate previews (unlike Heaven Sent and Hell Bent), and they seem to consistently be listed separately, but they're certainly more connected to each other than Utopia is with The Sound of Drums, and The Girl Who Died ends with a clear "to be continued" that presents this as part two. Indeed, to an audience untrained in the Doctor Who fandom art of obsessively following writer credits, it's difficult to imagine that this would not be viewed as the third two-parter in a row.
Speaking of writerly readings, it is with this episode, in his penultimate season, that Moffat finally addresses the embarrassing problem that his writing teams are consistently all male. This is a tricky needle to thread. "The first female Doctor Who writer in more than seven years" is not something to celebrate in 2015 so much as something to be actively ashamed of. For whatever it's worth, Moffat recognized that and repeatedly acknowledged that it was a problem, but, well, it still took this long. Still, on the bright side, we have Catherine Tregenna, she of the actually good Torchwood episodes. Her hire for this appears to have been something of a specialist hire—she noted that she never really felt like Doctor Who was a good fit for her, but was specifically pitched writing about an immortal woman and agreed that she could do well with that, which was an obvious conclusion to anyone who's seen Out of Time or Captain Jack Harkness.
The resulting story is an odd one. For large swaths it's effectively a two-hander between Capaldi and Williams, which is one of those ideas that's self-evidently going to work with an even remotely competent script, a bar Tregenna clears by several miles. She does an exquisite job of making sure that both the Doctor and Me have clear and motivated perspectives, and makes sure that her big emphasized lines are actually earned and interesting—the "I just wanted to save a terrified young woman's life" / "you didn't save my life, Doctor, you trapped me inside it" exchange is particularly exquisite. She makes a number of extremely savvy decisions—making sure not to forget that Me and the Doctor don't actually know each other very well, for instance, with the Doctor constantly indignant that she presumes to know him and surprised by what she's actually become. It's a solid character piece—the sort of thing everyone praises Boom Town for being, for instance, but appreciably less clumsy because it actually features two sympathetic characters at the center of its debate instead of a scheming genocidal maniac.
And yet this doesn't particularly have a great reputation—it came in 9th out of 10 in the Doctor Who Magazine poll for 2015, just behind The Girl Who Died and ahead of Sleep No More, and these days it seems to hover around "fine I guess"; the Eruditorum Press poll had it come in at 274th between The Mind of Evil and a Gary Russell novel. And I'm probably guilty of this to an extent—I put it 10th out of 13, which may actually be true because Series 9 is insanely good, but I also have definitely contributed to the narrative that it's in some sense subpar. Rewatching it, this is mostly unfair. The issue is not that the story is subpar so much as that it's just really fucking weird in its basic instincts.
Let's take Sam Swift, a character I was ludicrously hard on in my review because he fell into a particular mode of juvenile humor that tends to leave me cold. Which he still does, but in hindsight the more remarkable thing is that a character so central to the episode's resolution should just sort of pop up out of nowhere nineteen-and-a-half minutes into the episode for a two minute scene that has no relation to the plot other than the fact that Sam Swift shows up again at the end. There's something remarkably slapdash about this. It's the sort of thing that looked deeply clumsy in Under the Lake when the idea that the mantra being repeated by the ghosts was already in everybody's head was introduced out of nowhere. But there the failure to set up ideas was part and parcel of the story's overall lack of them. Here there's a clear reason for pushing Sam to the margins, and that's to create more space for the Capaldi/Williams interaction that is this story's engine.
But Sam isn't the only element pushed to the margins. There's also the plot. This is, of course, not the first story to do this, but it's worth contrasting with, say, The Caretaker. There the romantic comedy elements were wrapped around a Doctor Who plot that was parodic in its traditionalism, executed by someone who could knock out half a dozen bog standard yet entertaining Doctor Who plots before lunch and still have time to retweet a few transphobic memes. Here, however, everything feels slightly off. The basic elements are all there, but it feels as though they've been arranged by someone who has only ever had Doctor Who described to them.
To be clear, my point in this is not to say that Catherine Tregenna is not a real fan or that she did a poor job with this episode. Strangeness is one of Doctor Who's signature elements, and it's one that the new series has been in some regards reluctant to embrace in favor of consistent quality. But Doctor Who never used to be afraid to feel tonally off for long stretches of time. More to the point, most eras of Doctor Who feel tonally off from each other. And so Tregenna's slightly odd and unfamiliar take on how to put the elements of a Doctor Who story together ends up feeling like a dispatch from a relative in a neighboring country. It rides the line between distracting and interesting, but it's easy enough to let your perspective drift to where it lands on the right side of it.
There is, of course, a third and altogether element pushed to the margins here: Clara. Bizarrely, two of the twelve episodes in her final season essentially don't feature Clara beyond a short cameo at the end. In one of these there are a host of unimpeachable reasons for doing a Clara-free episode. Here, however, the situation is muddier. It's certainly the case that Clara would have gotten in the way of the Doctor/Me interactions. On the other hand, countless stories have separated the companion from the Doctor for long periods, and there's a perfectly obvious place to put Clara: with Sam Swift. This would necessitate some cuts to the Doctor/Me material, but while well-written there's plenty of repetition, both internally and of old standards ("And how many have you lost? How many Claras?"; "You're the man who runs away."), and finding enough time to give Clara a Mummy on the Orient Express-sized role would certainly have been possible.
That said, the usual reason we get grouchy about something like this is both because of the incessant sexism of anti-Clara discourse. But here we have an unusual amount of cover for the decision: a woman writing the script and using Clara's absence to focus on a different female character. This means that the bulk of frustration at the way in which Clara is sidelined just comes down to Clara being great and it being sad that we only get ten episodes with her in her final season. (Fewer depending on how you want to treat next week.) This is still a problem, but it's also petulance, so you know, one has to keep one's grumpiness in proportion.
Ultimately, whether this gambit works hinges entirely on whether the character who takes Clara's place in the narrative, Me, works. And the answer, like the episode, is "mostly." Tregenna is good at writing the tragedy of immortality, but it's also 2015 and we've seen this dance before. There are some steps that are, if not unprecedented, at least pleasantly novel—the sense of dissociation from having forgotten most of her actual life, for instance, and the sort of suicidal sociopathy she displays in her decision-making. There are no shortage of cracked mirrors for the Doctor across the series, and especially across this season, but Me has new things to offer, including a particular balance of her relationship with the Doctor that we haven't seen before—one that is neither ally nor antagonist, but in a liminal space between the two.
But all of this is embellishment and adornment upon the basic frame provided by Maisie Williams. Simply put, the character would not have been worth doing with essentially any other actress. Williams is both enchantingly flexible and capable of doing melodrama with utter conviction. She has the raw charisma to stand up as a third lead against Capaldi and Coleman, a feat generally not associated with people not named Michelle Gomez, and she dispatches with relative ease virtually anything four separate writers throw at her, managing to make her character seem credibly aged by a few hundred/billion years between appearances each time. There are other actresses who are this good, yes. But ones who are eighteen, would get the show a decent amount of publicity, and can convincingly play a teenage girl before aging her into ancient immortal? Since Sophie Turner's got the wrong flavor of charisma, you're pretty much left with Maisie Williams there.
So after a two-parter that was firmly a second tier classic and a two-parter that was firmly a complete shitshow we get a two-parter that confounds all expectations, including being a two-parter. Every facet of this story is partial, compromised, and not quite living up to whatever it was "supposed" to be in ways that jar. Of course it doesn't live up to the Moffat stories in the season, or even to the two-parter that follows it. How could it? Those are a honed Doctor Who writer at the height of his power and working squarely in his wheelhouse. This is something far more interesting: something new. An actual different take on what Doctor Who can be and how it can be put together. This isn't just down to Tregenna being a new writer—coming to the show from Torchwood frankly makes her less radical new blood than Harness, Cross, or Gaiman were, and certainly less radical than Richard Curtis or Simon Nye. And it's certainly not down to Mathieson and Moffat.
No, what we have here is innovation and newness. It's weird and blobby and yes, hybrid, but in the same way that The War Machines, Paradise Towers, or Love and Monsters were. Not all of those were followed up on in any way, and there may well never be another story like this; in fact it seems more likely than not that this is the only story we'll get like this. Certainly it's the only two-parter we'll get like this, given the idiosyncratic combination of creative forces involved in it. It's weird, and wonderful, and very probably unique; an oddity, in the best sense of that word.