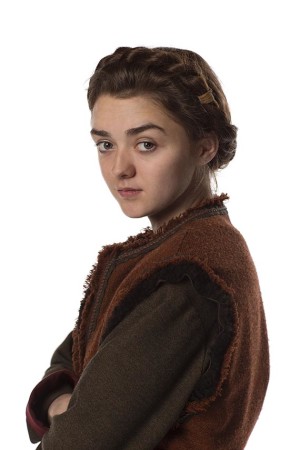 I learn from Phil and Kev on the latest Eruditorum Presscast, that 'The Girl Who Died' has been called 'silly' by some discontented fans.
This is true, and good. And if you think otherwise then I humbly submit that you have missed the point. Indeed, you have arrived at the exact inverse of the point.
Let me nuance this a bit. I think 'The Girl Who Died' is, at least in part, about silliness.
People are silly all the way through the episode.
The Doctor behaves in an intensely silly manner, nicknaming the Vikings, clowning around. But he's not doing it for no reason. As Clara points out, the Doctor is doing it because he doesn't have a plan yet and he's waiting for a plan to form. In the meantime, the clowning around is his way of coping with the stress, processing the variables, getting to know everyone, stalling for time.
Ashildir behaves in an intensely silly manner. She challenges the unknown enemy, who manifests in the shape of Odin and kills all the warriors of her village, at exactly the moment when Clara has talked him down. She does so out of pure bravado and righteous anger. In so doing, she brings the wrath of the Mire down upon her village. Later, as the situation looks hopeless, she plays like a little child with a toy sword and a dummy Odin to make herself feel better.
The entire village behaves in an intensely silly manner, refusing to leave and save themselves, preferring instead to stay and invite their own deaths. Out of loyalty, pride, grief, a warrior ethic that was supposed to motivate the warriors (who weren't helped by it), and the lack of any idea what to do instead. We might admire the courage, but it's still silly when looked at in purely pragmatic terms.
None of this silliness is entirely contemptible. Some of it is downright admirable.  It comes from conviction, solidarity, etc.  It can all be seen in context, socially and dramatically. It is play, used to express and/or cope with anxieties, grief, social cohesion, stress, etc.
Then there is the silliness of the Mire, which is of a different order. Their silliness is certainly about social cohesion and anxiety (or perhaps 'insecurity' would be a better word), but beyond that it is entirely contemptible.  It is the farcical and disingenuous and self-aggrandizing silliness of the bully and the imperialist.  (I might not equate these things in an actual, serious political analysis of the real world… but as a storytelling strategy, it's not worthless, certainly not as mockery.)
The Mire are baddies in the classic Robert Holmes mode: they are dangerous precisely because they are silly, petty, narrow-minded, pretentious. They need to drink testosterone to provide themselves with strength. I don't know if the episode expects us to take this literally, but you could easily read it as the silly and performative nonsense that it would be in reality. It's almost a quip. "Oh, he's so butch he probably drinks testosterone". They obtain the ability to pretend to be tough by squashing warriors – who go around roaring and wearing silly macho helmets, but who don't have enough sense to try to open a door when they're in a shrinking room – and then drinking their machismo-juice. The critique of performative, patriarchal masculinity may be lighthearted, and is worn very lightly by the episode, but it goes beyond Clara's sitcom jibe complaint. The readiness to disrespect soldiers is a relief after last series.
There is no reason for the Mire to stick around after they've had their manly green repast. They do so only because they are dared into it by a scared young girl. How insecure is that?!  They can't ignore her functionally meaningless threats and insults.  They're too small to just walk away.
But then that's what you'd expect.
They go around disguising themselves as Odin. Moreover, they disguise themselves as the most absurdly literal, patriarchal, Brian Blessedy version of Odin imaginable. A version so silly it contains a callback to a Monty Python visual. A version so silly that robot-eyepatch-Anthony-Hopkins-Odin-in-Thor looks sensible by comparison.  A version so silly that even the Viking villagers don't take it seriously for more than a minute. The Doctor can talk them out of it immediately, despite them being pre-modern and it Odin's face being impressively projected into the sky via high-technology. (This, by the way, is a lovely subversion of an old and patronising SF standby about how pre-tech people are all gullible idiots… a standby that Doctor Who has often employed, which is why the Doctor gets to try to be Odin first and fails just as miserably… though this, again, plays into the thematic concentration of silliness and games and play, and how they can be employed for different social ends).
The Mire go around in about the most absurdly over-emphasized armour this side of Robocop. Walking stone pillboxes. And underneath… lampreys. Pathetic. ('A surfeit of lampreys' is a trivial cause of death given for medieval kings, basically signifying that the king in question ate something that disagreed with him and got a bit too cold. Ha, what a way for a warrior to go.)
So, of course, the Doctor realises that the correct way to beat them is to make fools of them. To humiliate them while they are in the act of bullying, and then threaten to share their humiliation via social media… with some added yakety sax.
Hey, if V for Vendetta the movie can use it to make a serious point about the essentially pathetic and brittle and performative nature of power, and how its dignity is so easily deflated, why can't Doctor Who?
The story the Mire tell about themselves is that they are the big butch bully badasserinos of the cosmos. And they're not all that. Looked at up close, square on, they're pretty pathetic. I'm not saying they're not badass enough, or mean enough, to wipe out an entire village of defenceless people who don't know how to fight. Sure, they could do that, after they've abducted all the warriors and removed them in what was the very definition of an unfair fight. But once the Doctor has given the villagers a semblance of a plan to add to their own latent bravery and determination, the Mire turn out to not be that hard to trounce. Thus ordinary people turn out to be equal to the stories of the more powerful, as long as they come up with their own story. The silliness, the playing-at-bravado, of the villagers turns out to have not been so silly after all. Indeed, the very act of playing is a kind of defence… just as the Doctor's mucking about at the start was a way of stalling for time until the plan arrived, of faking it 'til you start making it.  The villagers end up getting to keep their homes and community… something they wouldn't have achieved if they'd followed the Doctor's pragmatic (and somewhat self-serving) advice, and run away.  If they'd refused to play or be a bit silly, they'd have been homeless.
Moreover, the Mire are beaten by a superior storyteller, a superior player, a superior gamer. Ashildir can play and pretend just like them, but she does it to express social solidarity and love, even for a community that has marked her out as an oddball. Thing is… they've done so in recognition of her genuine difference rather than to mock her or exclude her. (It is clear she is not excluded, even as she is treated somewhat differently… indeed, if anything, she seems to have special status in the village. I confess, I'm not up on Viking culture particularly, but in pre-modern societies, people who are perceived to be unusual – even people who transgress gender boundaries, as she explicitly makes clear that she does – are often accorded a socially-agreed-upon higher status.)
The victory of the Doctor and the villagers isn't merely a pat victory for science and technology over science and technology (good modernity over bad modernity), but rather the Doctor puts science and technology at the disposal of the Viking villagers, and they put it to use using their own culture.  The Mire try to appropriate the Viking's culture and turn it against them. Ashildir plays the same trick right back at them. She attacks them with monsters from sagas.  Her silliness, her distraught bravado, turns out to have not been so silly after all. Turns out she had more to back it up with than she thought.
So, in other words: the big manly testosterone-fuelled bullies, who reckon they're the only ones allowed to play war games, are resoundingly beaten and humiliated by a society in solidarity, fronted by a nerdy (even faintly genderqueer) girl who is a better, more imaginative, more powerful gamer than they are.
Heh heh heh.
Also, in non-Doctor Who news…
These days, SF cinema tends to be less specific about exactly when in the future it is set, thus robbing generations-to-come of the opportunity to be really dull about certain dates on social media.
Speaking of significant dates in Fantasy fiction, this year is the 100th anniversary of the publication of Kafka's The Metamorphosis. You might balk at the idea of classifying this story in the same broad category as Back to the Future, but I firmly think we should. We must not disrespect the crucial category of Fantasy or the Fantastic by refusing entry to something as great as The Metamorphosis on the grounds that it is 'serious' or 'literary' (as if Fantasy inherently isn't). If The Metamorphosis were published today, it could be nominated (probably by a Weird Kitty) for the Hugo for Best Novelette. Relatedly, I happened across this the other day. Apparently, even though Kafka specified that the insect into which Gregor Samsa transforms should never be depicted, Vladimir Nabokov took it upon himself to draw it in his own teaching copy of the book. This is ironic, given that Nabokov specified that Lolita herself should never be depicted on the cover of any edition of Lolita, and publishers have of course rarely published an edition since without taking the opportunity to sexualise a little girl on the front cover. I have a tiny bit less sympathy for Nabokov on this issue now that I learn that he sketched poor Gregor… though, to be fair, he only did it for his own amusement inside the cover of a personal copy.
Reality turned into a China Miéville story recently. Or it might just have been a Fata Morgana. One of the interesting things about the story (linked-to above) is the way it blithers on about how 'conspiracy theorists' are claiming this, that and the other… without bothering to tell us who they are or what they said. I guess citations aren't needed when you're wheeling out an entire partly-confabulated subculture to be laughed at.