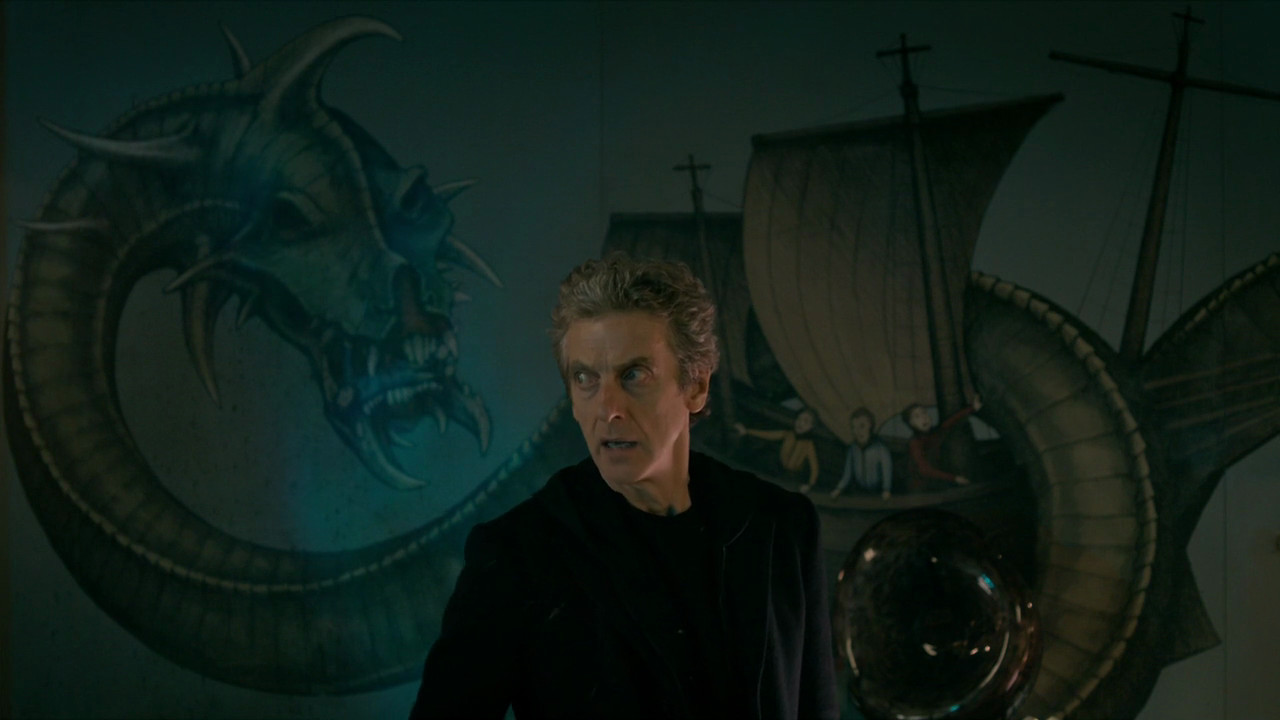 For once I don't have a joke about this, it's just a screenshot that adds further support to one of my points.
It's October 3rd, 2015. Sam Smith has debuted at number one with "Writing's On the Wall," while the rest of the top ten is basically the same as last week. Justin Bieber takes the number one slot back a week later, when Philip George & Anton Powers and Drake also enter the charts, the latter with "Hotline Bling." In news, NASA announces that there's liquid water on Mars, which can't mean anything bad at all, the US accidentally bombs a Médecins Sans Frontières hospital in Afghanistan, and a mass shooter at Umpqua Community College in Oregon kills ten after apparently warning posters on 4chan to stay home from school.
On television, meanwhile… *sigh*. Ultimately, every story about a hot streak ends the same way. No matter how imperiously brilliant, no matter how ambitious, eventually it all falls apart. The story of how it happened this time is simple enough: Moffat had to go make The Abominable Bride, and so needed two episodes of Doctor Who by someone he wasn't going to extensively rewrite. With the frontline pick for that job also working on Sherlock with him, in came Toby Whithouse, who did what Toby Whithouse does, which is turn in a banal mix-and-match base under siege that's not about anything but cliches about difficult men weighed down by the gravity of their serious morality. Actually it's a step worse than we're used to from Whithouse, who could previously be trusted to have some semblance of plot logic whereby a majority of events either set up other events or were themselves set up. Here, however, we just have a melange of Doctor Who cliches flowing into one another without anything that can traditionally be recognized as reasons. It's not merely derivative crap, it's incoherent and pointless derivative crap.
But we have 2000 words to spend on it all the same, so let's see what we can do. Let's start with the basic setup of the base, since it is, charitably, really weird. This is a pretty committedly fanwanky story, with explicit references to Dark Water/Death in Heaven, The Rebel Flesh/The Almost People, Kill the Moon, The Sound of Drums/Last of the Time Lords, The God Complex, a throwaway about the Autons, and probably a few others I can't be bothered to go looking for, and so it would be malpractice not to contextualize this in the larger timeline of Doctor Who. The problem, simply put, is that this ends up being completely mad. The contextualization in terms of Kill the Moon makes conspicuous the fact that this is set sixty years after The Waters of Mars, and thus thirty years after Susie Fontana Brooke's lightspeed trip to Proxima Centauri. We are, in other words, well into the space-based future. Stories that have taken place by this point include Paradise Towers and Nightmare of Eden, which is to say that Earth is setting up colonies and expanding across the galaxy.
And yet here we have an underwater base. This isn't completely mad; Warriors of the Deep is set only thirty-five years earlier, so we're clearly in a period where humanity likes going underwater as much as into space. But Warriors of the Deep still features visibly advanced technology—there are elaborate defense satellites, cybernetic links with computer systems, and futuristic weaponry like "proton missiles." The Drum, on the other hand, is a grotty underwater oil rig powered by a nuclear reactor.
The practical reason for this somewhat incongruous setup is surely that Toby Whithouse couldn't be bothered to actually think through the future timeline or come up with an explanation for the base that had an ounce of meat on its bones. But incoherent signification is still signification. The Drum, under this interpretation, becomes a vaguely pathetic thing, powered by one obsolete technology to mine for another. And this is supportable elsewhere—Pritchard's greed for a power cell that can zap a ship across the galaxy in an era where hyperspace travel is routine enough to be used by cruise ships suggests that the people involved in this base are desperately behind in whatever the current technological arms race is. And if we're going to count production idiocy as substantive content we might also contrast the grungy, damp base we see here with the gleaming white techno-marvel of Sea Base 4.
Possible explanations for this technology gap abound, but I'm more interested in the tone it sets. "Ghosts in an underwater base" is frustratingly vapid as a concept, but ghosts around an atavistic oil dig is approaching some actual insight into the anthropocene. Ghosts, after all, are the exemplars of the gothic, the repressed and buried that literally come back to haunt you. Fossil fuels, meanwhile, consist of humanity burning the remnants of past life on Earth and, in doing so, gradually destroying the possibility of future life. The idea of oil being haunted is obvious—indeed, one of the greatest possible untapped Doctor Who stories is probably some alien presence that's turning fossil fuels back into dinosaurs. ("Good grief it's a slick black CGI stegosaurus!")
In light of this, it seems worth highlighting the effort this story puts into explicitly making the ghosts real. They're not merely projections maintained by the Fisher King or anything like that; they're electromagnetic entities that exist independently of their creator and require disposal after its defeat. More to the point, they're actually linked to the people whose forms they take, as made explicit by the Doctor's climactic outrage at the Fisher King. Not only can they only be created when someone actually dies, it's important that the subjects have seen the "the dark the sword, the forsaken, the temple" message and have it on a subliminal loop in their heads, which connects to the classic rules of ghosts as being bound to some sort of obsession from their lives. Indeed, the use of ghosts as a communication medium ties into all sorts of pretty nuanced and interesting takes on ghosts ranging from Nigel Kneale to Friedrich Kittler.
So we have an atavistic underwater base that is literally haunted. But by what? Well, by 1980 for one thing, which is a rich semiotic vein to say the least. More specifically, by a fake Russian village from 1980. So by the Cold War, clearly. This is, of course, the milieu out of which the base under siege originated, with the various Troughton-era monsters trying to get in all ultimately standing in for Soviet infiltrators. So the serpent is eating its own tail; the base is under siege by the haunted remnants of the very reason that bases are under siege. But this isn't quite it; that's a 1960s Cold War, not a 1980s one.
But as the 1980s go, 1980 is markedly different than, say, Cold War's choice of 1983, which firmly places the story in the High 1980s. 1980 is still essentially resolving the 1970s—musically we're still cleaning up from punk, and while Thatcher is in place, Jimmy Carter is still President. O'Donnell describes the year in terms of beforeness, and while all of her touchstones are 21st century Doctor Who references, we might as well describe it as before the 1980s.
It is here we must finally turn to the Fisher King. This is an odd name for a monster that's basically a Bone Vervoid. The underlying concept—a dead warlord rallying its people to conquest—ties ever so half-heartedly to the Arthurian mythos from which the name originates. But if we take it at face value, what we get is the image of a wounded king whose injury in turn blights the land. Dig deeper and we find a root in the Mabinogion in the form of Brân the Blessed, whose magical cauldron can resurrect the dead, but without the ability to speak. So as with most of this story, it's on the cusp of making sense. There's a clear element of the proto-Gothic to the mythic Fisher King. But rooted as it is in pre-Christian mythology, it predates the Gothic's complex interrelationship with the Weird. On the one hand the Fisher King's wound is traditionally a punishment for philandering, which points at gothic repression. But Brân the Blessed is also a giant, and we're firmly up against the foundational texts of faerie mythology, which puts us just as clearly against the proto-Weird.
And the same can basically be said of the Bone Vervoid. On the one hand, it's a skeletal monster with an army of ghosts—clearly Gothic. But there are also distinct Weird trappings—it's only trying to invade Earth because an arbitrary alien race happened to pick Earth as the "barren, savage outpost" upon which to bury the previous conquerer of Tivoli, the sort of casual indifference to the anthropic that characterizes the Weird. And while the Fisher King is skeletal, he's clearly not a human skeleton; he's got some sort of carapice-like shell and mandible-like spiky bits around his sideways-opening mouth.
The underlying relationship between the gothic and the weird, of course, has been extensively theorized within Doctor Who by our very own Jack Graham in his mammoth Skulltopus series, where he in turn works from China Miéville's landmark essay "M.R. James and the Quantum Vampire." In that essay, Miéville argues that the Weird and the Hauntological/Gothic exist in a "non-dialectical opposition" that functions as a sort of "quantum superposition," in which each is clearly engaged with the other and engaging with the same underlying problems, and yet are unable to resolve into an effective middle ground, a point Miéville charmingly makes by designing a monster that exists at the midpoint, the Skulltopus, and observing its curious lack of prevalence. Indeed, he suggests, the two are actually increasingly divergent; he notes that M.R. James is in fact repeatedly working in both traditions, and we've already seen how the classically fantastic freely mixed both tendencies. It's only in the present day that the two have acquired their incompatibility.
In explaining this, Miéville unsurprisingly turns to the political. "Hauntology and Weird are two iterations of the same problematic – that of crisis-blasted modernity showing its contradictory face, utterly new and traced with remnants, chaotic and nihilist and stained with human rebukes… The degree to which one or the other has been stronger has affected the tendency towards their separation as genres of thought and pulp. Since the 1970s their 'separateness' has become dominant, not because there is a 'drive to separate', but as a corollary of the oscillating efficacy of as-simon-pure-as-possible Weird and/or hauntology, for thinking our fraught and oppositional history since the end of Keynesianism, that great Cthulhu-swat and ghostbuster." For Miéville this is a product of neoliberalism, which is both fundamentally allied with the weird in the way that it makes the world into an "ineluctable, inhuman, and implacable" place, and fundamentally opposed to the gothic, which risks reminding everybody of a very specific spectre that once offered an alternative to capitalism. But for our purpose the key phrase is "since the 1970s." Which is to say since more or less the exact point where the Fisher King arrives on Earth and the ghosts start spawning from. Miéville isn't wrong in this—it's notable that there are no suitable candidates for Jack's Skulltopus series in 80s Doctor Who, an absence of sufficient magnitude to suggest a substantive semiotic problem above and beyond the ones he's tracing. And so Whithouse's choice of 1980 as a place to haunt his atavistic oil-drilling operation from is shockingly apropos.
Equally fitting, however, is the fact that this knot of meaning is the foundation of a bootstrap paradox. For one thing, it reinforces the still potentially scant Weird reading, having events emerge without human actors, authored instead by time itself. For another, though, it's nicely mirrors the way that all of this, in the end, resolves into nothing more than a frustrating aporia. Whithouse has essentially stumbled on the Weird/Gothic mashup of this story through dumb luck, offering his fourth consecutive story to reduce to "#MONSTER in a #PLACE" He's come close to hitting this sweet spot before when he did fish monster vampires, but this time by having the most hauntological monster there is lay siege to a lazily constructed base he's placed in the wrong century, and then having it all turn out to be the result of a time paradox and an insectoid giant he's accidentally sutured together two things that an actually thoughtful writer would have noticed don't quite work, and then, in a further stroke of absurd luck, anchored them squarely on the precise historical moment upon which the suture became impossible.
The result doesn't work even a little bit. It's ninety minutes of pointless set pieces and cliches that have nothing to say about anything. But the sheer quantity of material that they say nothing about is nevertheless strangely staggering. If Under the Lake/Before the Flood represents Doctor Who in neutral, idling away while the actual writers are doing other things, then its main lesson is to demonstrate that none of this—the base under siege, the classic gothic monsters that are actually aliens, the idle time paradoxes, the male angst, and hell, the 1980s nostalgia—has any remaining merit as an idea for its own sake. Any potential future utility is purely rooted in the fact that they're standards that can be deployed without further setup in order to free episode time for an actually interesting idea. And if it took a hack of Toby Whithouse's indolence to demonstrate the sterility of these particular components, well, at least we know now. Writers who know what they're doing don't accidentally expose the conceptual wound of unspeakability at the heart of the last thirty-five years of science fiction and fantasy. They do, however, return to working on the program again next week.