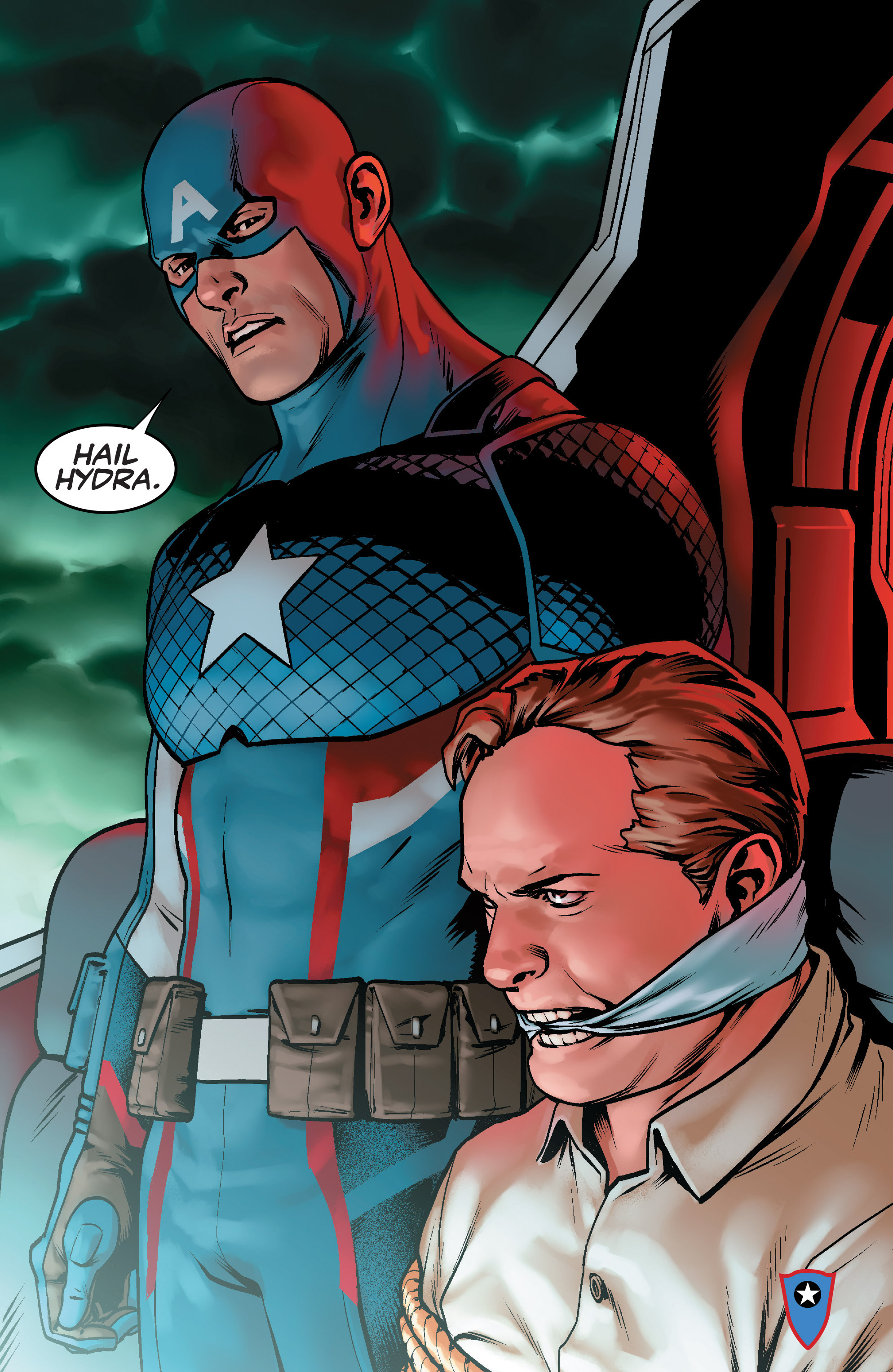 Let's give the Proverbs a week off and talk about Secret Empire. For those who haven't followed, this was Marvel's annual shitty summer crossover, this time with the premise that history has been rewritten to make Captain America a Hydra sleeper agent who has now taken over the US. So basically, "what if Captain America were secretly a Nazi?" This has been widely panned, even moreso than Marvel's summer crossovers usually are. On the one hand, this is entirely appropriate, as Secret Empire is not only one of the worst-written crossovers in superhero history but also one of the most flatly evil. On the other, relatively few people have actually articulated this, with an alarming number of critiques of the comic instead being exercises in point-missing far almost as epic than the crossover itself.
Perhaps the most spectacularly off-base thing to be frequently said about the comic is that its premise is an insult to the legacy of Captain America co-creator and avowed Nazi-puncher Jack Kirby. It is difficult to entirely grasp the value system under which making a fictional character he drew forty-three issues of into a fascist is an insult to his legacy but the basic existence of Marvel Comics as a corporate entity built on the systematic exploitation of his labor is not. Certainly it is not a value system worth taking seriously. But it is a commonly expressed one, in a way that is revealing about what superheroes, as a genre, have decomposed into over the seventy-six years since Captain America's creation.
The second spectacularly wrongheaded objection to Secret Empire is closely related, namely the idea that its premise is anything short of brilliant. Of course Captain America as a fascist is a sensible story idea. He's a blonde-haired, blue-eyed "super-soldier" named Captain America. The concept has always flirted with fascism, as has the superhero concept in general, with its fantasy of puissant men in uniforms who will protect us from danger and change. Exploring that tension has often been brilliant, whether consciously and carefully as in Alan Moore's Miracleman and Kieron Gillen's Uber, or with reckless overenthusiasm as in Frank Miller's The Dark Knight Returns and Steve Ditko's Mr. A. As premises for crossovers go, it's far better than "a superhero civil war over the ethics of predicting the future," "heroes and villains switch places," or "Secret Wars again."
But premises aren't everything, and Nick Spencer, the writer of Secret Empire, is spectacularly the wrong man for the job. To knock down one last bad argument about the series, this is not because he's a borderline fascist. He was a centrist who ran for Cincinnati city council as a Republican in 2005 and drifted to the Democratic party in the wake of the Tea Party and Trump. His politics are shitty in almost the precise way you would expect from that, and indeed slightly shittier given that he's a thin-skinned Twitter bully to boot. In most regards this is considerably preferable to being a fascist, but unfortunately not when it comes to writing Secret Empire. An actual fascist might at least turn in something with the gonzo pleasures of Miller or Ditko – something that can be respected and warily enjoyed. Instead we get something far more insidious – a comic that firmly believes it's anti-fascist but is, in practice, conspicuously opposed to any effort to materially resist it.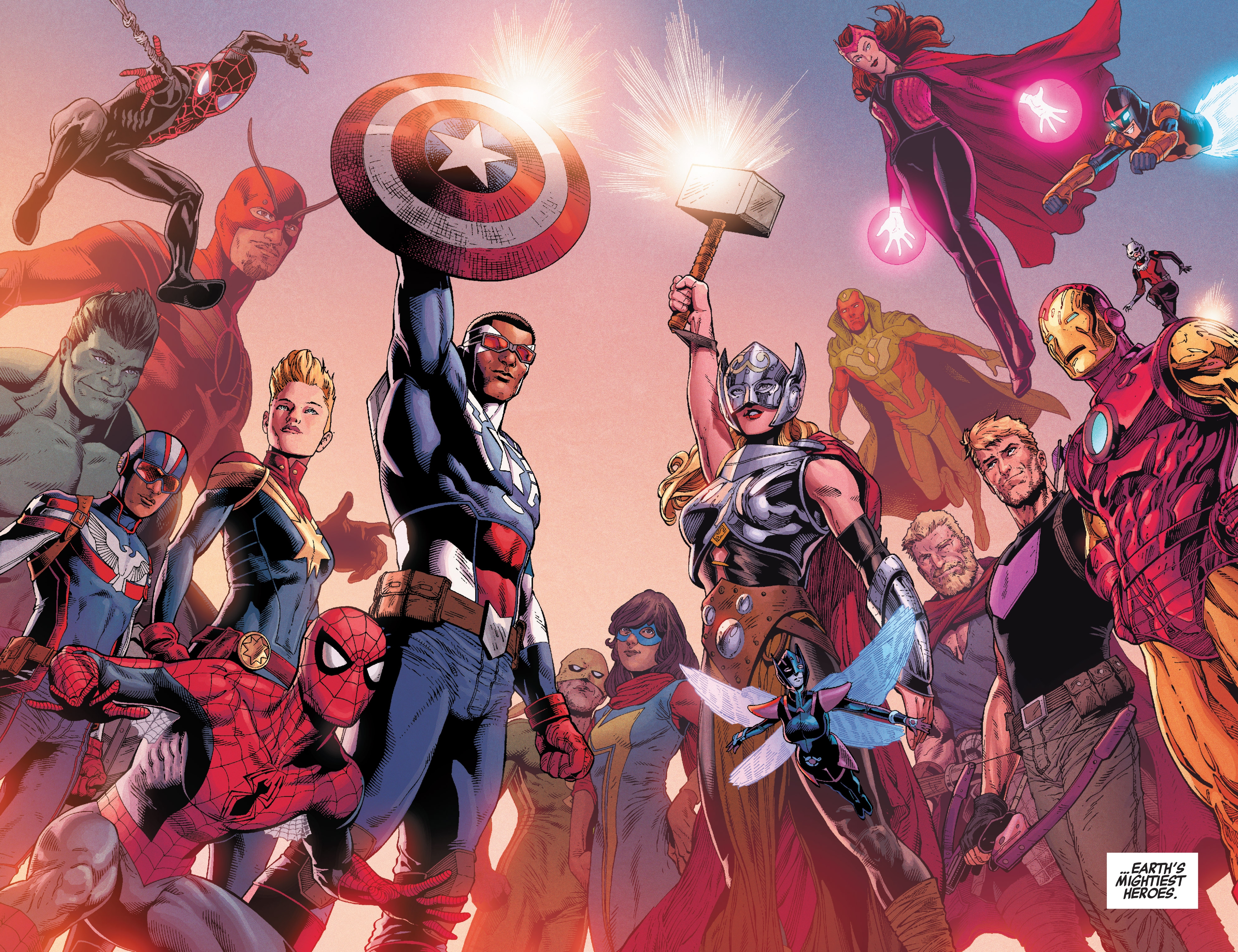 In the interests of being scrupulously fair while skewering somebody, we should acknowledge that Spencer and Marvel were dealt a rough hand with the details of the book's politics. They played this hand with maddening disingenuity, publicly denying that the book was about current events in a way that was even more transparently untrue than their denial that the story would end with the cosmic cube being used as a big reset button. But while the story is clearly about Trump, the buildup to it started with the Avengers: Standoff crossover in early 2016. Which is to say that it's about Trump, but it was never planned to be about Trump's Presidency. No doubt Spencer was assuming that Secret Empire would come out under the Clinton Presidency, its engagement with fascism being something between an alternate history and pissing on the corpse of an already defeated threat. Instead, however, he's put in the unenviable position of writing a comic about how to resist fascism in the immediate context of the Trump administration, with the final issue dropping two-and-a-half weeks after Charlottesville. What was intended as a valedictory kick to a defeated threat was instead saddled with an urgency it had no hope of rising to. In the face of this the ending, with its nauseating focus on reaffirming the heroism of the various Marvel heroes, culminating in a double splash of them drawn in clean, iconic poses with a caption proclaiming them once again to be "Earth's mightiest heroes," is even more desperately pathetic than normal.
It is worth pausing, however, to fully appreciate the systematic magnitude of Spencer's efforts to make this ending suck more. After all, over the year and a half worth of comics Nick Spencer wrote as part of this arc he naturally engaged with the question of how to oppose fascism several times before reaching his conclusion, offering up a variety of scenarios only to knock them down in favor of his ultimate endpoint. Indeed, given that Secret Empire is riddled through with portentious narration about how the heroes faced their darkest hour and fell but rose again to have hope and fell again and so on it's difficult not to read it as a set of rejected answers leading up to the correct one.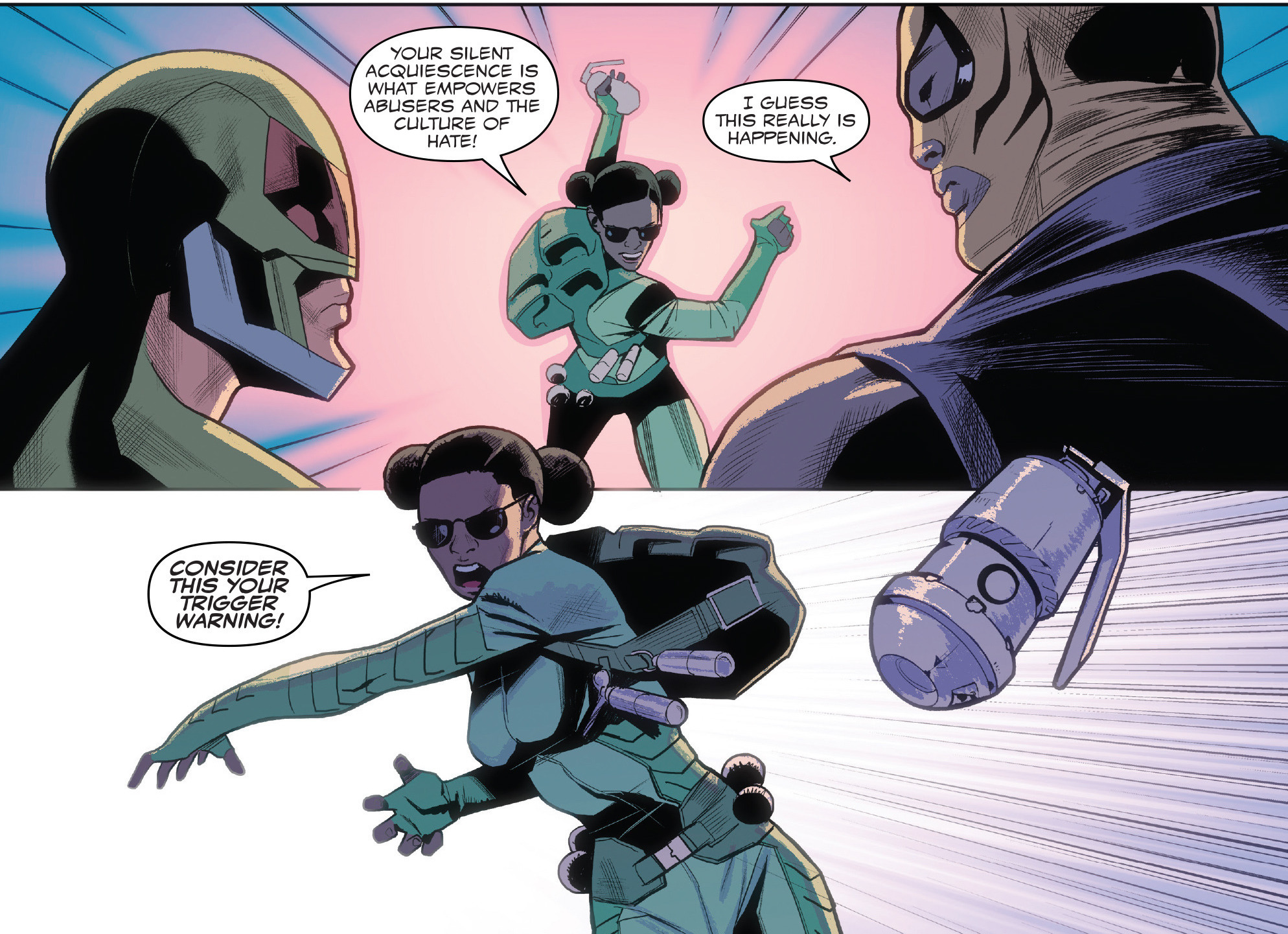 In this regard, it is necessary to look at one of Spencer's two lead-up series, Captain America: Sam Wilson which, as the title suggests, focuses on the adventures of Captain America as embodied by Sam Wilson, whose usual identity is as The Falcon and who is, significantly, a black man. Spencer used the bulk of this series for clangingly unsubtle political commentary, positioning Sam Wilson as a sympathetic progressive under constant criticism from right-wing media who must figure out how to make the world a better place within the limited power that being Captain America affords him. As Spencer writes it, this not only means trying to be effective in a hostile media environment, but repeatedly facing down more militantly leftist factions. The most infamous moment of this came in an issue where he created a throwaway bunch of costumed characters to satirize SJWs – an ethnically diverse team of two women and a guy who call themselves the Bombshells. Over the six pages these characters appear Spencer manages to work in them saying that they're "here to teach you some tolerance or else," proclaiming the campus a safe space for everyone except the right-wing speaker they're throwing grenades at, monologuing about how "your silent acquiescence is what empowers abusers and the culture of hate," throwing a grenade while shouting "consider this your trigger warning," complaining that the heroes opposing them should be allies, shouting "your very presence is problematic in the extreme! I can't even," and finally referring to Sam Wilson as "Captain Patriarchy" come to "mansplain why our principled stand against hatred isn't appropriate." If it weren't for the sympathetic black lead, you'd confuse it with a John C. Wright piece. Every other character treats them with utter contempt – even characters whose narrative function is otherwise to offer positions for Spencer to knock down as inappropriate.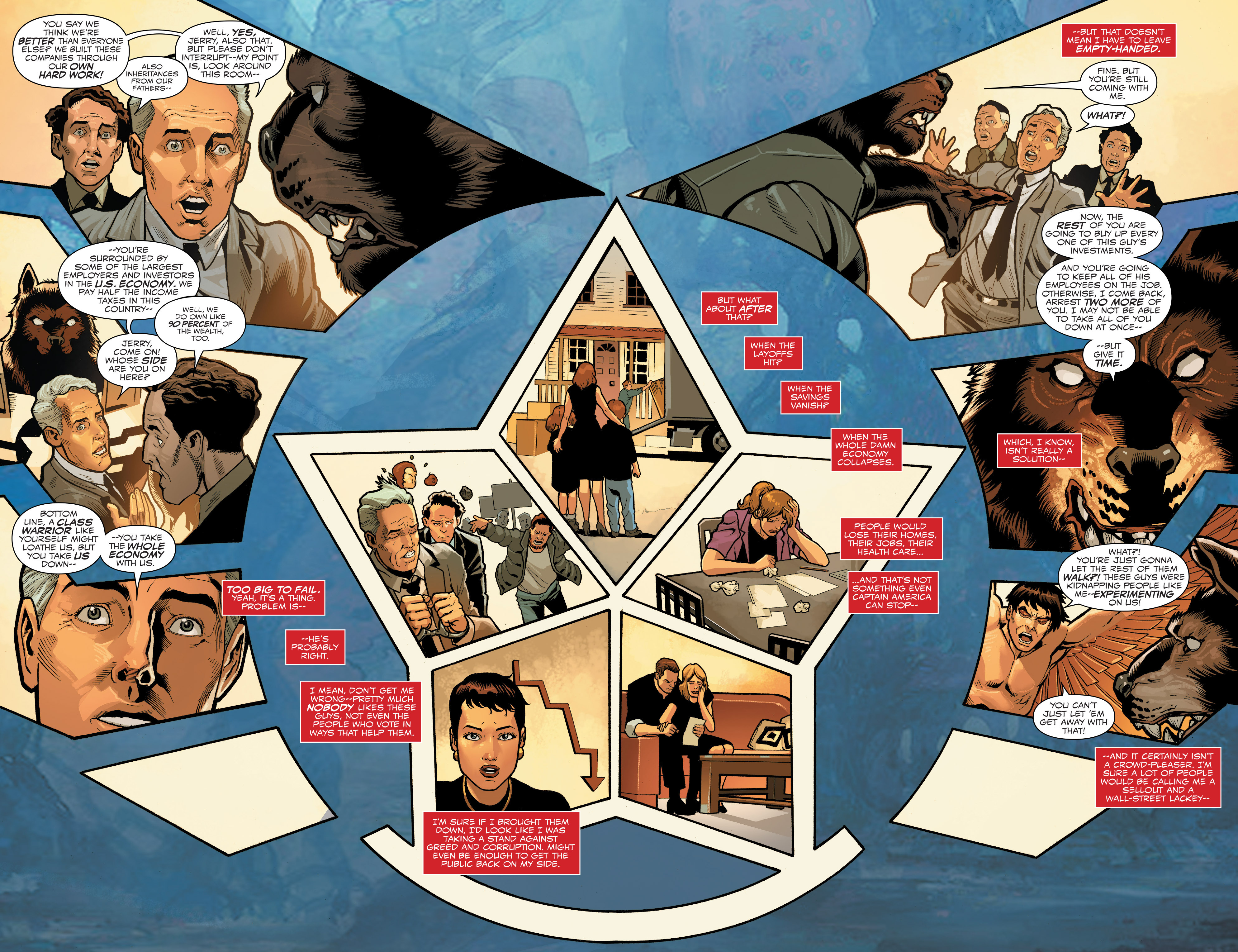 Meanwhile, elsewhere in the series Spencer concludes that resisting heavily armored private police that routinely beat suspects with any force is wrong, going to preposterous lengths to kill off the obscure 90s character Rage that he brings back in order to make that case. And, in the book's most thoroughly jaw-dropping sequence, he has Sam Wilson conclude that he can't possibly arrest the rich capitalists who have been bankrolling horrifying experiments to turn people into animal-human hybrids because they are too rich and it would damage the economy, a decision that gets an ostentatiously laid out double page spread to really emphasize the argument. The common link of all these impressively bad takes is straightforward: in every case, Spencer is steadfastly opposed to any vision of leftism that offers resistance or disruption.
It's not a surprise, then, that within Secret Empire proper, the most obvious and significant rejected answer to fascist dictatorship is killing Captain America. A large portion of the story is spent following up on a plot thread from Civil War II in which people glimpsed a possible future where the Miles Morales version of Spider-Man kills Captain America. In Secret Empire the circumstances surrounding that future come to pass, with Spider-Man and a stable of other teenage heroes being actively trained by Black Widow for this purpose until, in a last-minute twist, it's revealed that Black Widow's plan this whole time has been to stop Spider-Man from killing Captain America so that he wouldn't become a killer. This is, of course, one of the most obvious edge cases when talking about violent resistance to fascism – so much so that 18 U.S. Code § 871 forbids discussing it in the specific. But there are few thinkers worth taking seriously who would not advocate for a decapitation strike against a fascist organization run by a charismatic leader that is actively engaged in genocide and seeking to obtain cosmic artifacts of unimaginable power that would allow it to rewrite history in its own image.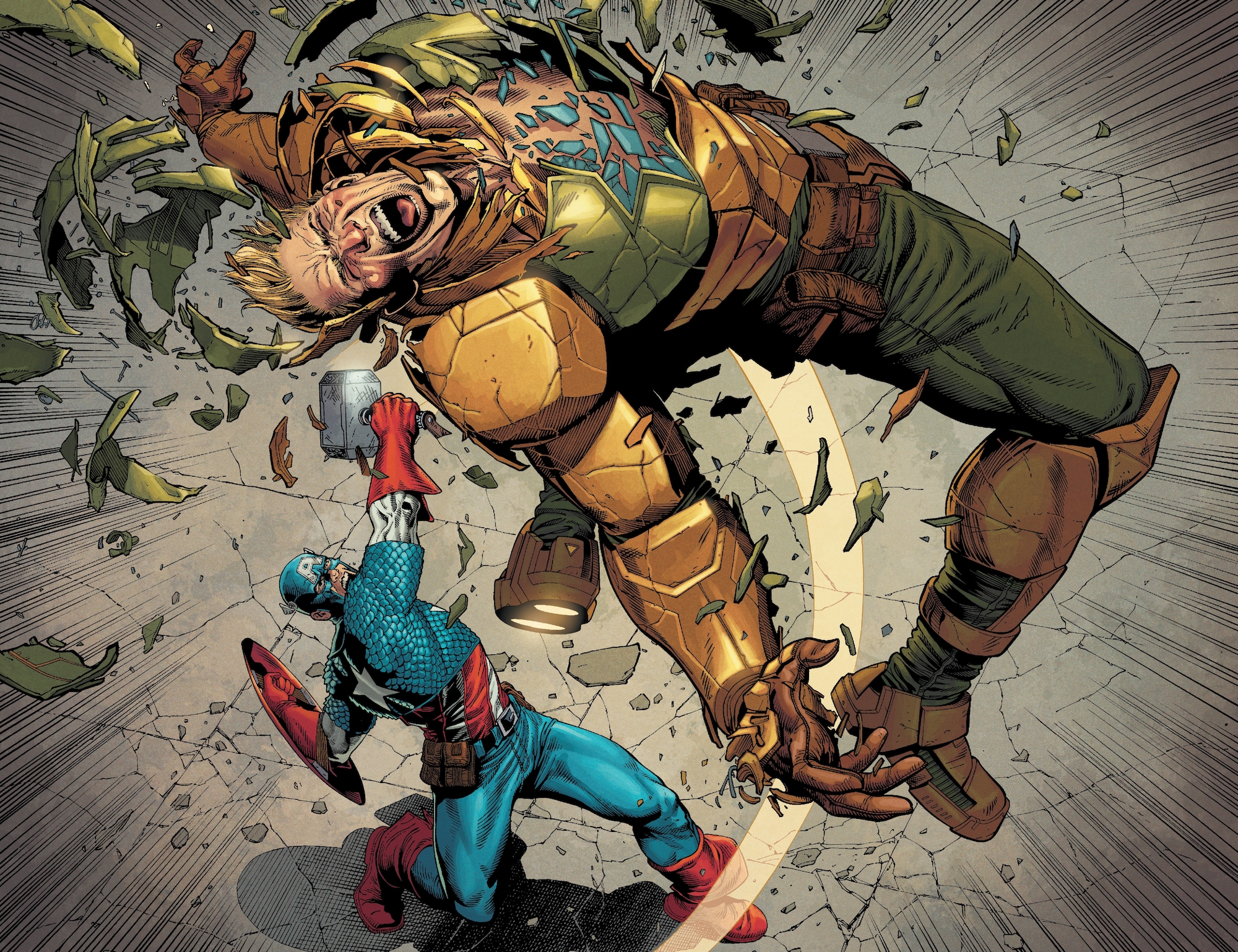 So what does Spencer ultimately offer up as his approved response to fascism? A series of tactical surrenders leading up to the revival of the non-Nazi Captain America, conjured out of the memories of the Cosmic Cube, who then dutifully beats the stuffing out of Nazi Captain America. And while the dreadful narration reiterates over and over again that the correct response to fascism is to "stand and fight," it's hard not to notice that this is the first time the series has actually shown anything other than complete and utter disdain for the idea. Taken in the context of the rest of the series, it seems to declare that the appropriate response to fascism is to lie down and take it until God sends an authorized Nazi-puncher to stand and fight on your behalf.
This is unambiguously appalling. It transcends merely being a bad suggestion and is instead outright offensive, an account of ethical duty and resistance so completely bankrupt it cannot even rise to the level of having nothing to say. As practical advice, it is indistinguishable from absolute capitulation to fascism. As the culmination to an allegorical exploration of resistance it's pathological – the ideology of superhero liberalism taken to its terminal perversity. And in the cavernous absence carved out by this thundering unsight what most immediately thrives is the book's depictions of fascism. After all, there are a lot of them. Nazi Captain America is not positioned as a distant, abstracted threat viewed from the perspective of those opposing him. The book spends a lot of time in his head, reiterating how heavy lies the crown. And more than that, it spends a lot of time showing him in a series of dazzlingly imperious outfits stomping around and being imposing, generally flanked by a bunch of ostentatiously cool henchmen. Secret Empire eroticizes fascism in the same way it does violence, packaging it as the object for the reader's titillated gazes. It doesn't even deny its awkward boner – one of its early and controversial moments was the ending of its Free Comic Book Day preview issue, which culminated in Captain America lifting Thor's hammer as the narration proclaimed him "more worthy" than the heroes. Yes, when he tries to do it again in the final issue he's now unworthy, the setup to the revived Captain America lifting it up and smacking him in the face with it, but what is that even supposed to mean at that point? That fascist dictators are worthy to wield the power of Thor when they take over, but it's only the unfortunate moral compromises they make while in power that corrupt them? I mean, I say that with mock authorial incredulity, but I can't actually come up with a better interpretation of the text. That really is what it seems to say.
What makes this worse is, ironically, the very fact that the comic imagines itself to be anti-fascist. It would literally be a better comic if it had the courage of its (or any other) convictions and embraced its fascist instincts. For all that The Dark Knight Returns offers little more than an adolescent thrill at the imagined transgressiveness of asking "wouldn't it be awesome if Batman weren't too much of a pussy to shoot people," it is at least a conscious expression of its instincts. Miller may be unaware or dismissive of the ethical implications of the basic politics of superheroes, or, worse, he may not be, but he at least clearly recognizes that those politics exist. Spencer, however, honestly seems to have no idea that the politics are even there. He has no comprehension that superheroes are not simply a neutral medium in which he can show a fascist getting overthrown and have it straightforwardly communicate that fascists are bad. He's publicly masturbating to fascist iconography and doesn't even realize he's doing it.
Some of this – much of it, even – is simply that Nick Spencer is very bad at his job. But that only explains why Secret Empire serves as a straw that breaks the camel's back. Yes, Spencer is too crap to avoid simply falling headlong into the worst pathologies of superhero liberalism, but he didn't create those pathologies. All he did was surrender to them completely. The fact of the matter is that Secret Empire is bad in ways that are natural extensions of the genre, and, at least inasmuch as superheroes have become one of the bedrock genres of 21st century popular culture thus far, of that broader culture. Yes, the genre largely originates out of the collision of pulp adventure heroes and World War II and was initially heavily focused on punching Nazis, but its ability to illustrate effective resistance to fascism was based fundamentally on the fact that in 1941 resistance to fascism amounted to uniformed American soldiers attacking non-American fascists. Outside of the material context of a literal war against an external fascist threat, the basic fact is that a designated and uniformed bunch of special people whose role is to uphold the status quo through violence are a uniquely flawed framework for talking about fascism.
Typically when we think of occasions when a work of art issues a challenge such that any who follow must either answer or be shown as lacking, we think of visionaries and iconoclasts. But with Secret Empire Nick Spencer joins the exclusive ranks of those who have managed it through sheer incompetence. This is not merely an embarrassingly bad summer crossover that should serve as a vivid wake-up call to Marvel regarding the need to reexamine their approach to publishing. This is a comic so gobsmackingly and bleakly awful that it begs to be the epitaph for the entire genre – the point where we, culturally, accept that the superhero craze we've been living in since the turn of the century has run its course if this is what it does when written on all of its default settings. The gauntlet has been thrown down. From here, the onus is on anyone working with superheroes to demonstrate why the genre should even exist.