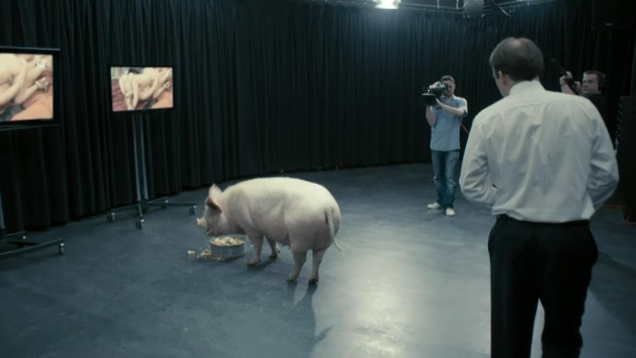 There is a moment in the first episode of Black Mirror, in which, in the midst of conjuring the future that is now our pigfucking reality, a character mentions that the Guardian has posted a brief column about the cultural significance of the pig. The script does not specify whether it is by Jonathan Jones, but it's safe to assume that it is. Call it a headcanon, as the kids say on social media.
It's a soft jab, to be sure, not least because Brooker is himself a Guardian columnist, offering such gripping insights as an unfunny ripoff of Jack's "Tricky Dicky" series and this shitty thing about a German project to build an adaptive AI to play Super Mario World in which Brooker blatanty brainstorms for the forthcoming-to-Netflix twelve-episode third season of Black Mirror while demonstrating a complete lack of interest in any sort of material understanding of the technology he's decided to undertake as his journalistic beat. Or perhaps more accurately a loving jab; after all, part of the heady genius of "The National Anthem" is the sublime coherence of its premise. In short, it works because the choice of fucking a pig is tremendously clever.
Well, no, that's too simple. It works because it constrains itself to the world it's set in. It's still built largely out of satirical absurdism, but it keeps its excesses carefully chosen and strangely modest, and then follows them to a logical end. Put another way, it's about a man who fucks a pig, but it takes its pigfucking seriously, not just following the premise to its inevitable and squealing conclusion but appreciably far past it as mass spectacle turns to mass horror and finally the same banal political reality that presumably preceded it.
The problem, to be blunt, comes when Black Mirror embraces technology, which it does with tedious half-heartedness. The second season episode "Be Right Back" is illustrative. In one sense it shares all the glimmering high points of "The National Anthem." Its casting is impeccable – Haley Atwell and Domhnall Gleeson are as good a leading pair as any show has ever had. It's gleefully high concept, revelling in rural gothic iconography and cod-Frankenstein moments. It's emotional and clever and well-done. And literally the only thing it has to say about the world is "social media's kind of artificial, isn't it?"
There are two problems here. The first is that Black Mirror, and indeed Brooker's work in general, is irksomely non-materialist in its approach to technology. The aforementioned Mario AI column is instructive. Here's the actual paper that inspired the article. What quickly becomes apparent here is the extent to which all of the enthused talk about how the AI "experiences basic emotions, is compelled to act by urges such as "hunger" and "curiosity", and is painfully aware that he only exists within a meaningless two-dimensional artificial framework from which he can never escape," in fact all that's happened is that the researchers have come up with clickbait-friendly ways to describe the process of solving Mario. "Hunger" amounts to nothing more than "Mario should get coins." "Curiosity" just means "Mario should default to wanting to go forward." All they've done, in other words, is anthropomorphize the tactics involved in solving a Mario level and then turned an AI loose to learn the rules. The resulting decision tree, although the video suggests that it's complex, honestly isn't.
Now yes, of course Brooker is exaggerating for satirical effect, that being what he does as a satirist and all. But there's a crucial and in many ways more important aspect that gets overlooked in the process, which is that for the most part AI hasn't actually advanced particularly meaningfully from the days of ELIZA, there are very possible fundamental limits to our ability to understand and model this whole "consciousness" thing, and the entire edifice of the posthuman Singularity is likely to turn out to be as much crap as the edifice of space travel. The dystopian nightmare isn't that Mario "learns that jumping on a Goomba (the scuttling mushroom enemies common to all Mario games) will cause it to die, thereby making him a self-aware murderer trapped in a cartoon world, his cheerful surroundings belying the achingly bleak nature of his existence." It's that party tricks like winning Jeopardy, playing Super Mario World, and identifying pictures of cats are all AI is ever going to do, and while the tricks might get gradually more impressive, the sense of them as gimmicky tricks will simply never alleviate.
Which might sound like a description of "Be Right Back," which is after all about the fact that the computerized clone of Ash is an inadequate substitution, but in fact it makes the exact opposite and almost certainly entirely vapid point. As an AI, Ash is largely flawless. His natural language processing is superb and nearly instantaneous. He's adaptive and capable of learning. He can correctly deduce complex emotional reactions. His gaps and failures are almost all visibly stupid – he's apparently been programmed to have sex, but nobody thought to put an "act like you're sleeping" routine in. His adaptiveness has seemingly arbitrary gaps. And this is explicitly blamed on the artifice of social media; on the idea that the selves we present online aren't real. But even here Brooker is stupidly non-materialist: one of the things Ash specifically can't do is get into a fight, which surely makes him literally the only person to have never left any sense of what they're like when they're angry on the Internet.
Surely it is not controversial to suggest that this is a bit shit. That a biting satire or a black mirror held up to society in the year 2013 could maybe stand to have something more to say than "we aren't entirely honest about who we are on Facebook." That "damn kids get off my lawn" is, simply put, just not a gripping point. Although frankly, banality is preferable to the 2014 "Black Mirror White Christmas" special, an appalling piece of sexism that everyone involved in should feel actively bad about themselves for making save arguably for Jon Hamm, who is at least just playing the sort of part he's good at.
Where shall we even begin in trashing this? The comedy schizophrenic who engages in a nonconsensual murder-suicide pact because mental illness is funny amirite? The fact that its two main characters are a PUA and an abusive stalker, both of whom the story is visibly more interested in than any of their victims? The fact that a story whose central technological metaphor is porting the idea of blocking people on social media to real life, that groks the fact that these blocking tools are only partial solutions and that the people we block can still hurt us, that filmed pretty much at the apex of early Gamergate, and that is still first and foremost about sad white men and their fucking feels? Nah. Let's just focus on the end, in which a violent abuser is tortured for all eternity at the hands of a female police officer whose only character trait is visibly "stone cold bitch." I mean, Jesus fucking Christ, Charlie, if you're going to write a script whose only visible trait is being completely fucking wrong about everything just get Jonathan Jones to do it.
In many ways this becomes one of those unfortunate points where the basic quality of the text starts to work against it. Because the truth is that even at its most infuriating Black Mirror is well-written, well-directed, and fucking amazingly cast. It's a profoundly intelligent and well-made show except for one tiny little aspect of it, which is, you know, actually doing what the title demands of it and holding up a black and terrifying mirror to our society.
I mean, look, a world in which our late capitalist drive for growth at all costs is blatantly running against the fundamental resource limitations of the planet, where our insistence on the Protestant ethic remains a fundamental and inarguable part of political discourse despite the blatant reality that we in no way have enough work that needs doing, and where the efforts to produce enough work to maintain some semblance of the Protestant ethic is literally killing us all, a black mirror is not a fucking observation that we should look up from our phone screens or that it's tough to be an abusive stalker.
And for one brief and squealing moment it seemed like we might get this; that Black Mirror might actually stare long and hard into the darkness and summon forth something that revealed the awful reality of the world. Indeed, for one moment, as the camera panned across the people watching the Prime Minister fuck a pig, their faces turning from amusement to horror at the awful carnality of it, it does just that.
And then it flinches, and we get a series about sad little manfeels. A bunch of Guardian columns brought to life, shambling around like the liberal consensus is going to save us from itself. It won't, and Charlie Brooker's clearly intelligent enough to realize that, but apparently his "satirical pessimism" (to quote Wikipedia) doesn't actually extend comfortably past how these damn kids will never be as witty and insightful as he is. But then, perhaps that's the real appeal of a black mirror: you can't actually see anything in it, least of all the way the future is creeping up behind you, its teeth bared.