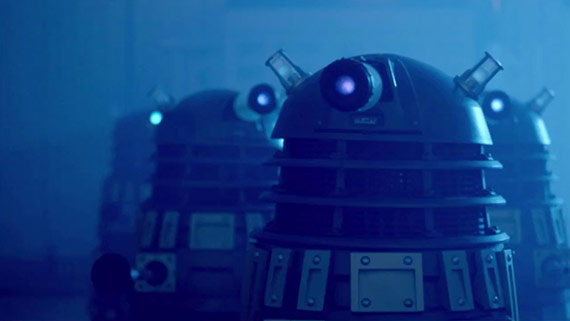 WE ARE THE DALEKS. WE HAVE INTERIORITY.
If you want any Eruditorum Press books that aren't Neoreaction a Basilisk, they'll be going off sale around 2:00 EST this afternoon. This means it's your last chance ever to buy Guided by the Beauty of Their Weapons.
It's August 30th, 2014. David Guetta and Sam Martin are at number one, with Taylor Swift, Magic, OneRepublic, Wankelmut, and Union J also charting. In the last week, Modern Family and Breaking Bad won at the Emmys, while Amazon purchased Twitc. Alex Salmond and Alistair Darling debated Scottish Independence, Douglas Carswell defected from the Tories to UKIP, and Kate Bush staged the first concert of her Before the Dawn series, marking her first live performance in thirty-five years.
On television, meanwhile, Peter Capaldi climbs around inside a Dalek. On one level, this is another example of playing Capaldi's rollout inordinately safe, going from a conservative Robot-inspired debut immediately to a Dalek story. On another, however, there's a compulsive strangeness to this Dalek story. It's based on what is clearly a kind of batty idea. Fantastic Voyage with Daleks is several miles from the sanest Doctor Who pitch ever. This is not necessarily a bad idea, of course. Some of the best Doctor Who stories ever come from completely insane pitches, and we all know what Series Eight story I'm thinking of here. But battiness is not a guarantee of success either, or else Daleks in Manhattan would be good.
More broadly, there is an element of "will this do?" to every Dalek story since about Doomsday. The answer to that question is often "yes," and even sometimes "and then some," but there's still a niggling sense of "well we have to do Dalek stories occasionally so let's see if we can come up with something" to them all. And Into the Dalek exhibits this more than most. It's not fair to say that nobody was excited to see Phil Ford named as a writer for Series Eight, but those that were probably overestimated his contributions to The Waters of Mars and didn't watch The Sarah Jane Adventures. Those who did recognized Ford as a writer who turns out unremarkable mediocrities with tedious repetitiveness, and his hiring as a clear and conscious lack of ambition for this story. The cynical way to frame it is that Ford is here to be rewritten by Moffat, a task he basically succeeds at.
Certainly anyone looking for reasons to slag off Into the Dalek is going to have a fairly easy time of it. Most of its best ideas were plagiarized from Rob Shearman. Nobody has actually come up with an interesting idea of what should be inside a Dalek, and the resulting set design is insipid. The CGI largely aspires to adequacy. But none of these are catastrophic problems. And while the same can be said of the stories' virtues—none of them really manage to justify the whole—the story attains a sort of harmless mediocrity, neither particularly loveable or hateable. This will be something of a recurrent theme over the first half of Series Eight, which contains no egregious turkeys and exactly one classic, and is the clear downside of the extremely cautious rollout of Capaldi.
On the other hand, it's hard to say that something like Into the Dalek wasn't wise. Capaldi has his moments in the episode, though he understandably falters at the task of standing in front of a green screen and delivering lines like "Remember how you felt. you saw a star being born. The endless rebirth of the universe." But there's a strong sense of work in progress here. His opening TARDIS scene with Journey Blue is electrifying, and though it's not quite the character Capaldi will eventually settle on, it feels confident and thoughtful. Elsewhere, however, Capaldi still feels slightly cowed by the part, still looking for the edges of it and at a point where his decisions are to try something instead of to do something. In that regard, the Daleks are playing much the same role as the Paternoster Gang, being a known quantity that can anchor things while the star keeps honing in on the part. (And of course Moffat did something quite similar with Matt Smith's first two episodes, using River Song and the Weeping Angels to cover Smith's work in progress performance; he just subsequently hid the story as episodes four and five of the season so that the audience was more familiar with the performance and would fill in the gaps left by the star's inexperience.)
Another way of looking at this, then, is that Moffat is repeating the ploy of redoing a past Doctor's debut story, this time redoing Power of the Daleks. In one sense this is the second time he's done that, having already had Gatiss pilfer liberally from it in Victory of the Daleks. Though this comparison flatters Into the Dalek, however, it's worth noting the inherent absurdity of giving Robot a luxurious seventy-five minutes and then trying to do Power of the Daleks in forty-five. What worked about Deep Breath was that it slowed down well beyond what was necessary, giving Capaldi and Coleman acres of space to work in, a decision that contrasted compellingly with the disposability of the actual concept. The best parts of Power of the Daleks, however, were always dependent on the fact that it was a 1960s six-parter that got to slow burn characterizations and revel in the strangeness of its concepts. Even though Into the Dalek comes nowhere near the hyperactivity of Series Seven Moffat, it's still a big loud action story at heart. And that means all of what Whitaker did back in 1966 that this story has room for is the part that's become a cliche—the sanctimonious Daleks who create moral equivalences. And the only way it has time to communicate that is in the most tedious way possible, with the Daleks attempting to create moral equivalences with the Doctor, and in the broadest terms, which is to say by nicking Rob Shearman's climactic lines without any of the bleakly absurdist buildup that justified them.
Because let's be clear here: that part of the episode generally pretty crap. The Doctor's hatred of the Daleks, who are, let's recall, genocidal nightmares who have previously attempted to literally destroy the entire universe, is in no way equivalent to the ideology that motivates mass genocide. The Doctor is, in fact, correct to define himself as not the Daleks, and the dramatic weight of telling him he is a good Dalek, even with then newly added double meaning of "good," is fairly negligible. Likewise, all of the "am I a good man" business is criminally vapid. Clara's "I don't know" is preposterously unjustified (compare it to her unabashed hero worship of him next week), as, frankly, is the idea of the Doctor becoming consumed by the question in the first place. As a dramatic anchor for the story, it certainly drags it down.
Except there is more to this story than that: there's Clara. Into the Dalek does not emphasize her revamping in the same way that Deep Breath did, but it still continues in the vein established by that story. Clara is given a measure of authority over the Doctor that's unusual for a companion. It's not that the joke of the companion being the Doctor's carer wouldn't have worked for plenty of other companions; it's that relatively few of them would ever say it. And not only is Clara the Doctor's carer, at various other points in the story she's his teacher and therapist. All of these are roles with tacit power relationships, and the power relationships always flatter Clara. When people complain about this, they tend to suggest that this constituted making the show about Clara, but it's hard to see why that would be a bad thing when you have Coleman and Capaldi immediately developing a chemistry to rival Piper and Tennant, Aldred and McCoy, or Manning and Pertwee. If the fact that in 2014, at fifty-one years of age, the show finally embraced the promise of an iconic double act by letting the female half of the equation actually have a starring role is a problem, well, the problem is you.
But this is also the story that introduces Danny Pink. Danny is not a presence here per se; he's restricted to some light comic scenes that do not really give a sense of him as a character beyond the detail that he's ex-military. But the story is still about him inasmuch as all of the bits he's not in are about the Doctor's complex relationship with the idea of soldiers. Well. I say complex. In practice, Into the Dalek has relatively little to say about this. dynamic. It's just that what it has to say is generally satisfying, most particularly "you don't need to be liked, you've got all the guns." Equally, the Doctor doesn't actually get to be right about any of this. His intolerance for soldiers is directly equated to his (morally condemned) hatred of the Daleks by juxtaposing his spurning of Journey Blue with the "you are a good Dalek" business. This doesn't go anywhere, but more in the sense of aporia than fizzling out. It doesn't quite justify the pathetic absurdity of trying to sell the Doctor and the Daleks as moral equivalents, but it is at least interesting in its own right, and more to the point it's an idea the series will develop interestingly over the season. (Indeed, the more charitable reading of Ford's partial authorship is that the soldier material was part of his season arc, and that he wanted to handle it, while the meat of the story was more straightforwardly Ford's.)
Much of why this works is that unlike the Daleks, there actually is a moral complexity to soldiers, both in reality and in Doctor Who. On the one hand, they are acutely of the working class, subject to the capricious whims of authority. On the other hand, they are the direct enactors of the violence by which that authority is enforced and maintained. One can try to collapse this into a sort of "love the sinner, hate the sin" framework whereby one evinces sympathy and compassion for the individual soldier while remaining steadfast in opposition to the larger system they serve, but that kind of distinction collapses pathetically in the face of actual efforts to employ it in the real world. It's murky and difficult, in the way that the interplay of individuals and systems often is. And it's a murkiness that's often appeared in Doctor Who between the Doctor's tendency to find themself opposing alien armies (with the Daleks serving as the archetype of this) and their tendency to ally, with varying degrees of reluctance, with human military forces. So picking at that scab and having the Doctor be firmly situated in the murk is effective, or at least it would be if the whole thing weren't rooted in the Daleks, i.e. the single least morally ambiguous soldiers in the entire series.
And yet the Daleks, all told, work here too. Sure, the actual interior of them is a bust, but this is the place where the decision to hire Ben Wheatley to direct pays off the best. Hiring an established and acclaimed film director to helm Capaldi's first two episodes provided a stabilizing baseline. These episodes just plain looked good. The visual match between Journey waking up in the TARDIS after her death and Gretchen waking up in Heaven (in part the work of an uncredited Rachel Talalay, though she was working from Wheatley's ideas) is a fantastic way of alluding to who Missy is. But the real triumph, as I suggested, is how good the Daleks look. The promise of explosive Dalek action has always been a double-edged sword for the series, simultaneously serving as the primary appeal of the concept and as a thing that the realities of BBC budgeting always leave partly out of reach of the program. But Wheatley sets a new high water mark, offering a deft play of light and color that is at once brutal and breathtaking. This feels like what Daleks always should have looked like, to an extent that just about justifies the naff bits promised by the actual title. (Indeed, part of why it works is precisely because it's a climactic reward as opposed to something that's sustained for forty-five minutes.)
So in the end we have a story with two strands, each of which is strong on its own merits (or at least competent), but where the connection between them lets down the whole. But as we said, this was never a story that aimed higher than that. Its purpose was to not be embarrassing while Capaldi progressed towards getting how to be the Doctor, and it cleared that bar handily. Will this do? Surprisingly well, actually.