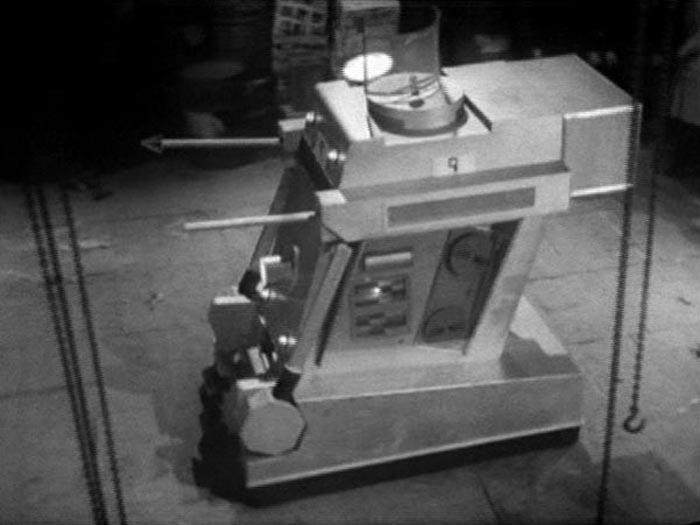 It's June 25th, 1966. Between now and July 16th, a three-year-old girl will die at the Henry Vilas Zoo in Madison, Wisconsin after crawling under a restraining fence and being pulled into an elephant cage. Hundreds will die across the midwestern United States in a six-day heat wave, including 149 in St. Louis, and as many as 650 in new York City. Eight student nurses will die in Chicago when Richard Speck breaks into a dormitory and strangles them. This is in addition to numerous deaths in the Vietnam War, the deaths of Polish poet Jan Brzechwa, French painter Julie Manet, and the world edging ever closer to the eschaton. Also, The War Machines airs.
Looking at it in 2020, the two things that jump out about The War Machines are how prescent it is and how prescient it isn't. On the one hand, its basic concerns about the destructive possibilities of computer technology are clearly ahead of its time. It's not that evil computers were unknown in 1966—they started appearing in sci-fi literature in the 1950s, the same decade that Alan Turing broached the subject of whether a machine could think in his landmark paper "Computing Machinery and Intelligence." But the consequences of artificial intelligence were still firmly a niche concern, and The War Machines focus on them has more in common with the world a half-century later on than a lot of what's around it in the series. That this is by the same writer as the bewilderingly blackface-based race reversal of The Savages immediately before it and was filmed just before the vapid piratical adventures of The Smugglers after it feels like a more profound juxtaposition than Doctor Who usually manages.
And yet on the other hand, much about The War Machines has aged poorly. The fundamental clumsiness of the computer, with its tediously slow synthesized speech, the even more clumsy War Machines, the weird overlaying of mind control onto the computer plot, all of this feels like an aggressively outdated bit of kitsch, which, to be fair, it unquestionably is. It is ahead of its time, but not nearly far enough ahead to avoid feeling comically outdated.
On top of this tension, meanwhile, it shares The Daleks' odd suspension between two apocalypses, although unlike The Daleks it focuses primarily on the ideologies involved instead of on the eschatons themselves. On the one hand, you have a computer named after Germanic gods, a point Ian Stuart Black doubles down on in the novelization by having the first War Machine be named after the Valkyries. Norse paganism isn't always a marker for Naziism, but when you've got men shouting at the camera about their Teutonic digital master's plan for world domination, well, to quote Tat Wood and Lawrence Miles, "it's all looking a bit Nazi."
But as Wood and Miles immediately turn around and note, other factors point towards standard rhetoric about Communism, most obviously Polly's brainwashed comments about how she loves to work for a cause, and for that matter the brainwashing in general. So we're stuck between two ideologies that are being clumsily grouped under the heading of "authoritarianism." As we've noted before, this rough equation of fascism and communism is egregiously misguided, but instead of screaming further into the void about the validity of Marxism like some Doctor Who critics, let's try to come to a useful conclusion.
To wit, what does the conflation of these two ideologies with the nightmarish domination of technology over humanity actually point to? Why are these three things coinciding? One could turn to Ian Stuart Black's other Doctor Who stories, which are similarly concerned with abusive and destructive systems of power, but that ultimately only gets at the reason he's engaging in the drab collapse of two ideologies that are in practice aggressively different even if one does engage in the tediously misguided equation of Stalinism with communism at large. It doesn't get at the presence of a computer here, which was a plot point offered by Kit Pedler, the first step in a series of science-based proposals he made to the series that roughly goes "evil computer, Cybermen, Cybermen attacking X." This progression reveals further clues, mostly in the way in which both WOTAN and the Cybermen are built out of paranoia around machines going out of control and taking over.
This theme is borne out in Black's script. Note Krimpton's pleas as he tries to resist WOTAN's control: "There's nothing more important than human life. Machines cannot govern man."And Brett's monologue to Krimpton about why WOTAN is taking over similarly speaks to notions of machines exceeding their bounds—he notes that WOTAN has concluded that the world has reached the limit of its development under humans and that they must therefore be replaced. The similarities between this and the Cybermen, especially in The Tenth Planet, are marked. But where The Tenth Planet sets up the Cybermen as a sort of dark cosmic alternative to humanity that journeyed into the horrific Lovecraftian dark of space and came back wrong—a much more straightforwardly Quatermass-style narrative—The War Machines sticks more rigidly to our own creations, offering a doom that is entirely of our own making.
This again feels prescient—consider how fifty years on Steven Moffat would turn "the system goes out of control" into one of his standard plots. Or, for that matter, just consider how actual algorithmic design goes aggressively wrong in the world. But once again there's a big anachronism as well. Almost all of the mechanized systems that in practice go mad and cause massive damage to the world are constructed by private industry. The War Machines, on the other hand, is largely devoid of techbros. Instead WOTAN is built by the government, and defined in terms of the way in which it interconnects various government services.
But strange as this feels in 2020, it fits the fears that were coalescing around computers in 1966. With computers still largely the province of the defense industry (consider the extensive role that the military had in the development of the Internet), the fear around computers came specifically from the idea that they would be put in charge of weapons systems and would decide to get into a war without human intervention. This helps explain why Black specifically has WOTAN unleash an army of military tanks onto the world, but it also highlights why this fear starts to bleed into Nazis and communism. Indeed, this ends up being one of the most forward-thinking things about The War Machines—its recognition that machines would spiral out of control in ways that were determined by ideology.
But the ideologies that WOTAN most visibly mirrors are ideologies of the Other that we routinely cast as villainous. Which is to say, these are ideologies that are not seen as having to get out of control in order to be dangerous, but that are instead dangerous on their own terms, when they are working "properly." But there's an unresolved and indeed unacknowledged tension going on here: WOTAN is parroting a wealth of (in Black's view) dangerous foreign ideologies, but he's doing so as a technological accomplishment created by the General Post Office.
It's not clear whether Black is trying to write a story about the enemy within and simply failing to imagine anything other than external threats, or whether he's writing a parable about totalitarianism and saying more than he intends. But wherever the tension originates from, it's fraught with significance. There is, after all, no getting away from the sharply contemporary nature of The War Machines, which marks Doctor Who's first major return to 1960s London since An Unearthly Child. Yes, there were the fleeting appearances in The Daleks' Master Plan and The Massacre, but that's markedly different to a story that's actually set in the here and now.
More than that, The War Machines positively drips with contemporary cool. The most obvious aspect of this is the Inferno nightclub, a TV-friendly mod hangout in which the Doctor, in a joke that has aged spectacularly poorly, is mistaken for Jimmy Savile. But the whole story, right down to the introduction of Ben and especially Polly, is firmly a case of Doctor Who embracing the swinging sixties and London's re-emergence as an international center of cultural cool. To have this be the milieu out of which the totalitarian supercomputer arises is a remarkably striking decision.
And yet it's not a senseless one. For one thing, it accurately captures how machines actually go wrong. When computers are destructive it is not because they have been programmed according to despised ideologies, but because they've been programmed according to the ideologies of those who built them. It's not going to be someone else's system that runs out of control and destroys us—it's going to be ours.
Indeed, we probably won't need the computer, unless some particularly niche theories of eschatology unexpectedly play out. More likely, the ideology of capitalism will simply continue to run out of control as it has already been doing. Fossil fuel extraction will continue apace, driving up CO2 levels until we finish toppling off of the climatological precipice that we're already barely clinging to. The food chain will collapse, as the massive reduction in insect populations suggests it has already started to do. People will die. Literally billions of them. If we're lucky, basic human adaptability will mean that the species is extinction-resistant. If we're very lucky, the social structures that emerge from this will be ones that retain the best of existing cultures. Very likely it won't. This is what a system running out of control looks like—operating assumptions that made sense at one scale turning catastrophic at a larger one.
In this regard the story's mod aesthetic is particularly apropos. For all its cool, after all, the mod aesthetic was ultimately just another case of stylish nationalism. This isn't a critique unique to mod culture—any subculture associated with a specific place is in part about the glories of that place, and the UK is small enough that any subcultural movement there is going to be an element of national identity to it.
But we know where this sort of thing can lead. Just look to the last aesthetic movement to define itself in terms of modernity. For all its art and poetry, modernism was also the aesthetic movement that fascism came out of. Sure, mods were more music and fashion, but the Nazis had Wagner and Hugo Boss. Heck, there's even a line to be drawn from modernism to Hitler that goes straight through fashion: Coco Chanel went from providing lodging for Stravinsky to spying for the Third Reich.
The point here isn't that mods were secretly fascists in waiting. It's that history isn't an inevitability. Mod culture could have been many more things than just the bit of the sixties that came before the Summer of Love. And not all of those things were good. Scratch the surface and there's ugly things beneath.
And for all its conceptual incoherence The War Machines captures that basic reality. It offers a swinging mod world in which British ingenuity creates a technological wonder. And then, lurking within that there turn out to be totalitarian horrors and tanks storming the streets of Britain. That it displaces these horrors into other systems and ideologies is a feint, but it's ultimately just the show flinching away from the real fear.
And so in the end, once one scrapes away the minor details of fifty years of technological development, we have a story that is not suspended between prescience and anachronism, but rather between insight and repression. The War Machines is quick to se one of the deep terrors of the twentieth century, but cannot quite bring itself to look directly at what it sees, instead gliding off of it towards something that is almost, but not quite insightful. Even more than its decision to locate the space and time of Doctor Who's narrative in the exact cultural location of its anxieties, this is how The War Machines serves as the archetype of much of where Doctor Who is to go next.