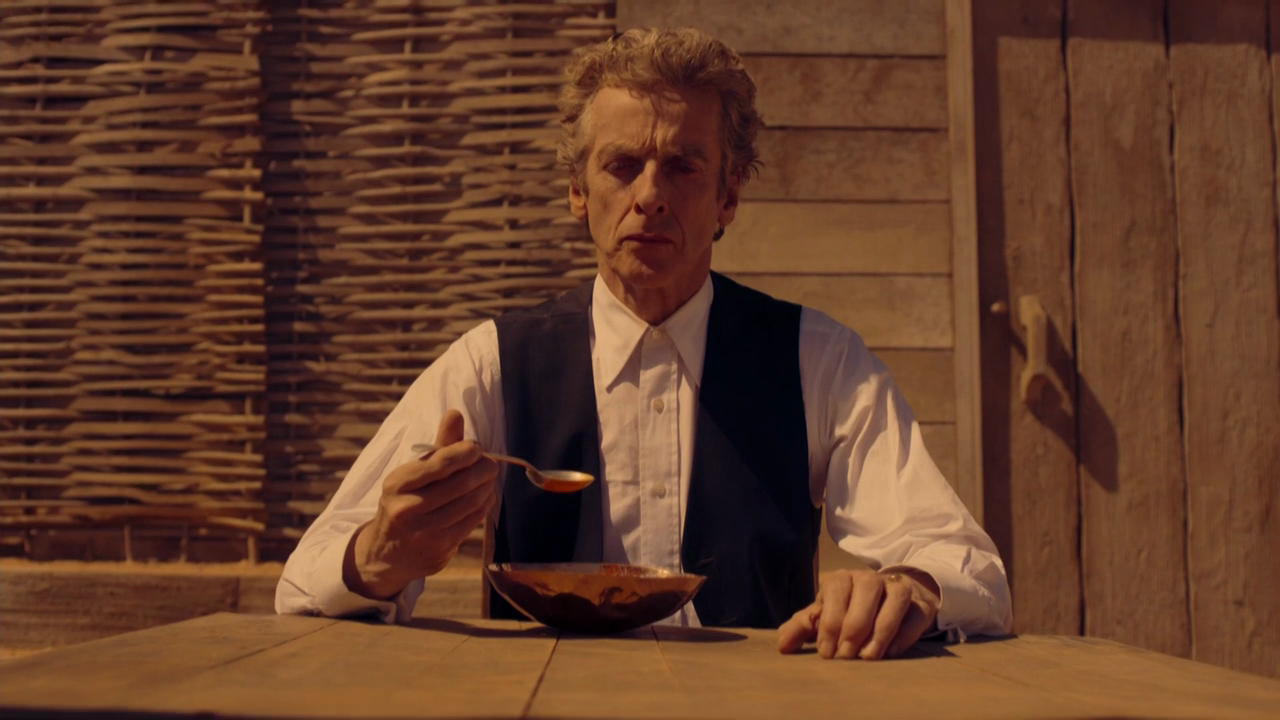 For the second episode running, the Doctor struggles to eat soup.
It's December 5th, 2015. Justin Bieber still has three songs in the top ten, with "Love Yourself" at number one. Wstrn, the Weeknd, and Grace featuring G-Eazy also chart, with Adele still in there too. In news, the United Nations Climate Change Conference convenes in Paris, beginning the process of the Paris accords. A terrorist attack in San Bernandino, California kills fourteen, while the UK begins air strikes in Syria following a parliamentary vote to authorize them.
On television, meanwhile, Moffat's masterpiece. This is, I imagine, a rather more controversial claim than last week. Sure, Hell Bent had a 2% higher AI rating than Heaven Sent, which means that it's objectively as good as Kill the Moon and Aliens of London, but I don't actually think that joke needs a punchline. The consensus here is clear: Heaven Sent is a brilliant and emotional triumph, while Hell Bent is a hot mess. To an extent I can't even argue with this. Hell Bent is unequivocally messy, and it has Jenna Coleman in that blue-grey sweater. But many of my favorite Doctor Who stories are messy. Heck, possibly all of my favorite Doctor Who stories are messy.
Hell Bent, of course, is exceptionally so; a story that positively revels in the number of unrealized parallels and allusions it has going on, constantly seeming like it wants to foreshadow things it in reality has no intention of paying off. Beyond that, there is a willfully perverse sense of importance here. This is a story that brings to Moffat's post-Day of the Doctor Gallifrey arc to a close with little more than a shrug, resurrects Rassilon for the sake of kicking him out of the story at the sixteen minute mark, radically redoes our entire idea of what the Matrix is to provide a neat horror setting for ten minutes in the middle, and concludes the entire hybrid plot with a shrug and a hand-wave. For people who don't like it when Moffat does things like this—and obviously there are a fair number of them—this borders on trolling. Certainly when Moffat's structural tics are being deployed at this scale and on the back of such an imperiously confident run as the last eighteen episodes it's easier to read this as a decisive pair of middle fingers to the haters than as mere incompetence.
For those of us who have bought into Moffat's idiosyncrasies, however, this is something altogether different. Moffat doesn't decline to pay something off out of laziness; he does it to make a point about whatever it is he pays off in its stead. And he's consistent in how that bait and switch works: he promises a grandiose epic of manpain and then offers an intensely human story, typically but not always about women. Within this framework, the question of what the story of Clara's death would end up focusing on was a non-question: it would focus on Clara.
I've sneered at those who think Clara's death was an adequate end to her story before, but mostly in terms of its unworkability within early-21st century Doctor Who and in terms of the persistent vein of sexism that runs through anti-Clara discourse. But let's also just acknowledge how poorly it would work for Clara herself to die in episode ten of the season after her long sequence of averted departures and quasi-deaths. To follow all of these with her dying mid-season in a minor misjudgment is a far more egregious anticlimax than leaving a couple of options open for exactly who or what the hybrid is; for anyone at all invested in Cara's story—a story that, if one counts Asylum of the Daleks (and why shouldn't one), has been running more than three years at this point, and by any measure longer than the "finding Gallifrey" plot—it would have been an insult.
And so Hell Bent is stubbornly, defiantly about Clara, which is to say a magnificent case of form following function. And more specifically, it becomes about Clara and the Doctor's friendship, and about the idea of good people being bad for each other. This is hard, and rough territory. We don't want to view Clara and the Doctor as bad for each other. It goes against the basic pleasure we're primed to take in the show. But Hell Bent sells it with deft efficiency, setting up another cracked mirror between the Doctor's relationship with Clara and his relationship with Missy, and going for the easy but effective shock of having the Doctor shoot the general. But its real triumph in this regard comes in the cloister scene, when the entirety of Heaven Sent becomes, in a moment of stunned horror for Clara, an act of mad, stupid, and pointless folly in which the Doctor takes her own notion of "duty of care" and does the most tragic thing imaginable with it, namely exactly what she'd have done. Moffat has called it the best scene in Heaven Sent, and he's right. It's utterly shorn of that episode's self-congratulatory cleverness, instead serving as a simple, brutally human moment.
The most interesting aspect of this, however, is the recapitulation of Journey's End and the Doctor's non-consensual mindwipe of Donna, which is here presented as another example of the way in which the Doctor and Clara are bad for each other. Moffat's intentionality here is fuzzy—I actually ended up in a polite argument with him on some mutual friend's Facebook page about this in which he defended the Doctor's mindwipe of Donna which concluded with a very him statement to the effect of "who among us hasn't postponed important conversations in order to set up our ex with alternate versions of ourselves." But regardless of intention, what ends up on the screen is both a scorching condemnation of the Doctor's past conduct and a clear demonstration of why he can't keep traveling with Clara.
But we're at risk of undercomplicating a story that is, as we noted, in fact extremely messy. The final settling of accounts between Clara and the Doctor is the emotional anchor of Hell Bent, yes. But the story is all over the place—the final culmination of a season of cracked mirrors in which, in effect, all of the shards are strewn across the floor to form a mad kaleidoscope of almost-signification. (Although in point of fact, my favorite cracked mirror of the season is actually the parallel between Heaven Sent and Missy's "consider the Doctor" speech in The Witch's Familiar, both of which see him alone and running around a castle.) This may be a story about Clara, but the actual raw material of the story is a spaghetti of frustrated implications all of which are centered around the hybrid.
On one level, this is the moment where an accusation often levied against Moffat becomes impossible to avoid, which is that he's obsessed with rewriting the show's mythology to be about his ideas. Here, after all, he does the big no-no—the thing that even the most fanwanky of spinoff media has generally had the good sense not to do. He explains why the Doctor fled Gallifrey. And of course, the answer reveals why this is a bad idea. It's hopelessly disappointing. He fled Gallifrey because of a prophecy he interpreted as meaning he might destroy it? Because he was half human on his mother's side? There can't be anyone for whom the experience of any Doctor Who episode is improved by this knowledge, Moffat frankly included. It's an absurdly weird move made by a writer who surely must have known better than to try it, and whose judgment in this period is consistently far better than that. So what on earth is going on here?
Well, hang on, we know what the answer to that has to be: Clara is. So let's try to rephrase the question into one to which "Clara" is a reasonable answer: why is the ancient prophecy of Gallifrey's destruction at the hands of the hybrid rearing its head in the middle of the Doctor's fourteenth regeneration? After all, it's never alluded to prior to The Witch's Familiar and is surely never getting mentioned again after Hell Bent. For all that this is positioned as a fundamental piece of Gallifreyan lore, it is in reality clearly just a lashed together season plot with no relevance outside these twelve episodes. And yet its nature demands that we accept it as an explanation for the entire series. So why does this half-assed explanation spring up at this moment in the Doctor's life?
One possibility that can't be entirely discarded is that it's a retroactive causality. The Doctor and Clara's relationship, having been brought into existence, now has consequences that stretch backwards and alter the reasons the Doctor left Gallifrey in the first place. This is both plausible and in some ways appealing, suggesting that the ancient lore of the series is in fact a floating signifier that adapts to whatever the current narrative needs are. Since this is in practice true, it's always nice to find a way to make the actual metaphysics of the lore work that way.
But that's a tidy answer to a messy question, and so vaguely unsatisfying for Hell Bent itself. Hell Bent requires that we find a more unkempt answer. Let's try again, then, taking for granted that the hybrid really is on the Doctor's mind as he's dashing around with the Tribe of Gum. There's clearly a sudden density of hybrid references in the Doctor's life around this period. In The Witch's Familiar Davros and Missy independently contrive to taunt him about the concept. Then he creates Me, who is in practice intimately linked to the concept and who, in point of fact, literally stands in the ruins of Gallifrey in her entrance. Then we get the echo of the hybrid in Osgood before the Time Lords opt to intervene in the Doctor's life out of fear about this one specific prophecy. There's really no way around the idea that Me is broadly correct about the hybrid: whatever it is, it has to do with Clara.
And yet Me's theory that it's the specific Clara/Doctor combination that's dangerous remains hard to credit. Clara's been around two seasons, after all. She's interacted with the Time Lords at two distinct points of crisis before without the Cloister Wraiths going off at great length. And she reversed the ending of the Time War, literally preventing the War Doctor from standing in the ruins of Gallifrey. No, it's got to be something specific to Clara in Series Nine.
The key and final clue, ironically, sits in Under the Lake/Before the Flood. After all, why ostentatiously introduce the idea of the bootstrap paradox, complete with a lecture to camera, if we're not supposed to apply the idea to the season as a whole. So the hybrid has to be the thing the Time Lords bring about: Clara's departure. After all, it fits perfectly. Clara can be argued to be a mixture of two races after her resurrection (and if you don't like that you've got Me to iron that out). She threatens to unravel the web of time by her very existence. And the specific thing she's seeking to heal is literally her heart. She's headed to Gallifrey and is, by her own admission, the person who hates the Time Lords most in the entire universe. Surely nobody thinks that's going to work out well for them.
So Clara, the girl who stole a TARDIS and ran away, becomes the thing the Doctor fled Gallifrey because of. And the woman who taught them that fear makes companions of us all. And the one who helped them pick their TARDIS. Indeed, for all that Moffat is accused of scribbling his own ideas over the mythology of the show, it's really just Clara he does that with. Amy never alters the mythology of Gallifrey. Sure, she brings about River, but River's impact on the Doctor's life is pretty well-contained too, and her impact on Gallifrey is negligible. And Bill never comes close to any of this. No, it's Clara who goes from "born to save the Doctor" to being the apparent telos of their entire existence. She's the common link of Moffat's barn trilogy. Every time the Doctor returns there, the reason turns out to be because Clara is about to have a massive impact on them.
We have long talked about Doctor Who's basic approach being to find a bad story and tell a better one. And so it's inevitable that eventually it would do this to itself. It's not that the Doctor is anything less than great. But he is a Time Lord, with all the privilege that entails—privilege that Ohilia explicitly calls out in one of the greatest deleted lines in series history, in which the Doctor announces that he's reassigned the High Council to being janitors, to which Ohilia responds, "Interesting. Only a true aristocrat considers honest work a punishment. So far your Presidency is distressingly typical." This in an episode that namechecks the Shabogans and makes it entirely explicit that the Time Lords grand abilities have come at zero benefit for the commoners outside the walls of their citadel. The limitations of his background have never been so clear.
And on the other hand, an ordinary girl who wanted to see the world but was afraid to move past page one, but who learned to be brave. Who became a teacher, and then even more than that. Who scrawled herself like graffiti all over the very mythos of the universe, then stole immortality and a TARDIS and ran away to have adventures. In the final shot of Hell Bent, when the police box and the diner are flying in opposite directions, if you don't want the narrative to follow the diner, just a little bit, then I don't know what to tell you. Peter Capaldi is, at the time of writing, still my favorite Doctor ever, but I'd trade a third season with him for the adventures of Jenna Coleman and Maisie Williams, immortal space lesbians in a heartbeat.
Last episode marked the moment where it was clearly time for Moffat to walk away from the show. But here, in an odd and deliciously perverse way, he one-ups his own untoppable episode. That was only the peak that he could never surpass as a writer, his William Gull moment where he sinks, exhausted, into his coach and mutters "the Chibnall era… I have delivered it." But Hell Bent marks a peak that Doctor Who itself can never top; a moment when it goes one way and should clearly, blatantly have gone the other. Never mind the degree to which any additional Moffat stories after this arc are superfluous; any other Doctor Who stories are. It's Clara's show now; she's just graciously permitting the Doctor to continue appearing in it.