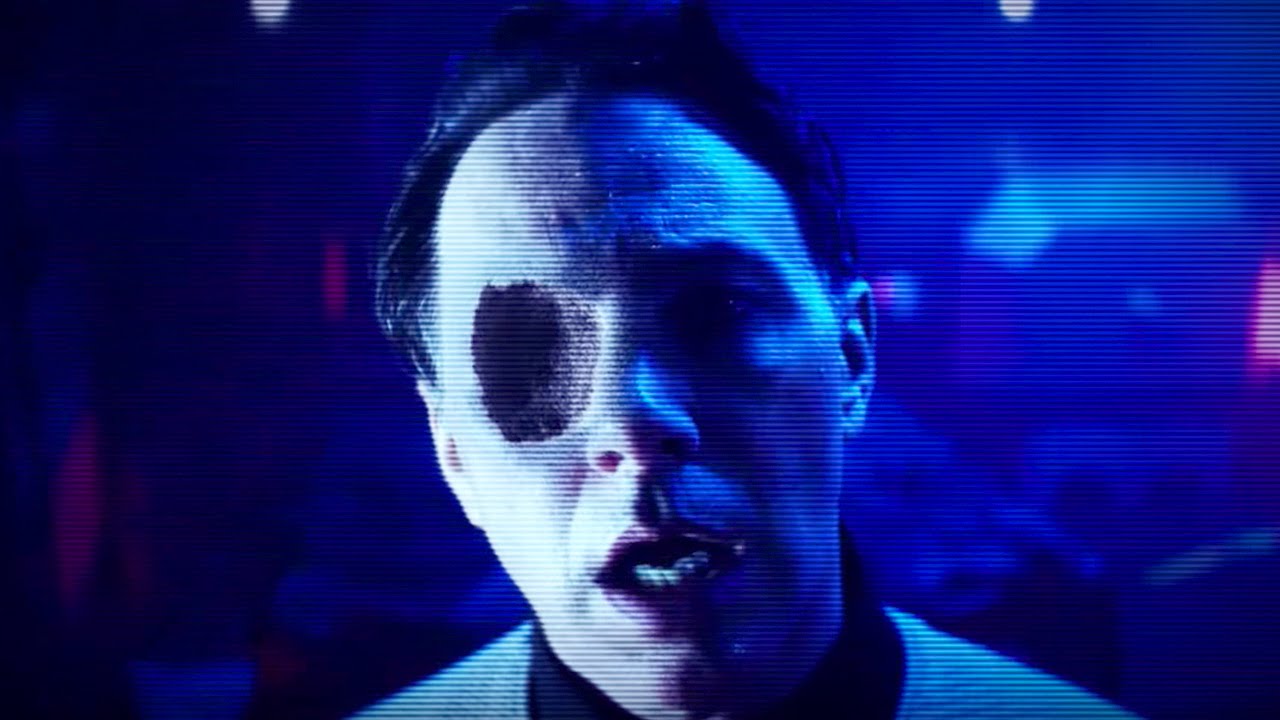 Jeez man most people just use a sleep blindfold
It's November 14th, 2015. Adele is at number one with "Hello." Fleur East, Wstrn, and Justin Bieber also chart, the latter with both "Sorry" and "What Do You Mean." In news, a series of terrorist attacks take place in Paris including a mass shooting at the Bataclan theatre during an Eagles of Death Metal concert and a series of suicide bombings around the Stade de France during a match between France and Germany. The first storm named by the Met Office, the extratropical cyclone Abigail, hits Scotland, while a series of protests at the University of Missouri lead to the resignation of the president of the system.
On television, meanwhile, a distinctly unusual episode of Doctor Who. Sleep No More is not, by general acclamation, a classic. Even those inclined towards sympathy for Gatiss tend to focus their redemptive efforts elsewhere. And it's easy enough to see why this might be. It's a decidedly lumpy story with idiosyncratic pacing that never quite sells its stakes or offers a coherent account of its concept. Character remains something of an afterthought for Gatiss, which is frustrating for Clara's last straightforward adventure in a season that broadly underutilized her, and doubly so given that Gatiss has written flat-out great scenes for her in the past. But several of those things are just snooty ways of rephrasing "it was written by Mark Gatiss," and the rest are products of the fact that it's doing several other interesting things instead.
So having gently and lovingly placed The Zygon Invasion/The Zygon Inversion in the path of an oncoming bus, let's do that other thing we periodically do and dust off an unpopular story to explain why it's got more going on than you might think. Because while defending Sleep No More as an overlooked classic in a season with The Magician's Apprentice/The Witch's Familiar, The Girl Who Died, The Zygon Invasion/The Zygon Inversion, Face the Raven, Heaven Sent, and Hell Bent is probably a bit of a reach, slamming it as a bust is, or at least should be, just as ridiculous. This is a story that's long on ambition, achieves no small part of it, and comes off as a lot more in step with its times than it might have appeared in late 2015.
Let's start with what this story is doing. Most obviously, it's a found footage horror story. This is not ambitious in and of itself—it's just another genre swipe of the sort that Doctor Who can at baseline be expected to do. But what's interesting is that it's a genre largely defined by technical concerns as opposed to content-based ones. There are a few constraints on what happens in a found footage horror story; it's assumed that things will end with some destructive event that leaves the footage as the only remaining record of whatever happened, but past that there aren't a ton of tropes that define the genre.
Uncharacteristically, Gatiss takes full advantage of the freedom, crafting something that takes surprising and genuinely savvy advantage of its structural conceit. There are a host of formal details like the lack of shots from Chopra's perspective and the mid-episode addition of Clara's perspective that are slyly handled and build to the tidy final reveal of exactly what we've been watching. Similarly, the quiet conceit of there not actually being any cameras is a nice (forgive me) sleeper of a visual detail that pays off well. And what all of this exists to support—he idea of an episode that is itself monstrous—is interesting in its engagement with the Moffat era at large. Moffat has long been fascinated with medial monsters, from the Weeping Angels on, but these have generally been, well, Moffaty, with all the baroque and ostentatious cleverness that implies. Gatiss, however, doesn't generally care about seeming clever (regardless of whether he is), and so strips the idea down into an utterly straightforward version that simply does the thing. We talked last episode about the mounting sense that the Moffat era is coming to a necessary close, and this quietly reinforces it: its best ideas are now well-defined enough that they can be done by Gatiss.
I want to stress, that's not a swipe against Gatiss. Simple and straightforward presentation is an entirely valid way to do things. But Doctor Who exists on the line between the avant garde and the mainstream, and Gatiss is a reliable bellwether of the mainstream end of that dichotomy. His late style offers a more deft and nuanced presentation of that, but he is still fundamentally a writer who is interested in playing with existing and well-defined toys as opposed to creating bold new ones.
But this fact is also what is most interesting about Sleep No More. As I mentioned, this is a story that's aged unexpectedly well in just three years. Much of this is political, which is interesting in that Gatiss has scarcely been what you'd call a reliable ally of the show's leftist instincts; his politics can fairly be described as "not bad for bi-erasing transphobe who gets very cross if the Victorian soldiers on Mars that he's writing about are portrayed historically inaccurately by black people." But Sleep No More's basic concept of machines to eliminate sleep and boost worker productivity is actually pretty savage, and feels more in keeping with the reactionary hellscape of 2018 than it did in the waning years of Obama-era "liberalism can save us."
Even more interesting is the way in which this premise interacts with the monsters. The Sandmen are one of the most aggressively bizarre monsters in the new series, not so much because of their design, which is pedestrian, as for the inspired grossness of them being made primarily of rheum, which the story goes to the nice extra length of reminding viewers is mostly snot. There's a puerile energy to this that would be far from endearing as a regular feature, but that is admirable in its calm puncturing of the show's increasingly domesticated tone.
But the lowbrow nature of the Sandmen is part of a broader lowness in their conceit. There's a category of monsters that represent junk and waste that has risen up against those who threw it away—one that, as China Miéville has repeatedly demonstrated, is long on political potential because of its inherent inversion of the social order. It represents a particular and effective way of riding the weird/gothic divide, especially with something like the Sandmen, who are in conception firmly weird and yet are also firmly rooted in the rise of the repressed. And these monsters have a particular effectiveness in writing about capitalism because of the precise nature of what's repressed: the things considered valueless and worthless.
Adding to all of this is the fact that Gatiss is, to say the least, a bit vague in explaining how the fuck the Sandmen are supposed to work. The idea that repressing sleep eventually results in sleep taking its revenge makes, if not sense, at least the sort of thing Doctor Who routinely makes instead of sense. That this repressed revenge should take the form of homicidal rheum, on the other hand, does not make anything that has ever lived in the same postcode as sense. The closest thing to an explanation is that the Morpheus machines have "evolved" and "hot-housed" rheum into a monstrous form, which apparently happens despite the fact that the Morpheus machine should prevent its buildup given that the eye naturally processes it away by blinking during the day. But this is a nitpick in the face of the far larger issue that there's no real reason for rheum to be where the repressed revenge of sleep should manifest. The Doctor's "sleep is blessed" spiel suggests that rheum is the manifestation of "the monsters inside," but there's several steps being handwaved here, none of them even remotely obvious.
I'm not going to deny this is a technical problem. But technical problems can on occasion result in more interesting results than mere competence as a story effectively heals around the break. In this case, absent a coherent or even reconstructable explanation the metaphorical explanation in which sleep takes revenge for being discarded as valueless and re-emerges as radically grotesque otherness. This is, notably, wildly more interesting than any technobabble about rheum had any chance of being. It takes a story that could have had a superficial "evil corporation" gloss of the sort that is so common as to be virtually devoid of substance and makes it so that there is nothing left for the story to be about except for the "sleep rebels against capitalism" angle. Anti-capitalist snot monsters: there is no alternative.
All of this is brought to a weirdly satisfying conclusion in the decision to leave the ending unsettled, with the Doctor failing to figure out Rassmussen's actual scheme and leaving the station to destroy the Morpheus machines on Neptune while leaving the real danger—the episode itself—free to wreck havoc. This is nominally a defeat, at least in the normal sense of not having humanity killed and/or turned into snot monsters. Indeed, if we understand the rules correctly (and more to the point if "rules" actually exist here) it's a defeat in the sense of not having Clara eventually turn into a homicidal anti-capitalist snot monster.
But we also know that the Doctor gets it wrong here. And so it seems fair to ask how wrong. If he misunderstands what Rasmussen and the Sandmen's plan actually is, could he also be wrong about who the villains are here? This is in some ways strained: it's not unheard of for monsters to be humanized in Doctor Who, but generally not the silent lumbering murderer sorts. And yet within the metaphoric reading there are, if not straightforwardly utopian opportunities, at least broadly intriguing ones. Rasmussen's final "then we can all be together, dust to dust" certainly has the ring of utopia, and the structure of the monsters seems like it should allow for this transformation to simply be a state of dreamful sleep that is probably, on the whole, more pleasant than 38th century capitalism.
More likely, however, this is meant to be a defeat, which is still an interesting move in the context of the times. There's an underlying assumption that we're fucked to Sleep No More that was all the smart kids of late 2015 were seizing on. The pessimism of suggesting that capitalism's unforeseen consequences would prove apocalyptic and that knowledge of them was not entirely sufficient to avert them turned out to be very much in keeping with the spirit of the times. Indeed, 2015 was perfect for it. A year later this sort of apocalyptic fatalism would have seemed too deliberate a reaction to current events. In 2015, on the other hand, the cultural rise of this mood was clearly ongoing and there for Doctor Who to tap into, but still enough before its peak to make Doctor Who seem as though it's leading instead of following.
The result of all of this is not quite a classic, it's true. The tragedy of late Gatiss is that he remains who he is; a writer who will never pen the best episode of a season, who will always be the lesser visionary held in Moffat's orbit. But his late career, at least, consists of interesting and worthwhile experiments that no one but him would ever have done. Sleep No More is at once the least successful and most valuable of these. With Under the Lake/Before the Flood we suggested that it took a writer of Toby Whithouse's inadequacy to write a story that accidentally says as much as that. Here, however, we have something else: a writer whose peculiar balance of flaws and virtues leads him to try unusual things and then fail in unusual ways. Sure, Sleep No More is pretty clearly the second-weakest story of its season. But the season and Doctor Who would be poorer for its absence.